And yes, it's possible to be both practical AND stylish with this list of maternity brands in Singapore.
Being pregnant can be an amazing time in our lives. But dressing a 35-week bump in sweaty, tropical Singapore? Not so much. If you're wondering where to buy maternity clothes in Singapore that you're actually proud to wear, rest assured we're here to help. Because guess what, ladies? Maternity fashion these days is no longer about shapeless smocks. Dress that bump and show it off! So, if you're ready to create the mum-to-be wardrobe of your dreams, read on. Here are the maternity fashion brands in Singapore you need in your arsenal…
The best places to buy maternity clothes in Singapore
1. Clary & Peg
We are loving Clary & Peg! In fact, these vintage-inspired maternity clothes (pictured above) are almost making us wish we were going in for baby number three… This UK brand marries vintage nostalgia with contemporary style and it's a match made in heaven. Oh, and did we mention all pieces are breastfeeding friendly and manufactured ethically? High praise.
2. ASOS Maternity
This online clothes retailer is an absolute ESSENTIAL when it comes to maternity clothes if you ask us. In fact, ASOS Maternity dresses, jeans, tops, pyjamas and so on are so darn cute – and so reasonably priced – that it's hard to say no. Especially when there are often sales and special offers on… Delivery supposedly takes six working days (trust us, it's usually longer) and costs $12, but is free for orders over $65. Which you know it will be. Our top tip? Check out gorgeous floral maternity dresses if you have a special occasion coming up: they're GORGE.
3. Boob Design
Boob Design is your best bet for nursing wear, with a brilliant range that just 'gets' what a breastfeeding mother has to contend with (even when exercising – the activewear is great!). It's not cheap, but if you can, it's worth investing in just a few key pieces to get you through. Boob Design also takes a sustainable approach to production, so you can rest assured you're buying quality, with minimal environmental impact. Free shipping when you spend over US$170.
4. Dear Collective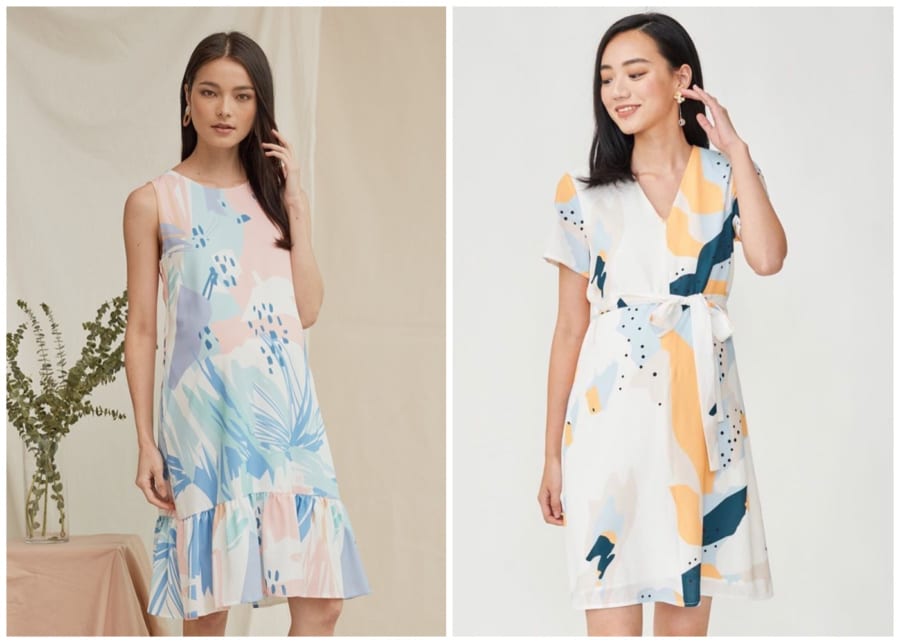 A more local option for where to buy maternity clothes in Singapore is Dear Collective. Its stylish collection is both functional and fashionable – and obviously perfectly suited to the climate here. We love that pieces can be worn in the full bloom of pregnancy and then beyond, with many pieces offering nursing access. This cool maternity wear is also affordable – great when you won't be wearing it for long! Spend over $80 and shipping is free, too – score.
5. Emma & Kei Maternity
If you're newly pregnant, bookmark this site now as you'll be coming back again and again. Emma & Kei is your go-to for simple but stylish pieces that don't cost a bomb. The best bit? It's based in Singapore, so delivery is free!
6. Egg Maternity
Looking for good quality basics in your maternity clothes? If you're pondering where to buy maternity clothes, this New Zealand brand has a wide range of options for maternity dresses, swimwear, tops and more. It delivers internationally, too and accepts returns, although you'll have to cough up the postage to send any unwanted pieces back. Egg Maternity also stocks nursing wear, toys and mum bags. Hurrah!
7. Love Baby Bump
Local brand Love Baby Bump has super-simple, yet effortlessly stylish clothing to see you through from bump to nursing, and beyond! You can tell the label was thought up by mum, Yvonne, during her pregnancy – as she just gets what every mum is looking for when it comes to that tricky maternity wardrobe.
8. H&M
Oh, H&M – how we love thee! As one of our fave places to buy clothes online sans bump, it's a no-brainer that we're heading here for all things maternity wear. Stylish, well-priced and cool… yep, it ticks all our boxes for where to buy maternity clothes in Singapore! Hop over here for basic dresses, tops and shorts to keep you comfy in the hot and humid climate. There's also a good selection of maternity and nursing bras if you're planning on breastfeeding. Order your maternity clothes online for easy-peasy home delivery, too… and don't forget to add some cute pieces for bub to your basket!
9. Next
We love the kids' clothes, but did you know Next also stocks a reasonable range of maternity wear? Stock up on comfy, non-wired bras and loose and breezy tops to give those sweaty armpits a good airing!
10. Hatch
If you're wondering where to buy maternity clothes, US brand Hatch has lots of gorgeous styles, but be warned – it's a bit more expensive. Still, the fabrics are high quality and built to last. Shop for breezy dresses and relaxed, flowy tops.
11. Love, Bonito
Singapore is not short of local choice when it comes to maternity wear, fact. Another firm favourite to have on your list is local brand – Love, Bonito. Originally an online platform, you can now head in-store to check out their gorgeous array of clothing. Be sure to check out their offerings for the littlies too, super-cute!
12. Mama Muse
Drawing inspiration from the street fashion of London where she spent most of her years, Mama Muse's founder Steph has created a flattering collection of quality and contemporary maternity and nursing wear. These super-stylish maternity wear pieces will take you through all your trimesters (including the fourth!) and beyond into #mumlife. We likey. Oh, and delivery is free if you rack up over AU$300+ spend.
13. Seraphine
If these stylish maternity clothes are good enough for celebs… Yep, you read us right – lots of stars have been spotted in Seraphine's bumpalicious threads, and for good reason. Head to the site for a spot of online shopping and stock up on wrap dresses, leggings, swimsuits and the pick of maternity jeans (if you can handle them in the heat!).
14. Jump Eat Cry
Another fab local find, Jump Eat Cry, make dressing that bump effortless with its range of stylish and affordable dresses, jumpsuits and tops. You're covered well into nursing the wee one too, so you don't need to let your wardrobe suffer post bub! Psst. It's also free shipping for spends over $65, which is pretty easy in our book!
15. Uniqlo
Uniqlo recently launched 'LifeWear' for Her, and as part of this collection you'll find new, super-comfy tights that have done away with elastic wastes! No more waist bands digging in to your precious bump. There's also super soft wire free maternity bras and underwear in pretty colours, and lots of stretchy t-shirts and dresses for everyday wear. Check it out!