We researched, we cooked, we baked… And then we tested it out on the whole family, from toddlers to teens! So here you go: we've found 20 top recipes for the whole family.
Feeling stuck in a rut when it comes to breakfast, lunch or dinner ideas that the family will actually eat (we're looking at you kids!). We're with you. Yes, we can eat out at our fave fam-friendly restaurants, but we probably should attempt some cooking too. That's why we've scoured far and wide to provide some new inspo when it comes to kid-friendly recipes for breakfast, lunch and dinner. From tasty breakfast options to kid-approved mains that you can make together (we've tested them to be sure). We've even found some healthy yet hearty options which we reckon the family will be fighting over. So without further ado, here's your new meal planner – enjoy!
Easy kid-friendly breakfast recipe ideas for the whole family
It's hard enough trying to drag the tykes out of bed, but having to feed them in their groggy state is a whole new challenge. Well, we've got a few nifty tried and tested, kid-friendly recipes that could help you own this daily battle and ensure the tots don't end up skipping the most important meal of the day.
1. Bagel and cream cheese with tomato and cucumber
Rope in the kiddos to decorate their own breakfast (provided their eyes are open); it might motivate them to eat it. Using half a bagel spread with cream cheese (or butter) as a 'blank face', it's up to the tots to fill in the eyes, eyebrows, mouth, and optional spectacles, with ingredients like sliced cucumbers and tomatoes. The recipe is not set in stone, so feel free to mix it up with sliced ham and cheese.
2. Yogurt and granola parfait
Give the littlies their dose of calcium and energy to gear them up for the day ahead with this easy peasy recipe. Simply pour granola (the ones with mixed fruits tend to do better with kids) into their favourite Mickey cup, dump in spoonfuls of yoghurt (we recommend low-fat Greek yoghurt), and drizzle a tablespoon of honey to seal the deal. Yum!
3. Quick breakfast burrito
For a Mexican twist to the typical morning sandwich, try serving up a breakfast burrito. To make your own pico de gallo, chop up tomatoes, onions, and coriander, sprinkle with salt and pepper, and mix with lemon juice. We suggest making a large batch and refrigerating the rest for future use! Dump the mix on a tortilla (grab a pack from your nearest supermarket), add some scrambled eggs and diced ham if desired, and roll it all up. Voila!
4. Easy chocolate croissants
Yes, you can actually make your own croissants in under 20 minutes! But ok, we admit that you'll need to cheat a little with refrigerated crescent rolls (which you can easily get at Fair Price, Cold Storage etc.). Unroll the dough and cut it into the desired number of triangles. Top each triangle pastry with chocolate chips, roll it up, and pop them into the oven for 12 to 14 minutes. It's a little bit of work, but your littlies will definitely prefer these fresh croissants (with oozing chocolate sauce) instead of the store-bought bread you grabbed on the way home from work the night before. Psst – Want more pastry and baking ideas? Check out our favourite baking recipes!
Quick (and delicious!) lunch and dinner recipes for kids
As well as being super-tasty and kid-friendly, these recipes are easy-peasy, meaning the kids can get involved in prepping them too. We find this always helps to win over even the fussiest of fussy eaters!
5. Chicken and carrot nuggets with red pepper ketchup
Here's a quick and kid-friendly easy recipe to add to your kid's lunch menu plan: use up leftover roast chicken to make these quick, kid-friendly nuggets! These are coated in breadcrumbs (not batter) then browned in just a bit of oil to keep the fat content down. (Tip: you can also coat these in polenta for crunch.) We've added carrot and mozzarella, plus red pepper ketchup, for a nugget loaded with valuable nutrition, with no added nasties. These are great for the kids' dinner, for popping into the school lunchbox… or make a big batch for the next children's birthday party!
6. Easy sausage ragu for a tasty spaghetti sauce
We can't think of any child who's turned away a bowl of spaghetti with a delicious sauce, and if they've helped to make the sauce themselves, they love slurping it up even more! Good-quality sausages are the star ingredient in this simple sauce, and all the chopping is done in a food processor, so it's super-quick to prepare and lets the chopping blade take all the strain, not little fingers and thumbs. Serve the ragu on its own, with spaghetti or penne, flatbreads, rice or a garden salad (even better if you're growing your own salad greens with the kids, too!). Freeze any leftovers for another day – it's perfect in lasagne.
7. Sunshine burgers
The littlies can now level up from messing around with modelling clay to shaping their own meat patties! First up, get them to crush cornflakes in a freezer bag with a rolling pin (but warn them to mind their fingers), then it's time for mamas to bust your domestic goddess moves. In a bowl, tip in your store-bought beef mince, season with basil and pepper, and mix in a beaten egg. The littlies will then shape the patties, coat them in flour and egg, and roll generously in the crushed cornflakes. Pop the patties in the oven for 15-20 minutes, then serve on burger buns with lettuce, tomato slices, and ketchup.
8. Ham and pineapple pita pizzas
Why ring for pizza delivery when you can whip up your own (healthier version) in no time. Place pita breads on a baking sheet and let your littlies layer on their desired amount of sliced ham, mozzarella, and pineapple chunks (which you can cut beforehand). Then all you gotta do is let them bake in the oven for 10-12 minutes, till the cheese has melted, and voila!
9. Easy cheesy frittata
This dish is a piece of cake to prepare. There's a bit of knife work when it comes to grating zucchini, dicing ham, and slicing spring onions, so leave that bit to mum. The kids can then try their hand at cracking eggs into a bowl, crumbling feta cheese by hand, and stirring the mixture (with the meat and veg) thoroughly. Pour the mix into an ovenproof dish, leave it in the oven for 30 minutes, and serve it up with salad and bread.
10. Mac and cheese
You can never go wrong with good ol' mac and cheese, especially one that you can whip up in under five. This kid-friendly recipe is a definite go-to. Cook the pasta beforehand (or heat up leftover plain pasta in the fridge), then it's time for the littlies to channel their inner junior master chefs. In the bowl of cooked pasta, add in cheddar cheese, whole milk, a dash of salt, sprinkle of pepper, and mix well. Wrap the bowl loosely with a plastic cling-wrap and microwave for five minutes to get creamy mac and cheese. It's that easy.
11. Slow roast chicken with homemade gravy
Oven bakes are always a safe bet for a quick and easy meal. And let's be honest, everyone will want in on this – not just the kids! Mix butter, thyme leaves, and grated lemon zest in a small bowl. Then let your moppet mash the mix with a fork. Make sure they wash their hands, then let them rub the marinade mix all over the chicken – especially the breast, legs, and wings. Wrap the marinated chicken in foil and let it bake in the oven for 2 hours. The gravy is really simple – just stir together chicken stock, flour, and marmite – Best for you to do this bit.
12. Pineapple fried rice
How about a classic – pineapple fried rice? If you want to avoid the guilt and add in the nutrition, then opt for brown rice, which has much more nutrients like B vitamins and extra dietary fibre. If 100% of brown rice is not favoured, try 50% each of brown and white rice.
Ingredients (serves 4): 3 cups brown rice, 10 medium-sized prawns (cleaned, shelled and deveined), 1 carrot, 1/2 tsp sugar, 1 fresh pineapple, 2 tbsps vegetable oil, 1 tsp minced garlic, 3 eggs, 1 cup peas, 2 tbsp light soya sauce, 1 stalk spring onion, cut in 1/2-cm lengths, chicken floss
Method:
1. Cut prawns and carrot separately into approximately 1.5-cm cubes. Marinate prawns with sugar. Set aside.
2. Wash the pineapple and cut it into half lengthwise. Remove the flesh from the shells to form two boats. Cut the flesh to get 1 bowl of 3-cm pineapple cubes. Eat the remaining pineapple as fruit.
3. Heat oil in a wok over high heat. When hot, add garlic and fry until fragrant and slightly brown. Add prawns and stir-fry until cooked. Push prawns to the side of the wok. Crack in eggs, mix and fry until slightly brown. Break the fried eggs into smaller pieces.
4. Add cooked rice, pineapple, carrot and peas. Bring in the prawns and stir-fry until rice is thoroughly loosened. Add light soya sauce and continue to stir-fry for 10 minutes. Taste and adjust.
5. Scoop rice into the pineapple boats. Garnish with spring onions and chicken floss. Serve pineapple fried rice hot with chilli sauce or sambal for the spice fans!
Healthy (and kid-approved!) dinner recipes for the family
Looking for something that will suit the whole fam AND ticks the healthy box? We've found them! Check out these nutritious and tasty kid-friendly recipes below for dinner tonight!
13. Pumpkin and lentil curry soup with maca
For a hearty recipe that packs a punch, how about this pumpkin and lentil curry soup with maca.  With metabolism-burning ginger and curry, along with nutrient-rich pumpkin and fibre-packed lentils, this super soup makes the grade with the addition of maca powder. Plus, we can even tempt the kids with this healthy serve!
14. Thai curry with tilapia and veggies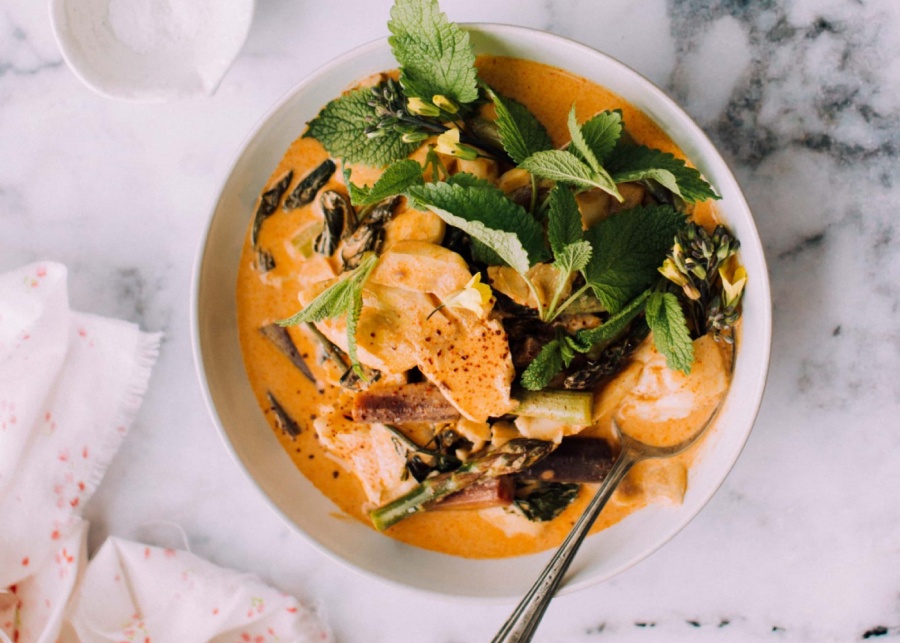 A way to keep your Thai island vacay dream alive is through this recipe for Thai curry with tilapia and veggies.  The curry gets your heart rate up (cheater's cardio workout), while the tilapia gives you the high-protein energy to keep chasing the kids around. Vegans will be chuffed to substitute tempeh for the tilapia! Are the kids not sure about fish curry? Opt for a veggie or chicken alternative. Plus, you can throw in any veggies you like!
15. Chicken mango salad
For a refreshing dinner that will go down well with all the family, how about a chicken mango salad from Ghillie James' cookbook, Asia Light? Here's what you'll need:
Ingredients (serves 4):  100g green beans (cut into 5cm lengths), 4 poached chicken breasts (sliced) or 500g cooked chicken (shredded),  400g cooked and chilled (200g raw) brown, red or white basmati rice or a mixture, 1 large ripe mango (peeled and cubed), 3 spring onions (finely shredded), juice of 2 limes, 1 1/2 tablespoons good-quality rapeseed or coconut oil, 1 1/2 tablespoons fish sauce, 1 large red chilli, deseeded and chopped (optional), 3 tablespoons shredded or desiccated coconut, 1 ripe, firm avocado (cubed), a bunch of coriander (leaves roughly chopped), a handful of mint leaves (torn), 3 handfuls of baby spinach (torn).
Method:
1. In a pan of boiling water, blanch the green beans for 1–2 minutes, so they are cooked but still crunchy. Drain and transfer to a bowl of iced water or chill under cold running water.
2. Carefully combine all the other ingredients, except the avocado, herbs and spinach, on a large platter and toss together. Leave for 15 minutes.
3. Just before serving, add the remaining ingredients and a good grinding of pepper and toss together carefully.
16. Lentil, kale, and sweet potato stew
Kale? Check. Lentils? Check. A good way to stave off hunger pangs and feed your face with food that feels heavy, this lentil, kale, and sweet potato stew will stick to your ribs, giving you that full feeling for a lot longer than that box of pineapple tarts that just winked at you. Plus, the kids love it too.
17. Black bean quinoa and veggie burgers
The high protein, healthy combo of quinoa and black beans, coupled with digestive enzymes in the Greek yoghurt, make black bean quinoa and veggie burgers a topper on our list. Plus, it's the perfect kid-friendly recipe – who's kid would say no to a burger?
18. Cajun-spiced sweet potato hummus
Everyone loves hummus, right? Add the sweetness of sweet potato, offset it with cajun, and you've got a nutritional kapow! in your mouth. Try this Cajun spiced sweet potato hummus – warning:  didn't last in our kitchen very long!
19. Maple roasted chickpeas
Snack attack? Yes, please. Do a little number on those tins of Pringles you hoarded, and try this kid-friendly recipe for maple roasted chickpeas instead. Little taste testers agree; this is the nicest nosh going!
20. Shakshouka with peppers and red onion
We love a shakshouka any time of day. The additions of peppers and red onions in this recipe from The Midlife Kitchen make the antioxidant content on this one pumped, transforming it into a delicious and nutritious brunch-time feast for all the fam!
Ingredients (for two): light olive oil spray, 1 small red onion (diced), 1 garlic clove (crushed),  2 small peppers (1 red, 1 yellow – cored, deseeded and chopped), 400g can chopped tomatoes, 1/2 tsp chilli flakes, or more to taste, 1/2 tsp ground cumin, 1/2 tsp paprika, 1/2 tsp soft brown sugar, a squeeze of lemon juice, 4 eggs, 2 tbsp natural yoghurt to serve
Method:
1. Heat a medium-sized frying pan over a medium heat and spray with a little olive oil. Add the onion and sauté for a few minutes until it begins to soften, then add the garlic and continue to sauté for a minute. Add the peppers and cook for a further 5 minutes until softened.
2. Stir in the tomatoes, chilli flakes, spices, sugar and lemon juice and simmer for 5–7 minutes until the mixture starts to thicken.
3. Make four evenly spaced wells in the tomato mixture, then crack an egg into each one. Season well and cover the pan with a lid. Cook for 10 minutes, or until the egg whites are firm and the yolks still runny. Serve with the yoghurt.
Health Tip: Did you know studies have shown that lycopene, a potent antioxidant found in tomatoes, is boosted by cooking, so by slowly simmering this rich, red sauce, you are also maximising the nutritional benefit. Winner!
Bon appetit! Now the difficult part is choosing which family recipe to try first…