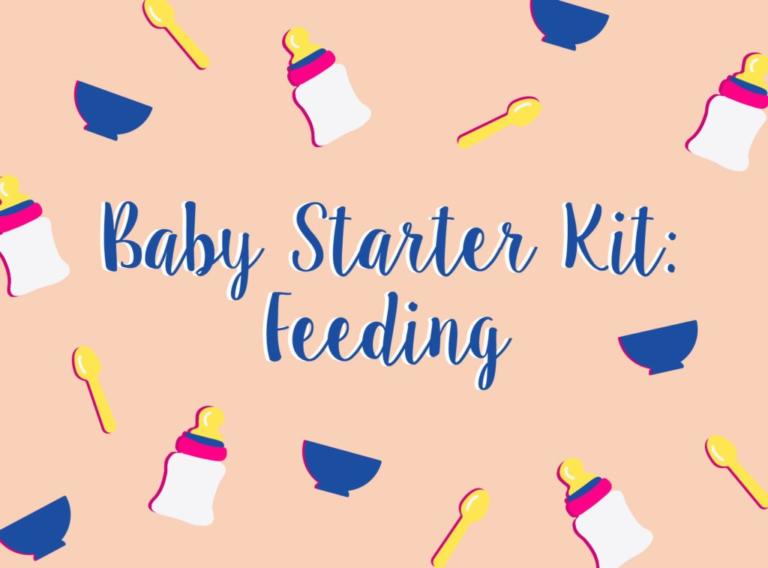 The everything-you-need-to-get list for breastfeeding and weaning.
Your brand new little human's finally here and you're unsure about what you need to buy in order to succeed at this parenting gig. You figure they'll need feeding, bathing and some sleep (way less than you need, it will often seem!), but the overwhelming choices out there are causing decision paralysis. Should you buy a UV or steam bottle steriliser? A baby monitor or sensor pad? And breast pumps… why are there soooo many to choose between? Few people have room in their Singapore home to hoard all that baby stuff, so you have to chose wisely. Never fear: we're here to help you navigate through the minefield of baby consumerism with our handy checklist of items. Parents, we give you our guide to baby essentials: everything you need for feeding your li'l one…
Baby feeding essentials: The things you REALLY need
Nursing bras/tops
If you decide to breastfeed, this will impact your wardrobe choices each day. Tops with straps and liftable panels make easy access for baby to get to the good stuff. And don't forget about support! Get a nursing bra that unclips and invest in a light-weight cover, like the ones from Pupsik Studio, so you can wear tops that unbutton or roll up, but still keep your girls covered. Unlike a simple muslin swaddle cloth, a custom designed nursing cover still allows you to see what's going on to make latching easier. But worry not, folks: nursing bras have come a long way since the ones that look like they came from a grandmother's undies drawer!
Try: Check out our fave maternity fashion brands too, as many pieces are nursing friendly.
High chair
Secure, sturdy and easy to clean – these are the top three priorities when buying a high chair. And it's top of your baby feeding essentials list! Whether you go high-end and stylish with a Stokke Tripp Trapp or budget and easy-on-the-eye with IKEA, just make sure your kids can't topple it. Take it from us, too: avoid fabric at all costs! Remember, they will be using this well into their third year. Check that you can get it right up to your dining table or that it has a detachable tray. These things matter! We really love the award-winning Poppy chair by phil & teds that adapts as your child gets older, too. 

Try: Mothercare and Pupsik Studio as a good starting point
Milk formula for toddlers
It can take some time before solid food becomes the norm for your baby – it's definitely a slow journey! Choosing a nutritious formula suitable for their age is key to keeping your toddler fed and happy. After all, not all milk is made equal – regular cow's milk might not have enough DHA to support your child's growth. We'd opt for Enfagrow A+ with 360° DHA Plus, which meets the recommended daily intake of DHA with just two servings a day. This scientifically formulated blend also contains beta-glucan, dietary fibre and prebiotic, which are essential for your baby's mental and physical development. If you're keen to give this formula a go, snap up the free Enfagrow A+ samples available online!
Try: Enfagrow A+ with 360° DHA Plus
Breast pump
We reckon all new mums face a certain degree of frustration in the first few weeks or months when it comes to milk supply. Whether you're worried you have too much or not enough, a breast pump can certainly make life easier. Look for an electric pump that simulates a baby's sucking action: light and fast at first to stimulate flow, then slower and deeper once the letdown begins. Also, think about where you will be – work, travel, and the need to be hands-free are all factors that will affect your choice.
Try: Our guide to the tried and tested breast pumps mothers love
Milk bottles
Whether for formula or expressed milk, the process of finding a suitable milk bottle might take a bit of trial and error. Many babies suffer some degree of wind-related discomfort, so look for bottles that are designed to reduce the amount of air a baby will intake when drinking. Drinking from a bottle might be met with resistance so try different teats until you discover the best ones for your baby. Check the different teat hole sizes so you can control the flow as they get older and stronger; newborns do best on the smallest opening.
Try: We loved the Pigeon range, which you can buy through Redmart online.
Steriliser
Whether you decide to sterilise for six months or 12, you'll need to do it to keep bottles and breastfeeding equipment thoroughly hygienic. There are many different kinds of sterilisers on the market (read our guide!), so think about how much equipment needs to go in there, how many times a day you may use it and whether you're on the move. Babies who are bottle-fed need at least six bottles a day so you may decide to sterilise everything at night or use fewer bottles and do it a couple of times a day with a digital or electric unit.
Try: Read our handy guide for the most recommended sterilisers
Bibs
It's no secret babies sometimes bring up milk for a second showing. When you're considering baby feeding essentials, you can buy burp cloths, but why not go straight for a bib? You can use these on your shoulder, on your baby, and then you also have them ready once the weaning process begins. We particularly like the big square shaped ones at Cotton On that cover more surface area and are quite thick. Baby Bjorn make a hard-form plastic version that is great for wiping clean (no washing) and catching food with the built in scoop. Bandana bibs are the way to go to add a dash of cool to the day.
Try: Cotton On Kids; Baby Bjorn
Baby food storage
You'll discover the joy of messy meals around six months (and then discover minimal mess finger foods!). Once weaning starts you or your helper will be pureeing regularly. The most efficient way to do this is make different food combinations in batches and freeze small portions in ice-block trays. Once frozen, pop out into labelled (reusable!) freezer bags and then use ice trays for another batch. We like a rubber or silicone-type moulds as it makes popping out the food easier. Use weaning spoons suitable for soft baby gums and non-slip bowls so you won't have to clean quite so much food off the floor. Ah, who are we kidding…
Try: Beaba; Munchkin at Pupsik Studio and IKEA
Purée-making equipment
Make weaning food easily with an all in one mixer and steamer. You can of course use a double saucepan steamer set-up if you don't want to fork out, but we found the Beaba Babycook particularly good to travel with. You need only chop your vegetables, fruit and meat! For an all-out, no expenses spared, there is of course the inimitable Thermomix, only available through direct sales. Book yourself a demo for a bit of fun and serious #FOMO.
Try: Beaba Baby Cook, Thermomix
What are your baby feeding essentials? Let us know!