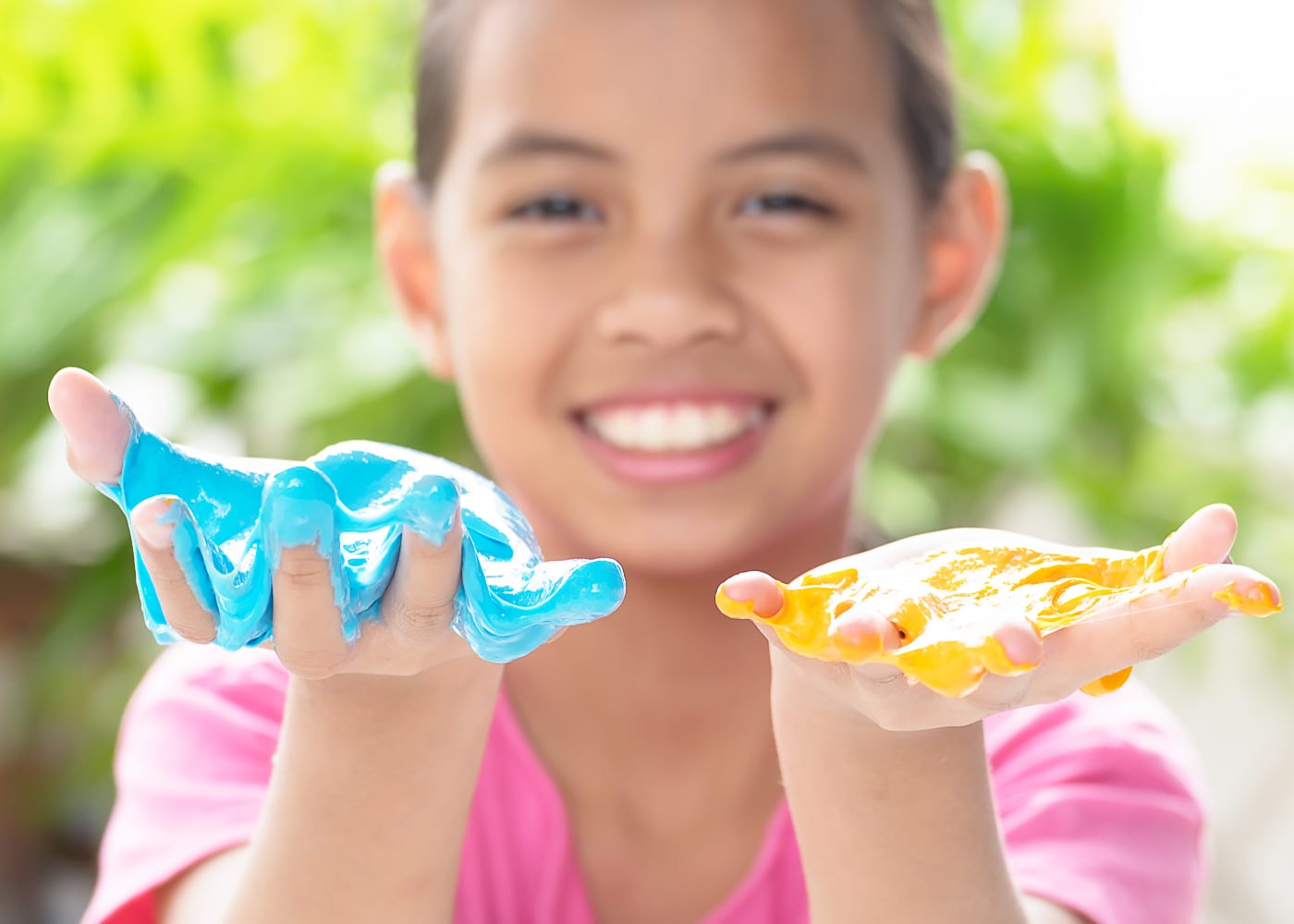 Word on the street is if you can't make your own glitter slime and edible playdough, you're barely a parent at all...
We're well on board when it comes to sensory play for our touchy, feely small people, and we can't help but feel a teensy bit smug when we manage to whip up a DIY batch of playdough for a crafter-noon of easy peasy activities with the kids: stacks of fun that doesn't bust a hole in our wallets! And slime? Well, apparently that's all the rage these days too. Read on for the eight playdough and slime recipes we're getting gloopy and gooey with: edible, glitter, gluten-free, no bake and moon sand – we've got it all! Consider yourself the most popular parent ever during the school holidays!
1. Jelly and playdough combined into one sensory squidgy heaven? We're all over this edible playdough number by Teaching Mama.
2. This dough can't be served up as an emergency snack, but the fun factor is sky high. Parents, we give you coloured moon sand playdough by Look We Are Learning.
3. Oh yes to galactic glitter playdough! We're heading out right now to bag the ingredients for this PBS Parents tutorial! We might even let the kids have a go too…
4. Got a little one who is partial to chowing down on their playdough? Fear not! The good folk at Parents have this gluten-free playdough nailed so that no kid is excluded from a nibble on their dough. Hurrah! And if you do have gluten intolerances in your household, take a look at our guide to living a gluten-free life in Singapore.
5. Pretty slime alert (an oxymoron if ever there was one)! Reel in Buggy and Buddy's ocean slime recipe to create top-notch sensory play for kids and grown-ups alike.
6. We're not entirely sure how we feel about fluffy slime (it does tend to bring to mind the chewing gum we used to keep, wrapper-free, in our pockets as kids), but this borax-free tutorial by Instructables may just get us on board.
7. It's amazing what you can whip up these days with some polystyrene balls and a bit of food colouring… foam slime! Bring it on! We are especially loving the squishy colours in Maddie Rae's Slime Making tutorial.
8. In the world of slime-making, apparently flubber slime is what we should be making for a stretchier, thicker, tougher kinda slime. Flubber away with this Little Bins for Little Hands recipe.
Feeling lazy? Cheat! The kids will never know…
In between being mummy, wife, chef, chauffeur, referee, counsellor, first aider and entertainment manager, there's not always time to break out the craft box and DIO (Do It Ourselves). Enter long-time life-saver and all-round sensory play genius, Tickle Your Senses. Its Sensory Play Kits come in all shapes and sizes, and we've long had the playdough kits on our radar. We may have to buy a The Very Hungry Caterpillar Playdough Kit just for us…
Like this story? Here's more we think you'll enjoy:

Get crafty with the kids: easy creative projects
Wet day winners: things to do on a rainy day
Turn your toilet rolls into art!
Easy stuffed toys to make with the kids
Don't forget to subscribe to our weekly newsletter and follow us for fun moments on HoneyKids Instagram!