Take recycling to the next level by turning your delivery boxes into space ships, cardboard villages and guitars!
We've aced our toilet roll art, we've whipped up plenty of rainy day projects, and we've even prepped the kids' party bags with a host of DIY favours: now we're upping the creative ante and putting our art and craft kits into overdrive with some seriously cool things to do with a cardboard box. We've all had that moment when the kids have been more interested in the box than what's inside, but we've taken things to the next level with these cool cardboard box projects that will keep the kids (and you) busy for hours, if not days!
Little ones LOVE emergency vehicles, so why not turn your next delivery box into an ambulance, a fire truck or a police car? Use these fun instructions by Keriene to create your own fleet!
When it's too wet outside to take the kids out for a cycle or a spot of scooting, grab a cardboard box and get stuck into this fab superbike project, courtesy of our lovely friends over at Ladyland. Spiderman outfit optional.
Another goodie from Ladyland: forget packing away the Christmas lights and turn a cardboard box into a magical sparkle cave! Then snuggle down in there with one of these awesome picture books.
Glamping is so last season, darling. Instead create your very own camper van with this cute tutorial by The Merry Thought, and go on an imagination adventure around the globe without having to leave your living room.
Forget travelling with the kids by plane, train and automobile to new destinations: use a rainy afternoon as an excuse to blast this rocket by Kate's Creative Space into your craft stratosphere.
Kids demanding music lessons? Before forking out for a musical instrument, save yourself some cash and turn a cardboard box into a guitar by using these instructions by Make It and Love It.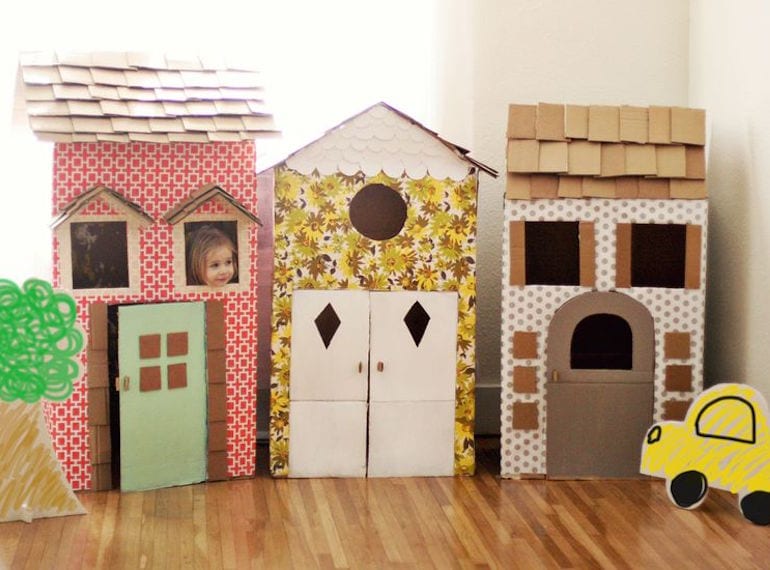 With a seemingly never ending round of school holidays here in Singapore, we've found a big project that will keep you and the kiddos busy for hours: break out your serious art and craft skills to tackle this play house village by A Beautiful Mess.
Like this story? Here's more we think you'll enjoy:
100 indoor activities for kids
Keep the kids busy with a quiet book project
Easy acts of kindness to try as a family
Go rock hunting and then turn your finds into art
Don't forget to subscribe to our weekly newsletter and follow us for sneak peeks on HoneyKids Instagram!