Still wondering where to throw that old kettle? Don't put it in the bin – recycle it or get some cash!
E-waste is any electrical or electronic equipment powered by an electrical source (e.g. from a power socket or a battery). Although the definition of e-waste is pretty broad, the composition of appliances differs, and many items contain toxic materials, so we can't just chuck them all in the bin. Instead, we've found ways to make sorting through the recycling at home a little easier by rounding up some feasible solutions to recycle appliances, light bulbs and bulky items in Singapore.
If your appliance still works, you can try to resell it at Cash Converters, the largest second-hand goods dealer in Singapore (if you don't mind the waiting time). Alternatively, you can put up a listing on eBay, Carousell, ST Classified, Craigslist or Facebook Marketplace. Or, spread some goodwill and give it away through sites like Pass it On, YouSwop and Freecycle (psst, the Salvation Army is always accepting donations). For a full list of recycling points and their locations, check out NEA's website or download the app One Map to get e-waste and recycling locations on the go.
Where to recycle e-waste in Singapore
Since 1992, Singapore has imposed restrictions on the sale of batteries exceeding the stipulated mercury content. That means any battery you buy here can go straight in the bin, and the pollutants will be eliminated at the waste-to-energy incineration plants. Read on for how to recycle your phone and laptop batteries…
Recycling small to medium appliances
Computers and computer accessories, cartridges, and mobile phones
(Remember to erase all your data before recycling!)
1. Extended Producer Responsibility (EPR) e-waste management initiative
What: NEA launched an Extended Producer Responsibility (EPR) e-waste management initiative in July 2021 to help consumers dispose of unwanted electrical products correctly. This includes all regulated consumer products (see here if you're not sure what falls under this list), as well as ICT equipment, batteries and lamps.
How: You can search here to find one of the collection bins available; you'll see that there are different icons to help you identify which site collects which type of waste, so make sure you check first! Note that devices must be able to fit through a 500mm x 250mm slot, too. As well as the collection bins, quarterly collection drives will also take place to allow you to dispose of your e-waste.
2. StarHub
What: Phones, modems, routers, li-ion batteries and charging cables
How: E-waste recycling bins are available at StarHub shops in Plaza Singapura and Tampines Mall. In addition, if you're buying a product from StarHub, then you can dispose of old devices of the same class or type and quantity. For example, if you're buying a new StarHub Smart WiFi Pro router, you can give back your old, unwanted WiFi router. See StarHub's website for more details.
3. Dell's Free Consumer Takeback Services
What: PC and laptops, computer accessories, ink and toners (psst, they don't need to be Dell!)
How: Complete the online process by selecting your product, completing the online application form, and arranging a collection – easy peasy!
4. HP Planet Partners Programme
What: HP and non-HP equipment (if replaced by HP equipment) and HP supplies (printer ink and toner).
How: Sign up for an account, fill in the product take-back form and follow the instructions.
5. The Canon Recycling Programme
What: Canon ink and toner cartridges
How: You can return used ink and toner cartridges to Canon customer care centres.
6. PC Dreams
What: PC Dreams takes in your pre-owned/demo/display and refurbished laptops and other portable electronic devices such as smartphones and tablets.
How: Walk in for showrooms or submit your query via the online form.
Small household appliances, gaming consoles, audio systems, power supplies etc
1. Virogreen NECDC E-waste Recycling Programme for Non-regulated E-waste
What: If you're looking to recycle items such as small household appliances, gaming consoles, audio systems, power supplies etc., then these classify as non-regulated products, which are covered under a different scheme. If you're based in the North/East, then the most convenient is the Virogreen scheme.
How: Use the map to identify the correct collection bin location (in this case, purple), or check out the list here.
2. Shell-Metalo E-waste Recycling Programme for Non-regulated E-waste
What: Like the Virogreen scheme, the Shell-Metalo e-waste programme includes the same items as listed under the non-regulated category; the only difference is the location.
How: You can drop items at 24 Shell petrol kiosks which are located on the map using the yellow icon.
Lamp recycling
In case you didn't know, there are trace amounts of mercury found within fluorescent lamps and Compact Fluorescent Lamps (CFLs). So putting them in blue recycling bins is a definite no-no. Here's where you can recycle them.
1. Extended Producer Responsibility (EPR) e-waste management initiative – (covers lamps too!)
What: As well as covering a number of small appliances, batteries and computers, the Extended Producer Responsibility (EPR) e-waste management initiative also includes lamps!
How: You can search here to find one of the collection bins available, look for the blue or green bins for lamp recycling.
2. IKEA
In addition to letting you test your light bulbs, IKEA's a pretty nifty place to do your recycling!
What: Light bulbs and fluorescent tubes, removal of fridge or mattress when you purchase a replacement from them.
How: Just drop off your light bulbs at the Lighting Department of any IKEA store.
Tip: You can also ask for removal when you purchase a new fridge or mattress from IKEA!
Where: 317 Alexandra Road, Singapore 159965 and 60 Tampines North Drive 2, Singapore 528764
Cash for trash
Ever wondered about those uncles wheeling around trolleys piled with cardboard? They're karang guni (rag-and-bone) men who collect cardboard and sell it to recycling centres. Some buy newspapers and even old electrical appliances. If you see one driving a truck (you can't miss his horn!), wave him down to see if he'll take your old fridge or TV. Or try to get a better price at Cash for Trash during the weekly to monthly collection periods.
1. 800 Super Waste Management Pte Ltd
Where: Pasir Ris-Bedok and Ang Mo Kio-Toa Payoh
How: Check out the website for more details, and here for the schedule.
2. Sembwaste Pte Ltd
Where: City-Punggol, Clementi-Bukit Merah and Woodlands
How: Sembwaste Pte Ltd covers the above districts – you can look here for the schedule for collections.
3. ALBA W&H Smart City Pte Ltd
Where: Jurong
How: See this site for the cash for trash schedule in Jurong.
Removing bulky items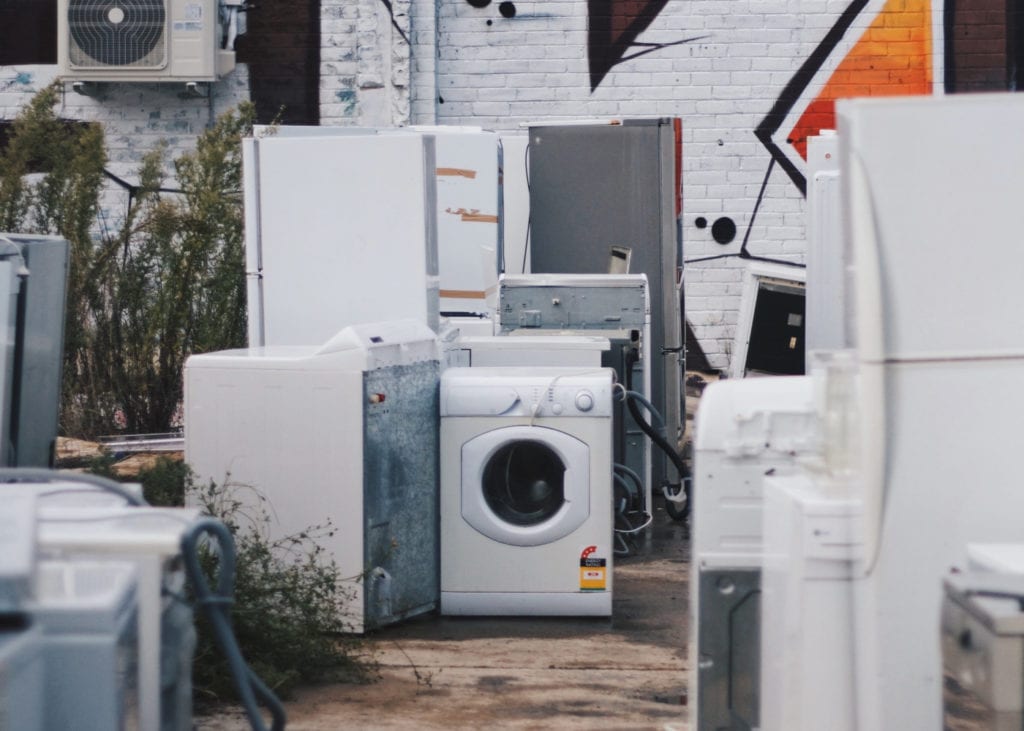 If you live in an HDB flat, you can call up your Town Council, which will usually provide free removal service of three bulky items per month. And, if you live in a condo, you can contact your building management to see if it provides free disposal services for bulky items or a disposal area to leave your e-waste. And if all else fails, you can always pay someone to come and take your old junk away.
1. Tidy
Clear out your kitchen with their help
What: Refrigerators, ovens, washing machines, dryers, old cookers/gas stoves, gas cylinders, dishwashers, freezers, TVs.
How: Call Tidy, or self-dispose your bulky items at its premises.
Where: 29 Tuas Ave 8, Singapore 639244
2. ALS Movers
Great for last-minute waste removal
What: Pretty much anything.
How: Contact them to receive a quote.
Where: North Spring Bizhub, No. 5 Yishun Industrial Street 1, #04-19, Singapore 768161, p. 6255 2107/08, e. [email protected]
Found this guide to recycling e-waste useful? Check out our A-Z of recycling in Singapore!