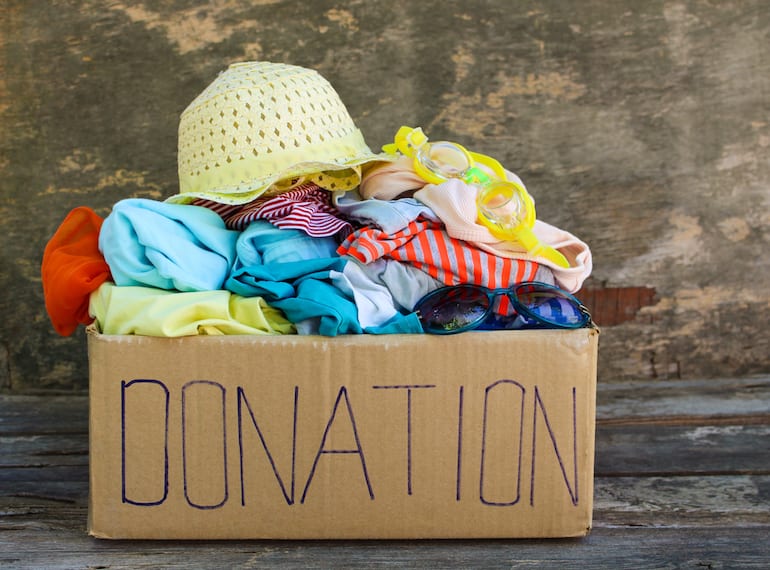 Donation
Make a difference by giving back to society. Passing on your gently used goods to charity is a great way to improve the lives of others while minimising waste.
Have you been thinking about donating some of your clothes, household goods, toys and books to somebody more in need? The old adage, 'it's better to give than to receive', could not be more relevant here in Singapore where many of us have more than we need. Donating your pre-loved (and gently used) items is a great way to give back while minimising waste, so read on to find out where and how to donate in Singapore, then round up the kids and start scouring for things to pass on to somebody who needs them more than you do.
Give household goods to help migrant workers living in shelters
Where: The Humanitarian Organisation of Migrant Economics (HOME) is an anti-trafficking body that aims to celebrate and protect a migrant worker's dignity and rights. With about 1.2 million migrant workers in Singapore, HOME has helped countless migrants, some of whom have been victims of human trafficking or forced labour. HOME also provides shelter, health screenings and a variety of vocational courses through HOME Academy.
What: Household items, such as detergent, cleaning chemicals and toiletries will help those living in HOME shelters. HOME Academy welcomes items to further training, such as desktop computers, laptops, household appliances, and healthcare equipment. Monetary donations can also be made online here.
HOME, 304 Orchard Road #06-22, Lucky Plaza, Singapore 238863, p. 6344 0224, e. [email protected]
Better the life of the needy by passing on unwanted yet useful items like home appliances, medical aids and learning aids
Where: Pass-It-On is a non-profit project started by Central Singapore CDC and managed by the Helping Hand. It seeks to act as a web platform for the distribution of unwanted, yet useful items like medical aids and furniture. It connects the public who can donate the items to Voluntary Welfare Organizations (VWOs), which in turn, can request items on the "Wish List".
What: Home appliances, home furniture, medical aids, mobility aids, learning aids
Pass-It-On, The Helping Hand, 819 Upper Serangoon Road, p. 8511 9160
Feed the needy by providing canned food or dried goods
Where: The Food Bank is a place for companies and people to deposit or donate unwanted food for the needy. Founded by two passionate people with a determination to fight hunger and reduce food wastage, Food Bank supplies its beneficiaries with food items via a network of partners, including voluntary welfare organisations (VWOs), charities and soup kitchens.
What: Make a deposit, such as canned food or dried goods, at the Food Bank premises. Or adopt a Bank Box, which you can place at home or in your office, so people can contribute unopened and unexpired goods. Email [email protected] to receive one today.
The Food Bank Singapore Ltd, 39 Keppel Road #01-02/04, Tanjong Pagar Distripark, Singapore 089065, p. 6831 5395, e. [email protected];  Open Mon-Fri, 10am-7pm, Sat, 10am-1pm.
Turn your small change from shopping into charity
Where: What if feeding your online shopping addiction pays off by helping to feed a child in another country? The One Cent Movement aims to do just that, and hopes to effortlessly make poverty history one day. How ingenious!
What: Just download the One Cent plugin  and continue shopping at your favourite sites, including Amazon, eBay and Zalora. During checkout, round up your purchase to the nearest dollar and your change will go toward a charity of your choice.
Download One Cent plug-in and start contributing.
Empower the intellectually disabled by supporting their vocational training and donating items for fund-raising
Where: The Movement for the Intellectually Disabled of Singapore (MINDS) aims to empower persons with intellectual disability and help them participate as fully as possible in society. MINDS shop stocks a constantly updated range of carefully selected furniture, clothes and collectibles, and house ware and acts as a great avenue for the intellectually disabled to learn how  to interact with customers.
What: Donate apparels, houseware, furniture and collectibles. For bulky items requiring pickup services, contact Linda Yusop at [email protected] or at her mobile at 8180 2095.
Movement for the Intellectually Disabled of Singapore (MINDS) Shop, various locations.
Promote literacy and better education by swapping books
Where: Room to Read started in Nepal and now has chapters in more than 10 countries around the world. Its programs have benefited more than 8.8 million children so far, and the organisation hopes to promote literacy and gender equality in education.
What: The Singapore chapter of Room to Read hosts book swaps from time to time, so be sure to keep your pre-loved books stacked and ready to donate when the time comes. Check out the Facebook page for event updates.
Room to Read Singapore, #02-32 30 Woollerton Park, Singapore 049145, e. [email protected]
Help lessen the financial and emotional burdens of teenage mums by donating baby-related supplies
Where: In a society where teen mums are estranged or marginalised, Babes Crisis Pregnancy Support lends a helping hand to pregnant teenagers (21 and below) who need support in making an informed decision with regards to their pregnancy
What: Donate formula milk for babies (zero to six months), diapers (newborn to six months), baby clothes (zero to two years), breast pumps, baby cots, milk bottles, baby bath tubs and prams. The collection period is year round.
Babes Pregnancy Crisis Support Ltd, 26 Jalan Klinik, #01-42/52, Singapore 160026, p. 6664 8591; To donate, drop an email at [email protected]
Fund various charities by donating your gently-used assorted goods
Where: The Salvation Army is great for hunting vintage knick knacks and furniture. Committed to lending a helping hand to the underprivileged, there are programmes to reach out to different aspects of the community like the elderly, families and children in need of care and protection.
What: This organisation accepts donations for a variety of items. For donations of bulky items like furniture, you can arrange to have it collected for a fee. More information is available here.
Salvation Army Singapore, various locations.
Donate clothes and accessories to help victims of domestic violence 
Where: The Singapore Council of Women's Organizations (SCWO) is the national coordinating body of women's organisations in Singapore. Its New2U Thrift Shop is a favourite amongst hipsters and vintage-loving bargain hunters – the store is a treasure trove of hidden gems like past season designer goods or preloved statement pieces. All proceeds from sales go to Star Shelter, a refuge for victims of domestic violence, or the various SCWO initiatives like The Women's Register, a platform for mentoring young women. Due to space constraint, the New2U Thrift Shop is temporarily not accepting donations but you can donate directly to Star Shelter through FairPrice.
What: Non-perishable food items such as rice, instant noodles, formula milk, milo, cooking oil and household items like cleaning products, shampoo, toothpaste and sanitary pads are always welcome.
SCWO Star Shelter, shop and donate to over 70 charities through FairPrice, 96 Waterloo Street, Singapore 187967, p.6837 0611, e. s[email protected]; Mon-Sun, 9am-10pm
Encourage textile recycling by letting go of your old clothes
Where: The H&M global garment collecting initiative promotes textile recycling (tons of clothes end up in landfills every year!) and reduces waste. Your old clothes will be given a new lease of life by either being marketed as second-hand goods or reprocessed as textile fibres or insulation materials if they're no longer suitable for wear.
What: Donate your pre-loved clothes. Whether they're worn, torn or completely out of style, they're worthy of being donated to this initiative. Simply drop them off at the nearest outlet – and you'll receive a $5 voucher off your next purchase!
H&M, various locations.
Recycle your unwanted clothes, soft toys and IT products to raise funds for social initiative activities
Where: Metta Welfare Association has nine welfare centres providing residential and daily support including activities, rehabilitation, respite care and education for special needs and elderly folk around Singapore.
What: Gather up your unwanted clothes, footwear, shoes, belts, towels, bedsheets and the one million stuffed toys you have lying around the house and head over to the recycling bins over at Metta Welfare Association. The Association also accepts the used and unloved electrical gadgets and IT bits 'n' bobs cluttering up your home – laptops, mobile phones, hard disks etc – as part of its Green Charity Drive. All goods will be collected by various recycling organisations and funds raised will go towards the continued support of Metta's good work.
Metta Welfare Association, Metta Building, 32 Simei Street 1, Singapore 529950, p. 6580 4688, e. [email protected]; Open daily 7am to 7pm (closed on public holidays).
Tips for donating to charity
Donate meaningfully. Understand the charity's mission and items most needed by recipients of donations.  For example, victims of a natural disaster may require blankets, torch lights, sweaters or canned food, while charities working towards building schools will require furniture or stationery.
Donate appropriately. Before you give your things away, consider whether you'd purchase them at a second-hand store. Check items for wear and tear and make sure they're still in usable or good condition. Otherwise, the donation centre may have to throw them away, and the cost of disposing of masses of donated goods that cannot be used is a serious financial burden faced by many charities.
Donate efficiently. Help make the volunteers' jobs a lot easier by taking a few extra minutes to organise and pack things in groups that go together.