Image: Foodbank Singapore
The world could use a little help and what better place to make a difference than by volunteering with organisations and charities in Singapore? We take a look at our options…
Singapore is a small place with a big heart. And what better way to really get to that heart than by giving up some of your (and your kids!) time to volunteer for a worthy cause? If you've been thinking of doing something meaningful for others, there's no better time than now to start.
Whether you've got some spare time after work, are a mum with some spare hours between school drop-off and pick-up, or are just looking to meet new friends while doing some good, there are so many ways to be part of the community while bringing a smile to the world.
P.S. There are also plenty of ways children can volunteer in Singapore – just check out our interview with Nurani Kaseh Binte Isa for some big inspiration!
A guide to volunteering in Singapore
1. Aidha
How can we help those who help us the most? Why not give back to the thousands of women in Singapore who make our lives here so much easier: our helpers! Why not donate some of your time to Aidha. This is an organisation that provides programmes for helpers and lower-income women. Financial literacy programmes (including money management), computer courses and entrepreneurial lessons are all available. By volunteering, you can share your knowledge and experience with Aidha's students. Roles will be assigned to volunteers according to individual skill sets and availability.
2. Singapore Red Cross
Singapore Red Cross is always looking for volunteers. You can help out with fundraising projects, ambulance services and offer extra hands at the Red Cross Home for the Disabled. For persuasive people out there, you can even assist at blood donation drives too!
Volunteering is so much more than just time spent. It is also about bringing some much-needed cheer and happiness to those that need it most. Volunteers are welcome regardless of skill sets, experience and background. Some volunteer work can even be done from home.
3. Riding for the Disabled (RDA)
We are big fans of this amazing initiative. It creates a fun horseriding experience for children and adults with special needs. By riding on horseback, they can have a welcome break from a wheelchair. Don't worry if you have no previous experience handling horses. Full training will be given. The RDA is always delighted to hear from potential volunteers (especially those who may be interested in sidewalking with the riders).
We spent a happy morning meeting Louis, Boss, Glow, Tenzing and the other 16 retired polo and race horses. We watched how just a single session brings immeasurable joy to young riders and their families. Volunteers need to be 16 years and up to sign up. No matter what kind of time you have to donate, the RDA will happily accommodate you.
4. HOME
HOME stands for the Humanitarian Organisation for Migration Economics. It is a charity that believes in justice, equality, empowerment and dignity of migrant workers. HOME provides assistance, shelter, food and counselling for workers who have been abused. They also offer skill-building courses and legal aid.
HOME can always use volunteers at its shelter. Especially with assisting with activities and programs for shelter residents. At its HOME Academy, volunteers can teach English or computer skills, for example.  The time commitment is two Sundays a month for 12 weeks.
5. Make A Wish Foundation Singapore
Who wouldn't want to help make a sick child's wishes come true? Make A Wish Foundation is the only wish-granting initiative in Singapore. And with only a handful of staff members, it would be impossible to grant wishes to deserving children without the help of volunteers.
The organisation works tirelessly to bring some happiness and hope to children facing dark times. The kids are often battling critical illness or life-threatening medical conditions. A wish granted to these children gives them and their families the strength and encouragement to fight on. Your efforts will be rewarded a thousand times over with the smiles beaming your way by being a part of the special moments that the Foundation creates.
6. Salvation Army
Salvation Army has been touching lives in Singapore since 1935, providing a lifeline to the underprivileged within the community. Some of us might think that volunteering for the Salvation Army is all about kettle-bell ringing during the festive season. However, there are a whole army of opportunities for those with time on their hands to help out! Get on board with fundraising, donation drives, workshops or even academic mentoring!
7. Asian Women's Welfare Association (AWWA)
The AWWA is aimed at helping out vulnerable people from infancy to old age. With your help, AWWA can continue to expand its work with children with special needs, disadvantaged families, caregivers and the elderly in the community.
This amazing team has already established a school and a rehabilitation centre. They are also overseeing mentoring programs. Helping out in senior community homes and activity centres, volunteers are more than welcome. You can sign up individually or as part of a group. Any time that you can contribute to its causes would be endlessly valuable.
8. kidsREAD Clubs (National Library of Singapore)
We love nothing better than curling up with the kids and a good book. So why not draw on your wild storytelling skills? Volunteer as a reader for underprivileged children at public libraries and community clubs around Singapore via kidsREAD Clubs.
By giving just one hour of your time a week, volunteers can make a huge difference to little book-lovers from disadvantaged families. Anyone aged 15 and above with a good command of the English language is welcome to help.
9. Transient Workers Count Too
Where would we all be without the countless migrant workers that come to Singapore's shores? The ones who contribute so much to society without us ever really considering how much we rely on them?
Sadly, migrant workers in Singapore often face issues with poverty and employee disputes. This leaves them struggling and in need of help. Show your support by volunteering at Transient Workers Count Too. You can join ongoing projects like free meal initiatives. This can help up to 300 workers a day to be fed a much-needed breakfast and dinner. You can also fundraise, lend legal aid or help out with various outreach projects.
10. Movement For The Intellectually Disabled of Singapore (MINDS)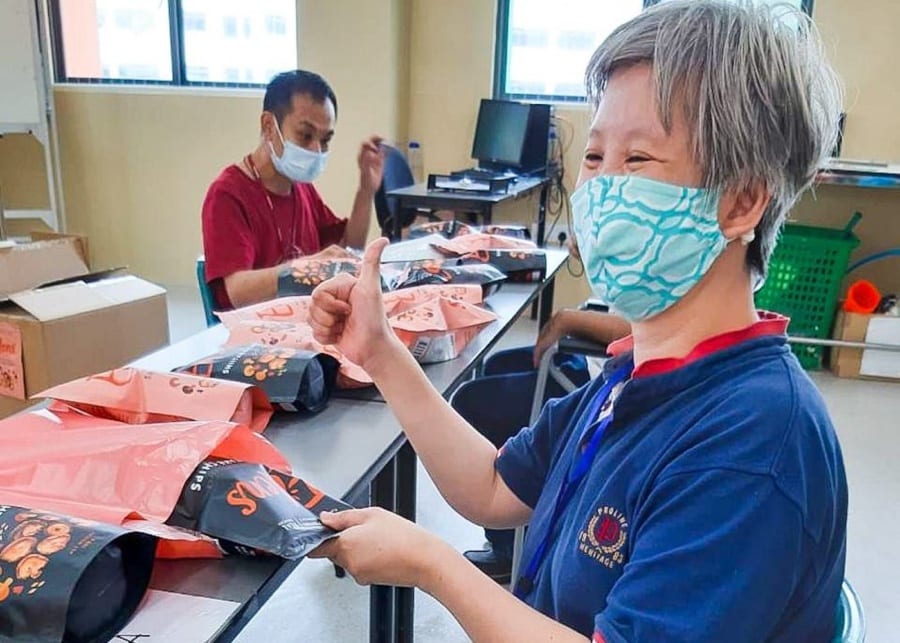 Voluntary welfare organisation MINDS aims to empower people with intellectual disabilities and help with their immersion into society. The Movement currently runs multiple special education schools. They also have employment development centres, training and development centres, care homes (one for adults and one for kids) and a hostel. It also runs a caregivers support centre plus social and welfare home-based care services to help those in need.
The Me Too! club, a fabulous befriending programme for children and adults who may be socially isolated, is also part of MIND. So how can you help? MIND welcomes anybody with time on their hands who's keen to make a difference. Volunteer roles include assistant teachers, befrienders, admin, or maybe you have a specific skill (photography, art, languages etc) that you can teach and share?
11. Association of Women for Action and Research (AWARE)
Looking to help out a good cause, but tied by other time commitments? Singapore's leading gender-equality advocacy group, AWARE, is happy to hear from anyone who can work part-time, full-time or even from home. Essential volunteer roles to fill include manning crisis hotlines, dishing out legal aid, fundraising or joining the befriending scheme. AWARE is a non-profit organisation created in 1985 to try and create a society where there is true gender equality. It is entirely funded by donations, grants and member subscriptions and is a registered charity here in Singapore.
12. Cat Welfare Society
Calling all cat lovers! Singapore's Cat Welfare Society has been working tirelessly to help felines in Singapore. And they need your help. Caregiving is the single most important role in cat welfare, and it's what the charity needs most in terms of volunteers.
Caregivers get out into their neighbourhoods to help ensure the safety and wellbeing of the local community kitties. They promote and practice responsible feeding, make sure that the cats in the colony are all sterilised, plus report cases of abuse to SPCA and the police. The Love Kuching Project is another community-based cat welfare choice for volunteers. They'll also happily take any help they can get.
13. HOPE Dog Rescue
Dog lover? There are plenty of shelters that will gladly take your help. Action for Dogs, SPCA, Mutts & Mittens, Voices for Animals and Oasis Second Chance Animal Shelter are just some of the animal homes that could use spare hands if you have them.
HOPE Dog Rescue is a group of volunteers with a passion for helping animals who are abused, neglected or abandoned. It is always looking for foster homes if you have space in yours. Or, volunteer by accompanying dogs to and from vet visits, carrying out house checks for potential adoptions, help with feeding strays, writing (for its blog and Facebook) or getting on board with fundraising and school education drives.
14. New2U
We know we can send our donations of pre-loved clothes, household wares, ornaments and books over to New2U (although they are currently at busting point!). But did you know that you can also help out by volunteering too? New2U thrift shop is a favourite among hipsters and bargain-hunters looking for hidden treasure. All proceeds from sales go to Star Shelter, a refuge for victims of domestic violence. But without the help of volunteers to run the shop and sort through the goods, this absolute gem of an initiative simply couldn't operate.
15. Babes Pregnancy Crisis Support
As mums ourselves, we know how tricky pregnancy and motherhood can be, even with a ton of support. Sadly, for pregnant teens in Singapore, sometimes the support is just not there. These young women can end up feeling estranged and marginalised which can lead to desperation and drastic decision-making. Babes Pregnancy Support provides information, support, assistance and guidance services for teenage girls faced with a pregnancy crisis. It runs a 24-hour helpline where a friendly voice will be available at all times via either SMS or a phone call.
Volunteers are needed to help continue this life-line to those who need it. Volunteers are also welcome with open arms to provide pre and post-natal care, assist with workshops for teen mums (and dads), help boost publicity for Babes, or join the befriending program to lend an ear and a big hug to girls who need it.
16. Volunteer.sg
There's tons of events and activities happening in Singapore all year round on Volunteer.sg. From sports events like Youth Olympic, to arts events such as the annual Singapore Writer's Festival and Weekends at the Artground. By now you're sure to have noticed the volunteers that keep these events running smoothly.
Whether you're looking for a new experience, to lend your skills to a worthy cause or to meet new people (or maybe just to stand at the forefront of these cool events) why not sign up to take part? Shifts are available on an ad-hoc basis so you wouldn't need to commit to a regular schedule.
17. Food from the Heart
Determined to stop food wastage in Singapore, Henry and Christine Laimer decided to do something about the surplus food from bakeries to those in need. The result? An incredible 40,300 beneficiaries across Singapore. It's also gone beyond bread.
Today, Food from the Heart has expanded its initiatives to other worthy causes such as School Goodie Bag (a feeding program for Primary and Secondary students), Community Food Pack (distribution of fresh fruit, eggs and bread and other food to the less fortunate), toy donations, birthday parties and distribution of unsellable items. Food from the Heart is always looking for new volunteers, from logistics to event facilitation and even graphic design.
18. Expats Making a Difference in Singapore!
If you're keen to support vulnerable women and children, the Expats Making a Difference in Singapore Group provides opportunities for you to lend a hand to someone in need. When an opportunity to help out in a project arises, you can comment under the post to help. Fair warning, the rules are strict (you need to be female and an expat and you need to be dedicated – no flaking!) within this closed Facebook group. But the causes are worthy. A member of our HoneyKids team dedicated time to a local shelter which she found it was a genuinely rewarding experience. We don't doubt it!
19. It's Raining Raincoats
It's Raining Raincoats is a Singapore charity that aims to build bridges of integration between migrant workers and residents of Singapore, and the good news for you is that there are loads of ways you can make a difference! The organisation is always on the lookout for volunteers and it can be virtually or in-person, and there is no minimum time commitment for volunteer work. As well as your time, you can also donate meals, care packages and pre-loved gifts.
Interested in volunteering in Singapore? Get the kids to volunteer too!