Photography: Nurani Kaseh Binte Isa
It's never too early to start giving back to the community. Take it from Raffles Girls' School student Nurani Kaseh, who shares more about her journey into volunteerism.
There are only two words that we can think of to describe Nurani Kaseh Binte Isa: magnanimous wunderkind. Since she was young, she's been a competitive public speaker and debater. She's also into acting, working toward becoming a polyglot, and has been serving the community from the age of 13. And that's on top of being featured in MILO's upcoming campaign on ordinary Singaporeans with extraordinary accomplishments! We chat with Nurani Kaseh about her inspiring journey into volunteerism.
Interview with Nurani Kaseh, Raffles Girls' School student with a penchant for volunteering
Hi Nurani! Can you tell us when and why did you decide to do volunteer work?
I was first exposed to volunteer work when I entered RGS (Raffles Girls' School). Mr Lim Shi Zhi, my school's head of service, was the one who inspired me to volunteer. He would send out emails with opportunities to volunteer on-site; I signed up to help out with the Singapore Cancer Society's Relay For Life event in 2019. It was my first ad-hoc service opportunity, and it was such an exciting experience! I decided to continue volunteering to uplift the various disenfranchised communities in Singapore and beyond.
How do you find the time to volunteer at various organisations?
Always schedule your commitments in advance! I have a tab running on my browser with a Google document reflecting my daily activities, locations, and timings so that none of my schedules overlaps. Keeping tabs on my activities helps me to better plan my volunteer activities.
Also, volunteering doesn't necessarily entail having to sacrifice other aspects of your life. Finding the time to volunteer doesn't mean having to move your schedules around! For those who may want to start volunteering but don't know where to begin, a good step is to sign up for ad-hoc opportunities that don't interfere with your schedule.
As a volunteer leader, how do you rally and encourage your fellow students about volunteerism?
Social media is an amazing platform to share opportunities and raise awareness on pertinent issues. For instance, I led a few student-initiated teams and recruited people by sending mass mailers to students and inviting them to sign up as regular volunteers. I've also used Instagram, Telegram, and WhatsApp as publicity platforms to amass volunteers, most of whom are between 13 and 17 years old.
There are other ways to encourage others to volunteer. I've shared my individual and team's experiences serving the community at my school's annual Community Fair. After the session, emails asked where I sourced volunteer opportunities. This proves that most young people do have the heart to serve – they just need to be equipped with the knowledge on how to do so.
Why should young people volunteer? What would you say to someone looking to volunteer?
The question is: "Why not?" Young people should volunteer because they are capable of making a difference! The internet offers us easy access to connect with like-minded individuals and organisations equally as passionate about causes we feel strongly about.
It may be intimidating to take that first leap and contact a volunteer organisation to seek opportunities because of your age. However, most organisations are more than willing to have youths on board because they recognise the importance of hearing different perspectives.
What lessons have you learned so far from your volunteering stint?
Not everything is as simple as what meets the eye. There are a lot of unseen issues that you begin to take notice of through helping out on the ground. While distributing food at a stretch of rental flats in Bedok, I learned that most occupants are elderly residents suffering from mobility issues or disabilities, which hinder them from getting their groceries. Upon that realisation, I looked into how to assist those with disabilities (PWDs) better and participated in the Tech for Good 2021 Challenge. This is an annual innovation challenge organised by Engineering Good that celebrates the use of technology in helping people with disabilities and the elderly live a life of opportunities.
How has the pandemic affected your volunteer work? What steps did you have to take?
The pandemic has caused a lot of volunteering efforts to shift online, including mine. My tutoring sessions are done through online conferencing platforms. Most of my resources have also been moved online for convenience.
For another volunteering stint, my team could not bond with elderly beneficiaries at the senior activity centres as we had initially planned. Instead, we interacted via Zoom instead, starting with group activities and followed by individual chat sessions in breakout rooms! We also couldn't put posters or anything physical up due to pandemic concerns, so we decided that sharing materials online was the best way to raise our cause's awareness. It's apt since the mailers touched on common online scams and were sent out in October, AKA Cybersecurity Awareness Month!
You were one of the student nominees for the President's Volunteerism and Philanthropy Awards 2021. How did you find out about your nomination, and how do you feel about it?
I received an email from the National Volunteer & Philanthropy Council informing me that I had been shortlisted! It came as a huge surprise to me because, having been on the scene for only three years at that time, things still felt very new and fresh. But then again, volunteering is never something you will properly be able to settle into. You will encounter new problems. There are times when you will have to troubleshoot and devise solutions. You'll get to work with various communities depending on your area of interest in service.
You're a big advocate of having education be accessible to everyone. In your view, how can this be achieved?
I think it's important to look for avenues to help lower-income students receive adequate access to educational resources. Even a small act like donating to charitable organisations in Singapore that have a great focus on education will make a difference in the lives of others.
If you're looking to do a little more, becoming a volunteer tutor with organisations like Rental Hearts and UPStars allows you to help out on the ground. However, if teaching is not your thing, there are other ways in which you can contribute to making education more accessible for all. You can consider holding a textbook donation drive in your school or posting free notes online for students to refer to!
Speaking of education, you're involved in so many curricular activities. Which one(s) are your favourite and why?
I'm the Vice-Chairperson of the Throwback Project, the school's history club that aims to preserve RGS' history and identity through our efforts. Some of our initiatives include annual Founders' Day celebrations, yearly Y1 History Booklets to introduce the school's history, and a physical in-school heritage trail.
I'm also the Welfare Head of the Peer Helpers Board, an initiative that supports the mental health of our peers. The board receives relevant training from counsellors so that we can act as one-on-one peer coaches to those who reached out to us for extra support.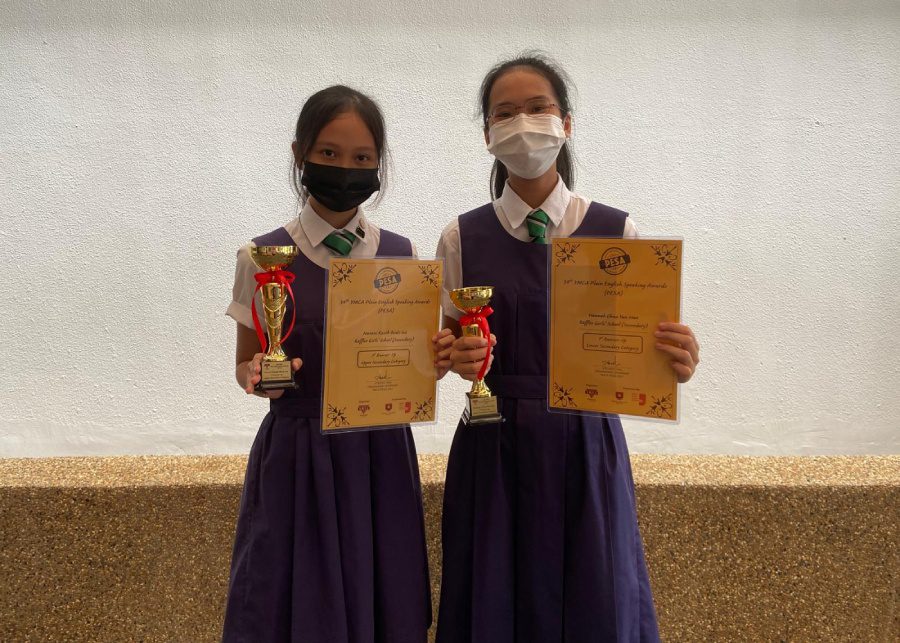 How has public speaking and debate helped you?
I'd like to think I've always been quite loud and outspoken! My first public speaking competition was in primary school. Since then, my love for public speaking has continued to grow, and I have continued to be active in the debate and public speaking scene.
Public speaking has allowed me to gain greater confidence in my ability to convey information and speak out on important issues that need addressing. On the other hand, debate has helped me brush up on current affairs and broaden my knowledge of current world issues.
What other interests do you have outside of school?
Since I was a toddler, I have played the piano. I also enjoy Taekwondo and participate in productions like acting in films and commercials. I also take weekly language classes outside of school, such as Portuguese, Korean, and Tagalog. I'm currently pursuing an internship in the non-profit sector!
Among all your accomplishments, which one are you proudest of?
PROJ.enliven was an idea I had envisioned since 2021, after coming across a campaign on GIVE.asia seeking funding for a domestic helper's medical expenses after her brain aneurysm. I continued browsing the site and was disheartened to see certain fundraisers not garnering as much traction as others.
I decided to set up PROJ.enliven and managed to recruit 60 members within a week! Our youth-led team will be working closely with volunteers and the GIVE.asia team to carry out fundraisers supporting lesser-known campaigns and individual causes. Being able to make this dream a reality is something that I am proud of.
What are your plans after you've completed your education at RGS?
I'm uncertain of the career path I would like to take after junior college at RI, but what I do know is that I would like to continue contributing to the community through frequent volunteerism!
Thank you, Nurani Kaseh, for your thoughtful and inspiring story!
* Interview has been edited for length and/or clarity.