We're getting a little sweaty with all these outdoor activities, but we have an awesome treat to beat the heat: easy popsicle recipes!
Hot Singapore days call for an icy treat. We already know where to head for ice cream, but we do love a frozen homemade ice lolly to cool things down too. These icy treats go by a few names: popsicles to some, icy poles to others, and ice lollies to our British friends. But we've given them their own name: frozen goodness on a stick! Catchy, isn't it? Making popsicles at home with the kids is a great school holiday activity – or whip up a big batch for your next pool party!
Easy popsicle recipes for those hot Singapore days
1. Interstellar galaxy ice cream
Vegan Insta-sensation Jose, aka Naturally Jo, created these beautiful frozen goodies using coconut milk, coconut nectar, butterfly tea, matcha blue dye, and blueberry juice. The ingredients are definitely worth sourcing… Guaranteed brownie points (and IG mentions) when you whip these out of the freezer on a hot day!
2. Watermelon popsicles
Here's a pretty watermelon popsicle recipe by Cooking Classy that even the fussiest of "I don't like fruit" kids won't be able to resist. These icy treats are three layers of watermelon, chocolate chips, and coconut milk. However, you can replace the chocolate chips with raisins if you so wish! Easy to make and deliciously refreshing to eat.
3. Rainbow fruit popsicles
What do you get when you mix up blueberries, strawberries, peaches, grapes, and lemonade? The perfect rainbow ice lolly recipe for a hot summer's day! Hop into this Amazing Eats tutorial for all the easy deets. Be sure to arrange everything as per the recipe to get the pretty rainbow effect.
4. Neopolitan popsicles
Who doesn't love this classic flavour combination? This is definitely a popsicle that everyone will enjoy. This recipe from Cooking Classy will be a sure-hit in the house. Psst, be sure to follow the recipe to a tee – switching the arrangement around might mess up the flavour combos!
5. Piña colada yoghurt pops
Non-alcoholic Piña Colada yoghurt lollies on a sweltering day will definitely hit the spot (or any day for that matter)! Use this lovely recipe by Taste for a sweet and sour pop of frozen goodness. Add some crushed mint leaves to give it a tropical feel, and for the grown-ups only version, a dash of white rum!
6. Spiced chai latte popsicles
This is for the tea lovers out there – the chai latte fans, specifically. Follow this recipe by Jessica Gavin for a popsicle that's bursting with bold flavours. Plus, if (and when) it melts before you even got the chance to finish it, you've just made an iced chai latte to drink. The versatility!
7. Seven-layer rainbow popsicles
We know there's already a rainbow popsicle recipe higher up in this list, but this one's too pretty not to be shared! This recipe by The First Year Blog is not a quick win, but the results are definitely worth the effort! Plus, they're a great way to teach kids the art of patience.
8. Cheesecake popsicles
We love cheesecake as our go-to indulgence on those really rough days, and we're loving it even more as a frozen treat! This recipe's similar to how you would make a normal cheesecake, other than sticking the mixture on a lolly stick and putting it in the freezer.
Ingredients
One cup Greek yoghurt
Four tablespoons of cream cheese
Six tablespoons of icing sugar
Two tablespoons of lemon juice
Shortbread biscuit crumbs
Method
1. Beat all of the ingredients together (except the biscuit crumbs) until you have a smooth consistency (if there are a couple of small lumps from the cream cheese it's fine).
2. Pour into your chosen mould and then top with shortbread biscuit crumbs.  Insert your popsicle sticks then place them in the freezer until set.
3. To remove popsicles, run the mould under some water and give them a gentle wiggle to release.
9. Strawberry and banana ice lollies
Strawberries and bananas are already great individually. But, they go together so well like, uhm, strawberries and bananas… These easy peasy Sainsbury's popsicles are sure to be a hit with kiddos of all ages. The adults may be tempted to swipe one for themselves too!
10. Super orange and mango ice lollies
Deliciousness doesn't always have to look fancy… We love these simple but thirst-quenching orange and mango ice pops by Madeleine Shaw. The citrusy, tangy oranges fit perfectly well with the sweetness of mangoes. We suggest omitting the cinnamon and/or coconut cream if you want to make a simple icy treat.
11. Frozen Fruity Pebbles yoghurt pops
Take your ice pops to the next level by incorporating this well-loved breakfast cereal! The Fruity Pebbles adds a pop of crunch to the frozen treats, while the actual fruits (strawberries and blueberries) give it that fruity goodness. Perfect for breakfast (naturally), an after-school snack, or even a quick midnight bite! Delish has the deets on how to make these.
12. Fruitcicles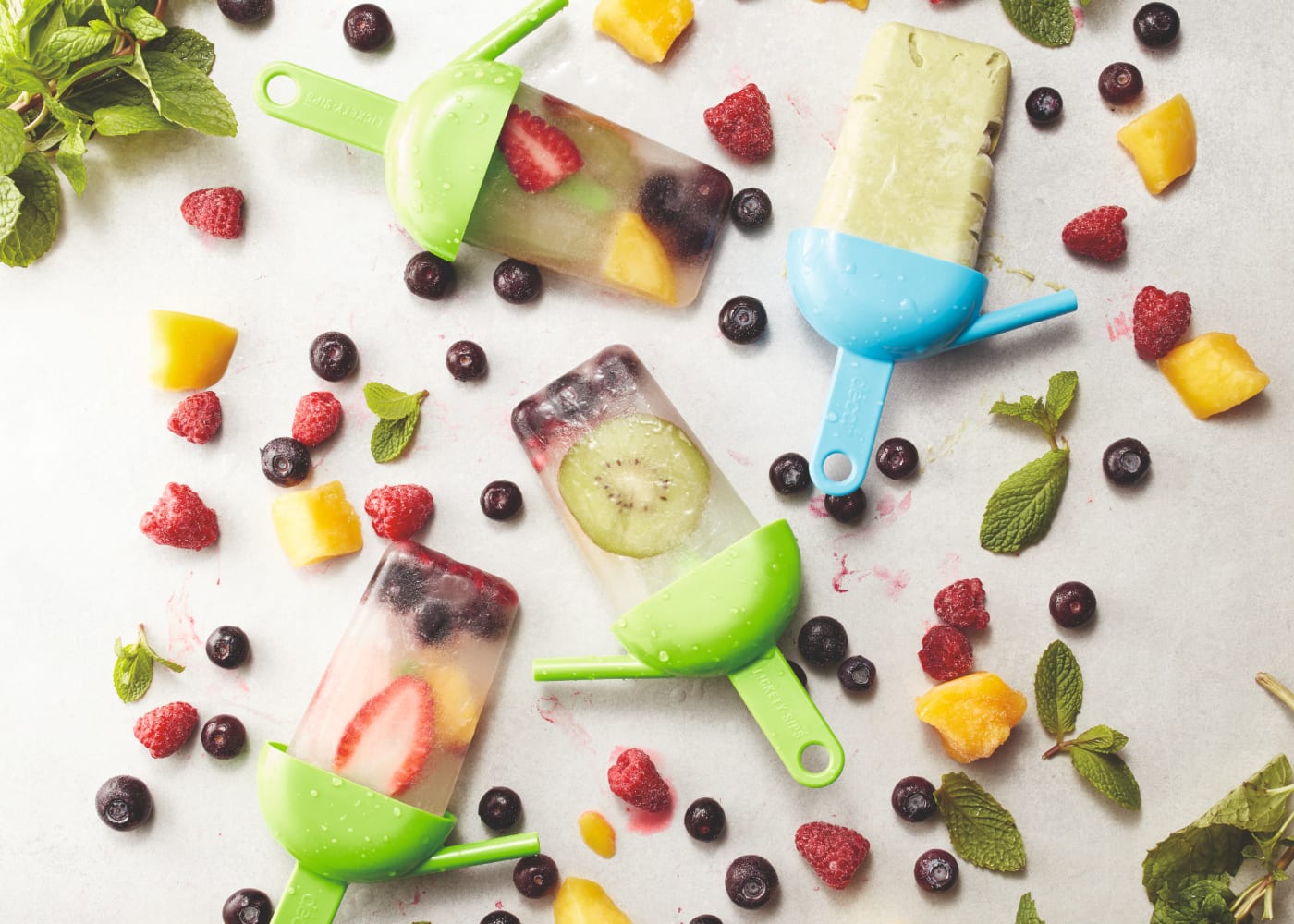 Here's an easy recipe from Smart Snacks. These look so good if you add lots of different colours and shapes into the ice lollies. Any fruit can be used for this, just be sure to ask the littlies which ones they want in their frozen treats! These fruitcicles are also a simple way to increase the amount of fruit eaten within a day.
13. Strawberries and cream icy poles
Rustle some of these icy poles at home for a cool-down snack with the fam! Made with zingy strawberries and creamy yoghurt, they sure look like a tasty nod to the Singapore flag. Something patriotic for the National Day celebrations, perhaps? Follow this recipe from Feast to make these yourself. We bet you won't be able to stop at just one…
14. Lemon buttermilk popsicles
Here's another recipe that deftly balances zingy and creamy in its flavour profile. Plus, you only need four ingredients to make these! Don't rejoice just yet though, as you'll need to heat up the mixture before freezing them to bring out the lemon and thyme flavour… Follow this recipe from Live Eat Learn and you'll be nom-ing on these in no time.
15. Vanilla Greek yoghurt funfetti popsicles
Not all popsicles have to be super healthy – you can be indulgent, it's okay! Have a little bit of icy fun(fetti) with this recipe from Salt and Lavender. Add some sparkles and have a unicorn on standby when you're serving this, and you're all set. Both kids and adults will love them.
16. Orange strawberry sunrise popsicles
These are almost too pretty to eat (almost!). The ombre effect will be a hit with not just the kids, but even that grumpy teen that's been hiding in their room. Take a photo (or video) of your frozen fruity treat, upload on your IG (or TikTok), and make your followers salivate at your sunrise creation. Follow this recipe by The Healthful Ideas and get ready to swoon.
17. Breakfast popsicles
Who says these frozen treats can only be eaten as a snack during the hottest time of the day? Here's a recipe for making these as a breakfast staple in your home.
Ingredients
One tub of vanilla Greek yoghurt
A handful of berries
One to two chopped mango
A handful of granola
A drizzle of honey
Method
1. Place the berries in the popsicle mould and then dollop some vanilla yoghurt over the top until you have filled the mould a third to halfway.
2. Add the chopped mango and then top with the yoghurt until almost to the top. Sprinkle over the granola and drizzle with honey. Insert your popsicle stick then place it in the freezer until set.
3. To remove popsicles, run the mould under some water and give them a gentle wiggle to release.
18. Tropical granola lollies
While we're big advocates of healthy snacks for our small people, sometimes a little bit of dark chocolate makes for the perfect treat. And if you're going to do chocolate, then we say try this awesome tropical granola lolly recipe by BBC Good Food. Mangoes, bananas, and coconut milk seal the popsicle deal.
19. Chocolate peanut butter yoghurt popsicles
Everyone knows that chocolate and peanut butter make an awesome combination. So how's about turning that into a popsicle! Marsha's Baking Addiction has the perfect recipe for a creamy, fudgy, icy yoghurt treat that's just bursting with peanut butter flavour. Dipped in chocolate and paired with crushed salted peanuts… what a divine dessert.
20. Healthy kiwi and chia seed lollies
Chia seeds, berries, kiwis, and frozen yoghurt by The Health Site make this a recipe we may not want to share with the kiddos… But specifically because of its health benefits, it's good for everyone's consumption. Healthy yet still tasty – totally approved by us!
21. Pomegranate coconut water popsicles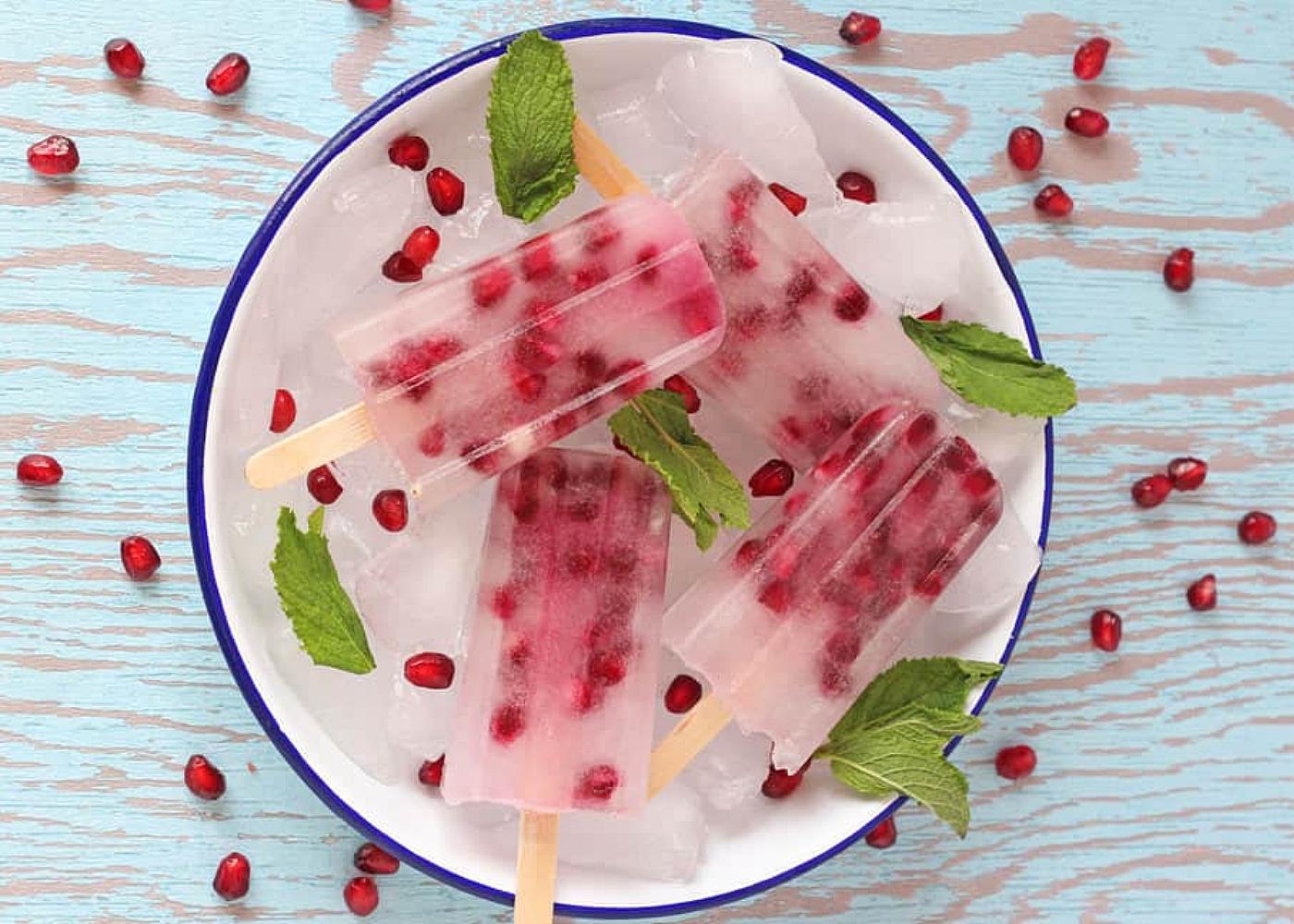 This pomegranate and coconut water recipe by My Fussy Eater is just the frozen ticket for a cooling snack o'clock break with the kiddos. Plus, you don't need to search for or shop for too many ingredients to make this treat. Less fuss for everyone, a deffo welcome thing!
22. Pure fruit ice lollies
These popsicles from Emily Kerrigan taste great with all the sweetness coming from natural fruit – there's no added refined sugar. Don't worry too much about quantities or making them look perfect. Just get your kids to try different fruits and come up with their own flavours. A great family bonding activity, we say!
Viva la ice lollies!