Photography: Mikhail Nilov via Pexels
Escape the heat at these cool spots around the island (we even found snow!)
Singapore is so hot right now, and not in the way that Mugatu means it in Zoolander. And when that mercury soars, sometimes you just want somewhere to chill that is not a shopping mall. So, where can we go to beat the heat? Sure, you can always hide out with the kids in one of Singapore's amazing indoor play centres, but let's broaden our horizons a little. Read on for literally the coolest spots to hang out on the island – the cold places where kids can chill out, too.
COLD PLACES IN SINGAPORE
1. Snow City
Let's not mess about, Snow City has to be the coldest place in Singapore, surely? Don't pack your skis or snowboard, though, this is a slope for sliding on rubber rings! Off-piste, catch the Snow Playground and the Liquid Nitrogen Experiment.
Where: 21 Jurong Town Hall Road, Singapore 609433
2. Timezone Orchard Xchange
Put your competitive hats on and hit Timezone Orchard Xchange with the brood to escape the island's sultry weather in a fun way. We love that you can spend hours gaming to your heart's content without breaking a sweat. Plus, with the variety of games Timezone offers, you will be spoilt for choice! Strike a score at the mini bowling arena, hit the road in a dashing car for a dashing-good time, and so much more fun stuff.
Where: 437 Orchard Rd, #B1-01 to 04, #B1-07 to 18, #B1-25 to 44, Singapore 238878
3. Libraries
Apart from being a great work spot and a quiet place for reading, the National Libraries are super cooling if you're looking to escape the heat in Singapore. We remember when we forgot to bring our jackets when visiting the library once or twice, and we couldn't bear the freezing air-con! On top of the heat-relieving ambience, various national libraries have stunning architecture and interiors that'll have you wanting to stay longer!
4. MBS Digital Light Canvas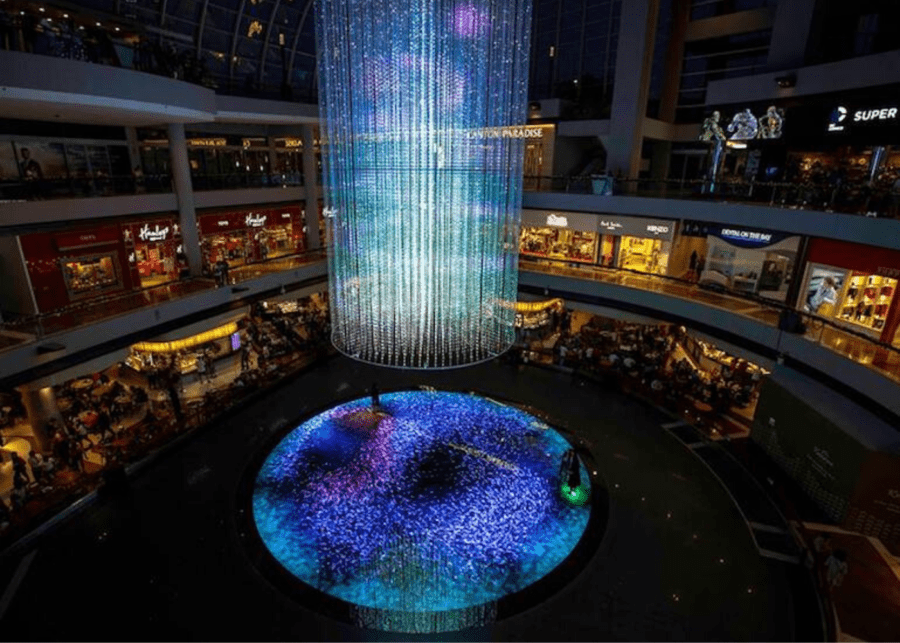 For those of you who fancy a spin around a digital dance floor, Marina Bay Sands offers just the thing. Its former ice skating rink is now a mesmerising digital canvas! Watch shoals of fish gather in the ocean beneath you as crystals light up overhead or paint calligraphic art with your feet while flowers blossom in your wake.
Where: 10 Bayfront Ave, Singapore 018956
5. Changi Airport and Jewel Changi
Who says the airport is only for travelling and shopping? Ranked as the World's Best Airport eight times so far, we know you can never go wrong with the amenities at Changi Airport. Do we have to mention how cold this place is? Chill at one of the spacious yet cosy terminals for a cooling good time. If you're looking for a cold atmosphere outdoors, you can't miss Jewel Changi, the world's largest waterfall that'll give you that cool breeze you've been craving!
Where: 78 Airport Boulevard,  Singapore 819666
6. Flower Dome and Cloud Forest at Gardens by the Bay
We never get tired of Gardens by the Bay or that rush of cool air when you enter the Cloud Forest right beneath that amazing waterfall. Don't forget to bring a light scarf or cardigan! The soaring roof, wide paths, beautiful plants, and cool temperatures of the Flower Dome have us returning every time there is a new exhibition on. Check out our guide to an awesome day out at Gardens by the Bay!
Where: 18 Marina Gardens Drive Singapore, 018953
7. The Science Centre Singapore
A visit to the Science Centre never goes amiss with the brood. And with tons of exhibits to engage with, rest assured, you won't hear a peep from the littlies while they are at it. Best part? The fam can learn away in the comfort of a cold and comfy environment. Thank goodness for aircon! Our advice? Keep a tab on their page, as there are plenty of new and upcoming activities, workshops and more that the little ones will love. We are all in for multiple visits to kick that boredom to the curb!
Where: 15 Science Centre Road, Singapore 609081
8. Far East Organization Children's Garden
While this is outdoors, nearly every time we've been here, we've managed to get a chilly feeling. In a good way. After an extended period of getting soaked by slides and buckets and hoses, we're feeling cool and relaxed, especially if we go late afternoon and a breeze comes up. Want more spots to splash around when it's hot outside? Check out our guide to free water play parks in Singapore!
Where: 18 Marina Gardens Drive Singapore, 018953
9. Museum of Ice Cream
Ice cream. Obvious, isn't it? This if-you-can't-beat-em-join-em solution actually makes us grateful that it is so darn hot here. Without such an excuse, we'd find it difficult to justify our frozen sweet dairy obsession. Plenty of cool places to get it, but we like the selection and surroundings at the Museum of Ice Cream. Want more ice cream parlours to add to your repertoire? Check out our guide to Singapore's best ice-cream stores.
Where: 100 Loewen Road, Dempsey, Singapore 248837

10. Ice Skating at Kallang Ice World
Head to Kallang Ice World to whizz around on a competition-standard ice rink for some ice-skating fun. Skate hire is available on site, and there is a spectators' gallery for those who would rather watch than whirl! When it comes to cold places to hang with kids in Singapore, this ice rink is right up there…
Where: 5 Stadium Walk Singapore 397693
11. Cool Zone at National Orchid Garden
It's a pretty escape, visiting the National Orchid Garden. While it can get a bit hot with all that uphill and down dale in and around all the displays, if you end up at the Winter Zone, you will be rewarded with mist and cool air.
Where: 1 Cluny Road, Singapore 259569
12. The Rink at J Cube
Normally we like our ice in a drink. But we make an exception for this Olympic-sized solid slab at The Rink because it's just so much fun. We spend most of our time on our backsides, so in addition to those penguins designed to make unbalanced kids glide, there are seals and snowmen for older kids and adults too. Yes, we look a bit silly, but at least we stay dry!
Where: Level 3, J.Cube, 2 Jurong East Central, Singapore 609731
13. S.E.A Aquarium
There's something about walking beneath the cool blue sea and seeing sea life swim above that brings on instant calm and helps you forget the blistering heat outside. Of course, the best bit about going to the aquarium is just sitting and watching rays and sharks glide by in the Open Ocean section, with its floor-to-ceiling glass and massive viewing platform.
Where: 8 Sentosa Gateway, Sentosa Island, Singapore 098269
14. Far East Flora cold room
What we really need right now is a big fridge. If you need to purchase some flowers for a friend, your house or your husband (please let us find an excuse!), you can add an element of adventure to the task and bring the kids to Far East Flora instead of just hitting up Cold Storage. And you will benefit from a hit of sweet scents, care of freshly cut blooms and foliage.
Where: 565 Thomson Road, Singapore 298184
15. Marché Mövenpick 313@somerset
Are you looking for a restaurant that serves kid-approved bites with a draft of cold air on the side? Marché Mövenpick 313@somerset is one of our fave places to hit up with the brood for a little trip to a chilled Swiss-inspired food marketplace. Best part? The stalls serve delish food and thirst-quenching drinks to satiate the brood's likes and fancies. There are many other eateries in Singapore that also offer a great cool-off from the weather. Check out our guide to Singapore's best family-friendly restaurants and cafes for more of our favourite weekend hangouts.
Where: 313@Somerset, Level 1 Discovery Walk
16. A day at the movies
Okay, we might be getting more than we bargained for here because Singapore's cinemas are notoriously icy. Gold Class at Golden Village is the best way to do it, with big comfy chairs to sink into and all the trimmings. When it's really just too hot to do anything that requires movement, retreat to your nearest big screen armed with something to keep you warm. How ironic.
Need even more ideas for things to do when you need to escape the heat? Our list of 100 indoor activities in Singapore for kids should keep you busy!