Potong room, inspired by our local creation. Photography: Sufyan
We've got the deets on the latest attraction in Singapore, so get ready for some ice cream fun! And don't worry, it won't melt so quickly...
August 2021 is an exciting month – Leo season, National Day, Hungry Ghost Festival, and now the Museum of Ice Cream! This interactive museum at Dempsey Hill has finally opened its doors after a slight delay due to the pandemic. We hope you're hungry for some treats, because there are plenty of sweet surprises in store here! Here's what you can expect to see and do at this latest attraction…
What to expect at the Museum of Ice Cream
1. It's a pink wonderland!
The first thing that will catch your eye when you arrive at the location is how pretty in pink the place is! The entire space bears the bright rosy hue, making it easy to spot and super fun and glowy as you roam around! Another thing that may surprise you is how big the museum is, taking up 60,000 sq feet of space. No wonder 90-minute time slots are given to all visitors!
2. Dress your best to get your 'gram on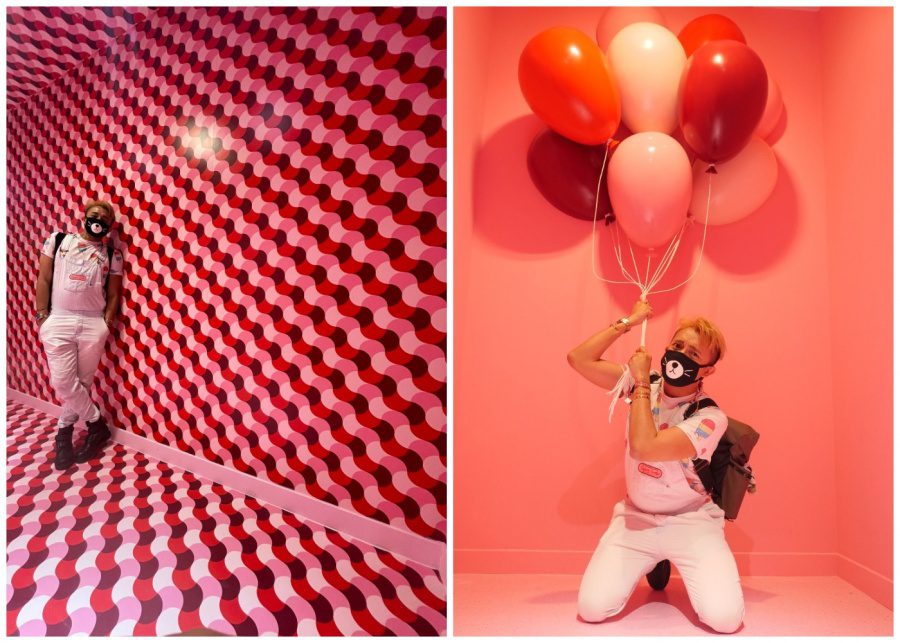 Clear as much space on your smartphone, because you'll be taking selfies at every turn of the museum! The 14 never-before-seen interactive installations will transport you to the land of sweet dreams. Each whimsically experiential room features larger-than-life pieces for you to get up close with, touch, play, and pose with for your IG!
Remember the pastel lifeguard post at its pop-up store in Design Orchard earlier this year? It's now part of a room called California Dreamin' – no passport needed to get here! There's the very popular Banana Split, a colourful tunnel featuring over 10,000 yellow, red, and pink bananas. The museum also pays homage to Singapore with its version of the Dragon Playground (still found in Toa Payoh), and an entire room filled with potong ice cream. Kids will have a ball of a time at the playground and two other fun spaces – a pink bouncy castle, and the sprinkle pool, the last room in the exhibit.
3. Enjoy a never-ending sugar rush
What's an ice cream museum if it doesn't have treats?! While you roam around the installations, enjoy unlimited servings of delicious ice cream at four dedicated stations. The frozen treats come in familiar (local) flavours that include Apple Pie Soft Serve that comes in Merlion-shaped cones, Pulut Hitam, and Lychee Bandung and Taro Milk Tea sandwiched between two wafers. There's nothing better than ice cream on a hot sunny day, right? Psst, you may have to partake in a quiz or something fun to earn your nom – consider this your heads up!
4. Wind down and shop
After you've explored every inch of the museum, wind down at the outdoor cafe and bar. There's plenty of ice cream to scoop from if you still have space for more! Otherwise, go for some light bites, speciality milkshakes or beverages to wash down the sweetness. Parents can go ahead and enjoy the Singapore Sling Boba Cocktail, which is available for a limited time at the bar. Want to take a piece of the museum home with you? Look around its retail space and get your hands on exclusive merchandise made in collaboration with homegrown brands. Too exhausted to go 'round the retail area after your trip? Not to worry, just head over to its online retail and shop to your heart's content!
5. Crowds and excitement galore
Given that travel is still pretty much on hold, you bet that many people will be heading down to this museum. Our advice? Reserve your tickets in advance via its website. Tickets go from $38, while children ages two and below enter for free. Fully vaccinated individuals can enjoy the experience in groups of up to five. That includes children 12 years-old and below if all kiddos are from the same household. Unvaccinated guests will have to present a valid negative Covid-19 PET result from a clinic taken within the last 24 hours prior to the time of admission.
We're loving that the Museum of Ice Cream wants us to celebrate and experience the joys of ice cream, which is something that Team HoneyKids knows a lot about! This museum will defo be a popular haunt for everyone, and we're so stoked that it's finally here in Singapore!
Museum of Ice Cream, 100 Loewen Road, Singapore 248837. Opening hours are Thursdays to Sundays, 10am to 11pm.
Will you be visiting the museum now that it's open? Let us know!