Photography: Choo Yut Shing via Flickr
Not just another urban oasis, Fort Canning Hill is a treasure trove of history and family-friendly places just waiting to be explored...
When it comes to parks that are great for exploring, Fort Canning Hill ranks near the tippity top of all time. Not only is it the site of a historical moment in Singapore's history, but it also has wide green spaces great for kids to run as far as their legs will carry them. If you're planning on tackling this one, be warned: it's a bit of a hike. But, you can opt for the sloping ramp as there are a lot of stairs (we're not kidding!). Pack ample amounts of mozzie spray, water and your picnic basket if you're planning to make a day of it…
The ultimate guide to Fort Canning Hill
How to get there
Take Exit B from Fort Canning station (Downtown line) or Exit E from Clarke Quay station (North East line). You can also brave the walk up from Dhoby Ghaut station (North South, Circle and East West lines) Exit B. It's a bit of a trek from the station to the park… But it's a breeze when you're ready to head home. Downhill!
A quick history of the hill
Fort Canning Hill has a long history of catering to important people. Due to its vantage point (those endless stairs), many 14th-century Malayan kings have called it home. The hill has also been the site of the Headquarters of the Far East Command Centre, British Army Barracks and the Battlebox, a British command centre built in the 1930s. This hill is also where Sir Stamford Raffles made his home in 1823. Now that it's undergone a huge facelift, it's back with more family-friendly historical elements than ever, including the nine historical gardens. Plus, Jubilee Park is open with more play elements and event spaces than before: yippee!
Things to do at Fort Canning Hill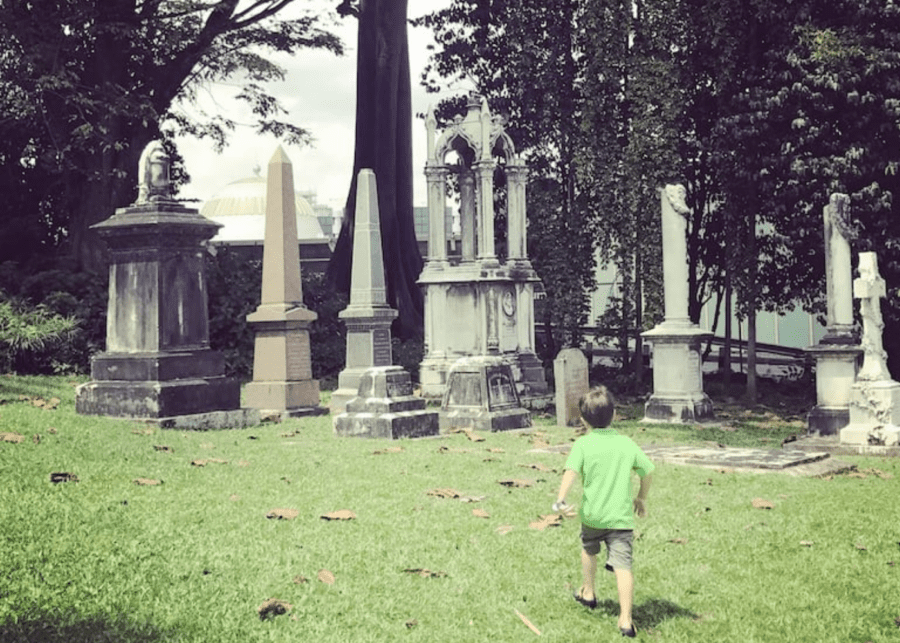 Although the hill is a tad too steep for cycling and scooting, the kiddos will become historians and explorers after a day out at Fort Canning. It's teeming with historical artefacts (and insects, seriously, so bring bug spray!) from the Sally Port and Artisan's Garden, to the Pancur Larangan (or the Forbidden Spring) and The Old Christian Cemetery. Take a wander through gardens that showcase Singapore's diverse plant species like Raffles Garden, Farquhar Garden and the First Botanical Garden. Whether you're hunting for rocks or historical anecdotes, National Parks has a bunch of helpful trail guides for you to take a DIY history tour.
Psst, try out the 25 trees trail for a fun family challenge, including the heritage Rain Tree! Pose in front of the iconic Gothic Gate and relax on one of our favourite green spaces, Fort Canning Green, for a picnic. There's also plenty of events and happenings to watch out for including Shakespeare in the Park, Films at the Fort and Ballet Under the Stars (pre-Covid, of course!).
1. Play in Jubilee Park
Playground alert! Jubilee Park has shot to the top of our to-do list in Fort Canning Park and for good reason. Hop on the long slide down to the park where you'll find swings, see-saws, logs to climb and balance on. And, a wide-open space for performances and events… or a picnic!
2. Stroll around Sang Nila Utama Garden
Named after the first ancient king of Singapore, Sang Nila Utama Garden is more than just a mouthful. It's also a recreation of ancient Southeast Asian gardens. It features a symmetrical layout, Javanese split gates to mark the entrance of new 'realms' and a reflective pool for meditation along with plants that were originally cultivated on the hill. The kids are sure to have a blast strolling about imagining they're a Southeast Asian king from the 14th century.
3. Find the first Botanic Garden
Peek into the past to take a look at Singapore's first botanical and experimental garden. Founded in 1822, the garden has been restored and features crops grown during Singapore's colonial era. The five zones include latex and resin, timber, ornamental and fragrant trees, forest fruits and coastal and riverine vegetation.
4. Spot the fauna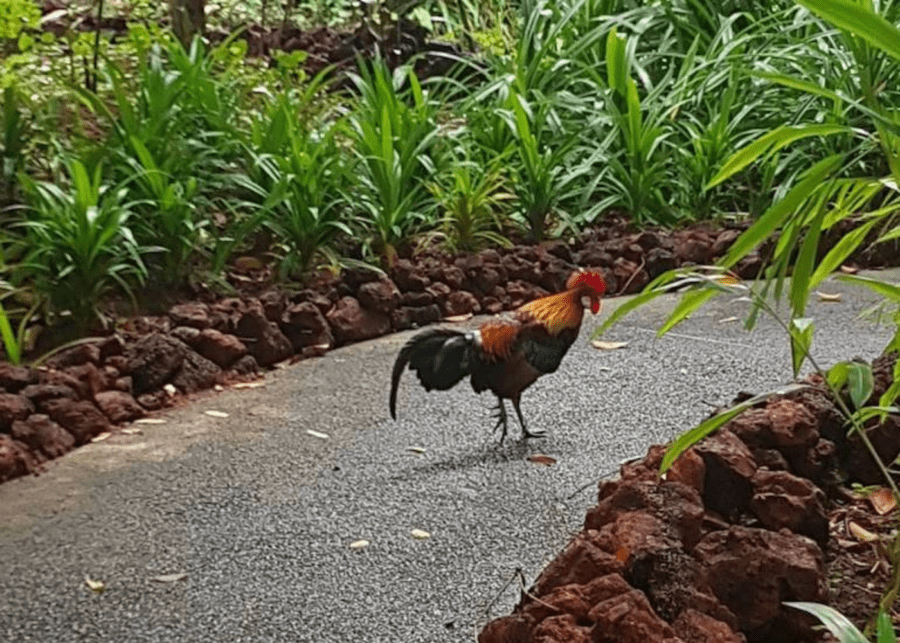 If you're lucky, you'll be able to spot a jungle fowl strutting about the growth. They look like roosters apart from their truly vibrant plumage which makes them a worthy resident of a hill occupied by Malayan kings. Side note: they can fly!
5. Visit the Spice Garden
Blink and you'll miss this little patch of heaven. We're giving a special shoutout to the Spice Garden, one of our favourite places to visit. You'll find it near the foot of the hill and your nose will tell you you're there with the first whiff of pandan. The garden itself is a buffet of ginger, curry leaf, banana, nutmeg, clove and lemongrass. This is a homage to Raffles' own botanical garden built in 1822 and a real treat for the senses. Have the kids slow down and explore. It's absolutely worth it!
6. Peek inside Fort Canning Centre
Did you know that Fort Canning Centre was once a British Army barracks in 1926 before being reinvented as a place for the arts in the 1990s? Right now, it's currently closed, but the building is being considered by NParks to be reused as a heritage museum in the future, which will hopefully feature exhibits that showcase the history and natural history of the area. We can't wait!
Where: 5 Cox Terrace, Singapore 179620
7. Skate along Armenian Street Park
The hill might be too steep, but the Armenian Street Park is now 100% pedestrianised – woohoo! That means more places for the little ones to skate and scoot about. So strap on those helmets and zoom your way from Fort Canning Park to Bras Basah, Bugis, and the Civic District. Check out the plant collections showcased in mobile planter boxes around the main park for a little look into the Peranakan culture.
8. Tour the Battlebox
The Battlebox was part of the British army headquarters during WWII. Located in the heart of the city, the Battlebox was the site of "the worst disaster and largest capitulation in British history". Always wondered how Singapore, dubbed the 'impregnable fortress', ended up surrendering to the Japanese? The answers lie within the Battlebox. Spoiler alert: it was inside the Battlebox that the British decided to surrender Singapore to the invading Japanese on 15 February 1942.
If you're keen to experience the history yourself, tours can be pre-booked on Fridays to Sundays and start from $20 per adult and $10 per child (seven to 12 years old). You won't be allowed to snap any selfies here (postcards are sold at the gift shop) or take notes, so best to bring the bigger kids and history buffs.
Where: The Battlebox, 2 Cox Terrace, Singapore 179622
9. Once you're done, grab a bite at The Salon
Housed within the charming Fort Canning Hotel, The Salon serves up Western classics with an Asian twist including delights such as Spaghetti Laksa and Mee Siam with Boston Lobster. Pop by on a Sunday for a late brekkie where kids can dine on spag bol, pizza and fish and chips. Brownie points for the small but fun play corner.
Where: The Salon, Fort Canning Hotel, 11 Canning Walk, Singapore 178881
Love this guide to Fort Canning Park? Check out our roundup of Singapore's best parks for families!