Photography: lifeforstock via Freepik
It's that time of the year again when you ditch the kiddos and indulge in some time for just the two of you! We've got the best hotels where you can enjoy V-Day in style…
When was the last time you had a romantic getaway with your significant other? If it's taking you too long to remember, we're here to help. So it's time to pack your hottest lingerie and plan a sweet Valentine's Day staycation at one of these swish hotel hotspots. Or, just whack your comfy PJs in a weekend bag, order room service, and fall asleep together watching an in-house movie… whatever floats your boat! Whether you desire a bit of Agape or Eros-type love on 14 February, take advantage of the decadent offers available and do it in style.
The best hotels in Singapore for Valentine's Day staycation
1. Citadines Connect City Centre Singapore
This new boutique hotel is the perfect respite for parents this Valentine's Day. Celebrate your love for each other with a stay here, which includes a complimentary four-course candlelit dinner at Edition Rooftop Bar & Restaurant. Those who booked the suite rooms get to dine by the poolside and even enjoy a one-way limousine transfer. When you're done, go for a leisurely stroll down Orchard Road and admire the lights.
Citadines Connect City Centre Singapore, 182 Clemenceau Avenue, Singapore 239923
2. Hotel Fort Canning
If you love spending time at Fort Canning (with or without the kids), perhaps you can consider staying overnight there. No, we're not talking camping there – book a night at Hotel Fort Canning, the iconic heritage hotel tucked within 18 hectares of the park's lush greenery. Its luxe designer rooms and suites are the perfect romantic escape for you and your partner. Your stay here also includes a complimentary bottle of Prosecco, a premium bubble bath with flower petals, and 18% savings on a Valentine's Day four-course dining special at The Salon. Sweet!
Hotel Fort Canning, 11 Canning Walk, Singapore 178881
3. The Outpost Hotel Sentosa
An adults-only hotel in Singapore? Yes, you read that right. The Outpost Hotel Sentosa is poised as a "romantic island getaway for the fun and the fearless". You'll get to participate in unique experiences curated by the hotel, such as cocktail-making and snorkelling at the nearby Lazarus Island. Psst, be sure to check out the four pools here! Its rooms, inspired by the island's history, feature tasteful monochromatic design, floor-to-ceiling windows, and a customisable minibar.
The Outpost Hotel Sentosa, #03-01, Palawan Ridge, 10 Artillery Avenue, Sentosa Island, Singapore 099951
4. Quincy Hotel Singapore
Here's another adults-only accommodation for your consideration if travelling to Sentosa sounds like a chore. Located just a short stroll away from Orchard Road, this stylish boutique hotel has everything to make your stay a memorable one. Have a drink on the lawn, soak your stresses away at the infinity pool, and sweat out the small stuff at the sauna and steam room… you'll definitely live life to the fullest here. Here's our review of our stay at Quincy Hotel Singapore if you need more convincing!
Quincy Hotel Singapore, 22 Mount Elizabeth, Singapore 228517
5. The Fullerton Bay Hotel Singapore
Book a stay at this waterfront jewel, and your other half will definitely be impressed! There are plenty of things to look forward to – the exclusive Fullerton bubble bath is at the top of the list. You'll also get to savour a two-course set dinner in your room and free-flow evening cocktails. Looking to up your Fullerton experience? Choose either a 60-minute couple massage or a fancy vintage Rolls Royce limousine ride in the city. Or both if you have money to burn! This offer is also available at The Fullerton Hotel Singapore. Now, if you'll excuse us, we need to count our cash for this stay…
The Fullerton Bay Hotel Singapore, 80 Collyer Quay, Singapore 049326
6. Dusit Thani Laguna Singapore
Here's a romantic getaway that'll leave your partner swooning for the rest of the month. This luxury hotel in eastern Singapore is offering an all-in-one package that promises an unforgettable experience. What you can expect: 45-minute massage for two in its couple treatment room at Devarana Wellness, a three-course dinner set (and breakfast the following day) at Greenhouse, a complimentary Dusit care kit and minibar, and a bottle of Prosecco Sparkling wine. Time to whisk ourselves off on this getaway, stat!
Dusit Thani Laguna Singapore, 11 Laguna Golf Green, Singapore 488047
7. Capella Singapore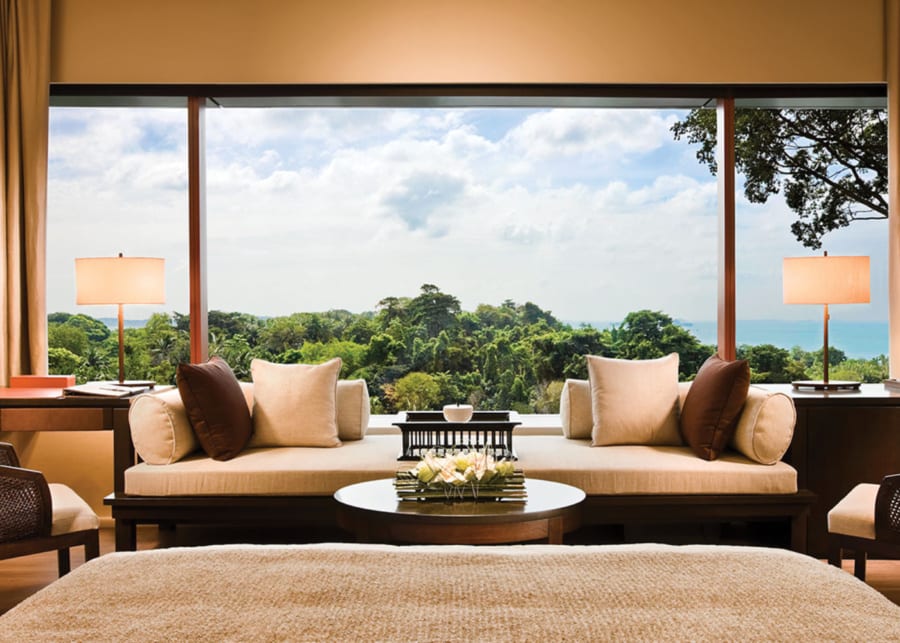 If you're looking to make this year's V-Day a "moment to remember", then leave everything to the capable team at Capella Singapore. You'll arrive at the hotel in style with its limousine service before being ushered to the accommodation of your choice. Take part in the complimentary resort activities, ranging from fun workshops and yoga classes to a quiet afternoon tea at The Living Room. Retreat to your room, dress in your sexy best, and then head down to Cassia for a three-course romantic dinner for you and your partner. Yeap, we're calling it – this stay will definitely be one to remember!
Capella Hotel Singapore, 1 The Knolls, Sentosa Island, Singapore 098297
8. Amara Sanctuary Resort Sentosa
Create your own little love nest in one of Amara Sanctuary's one-bedroom villas that's guaranteed to give you plenty of privacy. Each villa is complete with a private plunge pool, an outdoor stone bath and a romantic outdoor alfresco dining area. You'll never have to leave your room once you've checked in, that's for sure! A word of warning: this will definitely set you back a pretty penny or two, but it's a Valentine's Day staycation that you'll both appreciate.
Amara Sanctuary Resort Sentosa, 1 Larkhill Road, Sentosa Island, Singapore 099394
9. The Vagabond Club
If you can't or don't plan to travel to Paris in February, this boutique hotel is your next best option to experience the Parisian lifestyle. Every room has been elegantly designed with a mix of colours and textures, setting plush fabrics with dark wood. You can definitely get wild during your stay here! There's a whiskey bar at the hotel as well, which we recommend going to set the mood for your night. Voulez-vous coucher avec moi ce soir?
The Vagabond Club, 39 Syed Alwi Road, Singapore 207630
10. The Scarlet Singapore
The bedrooms at The Scarlet Singapore are guaranteed to get your mojo going, particularly with the deep red hues and leopard print decor. Its Passion Suite also features python patent leather and an outdoor jacuzzi! But before you get wild between the sheets, rev yourselves up for the night at nearby restaurant Nouri. The decadent menu will fill you nicely and whet your appetite for the remainder of your night. Ooh la la!
The Scarlet Singapore, 33 Erskine Road, Singapore 069333
11. Duxton Reserve Singapore
Who would've thought that Chinatown would be a destination for a Valentine's Day staycation? Designed by a former Bond girl turned interior designer, this award-winning hotel marries Chinese, Malay, and European elements into an elegant surprise. No two rooms are exactly alike, so be sure to whip out your phone cameras and snap as many sexy photos as possible during your stay there.
Duxton Reserve Singapore, Autograph Collection, 83 Duxton Road, Singapore 089540
12. Raffles Hotel Singapore
Treat your significant other like royalty by booking a stay at this prestigious accommodation. Enjoy a complimentary exclusive bottle of Billecart-Salmon Brut Réserve Champagne with fine Kristal Gold Caviar. Head to the Raffles Spa for a 60-minute spa treatment. You'll also get daily breakfast at Tiffin Room, afternoon tea at The Grand Lobby, access to luxe amenities, and even a 24-hour butler service. Luxury at its finest!
Raffles Singapore, 1 Beach Road, Singapore 189673
13. Fairmont Singapore
Hand the kiddies over to their grandparents and check in for a lovey-dovey weekend at Fairmont Singapore. The team has prepared romantic treats to charm the socks off you and your partner. Head to Willow Stream Spa for a five-hour package, which includes a 30-minute rose petal bath and a 90-minute customised body massage. There's even a violinist playing relaxing tunes in the treatment room! When you're done with your pampering sesh, go ahead and indulge in some nom-fest at the nearby restos nearby, such as Mikuni and Skai. Love is in the air over here, indeed!
Fairmont Singapore, 80 Bras Basah Road, Singapore 189560
14. Shangri-La Rasa Sentosa Resort & Spa
Picture this: you and your significant other under a large beach umbrella, basking in the sun and sipping (or chugging down – no judgement here!) sunset drinks. Well, turn that into reality with this beach club staycation. Top that off with your preferred choice of dining or spa experience. Challenge your partner to fun sea sports activities while you're at the beach too. Sun, sand, sea, and no kids. Savour it while you can, folks…
Shangri-La Rasa Sentosa Resort & Spa, 101 Siloso Road, Sentosa Island, Singapore 098970
15. Pan Pacific Serviced Suites Beach Road
Plan an intimate experience this Valentine's Day with the help of this serviced suite apartment near Arab Street. Check in to the one-bedroom premium suite located on a high floor, which shows off panoramic views of the Singapore Flyer and harbour. Choose to dine either at Pacific Lounge or ParkRoyal on Beach Road before making the rest of your night an intimate one. Enjoy!
Pan Pacific Serviced Suites Beach Road, 7500B Beach Road, Singapore 199592
16. Sheraton Towers Singapore
Relax and reconnect with your beau at this swanky five-star hotel situated in the heart of Orchard. Book your V-Day staycay and enjoy the sweet life sans the kids. Make it extra sweet and book the Cabana Room – it's large, spacious, and comes with a balcony and an inviting king bed. The Valentine's Day of dreams!
Sheraton Towers Singapore, 39 Scotts Road, Singapore 228230
17. Grand Copthorne Waterfront Hotel Singapore
Haven't found a good hotel for that romantic rendezvous? Grand Copthorne Waterfront Hotel invites you for a stay at its luxury riverside hotel this Valentine's Day. Rooms come with full-length windows, offering you picturesque views of the river or the cityscape. Go for a relaxing dip at its outdoor jacuzzi before heading for a romantic dinner for two at Food Capital Restaurant.
Grand Copthorne Waterfront Hotel Singapore, 392 Havelock Road, Singapore 169663
18. W Singapore – Sentosa Cove
Forget Hawaii – go on a tropical adventure in Sentosa instead and treat yourself to a suite surprise at W Singapore. Check yourself into one of its lavish suites and show off that bikini bod by the pool before hiding away in the privacy of a poolside cabana! Kick it up a notch and pick the WOW or Extreme WOW Suite for the best views and an even better night with your one and only. You're welcome, by the way!
W Singapore – Sentosa Cove, 21 Ocean Way, Sentosa Island, Singapore 098374
Have a lovey lovey lovey dovey dovey dovey Valentine's Day!