Photography: Pixabay
Looking for that perfect outdoor spot for your annual family photoshoot but have no clue where to head? Some of the best photographers in Singapore share their favourite spots on our little island.
One of the most precious joys of life as a parent is to see the kiddos grow in front of your very eyes. Slowly but steadily reaching milestones, going through growth spurts and learning life's many lessons. A great way to celebrate their every phase is by capturing it on camera – and there's nothing like a photo shoot in the great outdoors, like your littlies favourite park, to relive those childhood memories!
Singapore may be tiny, but it has tons of outdoor scenic spots at every nook and cranny for that perfect photo shoot. From shophouse settings to cityscapes and gardens, we are indeed spoilt for choice! So, why not take advantage of what our little red dot has to offer? But here's the not-so-easy part – choosing that perfect spot from so many on the island for that one annual capture can be a tough call. Fret not! We hear from the best photographers in Singapore about their favourite outdoor spots for family photoshoots.
Best locations for family photoshoots in Singapore
1. Jurong Lake Gardens for open fields and high grass
I recommend Jurong Lake Gardens as my current favourite location for a family session – it has a beautiful area with dreamy high grass and open fields that make a great backdrop if you've already exhausted the lush greenery of the Botanical Gardens in your previous photoshoots. It is quite unique and unusual to Singapore. There is plenty of space for your kids to run free and explore, as well as some small hills to climb, and even a 'tree' made of steel rods for dramatic shots – giving you a good variety of images for your final gallery.
-Rebecca Berger, Rebecca Berger Photography
2. Joo Chiat for a vibrant shophouse setting
Joo Chiat place has been a favourite shoot location for me for the last 15 years, and is very popular with families of all ages. The street has the most glorious shophouse colours and gives that old Singapore feel with the old shutter doors and walkways. It is a perfect reminder of Singapore for those wanting to take a little slice of Singapore home when they leave this little red dot. It's also great for families with little and big kids, and doesn't require any long hot and sweaty walking around, with the areas I choose being close together and offering enough variety of backgrounds and colours.
-Kate, Little ones Photography, Here's a special offer for grabs – all HKA readers will get $100 off on their family shoot until March 2023.
3. Gardens by the Bay – Main gardens, Domes and East gardens
The main gardens of Gardens by the Bay, located next to Marina Bay Sands, jumps right out of the sets of Avatar (movie) within lush greenery just outside of the city centre. It is a popular area for family who love a mix of cityscape with greenery in the images as well as the iconic Supertrees.
The Flower Dome and Cloud Forest Dome within Garden by the Bay is the answer for a cool climate while having all the outdoor feel to it.
Gardens By The Bay, East (Tg Rhu) is great for families who love water, lush greenery park, expansive skies as well as the iconic Singapore city skyline backdrop. A short five minutes walk from the carpark/taxi drop off will bring your family to this beautiful outdoor location. You can choose to have the shoot done early morning or late in the afternoon, and you will be rewarded with different looks at the same location.
These locations (above mentioned) offer a good balance between the set and how easy it is to get to, so kids don't arrive already tired or covered in sweat from prolonged walking.
–Tomato Photo
4. Botanical Gardens for a tropical setting
Botanical Gardens is my favourite spot as the architecture of the tropical plants says Singapore to me, and the variety of different locations in the gardens can make very creative images. The light in the gardens amazes me. Even when it is raining, I can get some amazing images.
-Sealey Brandt, Sealey Brandt
5. Sentosa for summer beach vibes
I love shooting down on Sentosa Beaches. I use natural light photography for my shoots, and the light feels so soft and warm down by the beach. There are some lovely spots on Siloso, Tanjong Beach, and also around the condos where there is water there are some lovely spots to choose from. Most locations in Singapore can be hot by 9 am, the beach is a great temperature and nice and breezy too, so it's not too uncomfortable either.
-Katie Martin Sperry, Katie Martin Sperry Photography
6. Marina Barrage for the Singapore city skyline and green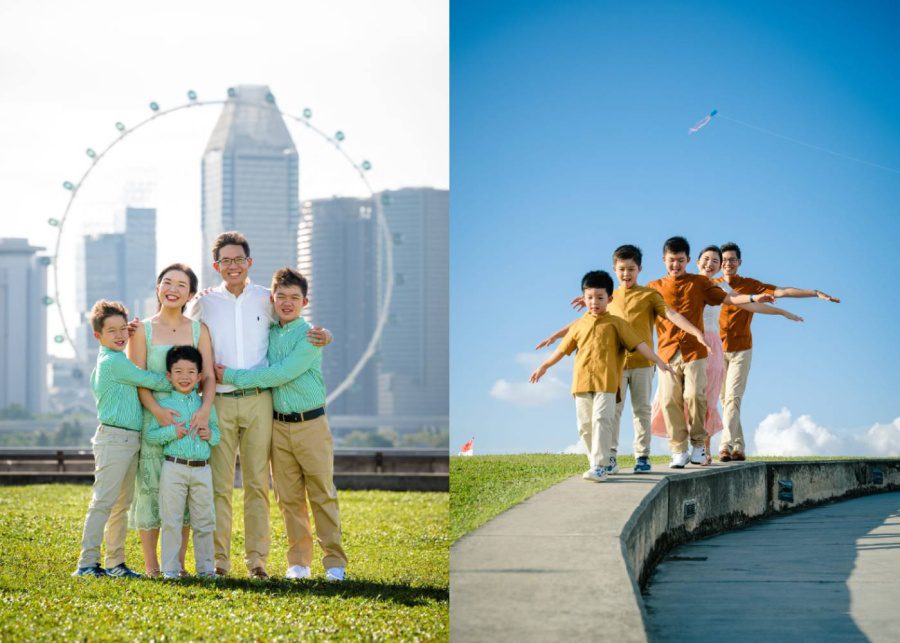 We recommend Marina Barrage as you get to enjoy the vast outdoors, natural light, and fresh air! In our 14 years of portraiture, this spot is well-loved by clients who want the world-class city skyline of Singapore reflected in their portraits. Families with young kids love that they can run free on the green roof of Marina Barrage – which is the size of four football fields – while overlooking iconic landmarks like the Singapore Flyer!
At the top of this popular recreational site, you will be greeted by a stunning view too – the other side of Marina Bay Sands, where the Supertree Grove and two scenic glass domes are. There is definitely no lack of extraordinary angles at Marina Barrage!
And there you have it! Six great locations across our little red dot for the perfect family photoshoot. Stay tuned for more locations coming soon!