Mystery, intrigue, puzzle solving and surprises: We've got just the thing to get your tweens and teens smiling (and possibly screaming!) this summer...
Finding things to do with the kids in Singapore is pretty easy with so much fun on our doorstep. Indoor play centres? We've got plenty. Adventures in the great outdoors while the sun is shining? Absolutely. But what about that awkward bunch of kids who are way harder to entertain, feed and generally lure a smile from? Yep, teenagers! And we think the best to way get their brain matter firing on all cylinders is with a challenge. Enter the awesome world of the escape room. Throw a bunch of teens (and adults – we tried and loved it too) into a room and make them earn their way out by actually speaking to one another and using some logic…
Best escape rooms for tweens and teens in Singapore
1. XCape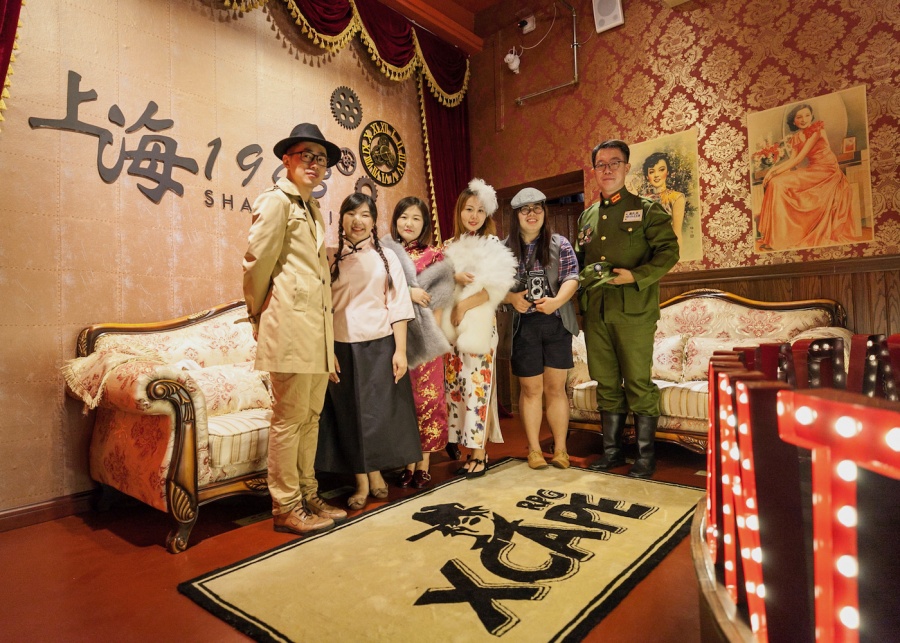 With 11 escape rooms to choose from, there's something for everyone at XCape: we tried The Morgue (suitable for kids age 14 and up) and, despite our failure to actually, well, escape, we had a great time. If you have a thing for logic, don't mind eery noises coming from dead bodies and are okay with the odd jump scare, this makes for a great indoor activity on a rainy day. Choose from themes including teen horror movie fave, Annabelle, a brand new virtual reality combined with role-play type escape room and Home Sweet Home for a horror movie detective feel or a good pick for magic lovers, Azkaban. Rooms all have their own rules and regs, including age restrictions, so do check before booking.
XCape, Bugis Village, 161 Rochor Road, Singapore 188436
2. The Escape Artist
Each room comes ranked with its own rating for difficulty, fear factor and physical exertion levels for the eight challenges across two outlets of The Escape Artist. Team players will get 60 minutes locked in a specially designed themed room to solve puzzles, unravel secrets and possibly be subjected to the odd moment of terror along the way… Groups of teens will love Flashpoint where they'll have to stop a nefarious villain from blowing up the city by finding and disarming the explosive in a dilapidated warehouse, or maybe try proving how brave they really are when they have to reach an evacuation point through zombie-infested lands in Outpost X: Zombie Apocalypse.
The Escape Artist, HarbourFront Shopping Centre, 1 Maritime Square, #03-15, Singapore 099253 and 310 Joo Chiat Road, Singapore 427561
3. Captivate Escape Room
With eight escape rooms to choose from, you're encouraged to unleash your hidden escapology talents in a 75-minute chance to prove your skills at Captivate Escape Room. Created by professional puzzle designers (how cool is that for a job?), if you're looking for the ultimate challenge then try Labyrinth: Dead Man Walking, an escape room that only 4% of teams have managed to complete without using hints! You'll be hired by the Chief of Police to go undercover as a prisoner in Changi Prison on Death Row, and solve the mystery behind bodies disappearing from the prison morgue… or face execution yourself! We're happy to report that no one has ever really been executed at this escape room (or any others!).
Captivate Escape Room, Singapore Shopping Centre, 190 Clemenceau Avenue, #06-28, 239924
4. Lockdown SG
With seven cleverly designed rooms from spy mysteries to zombie apocalypses and even one for CSI fans, you'll be scratching your head over these riddles and clues. But we have to give Lockdown a special shoutout for having an added VR escape experience that will see you trying to escape from an abandoned mine before you run out of oxygen! Lockdown also holds escape events like Code of Silence, an escape adventure based in Fort Canning Park. Keep your eyes peeled for future events!
Lockdown, Orchard Gateway, 277 Orchard Road, #02-02, Singapore 238858
5. Trapped Escape Room Singapore
For the brave amongst you, enter the place of horrors, Carnevil (suitable for all ages) to help rescue your friends from the clutches of infamous horror characters, like clowns and more or risk becoming a victim yourself. For those who have clown phobias, Escape from Tekong Army Bunk is pitched as an alternatively good challenge for families, where you'll take on a mission to find out what has happened to the disappeared CO stationed on Pulau Tekong. Not to be confused with Pulau Ubin, where there are zero jump scares or locked doors to worry about.
Trapped Escape Room Singapore, SCAPE, 2 Orchard Link, #02-20/21/22, Singapore 237978 and The Cathay, 2 Handy Road, #B1-08/09/10, Singapore 229223
6. Amazing Chambers Singapura
Feel like checking out a truly local escape room? Amazing Chambers offers immersive experiences that focus on Singapore's ancient history and culture. Relive Singapore's rich past through incredible stories like Sang Nila Utama (the founder of Temasek) and the mystery of Sisters Island. You can also pick from five different state-of-the-art themes with educational storytelling, ideal for tweens and teens with different interests!
Amazing Chambers, 73 Sultan Gate, Singapore 198497
7. Virtual Room Singapore
Keep up with the times and let technology give your kids a glimpse into the next level of escape rooms. Virtual Room Singapore offers one of the best team-based virtual reality escape room experiences with a full 3D cinematic feel. Book any of its current adventures like Time Travel (Chapter 1 & 2) or Are We Dead (for a super spooky experience!). Enjoy up to an hour in these virtual escape rooms or make it two if you're not ready to return to reality!
Virtual Room Singapore, Lucky Chinatown, 211 New Bridge Road, Basement 3, Singapore 059432
8. Lost SG
Race against time across five different challenge rooms at Lost SG where the baffled and the bemused teen folk will have a great time-solving mysteries and tackling puzzles in a bid to escape a Japanese suicide forest, biblical Egypt or Chinese mausoleum!
Lost SG, Peace Centre, 1 Sophia Road, #03-01/02/03, Singapore 228149
So there you have it – the best escape rooms in Singapore! Which one will you choose?