7 Haunted Places in Singapore
On the 15th day of the seventh month of the lunar calendar, the gates of Hell open and ghosts roam freely amongst humans.  Not to worry though, they're after food, not us. This is the belief of Buddhists and Taoists, and if you've noticed the burning smell in the air, you have discovered the Hungry Ghost Festival. In a spirit quest, we did some digging to uncover the favourite haunts of ghosts (get it), when they're not searching for offerings.  And if you want to know the correct way to observe the Hungry Ghost custom, read on (warning: this list of haunted places in Singapore is not for the faint hearted or young kids).
Old Changi Hospital
The vacated colonial-style building, constructed as part of a military base where more than 50,000 prisoners were detained during the Japanese Occupation, is definitely not for the faint of heart: crying and moaning sounds in the vicinity and fearsome sightings of shadowy figures have been numerously reported. Little wonder it's been named as one of the most notoriously haunted places in the world.
Haw Par Villa
OK, this one is not so much rumoured to be haunted – more, just a bit strange. The former theme park, also known as Tiger Balm Gardens, is just as freaky in broad daylight as it is at night. The site is full of weird and wonderful statues that depict Chinese legends and folklore. Probably the spookiest spot on the property is the Ten Courts of Hell, which describes in gruesome detail the torture and punishments for sins committed in one's lifetime. There had been rumours that Haw Par Villa was the location of the gates to Hell, and security guards have spoken about how the place would come 'alive' at night.
Neo Tiew HDB Estate
This small public housing estate situated in Lim Chu Kang was vacated in 2002 under the Selective En Bloc Redevelopment Scheme, but it remains empty and deserted. Currently used by the Singapore Armed Forces for military trainings, these low-rise HDB blocks were gossiped about as being rife with vengeful banana tree spirits, and residents in the area have claimed to have seen pontianaks (female vampiric ghosts) outside windows.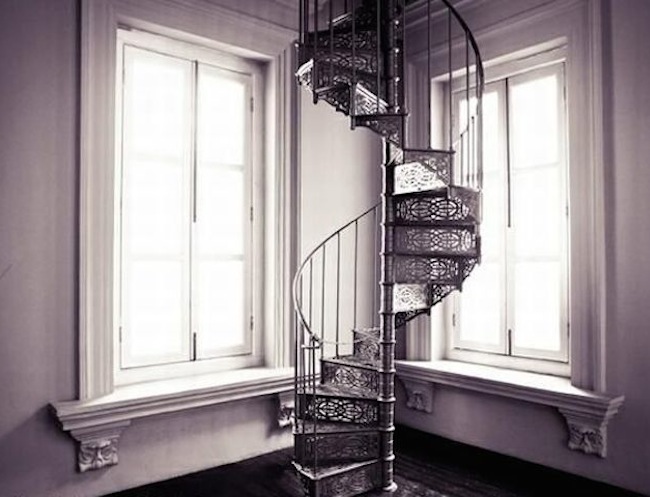 Spiral staircase at National Museum
National Museum of Singapore
Beautiful as it looks, the notorious Victorian-style spiral staircase at the century-old museum is where the wandering spirit of the former museum director, Carl Alexander Gibson-Hill has been seen. Others have reported sightings of a priest-like figure, cold spots, and there were several reports of people being stopped and tripped by an unseen force when they attempted to climb it. The stairway is currently sealed off from the public.
View Road Hospital
A secondary mental institution built to ease the overcrowding problem at Woodbridge Hospital in 1975, and later a foreign workers' dormitory named View Road Lodge, this now-unoccupied property is said to have trapped both the living and the spirits of past patients within.  A strange watchman, phantom scents, poltergeists, and bloodstains have also been reported.
Yellow Tower at East Coast Park
The spirit of a rape-and-murder victim supposedly lives up at the Amber Becon Tower near Carpark C. Paranormal investigators, as well as some passers-by,  claim to have seen a female apparition and cries for help.
The Coloured Houses
Endless horror stories have surrounded the Red, White and Green House for decades – though all three properties are currently off-limits to keen explorers due to redevelopment.
In the Red House at Pasir Ris, a doll on a rocking armchair has been spotted inside, and the pair of eerie-looking stone lions marking the entrance have been said to turn their heads to stare at trespassers.
The White House in Punggol, also officially known as the Matilda House, is said to be home to evil spirits, and a longhaired woman was  seen sitting on the branches of surrounding trees.
The infamously haunted Green House, or Hillview Mansion, is an unfinished property on Bukit Gombak said to be haunted by its previous owners who were killed in a fire.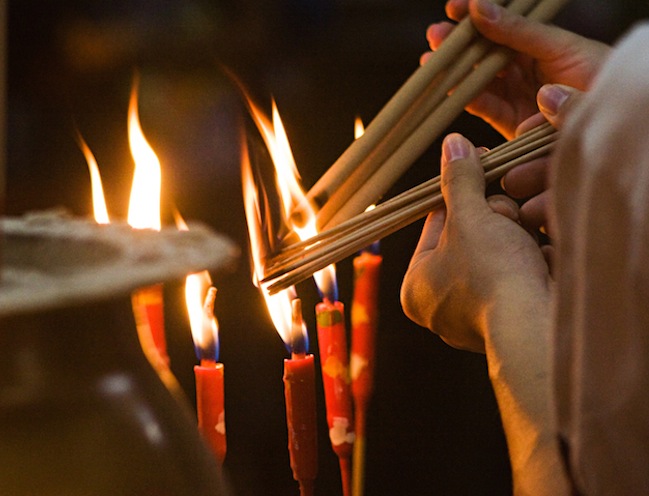 Burning of incense and joss sticks during Hungry Ghost Festival
Taboos
Even if you're not the superstitious sort and don't believe ghosts exist, there are certain taboos to be aware of during the Hungry Ghost Festival:
Neverstep on joss sticks or kick or pick up offerings placed along the roadside, as this may incur the wrath of hungry ghosts.
Going swimming is also inadvisable, as some believe that water spirits may drag you away and try to drown you.
If you're partying late into the night, avoid wearing red as many believe that spirits are drawn to that colour. Plus, try not to get intoxicated – it is supposedly easier to get possessed when drunk.
Avoid killing moths, grasshoppers and butterflies that visit the house during the month – these insects are said to be manifestations of spirits or ancestors.
The front row seats at the neighbourhoods ge-tais (or Chinese opera shows staged to please the wandering spirits) are reserved for the otherworldly beings – choose another spot to watch the live performances.
Avoid turning your head when someone pats you on your shoulder (no tapping on others' shoulders, either) in the middle of the night – try turning your body instead.
Major life decisions, like getting married and moving to a new house, are not encouraged to take place during the Hungry Ghost Festival.
Top image: Old Changi Hospital; Haunted Changi