If you love getting spooked, what better way to do that than to visit these hair-raising locations? Don't say we didn't warn you…
Who's afraid of the dark? Or ghosts, even? So, in the name of journalism, we did some digging to uncover the favourite haunts of ghosts that have roamed Singapore even longer than we've been alive. Warning: this list of haunted places in Singapore is not for the faint-hearted… or tiny kids! But your teens might enjoy a slice of spooky action… if you can handle being their chaperone!
18 haunted places in Singapore that spook us
1. Kheam Hock Road
Everyone knows of Bukit Brown cemetery, but did you know that the road leading to the graveyard is also supposedly haunted? Some locals deem the entire stretch as "dirty", AKA there are spooky spirits just waiting to scare the bejesus out of you. It's extra spooky at night, (no) thanks to the dense forestation and dim lighting. Unless you have nerves of steel, don't even dare to venture down this path late at night. In fact, one of our writers attempted to do that and got spooked by "sounds" less than 50 metres into his adventure. If that's not a sign, we don't know what is.
2. Spooner Road
This (dilapidated) estate is tucked away in Kampong Bahru and not many people know of its existence – even the locals. There are only two blocks here, which are home to low-income families and those who can only afford low rent. The flats are allegedly the most haunted estates in Singapore. It's been speculated that due to most units being left unoccupied for a long time, spirits decided to "move in". They were disturbed when people moved in and thus, chose to "retaliate". If you're keen to find out more, there are numerous videos of supernatural encounters floating online. And, if you're feeling braver, you can make a trip down and see for yourself. Don't count us in!
3. Rifle Range Road
Another spooky road in Singapore? We kid you not. Sure, it looks unassuming in the daytime. But come night, this place is shrouded in darkness that you can't see your hand when you put it out in front of you. Shining a light is of no use either. Some folks said they'd spotted "white figures" along this road. Still unconvinced? The TikTok video above should be a testament to what we've just mentioned. We'll only be there in the daytime from now on.
4. Changi Beach
What's with all beaches in Singapore being haunted? Changi Beach is considered the most haunted place in Singapore, and with good reason. Besides the nearby Old Changi Hospital, the site itself was where thousands of men were executed by the Japanese during World War II. Allegedly, even after the war was over, executions were taking place there; this time, it was war criminals. Is it any surprise then that this place is haunted?
5. Old Changi Hospital
The vacated colonial-style building (pictured up top), constructed as part of a military base where more than 50,000 prisoners were detained during the Japanese Occupation, is definitely not for the faint of heart. Crying and moaning sounds in the vicinity and fearsome sightings of shadowy figures have been numerously reported. Little wonder it's been named one of the most notoriously haunted places in the world.
6. Neo Tiew HDB Estate
This small public housing estate situated in Lim Chu Kang was vacated in 2002 under the Selective En Bloc Redevelopment Scheme, but it remains empty and deserted. Currently used by the Singapore Armed Forces for military training, these low-rise HDB blocks were gossiped about as being rife with vengeful banana-tree spirits. Residents in the area have also claimed to have seen pontianaks (female vampiric ghosts in Malay mythology) outside windows.
7. Pulau Tekong
This offshore island is a hotbed of supernatural sightings – ask any person who has served their National Service on this island and you'll open a can of worms. A quick search online will have you reading up on numerous anecdotes, from the ghost of a disembowelled soldier to a long-haired figure perched atop an obstacle course late at night. These spooky encounters have become synonymous with the mandatory rite of conscription passage. If you've never experienced anything, consider yourself one of the lucky ones.
8. Istana Woodneuk
Deep within the woods bounded by Holland Road and Tyersall Avenue lies Istana Woodneuk, an abandoned two-storey palace. This dilapidated residence was formerly owned by Sultan Ibrahim of Johor. Now covered by vegetation, the haunted place is out of bounds to outsiders –  you won't find it charted on any modern maps of Singapore. As with all abandoned places, this one comes with creepy sightings and the like. But you could say it's the decay and deterioration of the house that's scarier than anything else.
9. The coloured houses of Pasir Ris, Punggol, and Bukit Gombak
Endless horror stories have surrounded the Red, White, and Green Houses. Fortunately (or unfortunately), all three properties are currently off-limits to keen explorers due to redevelopment, so don't get any ideas. In the Red House at Pasir Ris, a doll on a rocking armchair has been spotted inside, and the pair of eerie-looking stone lions marking the entrance has been said to turn their heads to stare at trespassers. The White House in Punggol, also officially known as the Matilda House, is said to be home to evil spirits, and a long-haired woman has reportedly been seen sitting on the branches of surrounding trees. Then there's the supposedly haunted Green House or Hillview Mansion – an unfinished property on Bukit Gombak said to be haunted by its previous owners who were killed in a fire.
10. Sungei Api Api
Speaking of Pasir Ris, there's another place in this estate that's well regarded among Singaporeans to be haunted. Sungei Api Api, literally translated to "river of fires" in Malay, is a swampy area situated at the western end of Pasir Ris Park. Allegedly, many "long-haired sisters" have been sighted here, on top of the many eerie things residents have experienced. Some were even said to have been possessed after visiting the swamp… The place is spooky with a capital S, we tell you!
11. Yellow Tower at East Coast Park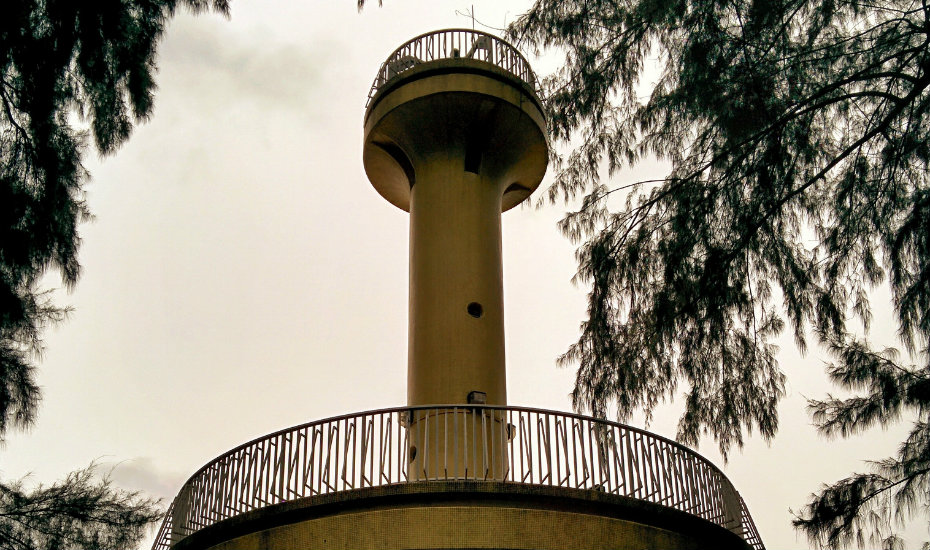 Looks innocent, right? We betcha didn't know that the yellow tower at East Coast Park is one of the most haunted places in Singapore. The spirit of a rape-and-murder victim supposedly lives up at the Amber Beacon Tower at Parkland Green. Paranormal investigators, as well as some passers-by, claim to have seen a female apparition and heard cries for help.
12. Sembawang Park
More sightings of pontianaks, anyone? Joggers have reported spotted pontianaks at this park and some have caught a whiff of frangipani – an alleged sign of "the lady" in the area. No surprise then, seeing as the entire park is filled with rubber trees, their favoured residence. Take a walk in the park late at night if you dare, then… History lesson time: did you know that the Japanese infiltrated the nearby Beaulieu House to use it as a naval headquarters during WWII? Also, there's apparently a hidden tunnel that leads to a bomb shelter just behind the park.
13. Bishan MRT
We absolutely love Singapore's public transport, and so do ghosts too, it seems. Urban legend has it that Bishan MRT station and the surrounding houses were built on one of the largest Chinese cemeteries in Singapore. Supposedly, there have been sightings of passengers that do not cast any reflections on windows. Also, construction workers have spotted a funeral procession with a headless ghost taking place on the train tracks! Yikes!
14. Novena MRT
Another haunted train station on the North-South line? Now that's just peachy, ain't it. Novena MRT station was also built on the grounds of a former cemetery too – this time, it's a Jewish one. Folks have spotted a headless apparition at the underpass that links the station to the IRAS building. Perhaps the figure is looking for a kind soul to pay for its transport fare?
15. Woodleigh MRT
Singapore is a land-scarce area, so it's no surprise Woodleigh MRT sits atop what used to be Bidadari Cemetery. What's the spooky part? Well, the train station was built in 2003, but it only opened to the public in 2011. Rumour has it, the spirits were unhappy with the redevelopment. Commuters used to report white ghostly figure sightings when the train went past the then-closed station. Guess it's a good thing the authorities named the station Woodleigh instead of Bidadari. Can you imagine? Our hairs are raising on ends just thinking about it!
16. Haw Par Villa
Ok, this one isn't so much haunted as just a bit strange. The former theme park, also known as Tiger Balm Gardens, is just as freaky in broad daylight as it is at night. The site is full of weird and wonderful statues that depict Chinese legends and folklore. Probably the spookiest spot on the property is the Ten Courts of Hell, which describes in gruesome detail the torture and punishments for sins committed in one's lifetime. There had been rumours that Haw Par Villa was the location of the gates to Hell, and security guards have spoken about how the place would come 'alive' at night.
17. National Museum of Singapore
Beautiful as it looks, the Victorian-style spiral staircase at the century-old museum is where the wandering spirit of the former museum director, Carl Alexander Gibson-Hill, has been seen. Others have reported cold spots as well as sightings of a priest-like figure. Plus, there have been several reports of people being stopped and tripped by an unseen force when they attempted to climb the stairway. Little wonder that it's currently sealed off from the public.
18. View Road Hospital
A secondary mental health institution built to ease the overcrowding problem at Woodbridge Hospital in 1975, and later a foreign workers' dormitory named View Road Lodge, this now-unoccupied property is said to have trapped both the living and the spirits of past patients within. A strange watchman, phantom scents, poltergeists, and bloodstains have also been reported.
So steel yourself and explore these haunted places in Singapore… If you dare!