Photo: Unsplash
If you've got a penchant for horror, we've got more books for you. Read our top picks of Asian horror books to get your Halloween spook on!
For as long as Singapore's been around, there have been reports of ghost sightings across the island. But are they true? Or are they just a figment of one's imagination? Regardless of whether you're the superstitious sort or you don't believe in ghosts, we know you'll want to snuggle up at home with a cup of tea and a horror read. And you know us, we love to read (have you joined our HoneyKids Book Club?). Well, dig in and pick up a copy of one of these novels from Asian authors!
The HoneyKids Book Club: Asian horror books

Moving to a new apartment is fun, especially when the little ones have a bigger room, and you have more wardrobe space for your favourite outfits. The only con? When it's situated next to a graveyard. In this book, a young family starts to realise their neighbours are moving out one by one and are eventually left alone with someone – or something – lurking in the basement. This Japanese horror novel was first published in 1986 but has been translated, republished and loved by many, including us!
We all have our reasons for going meat-free. It's more affordable, it's good for our bodies, and it's great for the environment, too. But unlike us, this book's protagonist's journey as a vegetarian takes a turn when her unusual choice of diet spirals out of control and into madness. It's a trippy horror of sorts, and it definitely makes for an interesting read. Psst, be sure to check out the other two books in the series as well, which dive into a deeper and darker abyss as the story plays out.
3. Shiver by Junji Ito
Written by the author of many popular and well-received Japanese manga (or graphic novels, if you'd like to call them), Shiver by Junji Ito should be on your to-read list. The manga contains 10 of Junji Ito's best short stories, which will delight any horror fans, and it's pure nightmare fuel, too. Fun fact: these illustrations are drawn by Ito himself and are a treat for any horror fans. You should be warned, there are some really gory pictures.
Though the plot of this Asian horror book sounds like a thriller, we assure you, it is nothing like it seems. After all, what could go wrong when you're investigating the deaths of victims of a mysterious "fear disease"? Well, as it turns out, you could get stalked by something – or someone – as you try to uncover the truth. A great horror read (of sorts), blended together with mystery, thrills and crime.
5. Ring by Koji Suzuki
Horror fans would've already watched the numerous adaptations of Ring, so this isn't a new novel per se. But it's always great to read the book because, more often than not, the novels are better than the films (there, we said it). Koji Suzuki has been hailed the Stephen King of Japan, so if you've enjoyed the American author's novels, we reckon you'll love this one, too. And you should definitely check out Suzuki's collection of short stories, Dark Water – let's just say, we're going to stay off boats for a while.
6. The Hole by Hye-Young Pyun
If you want a good psychological Asian horror book with an unnerving sense of dread, pick up a copy of The Hole by award-winning author Hye-Young Pyun. The novel plays up to our everyday fears like loneliness, grief and depression, so it's easy to dive into the book. Psst, if you like horror's literary great Shirley Jackson, you'll love this novel (it won the Shirley Jackson award in 2017).
The Netflix original series is based on this Asian horror book, which was also picked for Reese Witherspoon's book club. (This means it's a must-read!) Set in our neighbouring country, Malaysia, the novel centres on a girl who's betrothed to a family's dead son, thus the 'ghost bride' label. It's been said a traditional ghost marriage will placate a restless spirit, but at what price? If you're looking for Chinese folklore, romance, and the supernatural, this book is highly recommended.
Singaporeans enjoy sharing ghost stories, and this local horror anthology by SingLit great Catherine Lim perfectly encapsulates that. The collection of 18 stories details the terror the writer experienced when listening to such anecdotes as a child. She also poses an interesting observation: despite our extensive scientific knowledge today, what do we really know of the supernatural? As one character succinctly puts it: "I don't know, I don't know. I wish I did."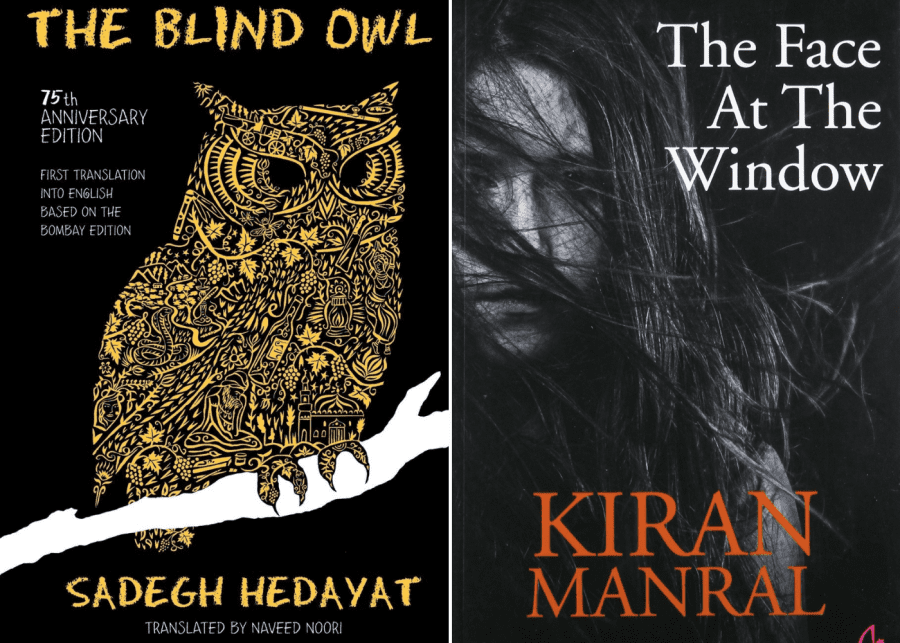 Are you a fan of Edgar Allan Poe? Then, pick up this Asian horror book, which has been widely regarded as a masterpiece. Iranian Sadegh Hedayat's opus may read like a tale of doomed love, but as you flip through the pages, it's so much more than a love story… Macabre, haunting, and unreliable, thanks to the narrator, you'll be in for a dizzyingly disturbing read as you attempt to figure out if the events truly transpired or not.
Mrs McNally is a retired schoolteacher living alone in the foothills of the Himalayas. She's guarding secrets that, if revealed, could shatter the lives of her daughter and granddaughter. On top of grappling with her past, Mrs McNally also has to deal with a strange, vicious presence in her house that seemingly wants something from her. This novel holds a mirror to the fears that we all have: ageing, not belonging, and not having anyone love you at the end of your life.
For fans of Indonesian horror and the supernatural, this book should be on your reading list. It starts off with the protagonist, beautiful prostitute Dewi Ayu, rising from her grave after being dead for over two decades. Yes, you're off to a great start with this novel! What follows is an epic tale that combines family tragedy, legend, romance, and even humour, political satire, and history. There are topics covered in this book that may trigger you, so proceed with caution.
12. Whisper by Chang Yu-Ko
Here's another Asian horror book that centres on the supernatural. This time, it takes place in Taiwan – specifically when the Japanese occupied the country. The story follows taxi driver Wu Shih-sheng, whom readers may not take a liking to (we're not spoiling it for you!). He's starting to hear the same voice that his wife had heard before she eventually died. But who is it? Can Shih-sheng track down the source of the voice before he ends up as the next victim?
Here's a mindblowing anthology of all the ghoulish creatures to be found in India. Ghosts, Monsters and Demons of India is an encyclopedia of evil entities and folkloric fiends from across India, from Ladakh to Kerala, Lakshadweep to Nagaland, Naraka to Tuchenkwaka, complete with 60 spooky illustrations.
14. Brown Boy by P.S. Nissim
Years ago, Hitesh's only son went missing in the Himalayan mountains. The grieving father is back, seeking answers only to confront the gruesome being that could have taken his child. This short read will have you on the edge of your seat.
A Mosque in the Jungle is an anthology of horror stories influenced by Southeast Asian folklore written by Othman Wok and curated by Ng Yi Sheng. Tuck into some spine-chilling tales introducing you to notorious urban legends and infamous ghouls in Southeast Asia.
Want more scary reads? Check out these spooky reads that we're dusting off for Halloween!