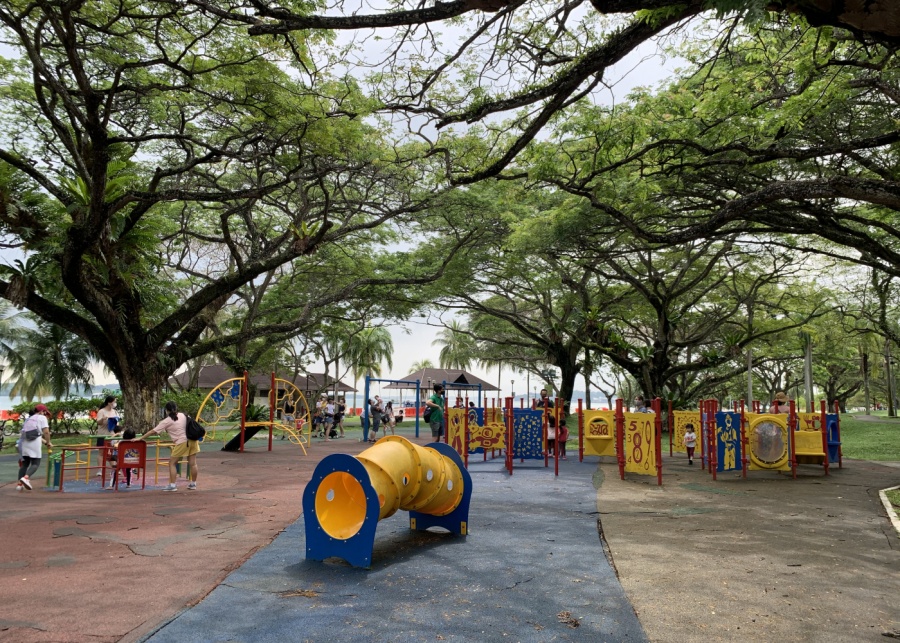 Toddler-friendly playground space is just one of the areas in this huge playground! Photography: Kate Noble
Looking for a new SG haunt to explore with the fam? With beachside vistas, heaps of nature, and a super-sized playground, a trip out east to Pasir Ris could be just what you've been looking for...
We love exploring new neighbourhoods. Fact. So we're super lucky that the Little Red Dot, although small, is mighty when it comes to new 'hoods to check out with the kids. We've whittled our way through quite a few. From hipster Tiong Bahru to heartlands Ang Mo Kio, and now we're hopping east to Pasir Ris. Whether you've never been, visited a few times, or call this place home sweet home; hopefully, this guide will give you a few ideas of new things to go with the kids in this pretty part of town…
Things to do in Pasir Ris with kids!
1. Get sandcastle building at Pasir Ris Beach
Yep, pack that bucket and spade; there's a sandy stretch waiting to be explored. Plus, the views are really something too. Look over to Coney Island or Pulau Ubin (which are both worth a visit in their own right!). When you're finished, it's a hop, skip, and a jump to Georges to refuel with some hearty food while you continue to take in those sea views.
2. Check out all the fun at Pasir Ris Park Playground
Pasir Ris playground is epic. As a Westsider, I'm pretty proud of West Coast Park playground, but I'll admit, this park gives it a run for its money. There's everything from super climbing structures, and a mammoth slide for the older kids to an astronaut themed play spot for younger kids. For the littlies, there's a dedicated play zone with bucket swings, a cute maze, and climbing frames. There's also accessible swings and a roundabout, so there's something for all.
Shade is a bit hit and miss depending on the time of day, but for the most part, you can duck in and out and get some respite from the heat under the tree canopy surrounding the park (and remember Georges isn't too far away either!)
3. Get lost in the Maze!
Once you've had your playground fix, then head on over to the maze located in area 2 of the park. This traditional hedge maze is another lovely little feature of the park and a challenge for grown-ups and kids alike!
4. Take in the views from the Lookout Tower
Pasir Ris also serves up its fair share of nature, and the lookout tower is worth the climb for the views alone. Just at the edge of the boardwalk and mangrove forest, the tower is sure to impress the kids. Keep your eyes peeled and try and spot a hornbill or two!
5. Explore nature galore along the boardwalk in the Mangrove Forest
It's hard to believe that this bit of Pasir Ris Park is just a few minutes walk from the playground and beachfront; it feels like you're really getting back to nature. Explore the six-hectare site and get the kids to lead the way along the boardwalk, looking out for a monitor lizard who is sure to pop up along the way in the mangroves below. Aim for the jetty, and you can have a break and take in the Sungei Tampines. This is also a great spot if it happens to rain (like it did when we visited!), so it's worth noting!
6. Have a horsey good time over at Gallop Stables
If you've got horse fans, then trot on down to Gallop Stables, which is also situated in the park. They offer a variety of activities from riding lessons to pony rides and feeding, trail rides, riding camps and more!
7. Cool off at Wild Wild Wet
If you want to make a day of it in Pasir Ris, then don't miss out on Wild Wild Wet, Singapore's largest water park! It's a treat for the whole fam, from toddler-friendly splash zones right the way through to near-vertical slides for the thrill-seekers amongst the crew.
Where to eat in Pasir Ris with kids!
8. Georges @ The Cove
Georges wins in terms of location in Pasir Ris Park. With beachside views and direct access to the sandy shoreline, plus a short stroll from that mighty playground – it's the perfect place to recharge. We love its down-to-earth beach shack vibe, and it serves a fab breakfast if you're here early in the day. Kids are catered for with a dedicated kids' menu too!
9. Pasir Ris Central Hawker Centre
If you're after hawker fare, then Pasir Ris central hawker centre is not too far away and is situated very close to Pasir Ris Town Park (which is also worth a visit!).
10. Ohana Beach House
Another beachside option to have on your list is Ohana Beach House. As well as being able to rent a variety of watersports here (with everything from paddleboards to kayaks!), you can also grab food with everything from breakfast to lunchtime kid pleasers like pasta and pizza!
We'll see you in Pasir Ris soon!