Coding is a cool skill that kids are learning about in fun ways, and the good news is that there are loads of options for kids to learn right here in SG!
Coding has come to Singapore, and we're taking a look at what it's all about, where the cool coding classes are, and why youngsters should be jumping on the app jamming bandwagon. One thing's for sure: with lots of great coding courses and workshops for kids all around Singapore, we may well be signing ourselves up too!
What is coding?
It seems the kiddos are one step ahead of us on this score, and we spoke to some awesome kids at the PayPal Girls in Tech workshop, who gave us a quick tutorial. We've been told that the easiest way to look at coding is to think of it in terms of Lego – but instead of using Lego bricks to build your masterpiece, you use commands instead, one-by-one. The finished code sequence will then instruct your device on how the run the app you've created. Simple (ish).
Why do kids need to learn coding?
Long gone are the days when a scientific calculator was the hub of technical wizardry: technology is everywhere! Our kids have never known a world without the internet, and the only apples teachers have on their desks these days are the Mac variety. Science and technology are the future, which is why it's so important for our children to soak up as much of that tech knowledge as they can from an early age – and so that they can teach us! Coding is fun, useful, creative and sometimes even groundbreaking: the all-round package to pique interest in our small humans!
Cool coding courses and workshops for kids in Singapore
1. Presence Pictures
Here's an edutainment centre where your kids learn to code virtual worlds for the metaverse as well as play them in AR and VR! As a platform, Presence Pictures is more than just a coding school. It also functions as a high-tech edutainment playground for children aged six to 14, where all immersive digital games and experiences are created for kids by kids. Children can join Presence Pictures either as a Creator (student of the centre) or Player. Creators are taught new world skill sets like coding and 3D creativity to build AR, VR, and metaverse experiences. Creators also get to showcase their creations to the public, as other children can book tickets as Players to experience the Creators' virtual worlds. At Presence Pictures, we're talking about experiencing virtual worlds in cool ways like augmented reality pegboard climbing, virtual reality shooting challenges, metaverse race, and more!
Presence Pictures, 15 Kampong Bahru Road, Singapore 169346
2. Computhink
Computhink is a weekly class where your child will learn programming in a fun environment with hands-on coding activities galore. Kids from the age of seven to 16 will be led, at their own pace, by expert programmers who will navigate kiddos through coding languages and software while using cool themes.
Computhink, Toa Payoh Public Library (TPY Library Side Entrance), 6 Toa Payoh Central, Singapore 319191
4. Loshberry Code Studio
Suitable for kids age seven and up, Coding Discovery camps are the perfect opportunity to introduce young minds to basic programming concepts, build spatial and problem-solving skills, and instil creativity and resilience – with the help of a tiny robot!
Loshberry Code Studio, Beauty World Centre, 144 Upper Bukit Timah Road, #03-25, Singapore 588177
5. Codomo
Kids age four and above can enjoy courses at Codomo. Those age nine and above will get a kick out of inventing their own smartphone app using AppInventor software at Codomo's App Android Design course. Creativity, brain-boosting and bringing out an inner-designer are the name of the game! There's plenty of other cool coding picks for younger kids, including holiday camps for children from age six years and a robotic playground for four to five year olds.
Codomo, 10 Anson Rd, #15-02 International Plaza, Singapore 079903
6. SG Code Campus
Kids from age seven are introduced to the fundamentals of coding through programming one of the most famous robots of all time: BB8 from Star Wars! Basics of Code 1 is SG Code Campus' foundation course, and from there, students will learn how to programme their own music, video games and animation using Scratch.
SG Code Campus, locations at Bukit Timah, Paya Lebar, Tampines, and Tanjong Pagar.
7. Code Ninja
Technology may be evolving, but Code Ninja is even faster! This coding school trains kids to master the basics of coding so that they can thrive in the fast-paced tech world. The syllabus is researched and developed with professional curriculum developers with tech expertise. Your little ones will get to learn how to solve problems through Scratch and Python, and depending on their abilities, they can advance through different coding levels.
Code Ninja, 22 Havelock Road, #01-689, Singapore 160022
9. Bright School
No time to take your little coder to a physical school? No problem – at Bright School, you can learn from the comfort of your home. By the end of the programming course, children would produce their first animation, game or app. They'll also gain skills in logical and creative thinking, problem-solving, and storytelling. But it's not just all about coding at Bright School: participants can learn mindfulness, arts and crafts, and even mental mathematics! Interested? Sign up for a free trial class.
Bright School, 128 Prinsep Street, #01-01, Singapore 188655
8. Saturday Kids
At Saturday Kids, your little people don't just learn to code – they code to learn. And we love that! Students get to learn through classes in programming, electronics, digital art and design thinking. In each lesson, they learn by having fun through testing, experimenting, and trying. Apart from that, there are also workshops and camps (both offline and online) that your kids can participate in. What we also admire is the company's social mission of making digital literacy accessible to all kids.
Saturday Kids, locations at Bukit Timah Plaza, Orchard Central, and HarbourFront Centre.
10. Children's Worklab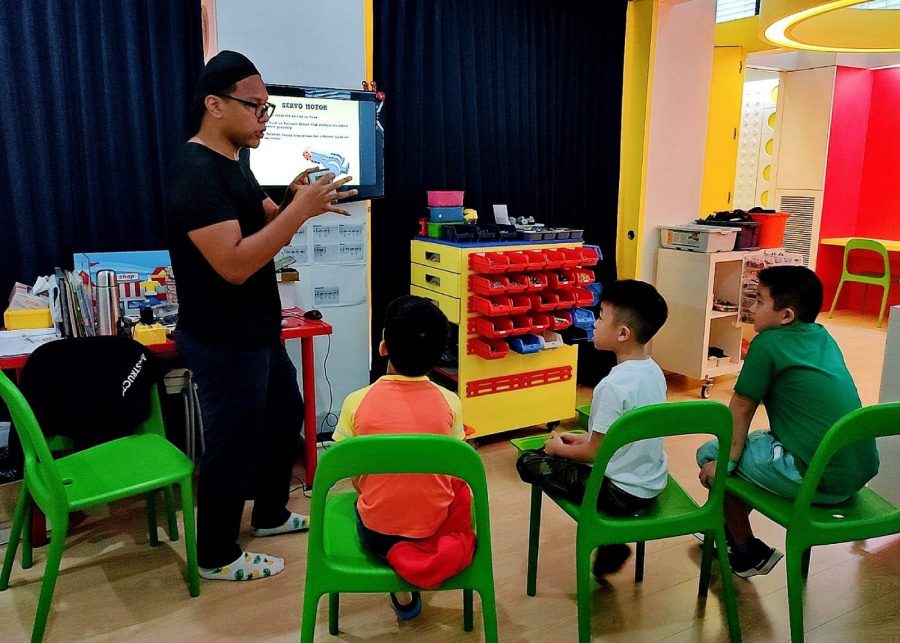 Introduce your children to coding and STEAM by signing them up with Children's Worklab, one of Singapore's longest-running premier enrichment centres. Using Lego as a learning tool, participants get to pick up skills and concepts of robotics, game and graphic design, animation and of course, coding. There are weekly programmes and holiday camps where littlies from three years of age can partake in.
Children's Worklab, Forum The Shopping Mall, 583 Orchard Road, #02-K1, Singapore 238884
3. Coding Lab
We love that the Coding Lab has classes for kids as young as five! Little ones will start on their logical thinking journey where they will learn how to programme animation and direct a robot to retrieve treasure.
Coding Lab, 80 Marine Parade, #10-06, Singapore 449269 and KAP Mall, 9 King Albert Park, #02-21, Singapore 598332
11. Little Coder
Say hello to Little Coder, where kids are provided an inviting environment where they can grow, play and learn how to code. Its curriculum is created by Microsoft, Google and Massachusetts Institute of Technology professionals, AKA students get to learn from the very best. Each programme introduces myriad topics and complexities through fun characters, animations, and relatable analogies.
Little Coder, 24 Sin Ming Lane, #04-106, Singapore 573970
Want to sign your kids up for a coding course in Singapore? Don't forget to tag us on Instagram!