Photography: Bloomsbury Bakers
Your kid's cake fantasies are about to come true with these customisable 3D fondant and fresh buttercream cakes from the most talented bakers in Singapore.
Perhaps the most important item at a kid's birthday party is the cake. Once they've outgrown smash cakes, they'll want an amazing birthday cake. If you baulk at the idea of a BIY (bake-it-yourself), the answer is a customised cake decked out in your own original design and some cool cake art. And lucky, Singapore is home to some seriously talented birthday cake bakers…
Cake art in Singapore has been taken to a whole new level. Virtually anything is possible with fondant. Mini Princess Elsas, large castles, SpongeBob SquarePants characters and topsy-turvy designs are all brought to life thanks to Singapore's crafty cake makers. But, don't forget that buttercream can also look pretty spectacular. Read on for our round-up of bakeries and patisseries in Singapore that offer customisable, cute, quirky and cool birthday cake art worthy of that #cakestagram. We like to call this our Cake Hall of Fame…
P.S If you're after more bite-sized treats, check out our guide to the best cupcakes in Singapore – they're perfectly-sized sweet cake treats for children's birthday parties, although you can never stop at just one…
WHERE TO BUY BIRTHDAY CAKES IN SINGAPORE
1. Celebox
Birthday celebrations are made easy with Celebox – all you need to do is just sit back, relax, and enjoy the cake! This brand specialises in creating the most beautiful fondant cakes, open to customisation to fit any birthday party theme. Does the birthday kid loves race cars? Bring it on! Planning a bunny or teddy-themed first birthday party? Celebox can do it. What's more, being a part of Neo Group (read: one of Singapore's top events caterers), Celebox can set up dessert tables and even provide food catering for the party! All of its cakes are halal-certified (great for school parties), and it delivers daily. That's right, no need to worry about planning your party around the cake delivery day!
Where: Celebox, 1 Enterprise Road, Singapore 629813 (for self-collection only)
2. Bloomsbury Bakers
Follow Bloomsbury Bakers' Instagram feed for some major #cakegoals. They do a good unicorn, have nailed the watercolour look, and we love what they do with meringues (see pic at the top). This team can whip up fun custom 3D cakes in fondant (yes, you can have that Minion cake) or beautiful designs in buttercream, and they can put together a smashing dessert table for you too. Fun!
Where: Bloomsbury Bakers, Blk 30 Bendemeer Road #01-889, Singapore 330030, p.6299 3450
3. FNP
Need a birthday cake, pronto? FNP can get it delivered on the day you place your order itself! You can choose from a variety of flavours: from fruity ones like its Mangolicious Cake to locally inspired ones like Ondeh Ondeh Chocolate Cake. FNP's cakes also come in many cool designs, including unicorn cakes for a whimsical birthday party, or Minecraft and superhero cakes for your little fan. Eggless cakes are available, too, should your little one or guests have any dietary restrictions.
Where: FNP, online orders only; e. [email protected]; p. +65 97279363
4. LÉLE Bakery
This bakehouse haven is your go-to for all kinds of cakes that will make your heart sing. Plus, you can rest assured all their cakes are handmade from scratch with a moist chiffon sponge. Good news! Its sweet churns are low in sugar yet yummy to the taste too. A big thumbs up in our books. Besides customised cakes, expect to find tons of other delish mini-bites on offer, like cupcakes, cookies, macaroons, popsicles, and so much more. Take your pick, folks!
Where: LÉLE Bakery, 110 Yishun ring rd, #01-383, Singapore- 760110, e. [email protected], p. 8776 1510
5. Flor Patisserie
If you are the type to look beneath the cake frosting, Flor Patisserie is your place to check out. We are talking about luscious baked bites that do not have baking powder, artificial rising/softening agents, stabilisers, or preservatives. Big points on that front! Plus, the cakes are moist and Japanese-inspired, using Japanese baking techniques. What else can you expect from the Flor Patisserie oven? Baked confectionery like tea cakes and cookies, signature sweet collections like tarts and lots more.
Where: Flor Patisserie, several locations across the island, e. [email protected]
6. Yume Pâtisserie
If your kid is crazy about florals, Pastry Chef Amber Seah's bakehouse called Yume Pâtisserie, churns out some stunning works of art worth checking out. We are talking delicious fruity, hand-painted buttercream cakes to treat your littlies too. We also love that the cakes do not have any artificial flavouring and feature fresh flower decor. Looking for customised flavours? Yume Pâtisserie does that too.
Where: Yume Pâtisserie, flagship store 61 Jalan Besar, 1F, 2F, 3F, Singapore 208811; North store, Floravista, 7 Ang Mo Kio Street 66, U01-05, Singapore 567708; e. [email protected], p. 90065336
7. The Frosted Chick
Is there anything The Frosted Chick cannot do? Think customised cakes in fresh cream and buttercream with carefully crafted fondant decorations your kids will love. We can't get enough of the fun-themed cakes, like the Mad Hatter tea party cake, Aladdin-inspired cakes and Avengers Superhero cake. Our pick? We love the Piñata Chocolate bombshell cakes with tons of surprises hidden inside. Your littlies will squeal at the sight of hidden candies and chocolates when they break open the Piñata cake. Want to amp up the surprise score for your kid? Provide your own tiny surprise three days in advance to add to the hidden goodies inside. The Frosted Chick also has loads of tiny luscious bites on offer, like chocolate bombs and jar cakes. Nom-worthy indeed!
Where: The Frosted Chick, 194 Kim Keat Avenue, #01-390 Singapore, Toa Payoh, Singapore 310194; e. [email protected]; p. 69693368
8. Zizou Cake Boutique
Zizou has been bringing the beauty and taste of a French patisserie to Singapore since 2015. We particularly like Zizou's buttercream designs: impeccably decorated and way too gorgeous to cut into. If you're looking for some of the best birthday cakes in Singapore, look no further.
Where: Zizou Cake Boutique, contact only at e. [email protected]
9. Susucre
Susucre birthday cakes are all about cute fondant designs! From pineapples to rainbows and even superheroes, you can request any theme, and they'll create something incredible. And their cakes are proof that well-decorated cakes can be as delicious as they look.
Where: Susucre, 405 Race Course Rd, #01-01, Singapore 218654; e. [email protected], p. 9867 2176
10. Monice Bakes
What initially started off as a hobby has now become a business, which is a testament to Monice's nifty cake-baking and decorating skills. She now bakes and sells everything from cookies and cupcakes to spongy, soft buttercream and fondant cakes with a more subtle sweetness. From wild and wacky to smooth and understated, customers can't stop raving about how Monice bakes a pretty cake for a prettier price.
Where: Monice Bakes, e. [email protected], p. 9815 0022
11. CakeBoxSg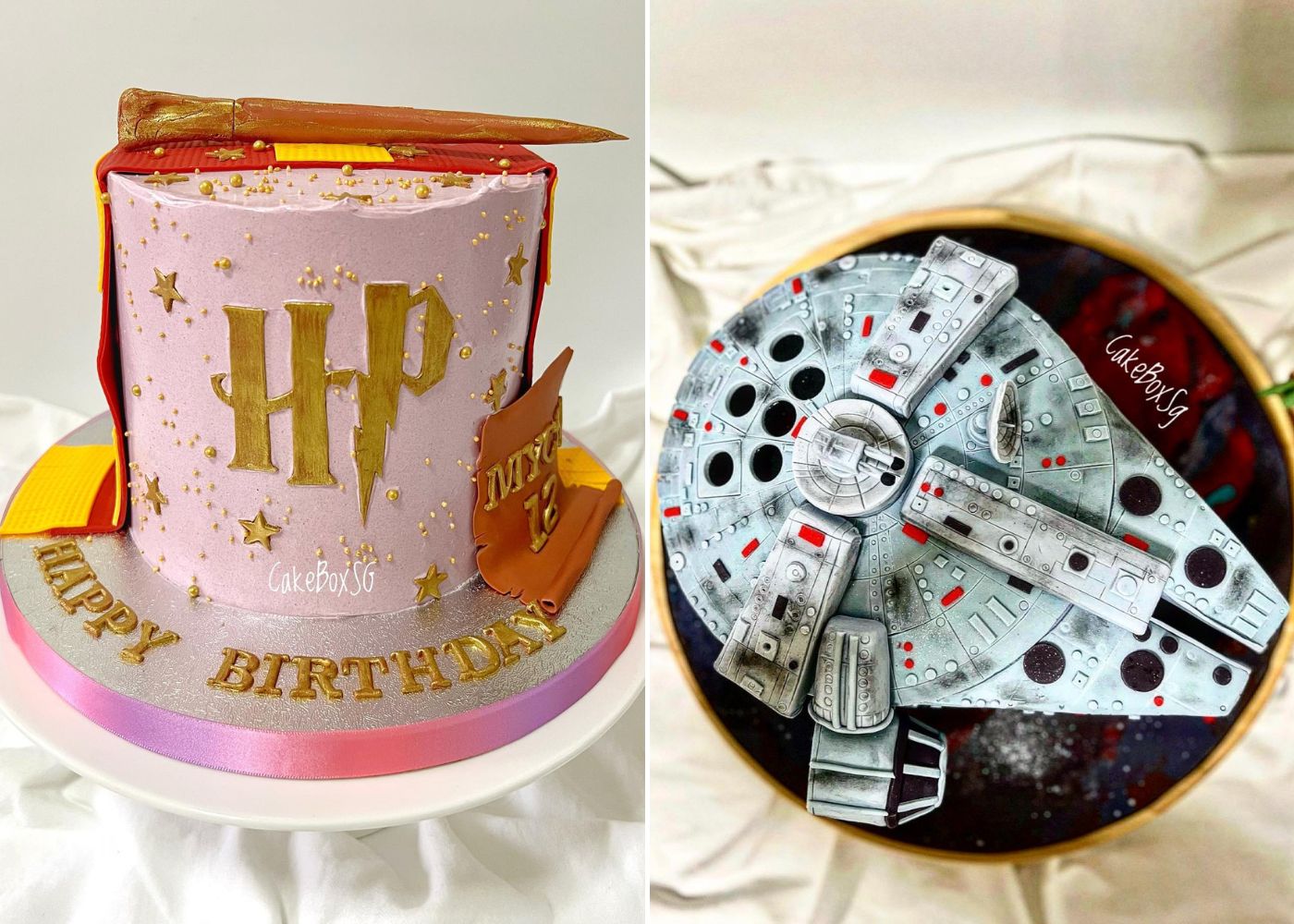 Can we even call them cakes? CakeBoxSg's 3D fondant cakes are more like masterpieces, a perfect centrepiece or pièce de résistance for any birthday party. Whether it's the Death Star, a castle or a guitar, they're sure to impress… Plus, they even do doughnuts. Yes, please!
Where: CakeBoxSg, [email protected],  p. 9029 3710
12. Rachh Cakery
With a specialisation in customisation, it seems there's nothing Rachh Cakery can't do. Carousels, cute animals and cartoon characters – you name it, they have it – in everything from fondant to icing. Rachh doesn't make it easy to resist their goodies either, with amazing dessert table packages including tiered cakes and an assortment of party treats like meringue drops and tartlets. Whose birthday is coming up next?
Where: Rachh Cakery, e. [email protected], p. 9320 0512
13. Jo Takes the Cake
At Jo's, you can have your cake and eat it too! These intricate masterpieces are sculpted to detailed perfection using fondant and then handpainted with your favourite designs for a polished look. It's bound to delight everyone's (visual) appetite. Our top tip – select a rainbow cake for your base – it will be a sight to behold when you cut into it and reveal a cross-section of colours.
Where: Jo Takes the Cake, e. [email protected]
14. River Ash Bakery
River Ash Bakery's made-to-order cakes are all an absolute blast of colourful perfection. A great way to brighten up any themed birthday party. Plus, they've got cakes for gender reveal parties, wedding cakes and more.
Where: River Ash Bakery, The Promenade @ Pelikat, 183 Jalan Pelikat #B1-18, Singapore S537643; e. [email protected], p. 8700 3352
15. Crumbs and More
Aside from cakes, Crumbs and More offers a range of baked goodies, from cupcakes and cookies to quiche and macarons. The kids won't be able to take their eyes off their cake until it ends up in their mouths or all over their face – good thing there are sugar-free options!
Where: Crumbs and More, e. [email protected], p. 9631 2489
16. Little House of Dreams
This bakery, cafe and workshop offer 3D cakes that have to be seen to be believed. Think dinosaurs, aeroplanes and woodland creatures that are almost too cute to eat. Birthday boys and girls will go absolutely nuts over the multi-layered custom cakes that bring their favourite characters, animals and objects to life. Some of the best birthday cakes in Singapore, we reckon.
Where: Little House of Dreams, e. [email protected] 
17. Cloud9 Bakeshop
We're over the moon, or should we say on cloud nine, about pretty pastel cakes! Using just buttercream and fondant, Cloud9 makes sure your little prince or princess can have their cake and eat it too!
Where: Cloud9 Bakeshop, 11 Cavan Road, #01-01, Singapore 209848; e. [email protected], p. 9022 9278
18. Sally T Cakes
Sally T prides herself on her love for home baking, evidenced by many of her creations resembling meticulous replicas of characters from cartoons and movies. Her labours of love are gorgeous concoctions, encasing luscious flavours and fillings. One of our favourites? This rad skateboard cake (above).
Where: Sally T Cakes, e. [email protected], p. 9859 4769
19. Edith Patisserie
Love cake but hate the dentist? Edith Patisserie's looking out for us. With healthier options to go, Edith's consistently produces moist and fresh cakes, suitable even as smash cakes for babies! Be sure to order in advance (minimum three weeks), as they don't accept last-minute orders!
Where: Edith Patisserie, 275 Outram Road, Singapore 169064; 9 Penang Road #01-06, Singapore 238459
20. Baker's Brew
Not only has Baker's Brew created an impressive range of cake flavours, but it also has a team of cake artists whose only job is to make sure you get the tailor-made, customised cake of your dreams. By the way, these cake connoisseurs also host workshops and parties. Erm, can we just have one of everything?
Where: Baker's Brew, multiple locations islandwide
Love this list of cool birthday cakes in Singapore? Check out these cupcake bakers too!