Andrea Liu of Frolic for Life
We spoke with Andrea Liu from Frolic for Life about tackling the ongoing dilemmas of teens and tweens today. Here's what she shared...
We often think we understand teen dilemmas because we've traversed that path ourselves. However, it's intriguing to note that with each generation, new and unfamiliar challenges arise among teenagers that are alien to adults today. In our conversation with Andrea Liu from Frolic for Life, we delved into the origins of these contemporary teen dilemmas, explored why they have become so prevalent, and sought the most effective ways to address them. Here's what she shared…
1. What are the most common dilemmas you have encountered in your practice?
In my role as a Kids Life Coach and Teen Coach, I've had the privilege of working closely with adolescents and their families, and there are three common dilemmas that seem to be prevalent in today's parenting landscape. These challenges not only reflect the unique dynamics of this generation but also mirror the broader concerns of many parents. I'm sure many parents would resonate with these:
Screen Time Addiction
Let's be real, screens are everywhere – phones, tablets, TV, social media, video games, and YouTube have become an integral part of their daily lives. Teens are glued to them, and it can sometimes get out of hand. While technology offers numerous benefits, it can also lead to addiction and excessive screen time, which can negatively impact their overall well-being. As a coach, I often find myself helping kids and teens strike a healthy balance between digital engagement and real-world experiences.
Lack of Connection
In the era of constant connectivity, it's paradoxical that we are witnessing a significant disconnect between parents and their kids. Ever been to a food court and seen a whole family buried in their screens?
Kids and teens need quality time with their parents, caregivers, and role models who can impart essential soft skills that are vital for their emotional and social development. We're talking about essential life skills – stuff like talking to people, understanding their feelings, and figuring out how to deal with problems.
Over-Dependency
We all want what's best for our kids, and in our efforts to provide the best for our children, we sometimes inadvertently foster an unhealthy dependency. Parents often rush to solve every problem, offer immediate solutions, or even take over tasks that kids, especially teens should learn to handle independently. This over-dependency can hinder their growth, resilience, and decision-making abilities. It's crucial to strike a balance between offering guidance and allowing room for kids to learn from their experiences. I work with both teens and parents to navigate this fine line, helping them develop the confidence and skills necessary for autonomy to make healthy, wise and safe choices for themselves.
2. What are some emerging challenges you have observed among today's tweens and teens?
Mental Health Challenges
The pressures of academic success, social acceptance, and the rapid pace of life can take a toll on their emotional well-being. As a Kids Life Coach and Teen Coach, I've observed first-hand the urgency of addressing these issues. It's essential to create a safe space for teens to open up about their feelings and struggles.
Identity and Self-Image
Adolescence is a time of self-discovery, and the digital age has amplified the challenges of identity and self-image. Teens are bombarded with images and ideals on social media, which can lead to issues related to self-esteem and body image. As a Kids Life Coach and Teen Coach, I emphasise the importance of nurturing a positive self-image.
Digital Fatigue/Tech Overload
Digital fatigue is a growing concern, affecting not only their sleep and mental health, but also their ability to engage in meaningful face-to-face interactions and develop essential life skills. In my role as a Kids Life Coach and Teen Coach, I encourage teens to strike a balance between their online and offline worlds.
Cyberbullying and Online Safety
As tweens and teens spend more time online, they are vulnerable to cyberbullying, online harassment, and other safety threats. The concerning aspect of this dilemma is that it often goes unnoticed by parents, making it essential for them to remain vigilant in safeguarding their children, even within the confines of their own homes. To protect the emotional and physical well-being of our young generation, it's important to prioritise online safety and instil responsible digital behaviour.
3. What are the typical signs parents should look out for in case our teens are grappling with these dilemmas?
Mental Health Common Indicators
I often encourage parents to maintain open communication with their teens, creating a safe space for them to express their feelings.
Identity and Self-Image Common Indicators
I encourage parents to foster a positive self-image by celebrating their child's uniqueness and promoting self-acceptance.
Digital Fatigue Common Indicators
To address digital fatigue, I advise parents to set clear screen time boundaries and encourage their teens to explore offline interests.
Cyberbullying and Online Safety Common Indicators
I emphasise the importance of open communication with parents and guardians. Encouraging teens to confide in a trusted adult about their online experiences is vital for early intervention. You may not know when it's happening so providing a safe space for when it does is vital for open communication.
4. How can we initiate discussions with our teens without getting brushed off?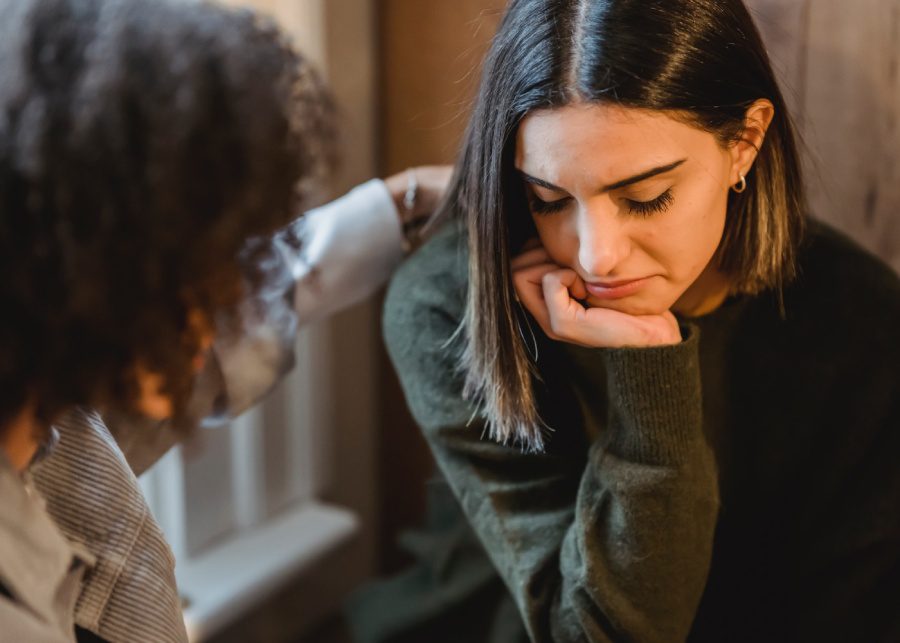 Create a Safe and Non-Judgmental Environment
Start by creating an atmosphere where your teenager feels safe and comfortable sharing their thoughts and feelings. Assure them that your goal is to understand and support, not judge or criticise. This is crucial.
Choose the Right Time and Place
Timing matters, especially for teens. Find a time and place that is conducive to open conversations, away from distractions and when both you and your teen are relaxed. Go for a drive or a walk – I recommend this approach so that it's less confrontational.
Active Listening
Listen more than you speak. Let your teenager express themselves fully without interruptions. Show empathy and validate their emotions. This helps them feel heard and understood. Try seeing the world through their eyes or cast your mind back to when you were feeling these exact emotions as a tween or teenager.
Ask Open-Ended Questions
Encourage conversation by asking open-ended questions that require more than a simple "yes" or "no" answer. For example, "How has this been making you feel?" or "Can you tell me more about what's been going on?"
Avoid Judgment and Criticism
Refrain from passing judgement or criticising their thoughts and actions. Instead, focus on understanding their perspective and feelings.
Share Your Concerns and Support
Express your concern for their well-being and let them know that you're there to support them. Use phrases like, "I'm here for you," or "We'll figure this out together." This fosters trust and empathy which are the important building blocks for connection and communication.
Educate Yourself
Take the time to educate yourself about the specific dilemma your kid is facing. This will allow you to have a more informed and empathetic conversation.
Seek Professional Help if Needed
If the dilemma involves mental health concerns or serious issues like addiction or self-harm, consider involving a professional such as a counsellor or coach to facilitate the conversation.
Follow Up
Keep the lines of communication open. Follow up with them to check on their progress and feelings. Regular check-ins can help them feel supported over time.
Establishing Routines & Clear Boundaries
Effective parenting requires consistent schedules covering schoolwork, chores, screen time, and family activities. Involve your teen in rule-setting for responsibility. Set reasonable limits on screen time and curfews, and ensure both parents enforce them. Explain the reasons behind rules, be open to adjustments, model healthy behaviour, offer positive reinforcement, and revisit routines regularly. This approach teaches time management, life skills, and responsibility, providing security during adolescence.
5. Could you provide examples of useful conversation starters and phrases?
"I've noticed that you've been going through some tough times lately. Would you like to talk about it?"
"I've read/heard about [common dilemma]. Do you have any thoughts or feelings about it?"
"I've been thinking about [common dilemma] and wondering how it might be affecting you. Would you be comfortable talking about it?"
"I'm here to listen if you want to share anything. Is there something on your mind?"
"I remember when I was your age, I faced some challenges too. Do you ever feel like you're going through something similar?"
"I've noticed that [mention a specific behaviour or change]. Is everything okay?"
"Can you help me understand how you've been feeling lately?"
"I'm here for you, no matter what you're going through."
"Your feelings are valid, and I want to understand them better."
"I can see that this is really important to you, and I want to help."
"It's okay to feel this way."
"You don't have to go through this alone. We'll figure it out together."
"I'm proud of you for opening up about this."
"I'm listening, and I won't judge you."
And a great one to start conversations when you are noticing struggles:
"Would you like me to listen, let you vent and share your feelings, or would you like some advice or guidance on this?"
6. What should parents avoid doing or saying while helping their teens through challenging times?
Ignoring Their Feelings
Dismissing or minimising your teen's feelings can be damaging. Avoid saying things like, "You're overreacting" or "It's not a big deal."
Comparing to Others
Avoid comparing your teen to others, whether it's their siblings, friends, or peers. Each individual is unique, and comparisons can erode self-esteem.
Lecturing or Criticising
Constant lecturing or criticising can make your teen defensive and less likely to open up. Instead, focus on constructive communication.
Invading Their Privacy
While it's essential to stay informed, invading your teen's privacy, such as reading their diary or messages without their consent, can damage trust.
Overreacting
Reacting with anger, panic, or excessive worry to your teen's dilemmas may discourage them from confiding in you.
Phrases to Avoid
"I told you so." This phrase can come across as condescending and unhelpful when your kid is facing a challenge.
"You should be grateful." While teaching gratitude is essential, using this phrase when they're struggling can make them feel guilty for their emotions.
"You're too young to understand." Dismissing their perspective based on age can be invalidating and create distance.
"I had it worse when I was your age." Comparing your experiences to theirs can minimise their struggles and discourage them from seeking support.
"Stop being so sensitive." Labelling their emotions as sensitivity can make them feel ashamed of their feelings.
"You're just being dramatic." This phrase invalidates their emotions and discourages open communication.
"I'm disappointed in you." Expressing disappointment can be emotionally hurtful and may lead to a sense of failure.
"You always/never…" Using absolutes can lead to defensive responses and hinder effective communication.
7. How does a teen coach provide assistance to a family navigating through challenges posed by teen dilemmas?
As a Kids Life and Teen Coach, I serve as a trusted guide, dedicated to empowering young individuals to confidently navigate life's challenges. I equip them with valuable tools, practical strategies, and non-judgemental emotional support to foster a harmonious family dynamic. My mission is to inspire children and teens to make informed, healthy, and safe choices, while imparting essential life skills – the 'superpowers' that extend beyond traditional school education, focusing on crucial soft skills such as Communication, Empathy, Problem Solving, Critical Thinking, Resilience, Emotional Regulation, Emotional Intelligence.
8. What additional support does 'Frolic for Life' offer to parents and teenagers who are dealing with dilemmas?
Frolic for Life is a family coaching practice which offers coaching and support for kids and parents under 5 key areas:
Kids
Kids Life Coaching for kids aged 8-12yrs
Teen Life Coaching for 13-18yrs
Parents
Parent Coaching
Relationship Coaching
Life & Career
Life & Career Coaching
Stress Management Coaching
Youth Career Coaching
Health & Wellness
Finance
Financial Wellness Coaching
Group Financial Literacy for Kids Classes
Thank you, Andrea, for chatting with us! If you want to learn more about Frolic For Life, you can follow @frolicforlife on Instagram or Facebook.