Image: Ketut Subiyanto via Pexels
How do you ensure your child has the mental strength to cope with life's challenges? We asked our Launchpad entrepreneurs how they teach their own children to be resilient.
It can be tough to be a kid these days. As the first generation to grow up with the internet, our children are navigating a new world we didn't have to cope with when we were young. There is a steady rise in online bullying and never being able to 'switch off'. On top of this, our kids also have similar worries we did, like exam pressures and friendship woes. Even our little ones experience stress. Growing up in Singapore, our kids often learn multiple languages from a young age. This is a wonderful opportunity, but can also delay their speech as they grapple with so many new words and sounds at once. So, how do we teach our kids to 'look on the bright side' and care for our kids mental health? Who better to ask than our team of strong thought leaders from the Launchpad community.
Teaching Mental Resilience to Children – how do you speak to your kids about mental health?
1. It's never too early to start talking about mental wellness
"When it comes to focusing on kids mental health and building mental resilience in young children, it's never too early to start. One of the ways I speak to my tiny two-year-old about mental wellness is by simply encouraging activities that challenge her mind. It can be something as simple as reading or a fun art project.
At Sparkanauts, we have found that exposing children to a variety of stories and ideas through creative activities stimulates various parts of their brains. This enhances cognitive skills and emotional regulation. By equipping children with these tools, we can help them cope with stress and navigate life with resilience and grace, even in difficult times."
Ananya Pandit, Owner, Sparknauts Baby and Toddler Enrichment
2. Kids mental health: Encourage your kids to express themselves and go outside their comfort zone
"One of the ways I teach mental resilience to my kids is by encouraging them to express what they feel. My husband and I always tell them that life has ups and downs and that they will experience hardships at some point in their lives. And what's important is that they muster the strength to bounce back from adversities, failures, and challenges. In this way, they can develop their problem-solving skills. We also encourage them to try new things and build new connections or friendships. When they explore different hobbies and interests, it pushes them to go outside of their comfort zone."
Anne Suaverdez, Founder, Wresonate Media
3. Use interactive games to help kids open up and learn about their emotions in a way they feel safe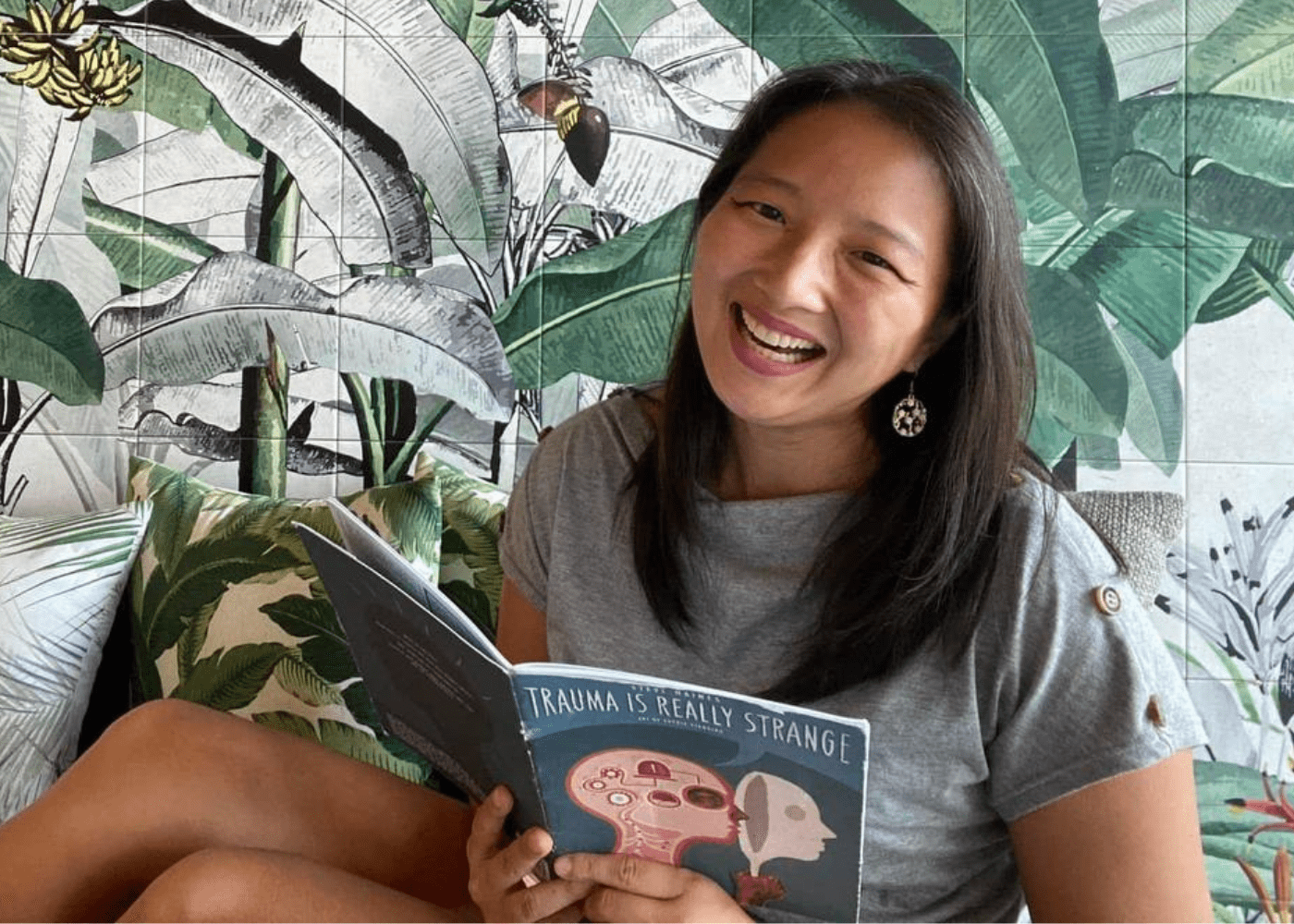 "Focusing on kids mental health is part of my job! I am a Mental and Emotional Well-being practitioner (and a loving aunt to my nieces and nephew). In my work, I use fun, interactive educational games that I have created to help children in schools (and at home) to talk about their mental and emotional wellness. It helps kids to open up more easily as it feels light and fun. At the same time, they learn about themselves and their nervous system and how to nurture their own inner voice to feel fully confident within their skin. It also has helped create deeper, meaningful conversations in the families I support and in my own relationships with my nieces and nephew too!
I will always ensure that they feel safe to express themselves and what they are experiencing. To do this, I try to lead by example in expressing myself to them in a calm way so they learn from observing. I am also in the process of writing an interactive children's book on cultivating a growth mindset and learning about their emotions. Sometimes, I will use their most loved character from books or in movies to explain to them about emotions and that it is okay to feel all sorts of emotions because it is normal, and that is what makes them human. If they are experiencing a challenging situation, I will cultivate their growth mindset by gently encouraging them to think outside the box. These are some of the ways that I use to build their mental resilience in children."
Sophie Leung, Trauma Informed Core Confidence Coach at Sophie Leung Co.
4. Young kids are more physical, so try yoga and breathing exercises
"It's hard for my kids under 5 years old to fully grasp the concept of "mental wellness" as they are more attuned to the physical world. What works well with these age groups, even those under 2 years old, is to practice child-fitted yoga poses such as the mountain, bridge, or tunnel. We also try to be in the present moment through breathing exercises by placing our hands on our stomach and making a balloon in our tummy, with the air puffing in and out.
During bedtime, we started an affirmation habit with our 4-year-old where we would chant, "I am brave, I am kind.." and our daughter will repeat those after. We're also trying out the Emotional Wellness Playbook from the Genius of Play so we can have a repertoire of kids mental health strategies for them this year."
Karen Villard, Founder and Chief of Play, Cubo Toys
5. Research techniques and strategies to optimise your children's (and your own!) mental strength
"I sometimes wonder if being a coach and an emotional well-being practitioner makes it easier for my children to have open conversations with me. "Mom, I need a mental health day off. I am stressed and overwhelmed, and I need time to be with myself." This is a natural exchange between myself and my now 12-year-old. I hear other parents say that I must let my kids face the harsh reality that life is tough and I should not encourage such conversations. It can be difficult to navigate mental wellness as an additional aspect of an already tough parenting role.
Two questions to ask as a parent:
What do I want my kids to be? I want them to be happy and confident, know how to self-regulate their emotions, and recognise that humans are meant to feel emotions, so there is nothing wrong with being angry or sad. As a parent, teaching them how to reflect on what's causing the emotion and giving them practical tips and techniques to get unstuck, release the charge, and keep going is important.
What can I give my kids while they are living with me? Safety, security, unconditional love. I want them to live in a safe and non-judgmental space to be who they are, make mistakes, learn from them, and create happy and loving memories of their childhood.
Three tips for improving kids mental health on a daily basis:
I am grateful for having learned skills and for my kids to be open to learning and re-apply. Here's what my 17 and 12-year-old daughters lean on for emotional resilience, and I would encourage everyone to do the same:
1. Practice Emotional Freedom Techniques (EFT) daily as a way to find personal peace. Everyone can use these techniques to extensively calm their nerves before critical academic and non-academic performances.
2. Make time to practice heart-focused breathing and the quick coherence technique of Heart Math to feel calm, confident, and have clarity in decision-making.
3. Practicing reiki and Silva mind to connect to your alpha state. Manifest by using powerful visualisations, and use energy to heal any emotional and physical challenge."
Priyanka Tiku Gupta, Founder, Certified Performance Coach & Emotional Wellbeing Practitioner at Priyanka Tiku Gupta
6. Be present and use reflective questions to help your children express and understand themselves and their emotions
"As a mother to a girl aged 4 and a boy aged 2, helping my children learn and express themselves is important to allow them to understand themselves and their emotions. We usually do this by reflecting on feelings and words as they experience certain events. For example, feeling hurt after a fall or feeling excited about a birthday party. I would also ask reflective questions in conversations with them about their day at bedtime.
Being present is also important for me as a parent so that they feel seen and heard. We live in such a fast-paced schedule that being mindful and conscious about slowing down and not hurrying can demonstrate to our children that it's okay to take things slowly, rest and be kind to ourselves. Our children learn most from us as parents, and how we show up for ourselves is also how they learn to show up for themselves."
Corrine Lin, Psychotherapist, Clarie Psychotherapy
7. Encourage your kids to be true to themselves, and show how they are feeling
"For me, I prioritise mental wellness above everything else. I often tell my 6-year-old that it's okay to show all of their emotions and that there is no such thing as 'bad' ones. It's important to also encourage him to share his feelings and experiences whenever we encounter something unpleasant. That way, he doesn't bottle up his feelings, which I think is unhealthy. He is also told that not everyone has to agree with him and to respectfully disagree, no matter what the conversations are about."
Kavitha Dashinamoorthi, Abstract and Realism Artist, Ambi Arts
8. Be honest with your children. Improve kids mental health by sharing your own struggles so they feel safe to share theirs
"As a mother, I believe in being honest with my kids. Sharing with them when I need a break and letting them know that it's okay to take a pause when they feel overwhelmed. It's important to encourage them to cry when they need to. Reassure them that it's perfectly normal to feel sad sometimes.
For me, it can help to emphasise the importance of taking time for themselves to recharge and do nothing. I believe teaching our children about mental wellness is not just about building their resilience; it's about giving them the tools they need to navigate life's challenges with confidence and strength."
Dana Wolf, Feng Shui practitioner and Marie Kondo consultant, Founder of Anjia Living
9. Self-regulation is key to calm. Acknowledge emotions, pause, and choose responses wisely
"Teaching my teenagers about mental resilience is crucial to me as a mother and as a Kids Life Coach. Understanding the brain's amygdala, our alarm system for worry and anxiety is a great way to teach about kids mental health using science-backed knowledge. By calming the amygdala, we activate our thinking brain, enabling logical approaches to challenges.
Self-regulation is key to calm by teaching children to acknowledge emotions, pause, and choose responses wisely. It doesn't always work (after all, they are teenagers!), but I try to lead by example when I feel frustrated. By role-modelling, they do eventually pick it up. Expressing gratitude daily shifts focus from negativity, fostering resilience and joy when times are tough or when they face difficult situations. These practices have transformed my parenting and is the essence of my coaching practice on kids mental health. It's vital to empower kids with emotional management skills, guiding them to become self-directed and make healthy choices."
Andrea Liu, Founder and Kids Life Coach, Frolic for Life
What's your top tip for talking to kids about mental health? Let us know!