Image: Honeykids Asia
We are an adventurous bunch, so when we heard of this cool art jamming space in Singapore, we were super excited to give it a spin! In our brand new series HoneyKids Tries, we bring you the lowdown on our first hand experience, this time at Spin Paint House. 
We love arts and crafts here at HoneyKids HQ, and we're always looking for new and exciting things to do with the kids in Singapore. We are also always keeping an eye out for possible party venues now that we can celebrate our kiddos birthdays again! Spin Paint House ticks all these boxes – it's an art jamming studio located on the fourth floor of the Printaid building. Just getting there is loaded with quirk-factor.
First up, we scan the hanging card in the lift and are granted access. Then the doors open to reveal an art jamming studio divided into cubicles with personal spinning wheels. There is plenty of inspo here, with gorgeous artwork hanging floor to ceiling on the walls. Next, we don our fetching aprons. Pro tip: this activity can get a little messy, so wear old clothes and shoes you don't mind being covered with a bit of paint splatter.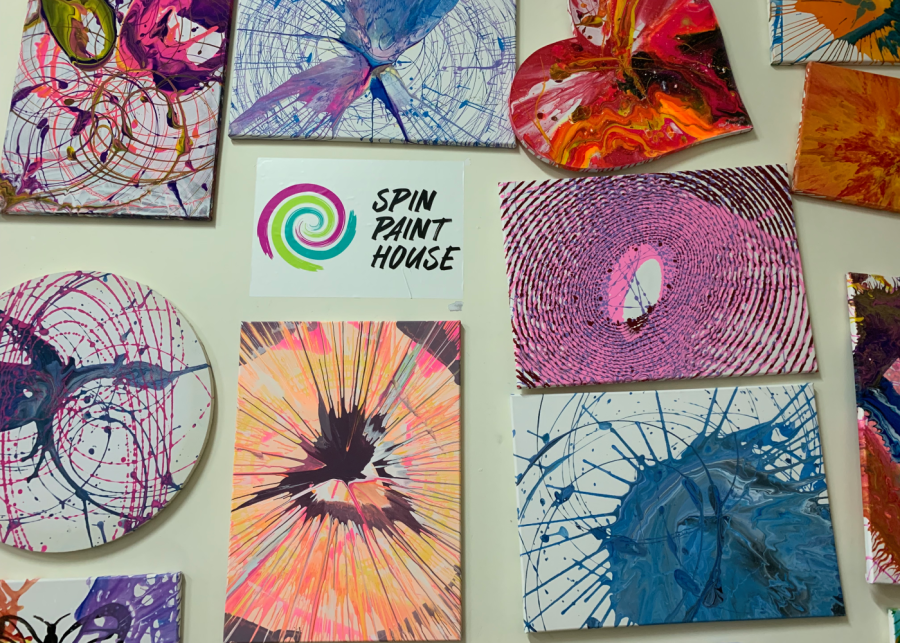 As some of us were new to spin art jamming, we were invited to watch a short tutorial. You'll get clued up on the basics, like how to attach paint bottles to the hanging wires. Then you can spin or push backwards and forwards however you please! One great thing about this art sesh is the creative fluidity. You can apply the paint in any number of ways; however, you don't really know how it's going to turn out! The next skill to learn is the paint splash. A little wooden box you can fill with different colours, hang from the wires, and release for a very satisfying and mystifying splash.
Or try and freestyle…
Finally, you can do freehand. Use paint brushes and popsicle sticks and drizzle the paint from the bottles in whatever motion takes your fancy. Or, fill a cup with paint and simply throw it on. (This was our favourite and would be a sure-fire hit with the kids, we reckon!) You can choose from a huge range of paint colours. There are some very special fancy paints, including metallics and neons, that we went a little crazy for. These are limited, so you have to choose carefully!
Then it's time to spin!
Once you're all set up with your paints and canvas, it's time to operate the spinning wheel, the piece de resistance of this art jamming experience. The wheel is set up like a lazy susan that you'd find in a restaurant, with your chosen canvas attached (there are all different shapes and sizes, from rectangles to circles, even heart shapes!). You then turn the handle to spin the wheel – the faster you turn, the faster it spins, and herein lies the craziness of not knowing where your paint is going to land! The spinning motion also creates awesome patterns that blow out from the centre and melds the paint colours into whimsical ocean-like waves. To stop the wheel, there's a bicycle-style handbrake that you can squeeze slowly or abruptly, also affecting how your artwork will turn out.
This was so much fun with friends, and we giggled ourselves silly as our artworks evolved and we splashed paint around with wild abandon, not knowing what the effects would be. Once you have a little practice under your belt, you could create some really stunning designs. The kids will love this, and you have a whole hour at the wheel to just keep adding colours and layers and trying different styles with your canvas. There's also a mini wheel for little kids too! Warning: this is addictive, and you will probably want to paint more than one masterpiece per session!
Spin Paint House would be an awesome party venue, and it's also a great relaxation and mindfulness activity if you wanted to sneak off and try this solo (we just might do that!).
Check out our experience on Insta for more!
Details: Spin Paint House, 61 Kaki Bukit Place #04-00, Singapore 416233. Opening hours: Wed-Fri: 3-9pm, Sat: 10am-9pm, Sun: 10am-8pm, Mon/Tues: Closed. Contact: +65 8163 0999
Show us your creations #honeykidsasia, and happy Spin Paint Art Jamming!