Get that Christmas gift list all ticked off at one of these fabulously festive fairs, markets and bazaars popping up in Singapore. The kids will love soaking up the Crimbo atmosphere!
Christmas is the season of giving, and we never need much persuasion to go on a bit of a shopping splurge (we see it as doing our bit for the economy, and we're sticking with that excuse reason, should the husband ask). And when it comes to Christmas markets, pop-ups and festive fairs? That's when we really do a happy jig – bells and baubles included! Luckily, there are plenty of Christmas markets happening all around Singapore this year (despite the pandemic). From charitable causes to European-style Xmas markets we don't have to jet overseas for, there's a festive fair for all when it comes to Christmas shopping on the Little Red Dot…
The best Christmas markets in Singapore for 2021
1. Christmas Gifting Edition at Cluny Court
While there's no Christmas Fair this season, Cluny Court's hosting a festive pop-up market at Level 2 featuring all your fave stores. Stock up on goodies such as Christmas tree ornaments from Naakka Enterprises, festive decor from The Little Christmas Store, soy candles and organic room sprays from Artisan of Sense, and many more.
When: 15 Nov – 31 Dec 2021, 10am-7pm
Where: Cluny Court, 501 Bukit Timah Road, Singapore 259760
2. Capitol Kempinski Christmas Market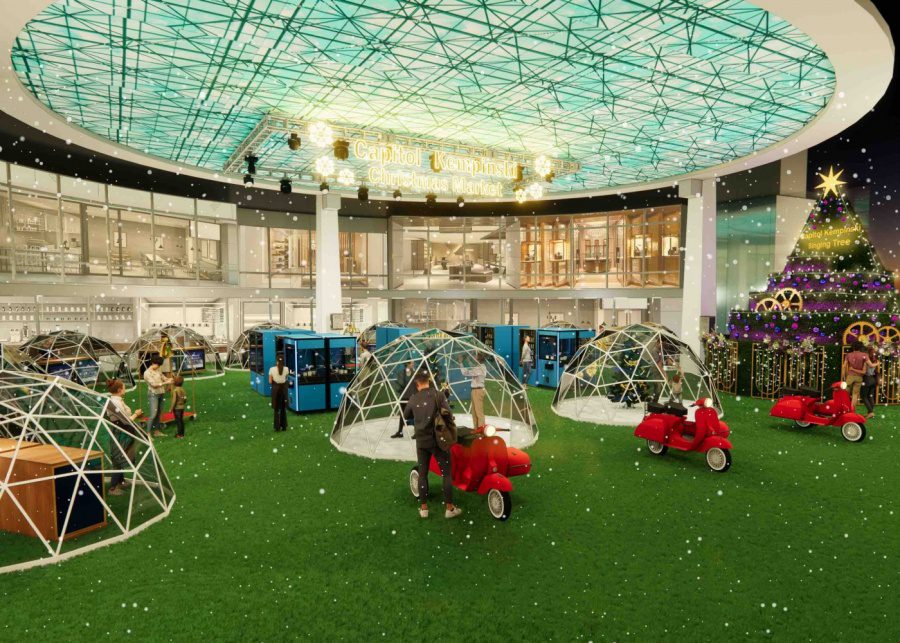 As well as being a Christmas wonderland extravaganza for kids and grown-ups alike, Capitol Singapore is also hosting a fabulously festive Christmas market. Head on down and tick some items off your Christmas shopping list with over 40 vendors selling handmade gifts, bites, speciality food items and gastronomical treats from the restaurants of Arcade at The Capitol Kempinski.
When: 19 Nov – 26 Dec 2021, 12-10pm. An online Christmas market is available too!
Where: Capitol Singapore (Outdoor Plaza), 13 Stamford Road, Singapore 178905
3. i'mable Gift Market
The festive season is the time for giving, so you can still expect the same socially conscious vibe from the i'mable Gift Market. Spread happiness and joy while supporting people with disabilities – all through Christmas shopping! You'll be able to buy homemade crafts and cute gifts from conscious brands too.
When: 26 Nov – 31 Dec 2021
Where: Online
4. Universal Studios Singapore Festive Market
While you're spending the holiday season at Universal Studios Singapore, don't miss out on its first-ever festive market. Go around the eight pop-ups that feature sweet treats and cool stuff, all from Singaporean brands. The brands may vary throughout the period, so there's always something new for you to shop when you're there.
When: 2 Dec 2021 – 2 Jan 2022
Where: Universal Studios Singapore, Resorts World Sentosa, 8 Sentosa Gateway, Singapore 098269
5. Mistletoe Alley Market at Christmas Wonderland
Christmas wouldn't be Christmas without this behemoth Yuletide event at Gardens by the Bay! If you're planning to head down to Christmas Wonderland, be sure to check out the Mistletoe Alley Market for your Christmas shopping needs. Aside from official merch, you can also get locally-made fragrances for your home, Christmas sweet treats, and even skincare.
When: 3 Dec 2021 – 2 Jan 2022, 6.30-10.30pm
Where: Gardens by the Bay, 18 Marina Gardens Drive, Singapore 018953
6. The Bub Fair Holiday Edition 2021
Missed out on The Bub Fair last October? Wipe those tears mummies, cuz the Christmas edition is coming your way! Themed 'A Gift from the Heart', The Bub Fair Holiday Edition will showcase products and services that will suit the needs of modern and conscious families. Here's a little teaser of what you can shop at the fair: sustainable toys from Noah's Toys, environmentally-friendly Sunday Bedding, reversible kidswear by Maison Q, and more… Don't miss out on this one, folks!
When: 10-12 and 17-19 Dec 2021, 10am-7pm
Where: Social Affinity, Chutex Building, 219 Kallang Bahru Level 3, Singapore 339348
7. Curbside Crafters Christmas Pop-up Market
We gotta admit, it can be tricky (and daunting!) to shop for tweens and teens. So here's Curbside Crafters to the rescue with its Christmas pop-up! Shop and show your support for the local artisans and their crafts. If you need ideas on what to shop for, we've got your back: paper flowers and plants from Papersynthesis, cute sushi earrings from Crafteebun, comfy apparel from Hiraka, and more!
When: 17-19 Dec 2021, 12-8.30pm
Where: Curbside Crafters, 730 North Bridge Road, Singapore 198698
8. Crane Christmas Food Market
Planning to stay in this Christmas? Whether you're preparing a home-cooked feast for the fam or going on a Zoom call with wine and pudding, Crane's Christmas Food Market has you covered. Look forward to home bakes, sustainably-sourced fresh produce, wines and more. Plus, you'll get a first look at the brand's latest outlet in Joo Chiat.
When: 18-19 Dec 2021, 11am-5pm
Where: 281 Joo Chiat Road, Singapore 427535
9. Chinatown Christmas Market
If you've ever wondered how Chinatown will look like with a Christmas market, then here's your chance for a look-see. Not a lot of details at the Chinatown Christmas Market, but we're sure it's going to be a festive one. Be prepared for surprises!
When: 19-20 and 26-27 Dec 2021, 10am-8pm
Where: Pagoda Street and Sago Street, Singapore 059962
10. H&M Home Holiday collection pop-up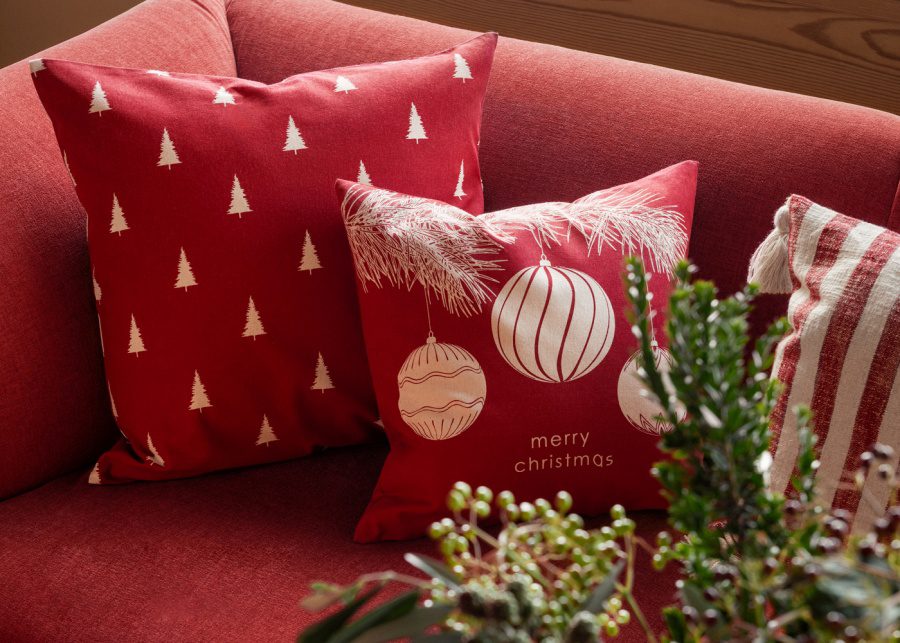 Say hello to H&M's annual pop-up once again! The H&M Home collection is unfortunately not available on our island, so this festive pop-up is the next best thing to get this range into our humble abodes. Besides the usual Christmas decor, you can also get your hands on its range of kitchenware, bathroom accessories, and home decor items. Psst, we're told there are two themes taking place at the pop-up this year – first, an elegant take on the Yuletide season, before a transition into traditional Christmas vibes.
When: Until 26 Dec 2021
Where: H&M Home Holiday collection pop-up, Orchard Building, 1 Grange Road, Singapore 239693
11. The Christmas Shop at TANGS
Singapore's longest-running department store Tangs is back again with its annual Christmas Shop! Over 65 local labels in myriad categories are showcased here, on top of the stunning festive decor that you can get for your home. Keep a lookout for gifts by The Art Faculty, a social enterprise that champions the work of people with autism and related challenges. Head down to either Tangs Plaza or Vivocity and get started on your Christmas shopping spree. Psst, if you don't want to deal with crowds, you can still visit the shop online.
When: Until 26 Dec 2021 (Tangs Plaza), 27 Dec 2021 (Vivocity)
Where: TANGS at Tangs Plaza, 310 Orchard Road, Singapore 238864; TANGS Vivocity, 1 Harbourfront Walk, #01-187 & #02-189, Singapore 098585
Markets that you missed
1. Sentosa Fair
Heading down to Sentosa for sun, sand, and sea? Don't miss out on the Sentosa Fair! Each week offered up great deals from a curated list of vendors. This year's Christmas edition is definitely something to look forward to!
When: 24-26 Nov, 1-3 and 8-9 Dec 2021, 10am-5pm
Where: Bali on The Cove, 31 Ocean Way #01 – 16, Singapore 098375
2. Host Up Market Festive Pop Up
Pop by Host Up Market Festive Pop-Up, a three-day holiday fair, to shop for Christmas trinkets from brands including Irregular Lines, Jezzroom Atelier, Lush Platters, and others. You'll be sure to find something unique and delightful here.
When: 26-28 Nov 2021, 10am-6pm
Where: Host, 9 Mohamed Sultan Road #02-01, Singapore 238959
3. Christmas Farmer Market
Our favourite green eatery The Living Cafe has brought together some of the most delicious, healthy, and exciting local food producers for its two-day Christmas Farmer Market. There were vegan cheese, gluten-free breads, organic and sustainable wines, honeys, kombucha, and even chilli sauces! Christmas hampers were on sale too.
When: 2-3 Dec 2021, 3-8pm
Where: The Living Cafe, 779 Bukit Timah Road, Singapore 269758
4. The Christmas Atelier
Ring in the holidays with Bynd Artisan and some of the country's best independent brands and artisans at The Christmas Atelier! Step into a winter wonderland that's filled with shiny and sparkly objects, specially designed Christmas trees, and the smell of freshly baked goods. This festive market definitely dazzled!
When: 3-4 Dec 2021, 10am-7pm; 5 Dec 2021, 10am-6pm
Where: The Atelier & Co., Delta House, 2 Alexandra Road Level 8, Singapore 159919
5. Crane Christmas Fair
Support local and shop at Crane's Christmas Fair! Take your pick from a wide range of festive artisanal goodies from local indie brands. Choose from kids' gift ideas, bath and beauty products, accessories and home decor, and even clothes and yummy treats. There were workshops and activities at this mini-marketplace too.
When: 4-5 Dec 2021, 11am-7pm
Where: The Herencia, 46 Kim Yam Road #01-06, Singapore 23935
Love this list of Christmas markets in Singapore? Check out these family-friendly Christmas events too!