Get that Christmas gift list all ticked off at one of these fabulously festive fairs, markets and bazaars popping up in Singapore. The kids will love soaking up the Crimbo atmosphere!
Christmas is the season of giving, and we never need much persuasion to go on a bit of a shopping splurge (we see it as doing our bit for the economy, and we're sticking with that excuse reason, should the husband ask). And when it comes to Christmas markets, pop-ups, and festive fairs? That's when we really do a happy jig – bells and baubles included! Luckily, there are plenty of Christmas markets happening all around Singapore this year (despite the pandemic). From charitable causes to European-style Xmas markets we don't have to jet overseas for, there's a festive fair for all when it comes to Christmas shopping on the Little Red Dot…
The best Christmas markets in Singapore for 2022
1. Capitol Kempinski Christmas Market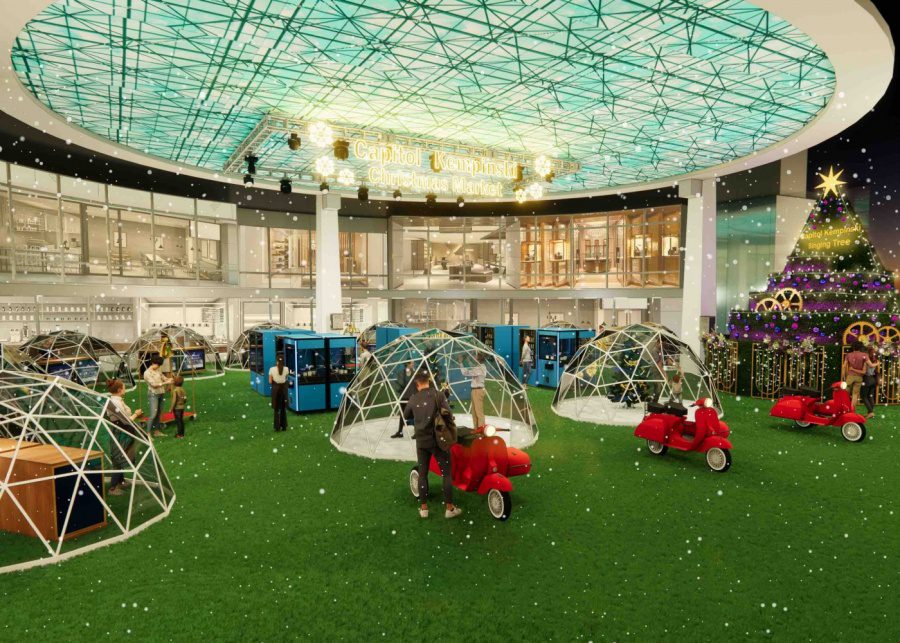 As well as being a Christmas wonderland extravaganza for kids and grown-ups alike, Capitol Singapore is also hosting a fabulously festive Christmas market. Head on down and tick some items off your Christmas shopping list with unique offerings that include Christmas trees, festive delicacies, intricate crafts, and gift ideas.
When: 2-26 Dec, 12 to 9pm
Where: Capitol Singapore (Outdoor Plaza), 13 Stamford Road, Singapore 178905
2. Mistletoe Alley at Christmas Wonderland
Christmas wouldn't be Christmas without this behemoth Yuletide event at Gardens by the Bay! If you're planning to head down to Christmas Wonderland, be sure to check out the Mistletoe Alley for your Christmas shopping needs. Aside from official merch, you can also get locally-made fragrances for your home, Christmas sweet treats, and even skincare.
When: 2 Dec 2022 – 1 Jan 2023, 6.30 to 10.30pm
Where: Gardens by the Bay, 18 Marina Gardens Drive, Singapore 018953
3. A Curbside Christmas
We gotta admit, it can be tricky (and daunting!) to shop for tweens and teens. So here's Curbside Crafters to the rescue with its Christmas pop-up! Shop and show your support for the local artisans and their crafts. Expect Christmas-themed markets, giveaways, and more.
When: 23-24 Dec, 12 to 6pm
Where: Curbside Crafters, 730 North Bridge Road, Singapore 198698
4. Public Garden Christmas 2022
Last minute Christmas shopping? Pop by Public Garden's Christmas market, which showcases indie brands across Asia. Discover new, local, and overseas designers, and peruse all the interesting finds there. Maybe you'll even bag some as gifts for yourself! We can't wait for this one!
When: 24-25 Dec, 1 to 7pm
Where: Suntec Singapore Convention & Exhibition Centre, Hall 405, 1 Raffles Boulevard, Singapore 039593
Recent Christmas markets that you missed (take note for next year!)
1. European Christmas Fair
It's not a Christmas market if it's not European-themed. So get into the Yuletide spirit by enjoying warm mulled wine and gingerbread while checking out the European Christmas Fair at River Valley. A lucky draw will be taking place during this fair too!
When: 23 Nov, 12 to 8pm
Where: Huone Singapore, #03-01, 3D River Valley Road, Singapore 179023
2. The Gifting Edition by Boutique Fairs Singapore
Get a head start with your Christmas shopping at The Gifting Edition 2022 by Boutique Fairs Singapore. The three-day affair features over 240 design-forward and independent Singapore-based brands. There's also a dedicated workshop space where guests can customise gifts for their loved ones. Shoppers can donate to Touch Community Services when purchasing tickets.
When: 25-27 Nov, 10am to 9pm
Where: F1 Pit Building, 1 Republic Boulevard, Singapore 038975
3. Sustainable Christmas Market
We're all about sustainability, and this is one Christmas market that we're all for! Sustainable Christmas Market, the first certified carbon-neutral Christmas Market in Singapore by Peace of Art SG, features plenty of environmentally-conscious activities to partake in. Proceeds from this will be channelled as aid for children of Climate Refugees in the Pakistan Floods via Singapore Red Cross.
When: 27 Nov, 10am to 7pm
Where: Waterfront Conference Centre, Level 2, Grand Copthorne Waterfront Hotel Singapore, 392 Havelock Road, Singapore 169663
4. The Christmas Atelier
Ring in the holidays with The Floral Atelier and some of the country's best independent brands and artisans at The Christmas Atelier! Step into a winter wonderland that's filled with shiny and sparkly objects, specially designed Christmas trees, and the smell of freshly baked goods. This festive market definitely dazzled!
When: 2-3 Dec, 11am to 8pm and 4 Dec, 10am to 6pm
Where: The Atelier & Co., Level 8, Delta House, 2 Alexandra Road, Singapore 159919
5. Crane Annual Christmas Market
Support local and shop at Crane's Annual Christmas Market! Take your pick from a wide range of festive artisanal goodies from local indie brands. Choose from kids' gift ideas, bath and beauty products, accessories and home decor, and even clothes and yummy treats. There are workshops and activities at this mini-marketplace too.
When: 3-4 Dec, 11am to 7pm
Where: 285 Joo Chiat Road, Singapore 427535
6. Etsy Craftivist SG Whimsical Christmas Market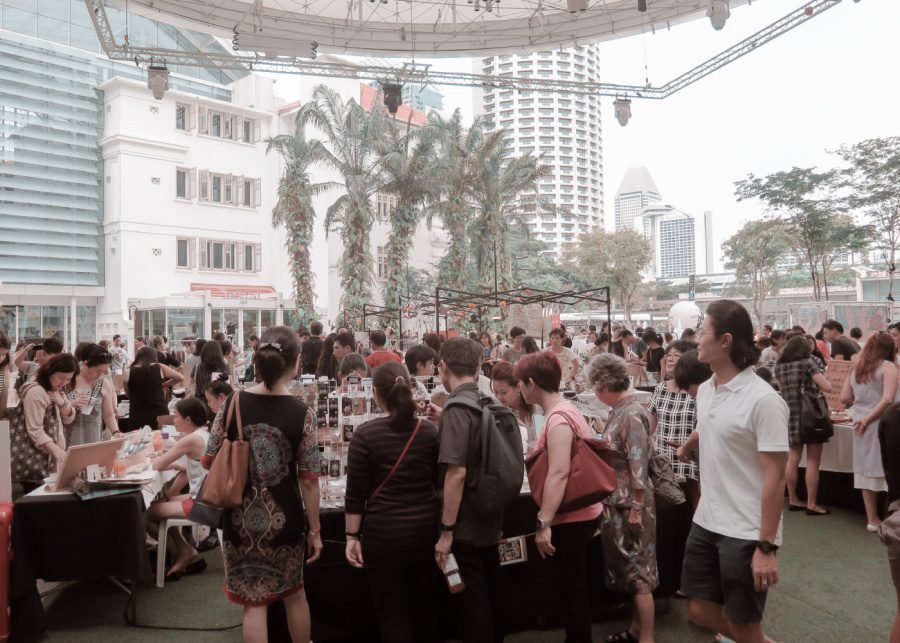 Looking for handmade Christmas gifts prepared by local makers, crafters, and designers? We suggest hitting up the Etsy Craftivist SG's Whimsical Christmas Market. Held in collaboration with Bookfest @ Singapore, the sixth outing will be decked up with festive decor, cheers, and merch.
When: 9-18 Dec, 10am to 10pm
Where: Suntec Singapore Convention & Exhibition Centre, Hall 401-406, 1 Raffles Boulevard, Singapore 039593
7. Christmas Fair & Market at Cluny Court
Cluny Court is back with its annual Christmas Fair & Market. This year's market takes place across four weekends, and psst, Santa is expected to make an appearance too! Plus, in the true spirit of the festive season, donation boxes are placed at the fair and at Santa's Grotto. All contributions go to Autism Resource Centre (Singapore).
When: 15-18 Dec, 10am to 7pm
Where: Cluny Court, 501 Bukit Timah Road, Singapore 259760
8. Crane Festive Food Market
Planning to stay in this Christmas? Whether you're preparing (or ordering) a home-cooked feast for the fam or going on a Zoom call with wine and pudding, Crane's Festive Food Market has you covered. Look forward to home bakes, sustainably-sourced fresh produce, wines, and more.
When: 16 Dec, 11am to 9pm
Where: Claymore Connect, 442 Orchard Road, Singapore 238879
9. Chinatown Christmas Market
If you're curious as to what Chinatown looks like with a Christmas market, then here's your chance for a look-see. The Chinatown Christmas Market features fun workshops and retail stalls. You can even go for a massage! The Singapore Association of the Visually Handicapped and the Singapore Red Cross will also be there to spread festive cheer with Christmas carols.
When: 17-18 Dec, 11am to 8pm
Where: Pagoda Street and Sago Street, Singapore 059962
10. Flor's Christmas Market
Flor Patisserie claims that its Christmas market is "a very different kind of Christmas market". That's got us massively curious! Head down to the Japanese patisserie and check out high-quality knives, cool art prints, stickers and stationery, loads of books, ceramic accessories, and street food. There's also an opportunity for you to write letters to the elderly community in Singapore.
When: 17-18 Dec, 11am to 68pm
Where: Flor Patisserie, 53 Upper East Coast Road, Singapore 455214
Love this list of Christmas markets in Singapore? Check out these family-friendly Christmas events too!