Whether you're looking for some family fun in the sun, some high-action thrills on the ski slopes, or want to see a traditional Christmas market in Europe, we've found these awesome Christmas holiday ideas...
With Christmas on the horizon, and the Xmas school holidays even closer, we're turning our minds to a cool Yule and getting in a holly-jolly mood. And yes, our jolly mood might have something to do with travel making a come back this year. So, if you're looking to take advantage and are not feeling like a turkey dinner in Singapore this year, we've got some awesome overseas Christmas holiday ideas for a festive break that includes everything from hitting the ski slopes to BBQs on the beach, Christmas lights in London to festive fairs in Europe…
Christmas holiday ideas: Family-friendly Christmas holiday destinations from Singapore
1. London: Mulled wine, hog roasts and Christmas carousels!
We might be a little bit biased, but we adore London in the winter! The Brits really know how to do Christmas, with mulled wine, turkey with all the trimmings, Father Christmas in every shopping mall, traditional carousels and outdoor ice-skating opps at cool places like the National History Museum and South Bank, need we say more? Once you've completed your Harrods shopping list, have had your fill of mince pies and have snapped a gazillion photos of your sightseeing expeditions, relax in front of a log burning fire. Ahh, the perfect family Christmas if ever there was one.
Don't miss: Harrods and Hamleys for your Xmas shopping, the famous London sightseeing icons (Buckingham Palace et al.), The National History Museum, London Zoo, Greenwich Observatory and a Harry Potter Studio Tour (a short drive from London).
Family-friendly digs: We like the wallet-friendly Novotel Tower Bridge Hotel!
Direct flights: Singapore Airlines and British Airways
2. Australia: Surf's up! Have a seafood barbecue and grab a cold beer at the beach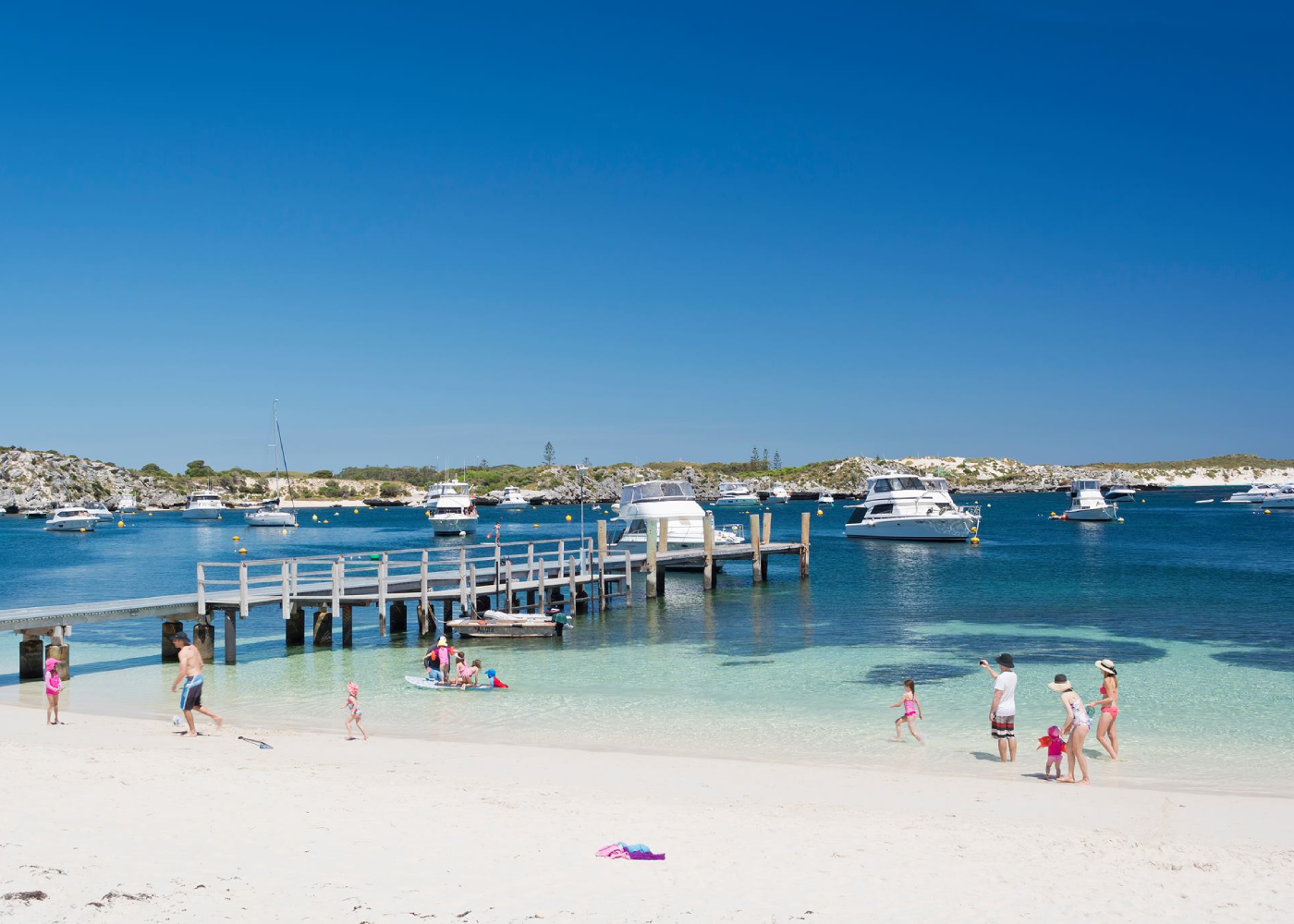 After a sun-filled Christmas holiday idea? Head Down Under with your sunscreen, flip flops and sense of adventure. This is a Christmas all about sun, sea and surf. Head over to family-friendly Sydney for a sand and city break – don't forget to swap that roast for a seafood BBQ on Xmas Day!
Don't miss: The surfing, scenery, city and sand.
Family-friendly digs: Hit Sydney for the perfect beach and cafe vibe at Crowne Plaza Coogee Beach Hotel (and challenge the kids to the scenic Coogee to Bondi walk!).
Direct flights: Qantas and Singapore Airlines to Sydney
3. South Korea: Ski slopes, national parks, kimchi and Santa dressed in blue!
Did you know that there are more Christians in South Korea (around 30% of the population) than in most other Asian countries? Christmas is BIG in Seoul! Expect lights galore, carol services and plenty of chances to meet Santa (known as Santa Grandfather, and often dressed in blue). Plus, it has snow! The whole family will love heading to the slopes: We like the look of Konjiam Resort, just 40 minutes from kid-friendly Seoul, which has nine ski slopes with challenges for all levels of expertise.
Don't miss: Skiing, Santa dressed in blue, Gangnam (just so you can check in on Facebook: practise your moves before you get there), National Parks galore and kimchi with everything!
Family-friendly digs: The great location, indoor swimming pool and good sized rooms at the Hotel Grand Ambassador Seoul (part of the Pullman group) makes a great pick.
Direct flights: Singapore Airlines and Korean Air fly directly to Seoul.
4. Helsinki and Lapland: Santa, reindeer, huskies, snow and the Northern Lights!
The ultimate Christmas holiday idea right here. Little kids and big kids will be bowled over when meeting the REAL Santa and Rudolph in Lapland… Head to the Arctic Circle and Santa Claus Village for the Christmas of a lifetime in Rovaniemi. Okay, so it's a little bit of an extra trek: a direct flight to Helsinki and then either a short flight from there to Santa's hometown. Or, a nine-hour train journey through the Finnish countryside, but it will all be worth it when your small elves meet the main man.
Santa Village is all about husky sledge rides, hanging out with elves in the underground Santa's Park and Christmas activities. And if you've always wanted to see the Aurora Borealis (Northern Lights), then this is the chance! Check out this live feed coming straight from Santa Claus Village – it's like we're there!
Don't miss: Santa and the Northern Lights. Please, please, can we come with you?
Family-friendly digs: Get outta the cold for a cosy stay at Scandic Park in Helsinki, and when you get to Rovaniemi it has to be one of the hotel options (including an Igloo hotel!) at Santa Claus Village. You can't put a price on memories… (it's not cheap!).
Direct flights: Finn Air will whizz you to where the magic's at with direct flights to Helsinki.
5. Germany: Markets, markets and more Christmas markets!
Two words: Christmas markets! There are literally hundreds of Christmas markets (or Christkindlmarkt when in Germany!) scattered all over Germany, but the big trio can be found in Berlin, Cologne and Munich. Our tip? Go to all three and triple the fun (and the mulled wine, stollen and Xmas goodies!). The Frankfurt market is also worth trying if you can. It dates back to 1393 and is not only one of the oldest markets in Germany but also boasts the biggest Christmas tree in the country!
Don't miss: The medieval market squares, amazing Christmas fare (hog roast and mulled wine for starters!), cathedrals, and of course Christmas Market shopping galore!
Family-friendly digs: A family-run hotel that looks like a small castle complete with turrets? That's what you'll be getting at the Hotel Laimer Hof in Munich (the owners have twin boys: they get us!). Try Hollywood Media Hotel in Berlin, where rooms have fun themes such as Wizard of Oz, and in Cologne, head to the Cologne Marriott Hotel.
Direct flights: Singapore Airlines and Lufthansa will get you there directly in around 13 hours flying time.
6. Dubai: Camels, cocktails, gold and sunshine!
Swap the mulled wine for exotic cocktails, reindeer for camels, and snow dunes for sand dunes. Dubai is all this, and more, for Christmas! This is a country that knows how to pull out all the stops when it comes to decadence. The family will all love the desert adventures, super-luxe hotels, and soaking up the scents in the souks. Then check out the world's most amazing fireworks on New Year's Eve too! A super-duper family favourite Christmas holiday idea!
Don't miss: The Burj Khalifa – the world's tallest man-made structure, a visit to the Dubai Turtle Rehabilitation Project and an adventure into the desert for camel and dune buggy expeditions!
Family-friendly digs: We had a fabulous family stay at the Jumeirah Beach Hotel (ice lollies on tap and a great kids' club, plus it's right next door to the Wild Wadi Water Park – think Adventure Cove on steroids).
Direct flights: Emirates and Singapore Airlines will take you there in around seven hours, and both services are especially family-friendly (we've tried it on your behalf – you're welcome).
Happy holidays!