Seoul fan and travelling-with-tots expert Ahnah Han shares the best things to do with toddlers in Korea's capital city.
Seoul is my favourite city in the world. I've been visiting since I was a child, and I love how it's always evolving and leading in trends: fashion, electronics, K-pop, kids' cafes – you name it, they're always the first to do it. Now that I have two young children, it's been my goal to find cute and kid-friendly places each time we go – we've managed to visit more than five times since my daughter Senah was born! Here are some of my top finds to have on your list if you're heading to Seoul soon…
The best kid-friendly cafes in Seoul
Imagine this: you're at an indoor playground with your energetic toddler and crying newborn. Do you run after your toddler or tend to your newborn? Well, if you are at a kids' cafe in Seoul, you can sit down and console your newborn while still watching your toddler run up and down, around and everywhere. And if your toddler needs assistance going down the slide? Not to worry, there's an attendant at every station to help them. Can't see your child from the cafe? You can just look up at the TV monitor with CCTV of all the different areas. This is why I love Seoul – it's home to the best kids' cafes! Here is a list of kids' cafes my family and I love…
1. Play in Museum (P.I.M)
P.I.M. is the coolest kids' cafe in Seoul. There are multiple stations spread across different floors: trampolines, an air machine, pebble pit, ball pit and art room. You can also find a cafe with food and drinks and additional seating areas for parents. P.I.M is a little out of the way, but I think it's worth hopping in a taxi for!
Play in Museum (P.I.M), Gwanggyo, Seoul.
2. Hello Millgaru
Hello Millgaru ("millgaru" means "flour" in Korean) has flour and rice play boxes – using only 100 per cent organic and Korea-made products. In a span of two hours, a teacher will play with your child in the play boxes while you watch and/or relax from the cafe. After playtime, there's storytime followed by a cooking lesson. There are many locations in Seoul, but you have to call in advance to reserve a slot for your child. Ask a local or your hotel's concierge to help you make a reservation if you don't speak Korean.
Hello Millgaru, #101, Ace Hi-Tech City, 775, Gyeongin-ro, Yeongdeungpo-gu, Seoul
3. ShuShu & Sassy Beauty Spa
I wish there was a ShuShu & Sassy for adults because this beauty spa for kids is way too cute! My daughter was first offered a little robe with a matching hair band followed by a "beauty drink" (apple juice). She was then given a hand and foot massage with a kid-sized face mask. She got to choose colours from an array of non-toxic kid-friendly nail polishes and stickers. The treatment ended with some equally kid-friendly sunblock and lip gloss. ShuShu & Sassy has several beauty spa locations (we went to the flagship store at Lotte World).
ShuShu & Sassy Beauty Spa, 66 Chungmin-ro, Songpa-gu, Seoul
4. Lilliput
Lilliput is my favourite place to go when I am… exhausted. We have been to two of its locations and the kids' cafes are smaller in size (meaning less running and chasing for the parent). There is plenty to do for children (the Cheongdam location has a merry-go-round!), but if I wanted a little break, I'm able to see my child from the comfort of my seat at the cafe. During our last visit, I ate pizza while my newborn napped and toddler played!
Lilliput, Namhan-Gang Bldg, 85-12 Cheongdam-dong, Gangnam-gu , Seoul
5. Carrie Kids Cafe
Carrie Kids Cafe is a good option if you want to go to a kids' cafe but also want the ShuShu & Sassy beauty spa experience. The kids' cafe has a spa room and music room along with a playground and toys. Carrie the character also comes out to sing and dance with the kids at selected times throughout the day.
Carrie Kids Cafe, 10, Gukjegeumyung-ro, Yeongdeungpo-gu, Seoul
6. Champion Kids Cafe
Champion Kids Cafe reminded me of the TV show Ninja Warrior with its obstacle courses! One of the courses even requires your toddler to wear a helmet and harness! My toddler especially loved the station where you run up the wall and hit a button when you reach the top. Some parents sat on the benches near the front while their children played, but because my toddler was on the younger side for these obstacles, I found myself constantly running after her (although when I sat down to feed my newborn, an employee came out to play with my toddler and even wiped her nose for her!). It's a great place to burn energy for both the parent and child!
Champion Kids Cafe, multiple locations in Seoul.
7. Plouf
This kids cafe is all about aesthetics, and I'm honestly here for it! It's basically a swimming pool and spa rolled into one, so expect lots of IG-worthy spots to snap those cute boomerangs with the kids. Pamper the littles to some nice treatment such as foot massages, pedicures and manicures. (Honestly with all we've been through no thanks to the pandemic, it's well-deserved!) Plouf is located right next to Lilliput, so you can drop by here after the kids are done over there.
Plouf, 85-13 Cheongdam-dong, Gangnam-gu, Seoul
Beyond the amazing kids' cafes, Seoul also has innovative themed cafes that appeal to people of all ages. My daughter and I both had a blast making our own arts and crafts at these places…
8. Peachgray
Peachgray is my favourite art-themed cafe! You can paint with watercolours while eating the fluffiest pancakes. This cafe is really popular with young adults, but no one seemed to mind a toddler being there (I even called beforehand to make sure). I eventually put a raincoat on my daughter because it can get messy!
Peachgray Cafe, Songpa-gu, Songpa-dong, 94, 1층, Seoul
9. Lily Daisy
Slime cafes are super popular in Seoul right now. You make the slime from scratch, picking the type of slime, colour and scent. You can then add in colourful and sparkly beads and jewels. The staff were super helpful; they helped my daughter make the slime as I was putting my newborn to sleep. My daughter played at Lily Daisy for two hours and didn't want to leave!
Lily Daisy Cafe, 64, Wausan-ro 27-gil, Mapo-gu, Seoul
10. DB Story Cafe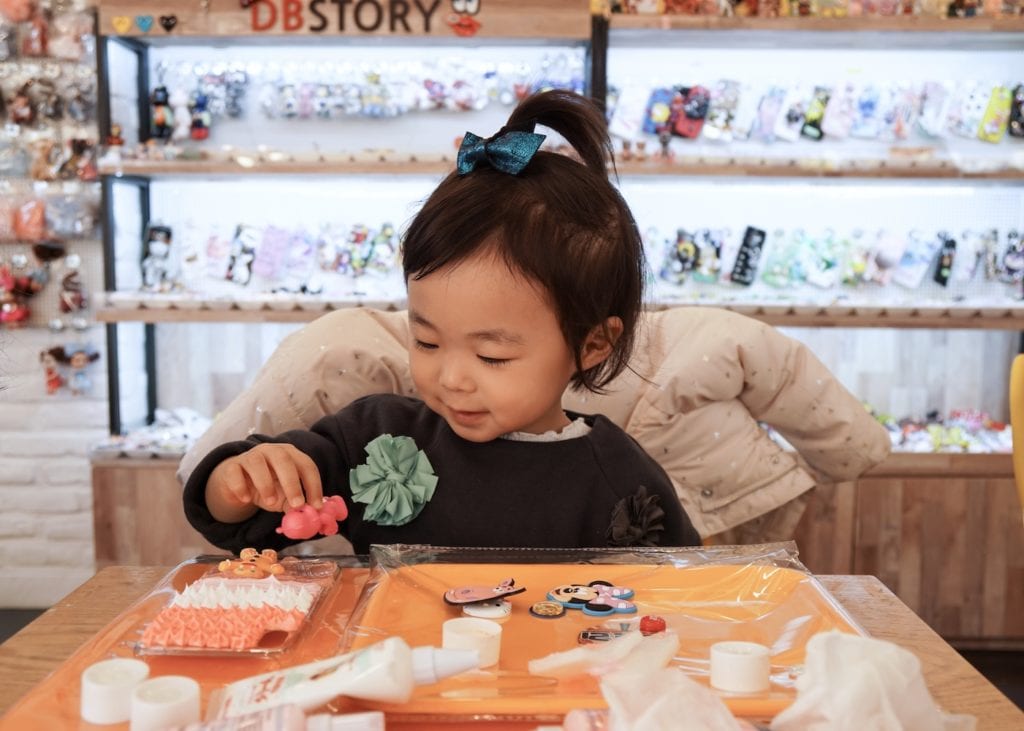 My daughter said this phone-case decorating cafe was her favourite. Similar to the slime cafe, there's a huge selection of pieces to accessorise your phone case with. The staff worker helped my daughter add the glue so I could work on my own phone case. This place caters more to adults, but the staff were very kind and helpful to children!
DB Story Cafe, 4 Wausan-ro 27-gil, Seogyo-dong, Mapo-gu, Seoul
Useful travel tips while you're in South Korea
Use KakaoMap to get around. You can search the name of the place in the app and the address will pop up. Google Maps doesn't really work in Seoul.
Use Kakao T to call taxis (you need a Korean number to sign up; if you get a local SIM card, you can use that number).
Make use of Korea's subway as much as possible! It's clean, fairly cheap (imagine all the cost saved on transport), and you can practically get to anywhere in Seoul. Download the Jihachul app on your smartphone.
If you're ever lost, don't be afraid to ask for directions from a local. Don't worry, they don't bite! Be sure to approach the young 'uns though, as their English proficiency would be better.
I often found it more convenient to leave the stroller at home and just use a baby carrier instead.
Get to the airport at least a couple of hours prior to your check-in. Incheon International Airport is massive and you'll need to take trains to get to places.
Enjoy your Seoul-searching time in Korea!
Lead image: Aleksandar pasaric via pexels