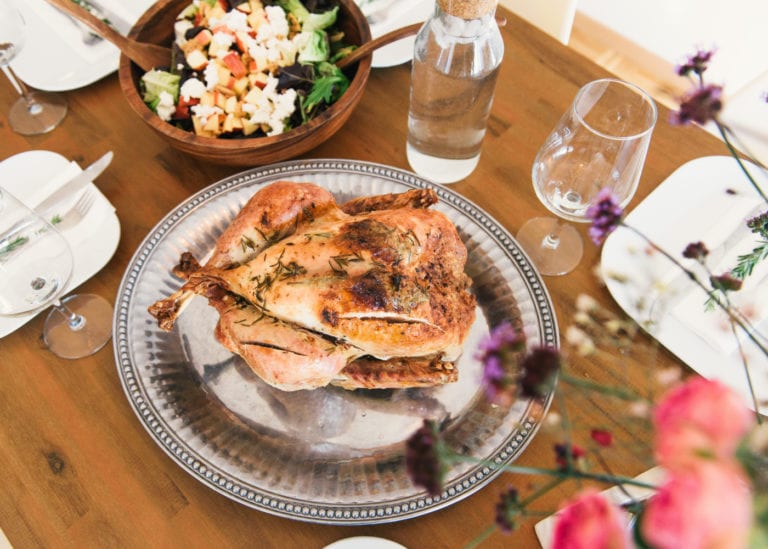 Looking to throw the mother of all Christmas feasts at home this year for the fam but don't know where to start your shopping? Never fear, we've hunted down all the best stores that supply the traditional ham, turkey and trimmings this Christmas.
We're big fans of the indulgent champagne Christmas brunch in Singapore, but sometimes it's nice to entertain at home – especially when the kids don't want to leave their new toys behind! With the lead-up to the big day being a flurry of shopping at Christmas markets, pop-ups and bazaars and taking the little ones to sit on Santa's knee, you might be in the mood for a relaxed home affair. The key to planning a stress-free festive dinner (especially when there are little people involved) comes down to one word: planning. But before you get cracking on all the Christmas food-shopping and storming the supermarkets, read on for where to buy turkey and all its trimmings for Xmas in Singapore: and let's not forget the beef, goose, duck and ham too! (Perhaps you'll even find what could well be our favourite word ever:a turducken!)
Sasha's Fine Foods
We've made no secret of the fact that we're devotees of Sasha's Fine Foods (formerly known as The Barbie Girls), purveyors of top-quality, ethically sourced meats. Founder Sasha Conlan's range of products includes grass-fed beef, New Zealand lamb and local fresh chicken (and not of the caged variety). Minimise the typically busiest and most stressful period of the year by ordering online (feet up and cup of tea in hand). Order up a beautiful leg of lamb, crackling roast ham and other top-quality meats for your lavish Christmas dinner. Oh, and pick up one of the divine salmon terrines for an impressive starter. Guaranteed pleasers for the whole family.
Sasha's Fine Foods
Ryan's Grocery
Named after the founders' son, who suffers from food intolerances, Ryan's Grocery is a gourmet butcher and grocery offering quality organic and free-range meats as well as a wide selection of gluten-free and preservative-free goods. Its wide stock of farm-to-plate products will guarantee satisfied eaters all around the dining table – even the fussy littlies! Opt for the all-in-one Christmas Set to get the premium classic turkey with a choice of stuffing, plus a honey-baked ham and a choice of Black Angus Beef Ribeye Roast. The best news yet is that they've been pre-roasted for ease (just re-heat). Make sure you order at least seven days in advance, and Bob's your mother's brother.
Ryan's Grocery
Oh Deli
Kick off the festive season with crowd-pleasing quality meats from Oh Deli. Ready-to-cook Christmas roasts include pork racks, beef tenderloins and lamb legs, plus heaps more. Oh Deli offers next-day delivery, but you can order your roasts now! Make life easy by picking up a roast vegetable pack, chopped and marinated for you to pop in the oven (you'll be busy enough as it is come Christmas morning), and even some delish turkey gravy. We're huge fans of the excellent friendly service from this bunch – its delivery drivers are the nicest guys.
Oh Deli
Huber's Butchery
For meats of a cut above the rest, head to Huber's Butchery, a Swiss-styled premium specialty store which offers directly imported meats and hams and sausages produced in-house. The place is a massive hit with Singapore families owing to its great playground and onsite restaurant in Dempsey. Why not order through the impressive Christmas specialist website and head down in person for a play and collect? The butchers have painstakingly prepped all meats from turkeys, to stuffing and chipolatas, ducks and geese, hams, beef, veal, pork and venison to make this Christmas one to remember. Competitive pricing too.
Huber's Butchery, 22 Dempsey Road, Singapore 249679
Cold Storage
Cold Storage has come through with the goods – and even better, you can order your Xmas feast online! Carnivores, you might think all your Christmases have come at once: the turkeys are pre-brined to make sure they're juicy and tender, with options such as the exclusive herb-roasted Burgers' Smokehouse turkeys. Not a fan of poultry? The Supreme Christmas Feast will sort you out, with its tasty mixture of smoky loin ribs, Iberico ham and sausages. If you prefer some red meat on your festive table, check out the rich and delish ribeye roast beef. Hungry now?
Cold Storage, various locations.
The Foodie Market Place
The Foodie Market Place is always a quality and wallet-friendly option, and offers in some choice beef including Australian Wagyu Striploin as well as Australian lamb. You'll also find imported US frozen turkey. If you're thinking of serving up cheese platters for the guests before (and/or after – no judgement here) the big meal, the store offers a wide range of affordable, international cheese. Love a good bargain. Tip: NETS or cash only (no credit card).
The Foodie Market Place, outlets in Tiong Bahru and Tanjong Katong.
The Fishwives
For healthy, sustainable and fresh eats, you can't go past fine food emporium The Fishwives. Order a free-range boneless or half Christmas ham on the bone for a stunning Christmas centrepiece. Or stock up on whole frozen French turkey (from $65) and an assortment of curds and jams. Orders can be made online, or visit the lovely bricks and mortar shop in Cluny Court to pick up gourmet chutneys, glazes and sauces to accompany your festive meal.
The Fishwives, #01-04A Cluny Court, 501 Bukit Timah Road, Singapore 259760, p. 6464 8384The Butcher
If you'd prefer to pick up all your Christmas meats in one swoop, head to The Butcher. You're assured of top quality from this Aussie mob. From raw gammon boneless ham and full-flavoured smoked semi-bone ham to whole turkeys, the store's ample selection of meats will have your festive meal sorted in no time. We'll be ordering a boneless pork leg, together with some apple, sage and rosemary stuffing, and a range of chutneys and sauces on the side. Nom.
The Butcher
Da Paolo
Hit up epicurean fave Da Paolo for a fab at-home meal. Its Christmas selection includes truffle-infused deboned roasted free-range turkey, honey-baked ham, roasted vegetables and for dessert – get this – an edible wreath made with crispy cornflakes, almonds and pumpkin seeds coated in dark chocolate and raspberries. Simply add some bubbly and Christmas couldn't be easier!
Da Paolo, various locations.
Swiss Butchery
One of Singapore's premium butchers, Swiss Butchery is well regarded not only for its top-grade meats but thoughtful advice it provides to its customers as well. You'll be sure to wow your guests with this stellar spread. Select from an extensive catalogue of meats and poultry, and order up marinades, seasonings and sauces to make Christmas cooking an absolute cinch.
Swiss Butchery, outlets in Greenwood Avenue and Tanglin Road.
Top image: Gabriel Garcia Marengo via Unsplash