Looking for a way to ensure decent behaviour from the kids in the countdown to Christmas? A meet and greet with Santa in Singapore is always a good way to start!
If you have a small Santa believer in the house, there really is nothing more magical at Christmas than snapping a family photo with the jolly big man in red. So, to appease our excited little elves, we've taken a sleigh ride to all corners of Singapore in search of the grottos and meet-and-greet opportunities with Father Christmas. We know exactly where to find Santa Claus (and how to celebrate if this is your first festive season in Singapore), but it's up to you to get onto his good list. We ho ho hope you've made it!
WHERE TO SEE & MEET SANTA IN SINGAPORE 2021
1. Meet Santa and his sidecar at CHIJMES
Santa has opted for a change of transport this year, ditching his sleigh for a super-cool sidecar. If you're after Santa with a difference, then check out the photo opp at CHIJMES, with goodie bags and heritage tour rides also on offer!
2. Spot Scuba Santa and friends over at S.E.A. Aquarium
How about spotting Santa (or Scuba Santa) at the aquarium? That's right; there's no end to Santa's talents – he will be hanging out with his fishy friends in the deep blue at S.E.A. Aquarium this December. That's not all; you can also add in a meet and greet with Pink Fong, Baby Shark, and the Mantaray Mascots during your visit!
3. Santa Pororo and Santa Tayo
Pororo and Tayo are helping out the main man this year and getting their festive best on. If you fancy seeing Santa Pororo or Tayo, then you can sign up for the meet and greet sessions throughout December. Note: Santa Tayo is working part-time festive hours, so you'll have to head in on the weekend if you want to catch a glimpse of him!
4. The Tiara Society is bringing Santa to town!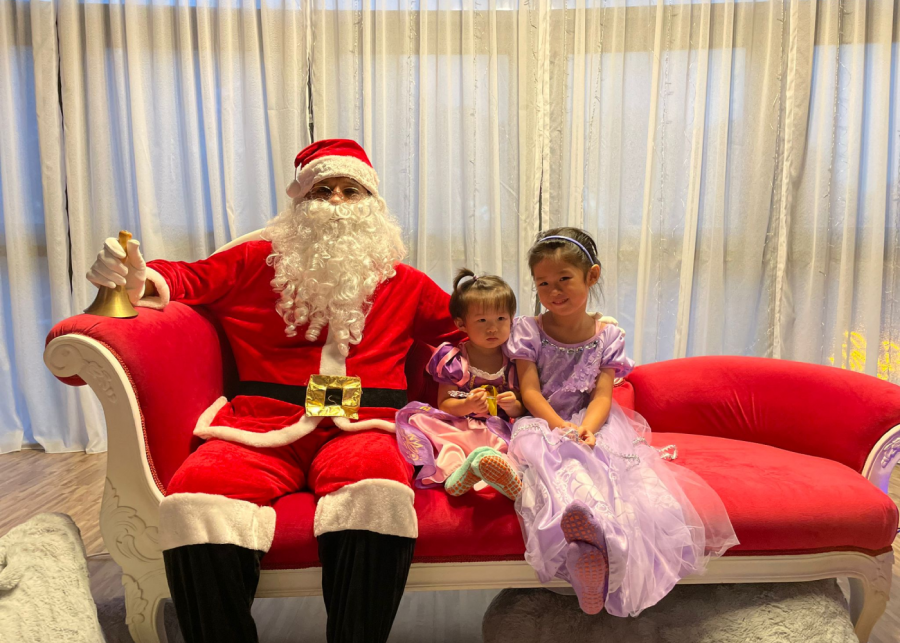 Not only is The Tiara Society home to all our fave princess pals, but they've also got Santa in residence! Sign up for their festive Wish Upon a Tale event, and you'll get to meet the main man himself, even more reason to visit!
5. Spot Santa at SuperPark!
Although it's not a traditional meet and greet, kids will still be pretty impressed to spot Santa and his elves doing the rounds at SuperPark this December. Head over from 13 December, and keep your eyes peeled – there are treats up for grabs too!
6. Bounce your way to Santa's Grotto this Christmas!
Amped has got the festive vibes going on and will transport you to the North Pole, with a very authentic grotto. Santa is in town every weekend between 10am – 6pm, and weekdays 4 – 6pm. Note that it is limited to ten slots per session, but no pre-booking is required; you'll just need to sign up at the counter during check-in!
7. Take photos with Santa at Gardens by the Bay
The annual Christmas Wonderland is back this month! Marvel at the massive lights display, do some shopping at the European-style Christmas market, and take photos with Father Christmas at the La Casa di Santa Claus. Better be quick about it before he goes off delivering presents!
8. Join in Santa's meet and greet
Celebrate the festive season with Amazonia's Amazing Christmas! Join in the fun with various activities including meeting Santa Claus and Elf, live performances, and a pop-up Christmas village filled with loads of goodies. The celebration takes place 18 December, 9.30am – 9.30pm.
9. Have a green Christmas with Santa at City Sprouts
How about doing Christmas differently this year? At City Sprouts' Green Christmas, spread cheer by gifting meaningfully. Besides getting to meet Santa up close, you'll also get the chance to participate in a lucky draw from his bag, which entails an activity run by the farmers. There are other green activities to join in when you're here too.
10. Take a wefie with Santa at A Universal Christmas
Head on down to Universal Studios Singapore where you can meet Santa, take a wefie together, and let him know what you want for Christmas this year. Not only that, but you can also catch your other favourite Universal stars, enjoy musical meet-and-greets, go around the Festive Market, and even be introduced to the newest Minion.
WHERE TO SEE & MEET SANTA IN SINGAPORE 2021 – ONLINE OPTIONS
If you don't have time to squeeze in a visit to one of Santa's Singapore grottos, these online options are perfect for bringing a big heap of festive magic to your small elves…
11. Portable North Pole
The Portable North Pole website will deliver a sleigh-load of festive cheer and have everyone in the family believing in the magic with its personalised videos and telephone calls from Santa's Village. It is also an easy way for kids to find out whether they are on the good, the maybe or the naughty list. It works a charm. Every. Single. Year. Heck, it even has us believing. Plus, they've got an app now, so it's easy-peasy to get started!
12. The Elf on the Shelf
With a North Pole Blog, tons of interactive games, fun trivia and letters to Santa options, The Elf on the Shelf is so cute we want to be kids again ourselves. Please, will someone send us an Elf? We've already used the Elf name generator and would love nothing better in the run-up to Chrimbo than to have Fritz Frostchester help out in the office.
13. Letters to Santa
For younger kids with short attention spans, check out Letters to Santa. Simply plug in their deets (including name, naughty or nice status and present request), and you'll receive an immediate written response. The site also has online colouring, games, and an interactive Q&A section – perfect for when we just don't have the answer to how Santa fits his sizeable bottom down the chimney.
14. Norad Tracks Santa
Kids these days don't have to take a guess at where Santa might be at any given time during Christmas Eve. Instead, Norad tracks him (and his reindeer) from the time he leaves the North Pole until the time he gets back again with live video footage of his mighty mission. There are also fun festive games to try in the lead up to the Most Wonderful Night of The Year from 1 December.
And psst! While we're on the topic of Santa, we thought we'd ask our own little elves if they've seen the Big Man in Red…
Ready to meet Santa in Singapore? Give him a big hello from us, too!