Photo: Unsplash
Wondering where to buy a Christmas tree in Singapore? We've tracked down the best nurseries and stores to pick up or order your live or fake Christmas centrepiece!
It's November and Mariah Carey has officially defrosted! We're already overflowing with Christmas cheer here at HoneyKids HQ. Nothing says 'Christmas in Singapore' like a dazzling tree decked in decorations and lights galore, so we've got the scoop on where to bag yourself a festive fir. Whether you want to throw tons of tinsel on a fake Christmas tree, or fancy the smell of pine wafting through your home with the real deal, we've taken a sleigh ride around town to find the best places to buy and order real or artificial Christmas trees in Singapore for 2023. On the count of three: Oh Christmas tree, oh Christmas tree…
WHERE TO BUY ARTIFICIAL CHRISTMAS TREES IN SINGAPORE 2023
1. Masons Home Decor

When it comes to shopping for Christmas trees, you can't go wrong with Masons Home Decor. This place has the largest variety of Christmas trees and ornaments in Singapore. Plus, these German-engineered trees are hyper realistic – crafted to precision with dense fir and easy-to-open branches. This year, Masons Home Decor presents five new Christmas tree designs, featuring different shades of green (including white and frosted ones), tip sizes, and even the direction of the trees' branches. Once you've found the perfect Christmas tree, it's time to select the ornaments. Choose from classic favourites to unique decor, ranging from snowman to Santa figurines, nutcrackers and trains, to LED lights and cute letterboxes. You'll be spoilt for choice at Masons Home Decor!

Bonus: Key in "XMASNOV" to enjoy 15% off on top of Masons Home Decor's current early bird rates! No minimum spend required.
Masons Home Decor, Asiawide Industrial Building, 5 Pereira Road #04-01, Singapore 368025; also available online
2. Henry Christmas Wholesaler
Known for keeping up with the Christmas spirit, Henry Christmas Wholesaler has been at the forefront of supplying a bounty of artificial Christmas trees and embellishments in Singapore. You'll be spoilt for choice here, and each year's new collection promises to be better than before!
Henry Christmas Wholesaler, 736/734 Geylang Road, Singapore 389645
3. Tidings
Get ready to snag yourself a glorious artificial fir for this year's festivities—it's as easy as a click of a button! The good news? You'll discover faux Christmas trees in sizes reaching up to a towering 1.8 metres in height. But wait, there's more! You can even snag it as part of a package deal complete with a bunch of delightful decorations on the side.
Tidings, available online
4. Lazada
Snagging the perfect artificial Christmas tree is a breeze with online shopping. Just scroll through Lazada's lineup of simple and deluxe luxury trees and customize the colors and sizes to suit your holiday vibe. While you're at it, toss in some classy ornaments and other festive decor to spruce up your list. It's the one-stop-shop for decking the halls and dialing up that holiday cheer!
Lazada, available online
5. Tangs
Tangs is our seasonal go-to when it comes to adding some festive cheer to our homes. The store is decked out with everything from baubles to ornaments, wreaths to table pieces, and, of course, artificial Christmas trees! Whether you want a shiny black number, a dazzling white show-stopper, or a traditional green fir, Tangs will have you kitted out with all your tree and decorations needs in the blink of an eye.
Tangs Orchard, 310 Orchard Road, Singapore 238864
6. IKEA
While there may have been a collective sob around the island when IKEA announced it would not be stocking real trees, keep an eye out for its Vinter tree range – great faux fir options in all shapes and sizes at sensible wallet-friendly prices. Phew! If you're lucky, you might even be able to order your Christmas goodies online.
IKEA, locations in Tampines, Jurong, and Alexandra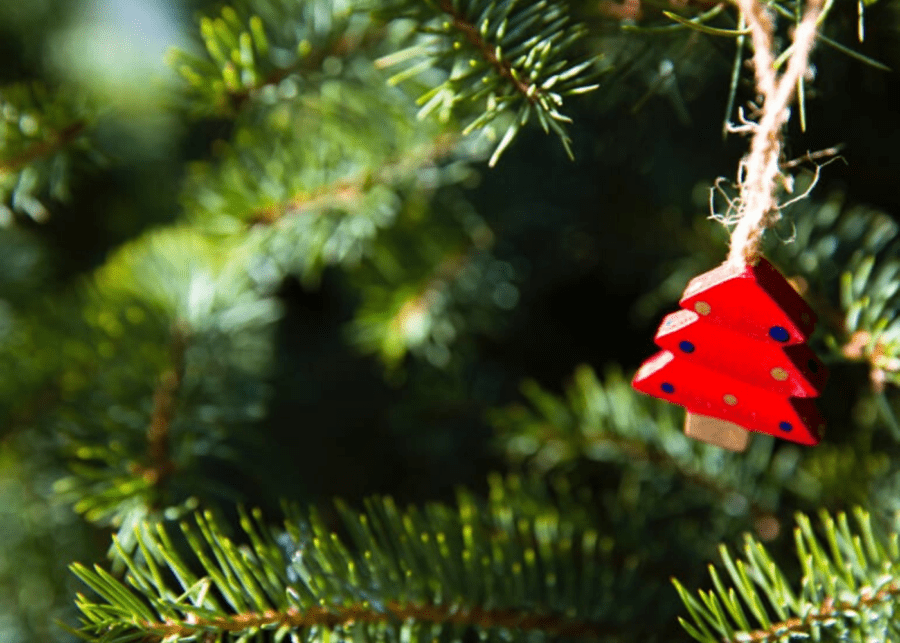 7. Vanda Win
Vanda Win's artificial trees are so life-like that not even Santa himself would be able to spot it for a fake! Trees range from 4ft to 5.5ft and come in a variety of colours. Buy your tree either naked and ready for you to throw some tinsel at, or purchase a light-strapped tree if you're feeling time-crunched – or unable to find your inner-tree designer.
Vanda Win, KINEX, 11 Tanjong Katong Road #03-25/26/27, Singapore 437157
8. Redmart
Who knew you could buy a faux Christmas tree and do some grocery shopping at the same time? Redmart has several selections in different sizes for you to choose from, and they're pretty affordable, too!
Redmart, available online
9. Spotlight
This should be your first stop if you're looking for all things Christmas – trees included. Choose between the super basic ones, or those that already come decked out in festive lights. Looking for something a little different from the usual? Pick up a Jolly & Joy pink or white tree. It'll surely be the major centrepiece that your guests will flock to the minute they step into your house! Get in the Christmas spirit with Spotlight, we say!
Spotlight, several locations across Singapore
10. Pine Concept
If you want to get an artificial tree that looks just like the real thing, Pine Concept is your go-to. The EcoFir trees are both eco- and wallet-friendly; while the FirPact won't take up too much space, making it a cosy Christmas tree to huddle under. Psst, there's free delivery for orders above $150…
Pine Concept, Midview City, 20 Sing Ming Lane #03-58, Singapore 573968; and online
11. Christmas tree Singapore
Looking to spruce up your festive decor? Christmas Tree Singapore has you covered! Get premium trees starting from just $42.90 onwards, and the best part? Enjoy a fantastic 60% early bird offer. Dive into a selection of artificial Fasir Fir trees, premium scotch pine trees, hybrid fir trees, and more. But wait, there's more to it! If you're in need of decorations, check out their bundle options. These bundles come with an array of attractive decor items, ensuring your tree is all dressed up and ready to shine for the holiday season.
Christmas tree Singapore, Available online, 20 Sin Ming Lane, Midview City, #03-58, Singapore 573968
WHERE TO BUY REAL CHRISTMAS TREES IN SINGAPORE 2023
12. Far East Flora
Known for its vast selection of plants and flowers at its two massive nurseries along Thomson Road, Far East Flora is packed with stacks of small, medium and giant trees. We also love the gorgeous wreath options and seasonal blooms to perk up your festive table settings. Oh, and don't forget to check out its fab food and gift hampers, too! They've just opened preorders for their 2023 Christmas tree collection – run, don't walk!
Far East Flora, multiple locations
13. Bedok Garden & Landscaping
East Coasters can find a forest of festive firs ranging from 5–10ft at Bedok Garden & Landscaping at decent prices. Rumour has it that the Christmas trees tend to sell out pretty quickly so now's your chance to snag a fir.
Bedok Garden & Landscaping, 4A Bedok South Road, Singapore 469269
14. Cold Storage
Cold Storage supermarket is not just about groceries: it's also a secret fir heaven! Pop in-store and pick up a festive fir tree while you grab your turkey and all the trimmings. It usually stocks a pretty decent range of real numbers from Canada that stand between five and ten feet.
Cold Storage, various locations
15. Island Group
Started as a tiny retail spot, Island Group now rocks as a go-to garden centre for all things green, hooking you up with live Christmas trees. They've got fir trees in heights from five to eight feet. Oh, and while you're there, grab a few poinsettias, they're rad!
Island Group, 3 Joan Road, Singapore 298897, available online
16. Corona Florist & Nursery
Corona Florist & Nursery specialises in landscaping but also boasts an impressive selection for the upcoming festive season. Whether you're seeking the perfect fir tree, your search ends here. Make sure to keep an eye out and secure your ideal tree by booking now!
Corona Florist & Nursery, 388F Clementi Road, Singapore 599473
17. Candy Floriculture
Candy Floriculture is your one-stop shop for Christmas trees, and the good news is, it offers fresh Noble and Nordmann firs in various sizes. What's even better? These firs are personally hand-picked, pest-free, and treated for better needle retention. So, have a blast picking your perfect Christmas tree, folks! Happy holidays!
Candy Floriculture Pte Ltd, 567 Thomson Road, Singapore 298183 or order online
18. The Green Corner
Why go for a teeny tree when you can go for a gargantuan Noble Fir? While many of us would have to bend an enormous tree in half to fit it into our home, we say if you've got the space (and the cash to spare), then go for it! Arms not long enough to plonk the star on the top? These folks also offer a full shebang tree-decorating service. But for those of us who need an average-sized tree for an average-sized home, first start at $259 which includes (and this we love) free delivery, set up and dismantling of your tree, no matter the size. Book online early!
The Green Corner, 53 Sungei Tengah Road, Singapore 698998
19. Song Lang Gardens
If you've left the scramble for a real Christmas tree until the last minute and are fearing you may have to decorate the rosemary bush on your balcony with Christmas tinsel instead (yes, we've done that), worry not. Take yourself to Song Lang Gardens on the East Coast where you can generally avoid the infamous tree stampede at some of the bigger nurseries, and prices are kept reasonable too.
Song Lang Gardens, 378 Tanjong Katong Road, Singapore 437134
20. Sing See Soon Floral & Landscape
Enjoy the fresh pine scent in your living space with a Christmas tree from these folks! We love that its Fraser Firs come from a sustainable farm in Canada. Plus, the trees are given a wash down before they're delivered right to your doorstep. Get your tree from them now!
Sing See Soon Floral & Landscape, 32 Punggol Road East #01-02, Singapore 828824; 5 Simei Lane, Singapore 528710
Love this list of places to buy a Christmas tree in Singapore? Check out these advent calendars too!