Wondering where to buy a Christmas tree in Singapore? We've tracked down the best nurseries and stores to pick up your live or fake Xmas centrepiece!
December 2022 is here, and that means we're already overflowing with Christmas cheer here at HoneyKids HQ! Nothing says 'Christmas in Singapore' like a dazzling tree bedecked in decorations and lights galore, so we've got the scoop on where to bag yourself a festive fir. Whether you want to throw tons of tinsel at a fake Christmas tree, or you fancy the smell of pine wafting through your home with the real deal, we've taken a sleigh ride around town to find the best places to buy real and artificial Christmas trees in Singapore for 2022. On the count of three: Oh Christmas tree, oh Christmas tree…
WHERE TO BUY ARTIFICIAL CHRISTMAS TREES IN SINGAPORE 2022
1. Masons Home Decor

When it comes to finding the perfect Christmas tree, you can never go wrong with Masons Home Decor. With seven unique types of Christmas trees in four different heights, there's bound to be one that fits just right in your home. But variety isn't the only reason why people love Masons Home Decor – this Christmas store has some of the most realistic Christmas trees in town! All of Masons Home Decor's trees are German-engineered to have immensely dense fir in the most realistic and natural shade of green. The store also has a wide range of festive decorative items: baubles, ribbons, tree picks – you name it! So if a realistic Christmas tree is a must-have for you, don't miss out on its Early-Bird Sale (up to 60% in discounts!) that's happening right now.
Pro-tip: Enjoy more savings when you purchase a Christmas tree bundle from Masons Home Decor. Each bundle comes with your choice of tree, tree topper, baubles, and lights. And if you're wondering about the best tree height for your home, we're told that six feet is perfect for all HDBs!
Masons Home Decor, Asiawide Industrial Building, 5 Pereira Road #04-01, Singapore 368025; also available online
2. Henry Christmas Wholesaler
Known for keeping up with the Christmas spirit, Henry Christmas Wholesaler has been at the forefront of supplying a bounty of artificial Christmas trees and embellishments in Singapore. You'll be spoilt for choice here, and the new 2021 collection is better than ever before, with more than 12 different styles of trees in the shrowroom to choose from!
Henry Christmas Wholesaler, 734 Geylang Road, Singapore 389645
3. Tangs
Tangs is our seasonal go-to when it comes to adding some festive cheer to our homes. The store is decked out with everything from baubles to ornaments, wreaths to table pieces, and, of course, artificial Christmas trees! Whether you want a shiny black number, a dazzling white show-stopper, or a traditional green fir, Tangs will have you kitted out with all your tree and decorations needs in the blink of an eye.
Tangs Orchard, 310 Orchard Road, Singapore 238864
4. IKEA
While there may have been a collective sob around the island when Ikea announced it would not be stocking real trees, we soon cheered right back up when we checked out the Vinter tree range – great faux fir options in all shapes and sizes at sensible wallet-friendly prices. Phew! If you're lucky, you might even be able to order your Christmas goodies online.
IKEA, locations in Tampines, Jurong, and Queenstown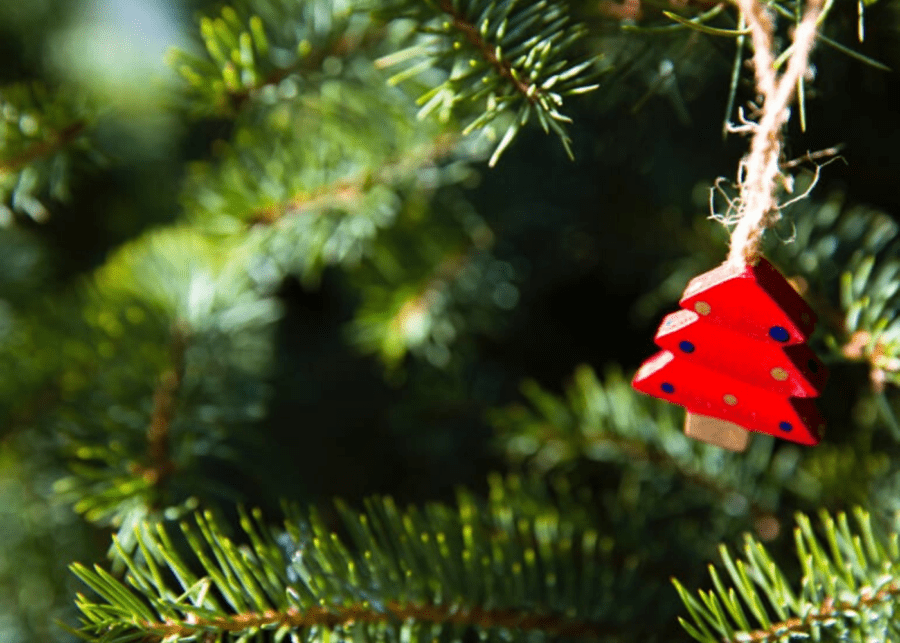 5. Vanda Win
Vanda Win's artificial trees are so life-like that not even Santa himself would be able to spot it for a fake! Trees range from 4ft to 5.5ft and come in a variety of colours. Buy your tree either naked and ready for you to throw some tinsel at, or purchase a ready-decorated tree if you're feeling time-crunched – or unable to find your inner-tree designer.
Vanda Win, KINEX, 11 Tanjong Katong Road #03-25/26/27, Singapore 437157
6. RedMart
Who knew you could buy a faux Christmas tree and do some grocery shopping at the same time? Redmart has several selections in different sizes for you to choose from, and they're pretty affordable, too!
Redmart, available online
7. Spotlight
This should be your first stop if you're looking for all things Christmas – trees included. Choose between the super basic ones, or those that already come decked out in festive lights. Looking for something a little different from the usual? Pick up a Jolly & Joy pink or white tree. It'll surely be the major centrepiece that your guests will flock to the minute they step into your house! Get in the Christmas spirit with Spotlight, we say!
Spotlight, several locations across Singapore
8. Pine Concept
If you want to get an artificial tree that looks just like the real thing, Pine Concept is your go-to. The EcoFir trees are both eco- and wallet-friendly, while the FirPact won't take up too much space, making it a cosy Christmas tree to huddle under. If you prefer to wow your guests with a majestic tree, go for the Firy – it's a massive 1,325 tip tree! Psst, there's free delivery for orders above $100 and up to 40% discount if you order before 15 November.
Pine Concept, Midview City, 20 Sing Ming Lane #03-58, Singapore 573968; and online
WHERE TO BUY REAL CHRISTMAS TREES IN SINGAPORE 2022
1. Far East Flora
Known for its vast selection of plants and flowers at its two massive nurseries along Thomson Road, Far East Flora is packed with stacks of small, medium and giant trees. We also love the gorgeous wreath options and seasonal blooms to perk up your festive table settings. Oh, and don't forget to check out its fab food and gift hampers, too!
Far East Flora, multiple locations
2. Bedok Garden & Landscaping
East Coasters can find a forest of festive firs ranging from 4–12ft at Bedok Garden & Landscaping at decent prices. The 2021 selection includes Noble fir trees from the US and Europe going up to nine feet, so get yours now!
Bedok Garden & Landscaping, 4A Bedok South Road, Singapore 469268
3. Cold Storage
Cold Storage supermarket is not just about groceries: it's also secret fir heaven! Pop in-store and pick up a festive fir tree while you grab your turkey and all the trimmings. It stocks a pretty decent range of real numbers from Canada that stand between five and ten feet. Get them before they're all gone!
Cold Storage, various locations
4. The Green Corner
Why go for a teeny tree when you can go for a gargantuan Noble Fir? While many of us would have to bend an enormous tree in half to fit it into our home, we say if you've got the space (and the cash to spare), then go for it! Arms not long enough to plonk the star on the top? These folks also offer a full shebang tree-decorating service. But for those of us who need an average-sized tree for an average-sized home, firs start at $208 which includes (and this we love) free delivery, set up and dismantling of your tree, no matter the size. Book online early!
The Green Corner, 53 Sungei Tengah Road, Singapore 698998
5. Song Lang Gardens
If you've left the scramble for a real Christmas tree until the last minute and are fearing you may have to decorate the rosemary bush on your balcony with Christmas tinsel instead (yes, we've done that), worry not. Take yourself to Song Lang Gardens on the East Coast where you can generally avoid the infamous tree stampede at some of the bigger nurseries, and prices are kept reasonable too.
Song Lang Gardens, 378 Tanjong Katong Road, Singapore 437134
6. Candy Floriculture
There's a Christmas tree for every budget and size at Candy Floriculture! Prices vary with the different sizes of premium-grade Noble Firs, and if you decide to go big, delivery is also available – these beauties may be a little large for the boot of a taxi! Look out for the 2021 collection, landing soon.
Candy Floriculture, 567 Thomson Road, Singapore 298183
7. Sing See Soon Floral & Landscape
Enjoy the fresh pine scent in your living space with a Christmas tree from these folks! We love that its Fraser Firs come from a sustainable farm in Canada. Plus, the trees are given a wash down before they're delivered right to your doorstep. Get your tree from them now!
Sing See Soon Floral & Landscape, 32 Punggol Road East #01-02, Singapore 828824
Love this list of places to buy a Christmas tree in Singapore? Check out these advent calendars too!
Top image: Jonathan Borba via Pexels