This Christmas, teach your kids about the gift of giving with these unique charitable ideas that benefit non-profits and the less fortunate...
Wondering how best to give back this festive season? As you tick off hefty lists for Christmas gift shopping and scour the stores for present ideas for your little ones, it's worth remembering that the season of giving extends to the less fortunate, too. Instead of busting your annual Christmas budget and battling it out with the Orchard Road crowds, why not give a charitable donation in your child's name, or make a contribution to help empower others who don't have the same opportunities as your family? From buying a goat and chickens for struggling families to being an animal benefactor, these meaningful and charitable presents will teach your children empathy and the value of helping others.
Charitable Christmas gift ideas in Singapore
1. Give your helper the gift of education
Where would we be without our right-hand women to help us juggle the kids, home and careers? Our helpers do an amazing job, and we love the idea of being able to gift them something that could make a big difference to their future, like an educational course. One of our faves is Aidha, which provides financial literacy programs including money management, computer courses and entrepreneurial lessons for helpers and lower-income women. You can also help by raising funds in support of the organisation's life-changing financial literacy and empowerment programs.
2. Lend a helping hand to the less privileged
Since 1988, The Boys' Brigade has actively brought cheer, joy and hope to the less fortunate by collecting food items through The Boys' Brigade Share-a-Gift (BBSG) project. Since Covid-19 hit, BBSG has made several changes to the project; appealing for cash donations via online giving platforms are done now. Anyone keen to donate can also do so via BB PayNow (displayed in 145 FairPrice stores across the island) and at AXS stations. Cash donations will be used to purchase NTUC FairPrice vouchers for those in need, as well as specific in-demand items. Beyond contributing a monetary donation, you can go above and beyond by personally delivering the vouchers and food hampers. The kids can help, too!
3. Buy "Singapore Sisters" and support H.O.M.E
If you're looking for a Christmas gift that's not only gorgeous but gives back too, then check out Singapore Sisters by family photographer, Hayley Durack. Singapore Sisters is Hayley's tribute to our household wonder women: AKA our helpers. And with every purchase of this stunning photography-led book, all proceeds will go to H.O.M.E, an amazing charity that supports Foreign Workers in distress. You can order your copy online for just $65, or buy two for $110.
4. Help supply clean water to struggling communities
Did you know: unsafe water contributes to more child deaths per year than AIDS and malaria combined? While we give little thought to our constant supplies of clean water, millions of families – including young children – are forced to walk many miles each day for water that will be far from clean and is likely to make them sick. The good news is, World Vision reaches a new person with clean water every 30 seconds. But a gift of $75 will help train water committees to maintain the wells in their communities – sounds like money well spent to us!
5. Foster an orangutan
According to wildlife organisations and monitoring groups, orangutans are a highly endangered species. The constant destruction of rainforests for the establishment of palm oil plantations is the main reason for this – it's also the cause of the terrible haze we get in Singapore yearly! Aside from boycotting products using unsustainably produced palm oil, you can do your part to help save orangutans – a keystone species in tropical rainforest habitats – by being a foster parent with the Orangutan Foundation. For $100 a year, you can help buy food, medicine and care for the orangutan babies. In return, you'll receive an adoption certificate, a photo and biography of your foster orangutan. You'll be sent an update every six months so you know how your little friend is doing!
6. Provide job training and skillsets for women
Empowering our own daughters is very important to us, and we love the idea of giving the gift of career training to women who are struggling to support their children. Donations will be used to help women take their step towards financial independence by applying for jobs, going for interviews, and availing training and curriculum.
7. Make a donation to the Cat Welfare Society
If your child loves visiting Singapore's cat cafes, this is the purr-fect gift. When Cat Welfare Society first started, 13,000 stray cats were euthanised because of the population explosion caused by too many cats going un-neutered. Cat Welfare works towards sterilising community cats as a measure to reduce the number of strays breeding. Your donation will be extremely valuable to help this fantastic initiative.
8. Provide medical care to the vulnerable
What better charitable gift could you give than to support the world's healthcare system? Since the Covid-19 pandemic, the medical sector has taken a massive hit, even more so in the poorest countries which are at risk of being unprepared to handle continual waves of outbreaks. Your donation can help healthcare workers with training, purchasing of equipment, and support them in delivering emergency healthcare.
9. Be an animal benefactor to distressed animals at ACRES
Animal Concerns Research and Education Society (ACRES) is focused on tackling crimes against wildlife. Not only does it promote love for all things furry, slimy, feathery and scaly, but it raises awareness about animal exploitation, too. In order to rescue and rehabilitate animals, the organisation requires funds that the public can choose to contribute in one of two ways: either a one-off donation or monthly contributions. You can also become an animal benefactor and help distressed animals. How? All you need to do is contribute just $1 per day or $30 per month, which will help our animal friends lead happier and healthier lives. Donations are used to cover full physical check-ups, medication and transportation costs when it is time to release the animal back into the wild.
10. Sponsor a four-legged friend
Soi Dog Foundation in Phuket rescues and cares for thousands of dogs every year. But sadly, not all of its residents end up with a forever home. For some dogs, cruelty and abandonment have lifelong impacts and prevent them from finding a family to live with. However, with your sponsorship donations, Soi Dog guarantees that these special needs furballs will have a safe and happy life at the shelter. Soi Dog treats every animal in its care equally whether sponsored or not, so it should be noted that your gift will be used to help all the dogs, including the one you have chosen to sponsor.
11. Buy nine ducks for families in Bangladesh
Now here's a Christmas gift that you won't have to wrap! For just $150, give Bangladeshi families in impoverished conditions a gift they'll never forget: nine ducks and training. The ducks can produce eggs, ducklings, down feathers and even fertiliser, all of which can offer a reliable source of income for the families. Plus, they'll be provided with farming training and kids will be getting plenty of protein from the duck eggs. Win-win!
12. Support an underprivileged child
Across the world, poverty forces families to settle in slums where the conditions are appalling. Sadly, it is often the children who suffer the greatest of all. To address this tragic issue, the Salvation Army Child Sponsorship Programme will use your donations to provide an underprivileged child with essential food, shelter, clothing, medical care and education. The cost of sponsoring a child in Myanmar or Malaysia is $720 a year or $60 a month – a small sum compared to the enormous change you could be making in a child's life.
13. Gift food, toiletries or toys to help families in need
Food From The Heart (FFTH) is a non-profit charity that feeds the hungry through its food distribution program. Established in February 2003 after Singapore-based Austrian couple Henry and Christine Laimer read a report about bakeries discarding unsold bread, they decided to start an initiative to channel that waste into good by distributing it to those in need. This has grown exponentially to not only include the food distribution programme, but also to deliver toys to disadvantaged children, too. Help out by gifting either cash donations, non-perishable food items, clean toys in good working condition and toiletries.
14. Empower people with disabilities
Help people with disabilities achieve equal status in society by making a contribution to The Disabled People's Association. This non-profit, cross-disability organisation aims to be the voice of all people with disabilities. They help implement policies that encourage better social integration and create awareness here in Singapore. Your donations will help fund DPA's research and public speaking initiatives, plus help towards costs involved at inclusion training workshops.
15. Purchase some charity gift Christmas cards
Help transform the lives of those who live in poverty by purchasing charity gift cards this Christmas from Oxfam. Oxfam is an international confederation that fights inequality to beat poverty together. Not only are its Christmas cards cute, but they are also sure to make you chuckle! Plus, you can purchase illustrated cards that kill two birds with one stone: the kiddos can colour them in, and you'll be giving the gift of clean water to someone in need.
16. Gift vulnerable elderly and low-income families comfort and security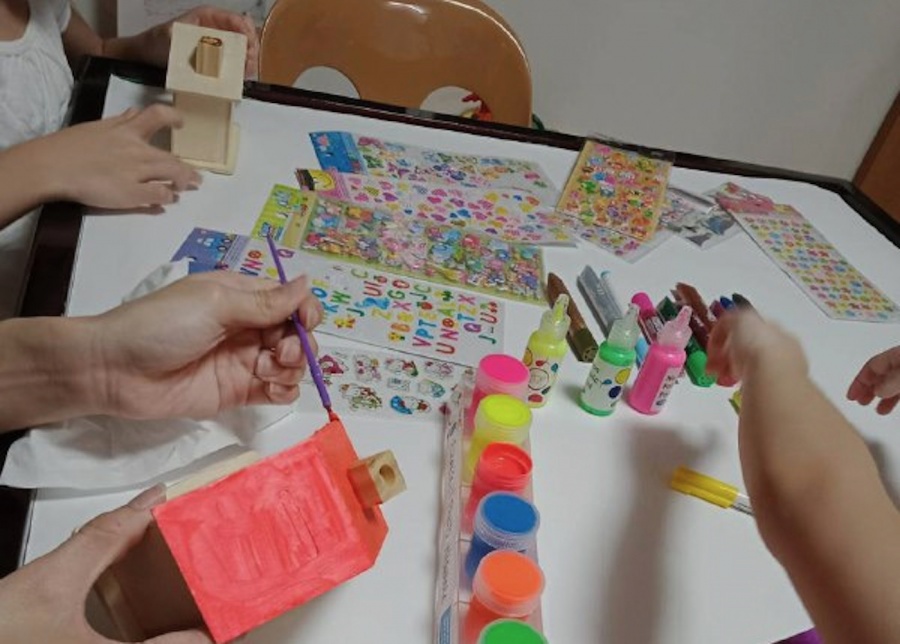 How lucky (and privileged) are we to be able to enjoy comfort and security in our own home? Unfortunately, there are those in Singapore who cannot afford such basic luxuries. Habitat for Humanity Singapore aims to spread the magic of Christmas by gifting someone the comfort & security of a home through donations. Under its Christmas Town initiative, folks who donate a minimum of $20 will receive a wooden house coin bank, which they can assemble, decorate, and take photos. Then, once you share your photos with Habitat, they'll include them in the virtual Christmas Town! This gets kids and families involved in the fundraising while the coin bank serves as a reminder to save regularly.
17. Reconcile inmates with their loved ones
Prisoners and inmates are another segment of the Singapore society that's often forgotten about and ostracised. Being locked away and separated from their loved ones can take a toll on these humans. The Angel Tree Project, a collaboration between 70×7 and Prisoner Fellowship Singapore, personally delivers handwritten letters by inmates to their family members. Through this endeavour, it hopes to spread some Christmas cheer to everyone. Your contribution can sponsor gifts and help dispatch the letters to the families.
Before you donate… be an informed giver
To make sure your donation will be effectively used, read the tips below on how to be an informed giver:
1. Do your homework
Research the nonprofit of your choice. Verify if the charity is legitimate by asking for documentation. For Singapore charities, check out SG Gives, The Charity Portal or The National Council of Social Services. Find out as much information as you can. Also, don't be afraid to ask questions, like how much of your money goes directly to the needy and how much is used for marketing.
2. Test communication channels
Make sure that the charity lists their phone number or email address. Try to send an email to find out how responsive they are. In order to be effective, a nonprofit organisation must be easily contactable to answer any questions donors may have about their investments.
3. Be cautious about sharing personal or financial info
When writing a cheque for donations, never make it payable to an individual. Rather, it should be made directly to the organisation.
4. Don't forget you have the right to say no
Give generously if you can. But if you're uncomfortable or uncertain, don't be afraid to say no. You can and should ask more information, and take your time to make a decision.
Merry Christmas, you lovely, generous folk!