There's still time to pick up those Christmas stocking stuffers for the kids, and we're making it easier with our age-appropriate gift guide - from babies to teens and everyone in between!
The holiday season is in full swing in Singapore and everyone seems to be getting into the Christmas spirit. The shopping mecca, Orchard Road, is alight with its annual spectacular light display and there's a Christmas tree on every street corner. And you know what that means? It's time to stock up on Christmas stocking fillers and start ticking off your shopping list around Singapore!
Here at HoneyKids HQ, we had a little discussion about whether Santa exists (sure, he does) and how exactly he sneaks all those presents under the Christmas tree. Especially since most houses don't have chimneys and the garbage chute doesn't allow sacks past a certain size… So, we've put together a Christmas stocking filler gift guide, grouped by age, to make ol' Saint Nick's job a little easier (you're welcome, 'Santa').
CHRISTMAS STOCKING FILLERS FOR KIDS
STOCKING FILLERS FOR BABIES (0 TO 18 MONTHS OLD)
This egg shaker trio's sure to get the baby intrigued. Easy to hold and colourful to boot, this trio of friends have their own unique sound for a musical playtime. Even the bubs will be able to wrap their heads (and hands!) around them.
Jellycat makes the softest stuffies and this funky fox makes a great bedtime buddy. Just prop him up in the pram or the crib and he'll be there to make the sweetest dreams come true.
Convenient and easy to carry, this hankie is a portable blankie with cotton in the front, microfiber on the back and soft through and through. Sewn with crinkly and fluffy ears, this is the perfect sensory toy.
For those who can't catch a break in the bathroom, this adorable stick-on door knocker will encourage older bubs to actually knock instead of the constant "mummy?" call. Top tip for parents of enthusiastic tots: put this one the furthest from the bedroom.
Got a wannabe-chef at home? Keep them busy with the creative little sets from HaruPlate. Founded by parent team, Chen Shiqin and Irvin Tan, HaruPlates are all about great food without the nasties. We love the Tiny Trove X HaruPlate Stocking Stuffer, complete with glittery dough, cutter, and yummy HaruPlate jam!
STOCKING FILLERS FOR TODDLERS (18 MONTHS TO THREE YEARS OLD)
Hummingbirds usually move too fast for the eye to see, but perched on your finger, this one has loads of cute stories to tell. Despite its velvety soft exterior, you could mistake it for the real thing!
Pop the tot's fave animal (duck, bear, fox or hedgehog) into the stocking and challenge those little noggins with a cute puzzle on Christmas Day.
This pop-up rocket ship tent takes all the stress out of building a tent! Your space-obsessed kids will love the cool games it comes with — a space dart board, tic-tac-toe, a circuit maze and "What's Your Monster Alien Name?". It also comes with a realistic cockpit for uber fun space play!
Keep the kids happy with bubbles with this super cool dinosaur  bubble machine. Plus, the dinosaur walks, sings and lights up!
STOCKING FILLERS FOR PRESCHOOLERS (THREE TO SIX YEARS OLD)
Give those fin-tastic travellers a tiny tag to go with their luggage or school bags. No one will dare to mistake it for their bag with such a ferocious tag!
Nightmares be gone with this awesome star projector watching over your dreams. This night light can be remote controlled and set on a timer too. Plus, the LED digital display won't hurt your eyes in the dark.
From soccer balls to Ice Age mammals, Melissa and Doug's temporary tattoos are just the thing to get kids into the party mood.
Toy trains rarely venture out of the toy room, but with this removable railroad tape, the train will be stopping at all stations! From the bedroom for a nap, to the kitchen for a snack…
Looking for something Singapore-inspired? Check out the gorgeous Singapore Culture Play Book, with its snapshot of the Little Red Dot all the way from A-Z. Alongside beautiful illustrations and descriptions, it's filled with ideas on how to use the book to spark creativity and critical thinking. Fun and educational, the best kind of Christmas gift!
STOCKING FILLERS FOR CHILDREN (SIX TO EIGHT YEARS OLD)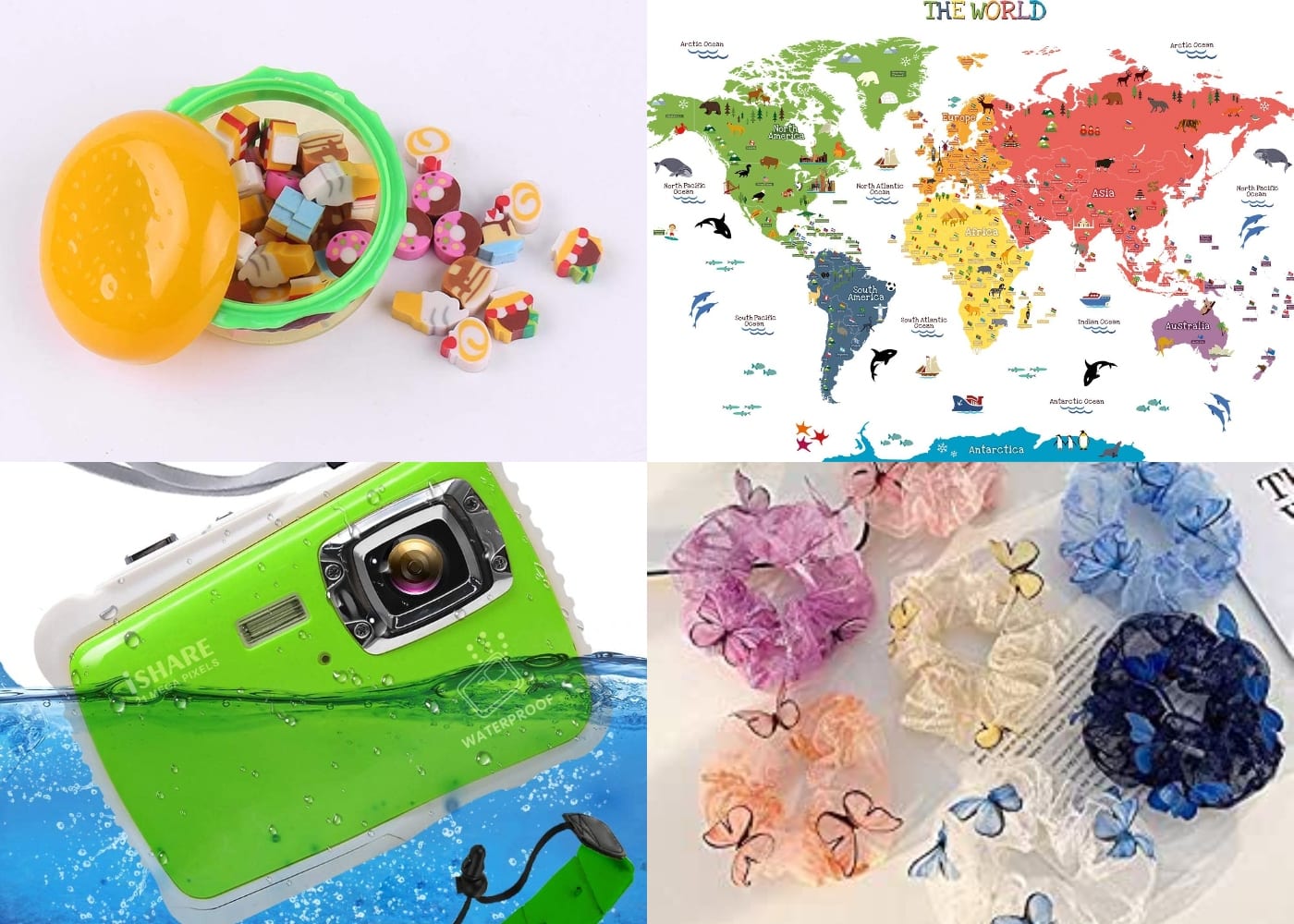 Be it a staycation or a trip to the beach, this camera's best for kids who love capturing unforgettable summer holiday memories. The removable waterproof case will come in handy for poolside snapshots too!
Got a craving for fast food? These collectable erasers are the healthiest junk food around and will make a great desk ornament for kids (although they look so tasty, they might try to eat them!).
Give the kid's room a makeover (and a mini-geography lesson) with these easy-to-use-and-remove map of the world wall stickers. Bonus: kids will learn about different animals too!
So what if they're not 90s kids? Scrunchies make any hairstyle pop.
STOCKING FILLERS FOR PRE-TEENS/TWEENS (EIGHT TO 12 YEARS OLD)
If the preteen loves to scribble on the go, this stationery set is perfect for keeping everything in order. From cards to stickers to envelopes and paper, every journey feeds the creative mind.
We can't believe this exists either! Bath or shower time, there's no excuse to stop believing. Cleanse, moisturise and shine with the lingering scent of this Christmas gift.
This torch is definitely going to come in handy during camping trips. No more lugging around batteries, all they have to do is turn the handle to power up this eco-friendly light source.
For kids who find it hard to stay focused, this kit features toys that squish, tangle and bend to help kids concentrate and de-stress. Note: this might be a kit to keep at home unless you know it won't end up on the teacher's desk.
STOCKING FILLERS FOR TEENAGERS (12 AND UP)
Teens will probably agree you never really grow out of stickers. Notes, scrapbooks or diary entries, these cartoon stickers are sure to brighten things up and Suatelier has quite a stock for stocking stuffers.
These adorable A5 blank notebooks are the perfect gift for the teen that speaks Singlish. Worst case scenario, you'll finally know what "lah", "meh", "lor" or "sia" mean and why the teen just won't stop using them.
This silicone charging station was made for all devices. The cables (sold separately) plug into the back for a streamlined display.
We love Baby Yoda and so does everyone else. Plus, you can't go wrong with a classic.
Looking for more Christmas stocking inspo? Check out Amazon.sg's Holiday Gift Guides! It's perfect for the gift-giving season — it's got something for the whole family. Doing everything last minute? Not a problem — Amazon Prime members can get their gifts to their loved ones right in time for Christmas. And if you're really crunched for time, try Amazon Fresh, the new and improved version of the ultrafast two-hour grocery delivery service, Amazon Prime Now! Amazon Fresh will offer Prime members a one-stop grocery shopping journey with thousands of chilled, fresh, and frozen products, plus daily essentials at amazing prices, so do take advantage of its uber-fast delivery service (and get your items delivered in 2-hour delivery blocks on the same day!) Tokyo Milk Cheese Factory cookies, anyone?