Photography: Donna Spearman on Unsplash
After some last min stocking fillers? We're making it easy with our age-appropriate gift guide - from babies to teens and everyone in between!
The holiday season is here, and if you're panicking about finishing the Christmas shopping, then don't fret – we've got you covered. First up, let's get real and dive into the technical stuff – stockings aren't that spacious, especially when we want to stuff in a good number of gifts to please the kiddos. Numbers speak louder than size here, folks. So we've put together a Christmas gift guide that will bid that space crunch goodbye and make filling a stocking easy-peasy! So let's dive right in and lend Saint Nick a helping hand.
CHRISTMAS STOCKING FILLERS FOR KIDS
Stocking fillers for babies (0 to 18 months old)
1. Egg shakers trio
This egg shaker trio's sure to get the baby intrigued. Easy to hold and colourful to boot, this trio of friends have their own unique sound for a musical playtime. Even the bubs will be able to wrap their heads (and hands!) around them.
2. Jellycat blossom bashful cream bunny
What has long-flowery ears and looks too cute to cuddle? It's a Jellycat Bunny! These fluff-tails have been hopping around town for some time, but we still can't get enough of them! So take your pick from the colourful litter and let one (or more) make for a cuddly friend your bub will love this Christmas. If you are looking for something more festive, Jellycat has a range of Christmas-themed cuddlies too, like holly, wreath, yule log etc
3. Handmade knitted animal rattle
What's not to love about these handmade animal chew rattles? They are made of cotton, BPA free and have been knitted together with a whole lot of love for your bub. Now, which animal will make that final leap into the Christmas stocking? Choosing is going to be tough on this one – all the best!
4. Kitty night light
Here's a purr-fect gift to add to the stocking list! We can't help picturing your bub cuddled up cosy next to this glow-in-the-dark napping kitty night light. This battery-operated all-night companion has special tap control features to change to eight different colour variations. Super cool!
5. Tippi Monster Movers cars
These fun cuties on wheels have driven right out of Monsters Inc to give your bub a boo-tastic surprise. We can't get enough of their quirky shapes, soft textures and bright colours.
6. Vertiplay door knocker
For those who can't catch a break in the bathroom, this adorable stick-on door knocker will encourage older bubs to actually knock instead of the constant "mummy?" call. Top tip for parents of enthusiastic tots: put this one the furthest from the bedroom.
7. Mini rainmaker
A toy that replicates the soothing pitter-patter of raindrops? Yes, please! The Halilit Baby Rainmaker can develop your bub's motor skills and produce the sound of rain at every turn. Be warned- the weather forecast might not sound accurate after this toy gets into little hands.
Stocking fillers for toddlers (18 months to three years old)
8. Kids story projector
This stocking gift will be a pleaser for tods and kiddos alike and will make every bedtime story sesh a lot of fun. Yay! We also love the Matteobenni story projector for its other multipurpose functions. It can be used as a night light, project a starry night and is portable
9. LeapFrog emoji smartphone
So you think smartphones are only for big people? Think again. This adorable stocking filler will have littlies on call all the time and hitting those emoji buttons no end. Don't be surprised to hear voicemails coming in every few seconds too. We are big people now, aren't we?
10. H&M sunglasses
It's a known fact that our little island and sunshine are BFFs all year round. Even on Christmas day! No complaints here cause these cool sunglasses will make for very fancy stocking fillers and will come in handy any time of the year in Singapore. Yay! Be warned – don't be surprised to get serious James Bond vibes in every fam-pic after these pop out of the stocking.
11. Melissa & Doug primary lacing beads
We absolutely love this Christmas prezzie for so many reasons. Kids will love the Melissa & Doug wooden lacing beads as they are big and colourful and come in different shapes. Best part? The lacing activity is super fun and will keep little hands busy for a good period of time – the perfect gift for any mum and dad this Christmas!
12. Playz 5-in-1 rocket tent
This pop-up rocket ship tent takes all the stress out of building a tent! Your space-obsessed kids will love the cool games it comes with — a space dart board, tic-tac-toe, a circuit maze and "What's Your Monster Alien Name?". It also comes with a realistic cockpit for uber-fun space play!
13. Snow globe
Forget about counting sheep! This dreamy snow globe prezzie ought to get littlies (and biggies) into a tizzy, especially come slumber time! Vanish into tiny magical worlds where snowflakes, specks of sparkly glitter and stars float you into an aura. With its glow-in-the-dark feature, we can picture perfectly festive vibes setting in and will score big points with the brood.
Stocking fillers for preschoolers (three to six years old)
14. Elevate their INKMaginary play by combining bricks with these print-at-home craft ideas
If your kiddo loves building blocks, they'll love taking their creations to the next level with this fun print-at-home craft series from HP. INKmaginary Toys designs are accessible via the HP Printables website, where parents can find a variety of designs for free playtime ideas, coloring pages, crafts, learning worksheets and more. Creating these builds at home is simple – all you need is to print whichever INKmaginary designs you like, then cut fold, paste, and punch accordingly on bricks of your choice. And just like that, learners of all ages can experiment and bring HP INKmaginary Toys to life.
15. Luggage tag shark
Give those fin-tastic travellers a tiny tag to go with their luggage or school bags. No one will dare to mistake it for their bag with such a ferocious tag!
16. Melissa & Doug cleaning kit
Of course, this Christmas prezzie isn't going to fit into that stocking but count this as an exception here. The cleaning kit is a godsend (for dads and mums, at least) cause your kiddos will now jump to clean their rooms every chance they get. Hurrah! Thank you, Melissa & Doug!
17. Rainbow spring toy assortment
This bulk pack of 50 spring toys makes for the best stocking filler! The high-quality and eye-catching assortment is suitable for boys and girls. They also make great party decor. We love the versatility!
18. Luminous temporary tattoos
Finally, your kiddos can experience the joy of being inked free from a lifelong commitment! We can't help picturing your littlies peeping into their stockings to find a bunch of luminous surprises waiting for them. Kiddos will love to add to the bright lights of Christmas with these cute luminous sticker tattoos and show them off too!
19. Railway highway tape
Toy trains rarely venture out of the toy room, but with this removable railway tape, the train will be stopping at all stations! From the bedroom for a nap to the kitchen for a snack…
20. Singapore culture playbook
Looking for something Singapore-inspired? Check out the gorgeous Singapore Culture Play Book, with its snapshot of the Little Red Dot all the way from A-Z. Alongside beautiful illustrations and descriptions, it's filled with ideas on how to use the book to spark creativity and critical thinking. Fun and educational, the best kind of Christmas gift!
Stocking fillers for children (six to eight years old)
21. Glitter wand
If only Harry Potter knew about these glittery wands before hitting up the Elder wand – the story might have taken a sparkly turn! Expect to find littlies mesmerised by these sensory fidget glitter wands as they attempt to move the glitter confetti around their wands. Don't be surprised to find them engrossed in the sparkly world for a good period. It's probably a spell!
22. Underwater camera
Be it a staycation or a trip to the beach, this camera's best for kids who love capturing unforgettable summer holiday memories. The removable waterproof case will come in handy for poolside snapshots too!
23. Starbucks toys come to life mug
A hot cup of cocoa with marshmallows floating on top? Oh yes! How about a mug that adds to the festive spirit? This Starbucks Christmas mug ought to make that hot cocoa even more enticing for the littlies. Get a load of that white teddy perched on the handle! Adorable!
24. Festive pops
These festive pops are well worth every calorie, and what better time to pop them in than Christmas? The kiddos will love those bright colours, psychedelic swirls and the cute Christmas stick decks that tag along. Let's get lolly-popping, peeps!
25. Map of the world wall decal
Give the kid's room a makeover (and a mini-geography lesson) with this easy-to-use-and-remove map of the world wall stickers. Bonus: kids will learn about different animals too!
26. CozyPhones kids headphones
This gift is a great stocking filler and a big problem solver. Falling headphone troubles are far gone for the kiddos with this cute prezzie! The cosy headphones headband is perfect for home-based learning and even better for a Christmas movie marathon. Popcorn, anyone?
Stocking fillers for pre-teens/tweens (eight to 12 years old)
27. Fairy Christmas gift set
This dreamy gift set will transport your kiddo into a magical world of lingering fairy scents. Wowie! Picture the Harry Potter bubble bath scene, full stop. The gift set includes a pack of seven snow fairy-scented self-care goodies like bath bombs, bubble bars, body spray, shower gel and more. Your kiddos will smell extraordinarily sweet with this prezzie at hand.
28. Mini pocket microscope
This gift is a special stocking filler for little science enthusiasts. The Kids Pocket Microscope is a fun and portable tool for kiddos to discover the world through a microscopic lens. Don't be surprised to find the Christmas tree under inspection, too!
29. ArtCreativity snowman purse keychains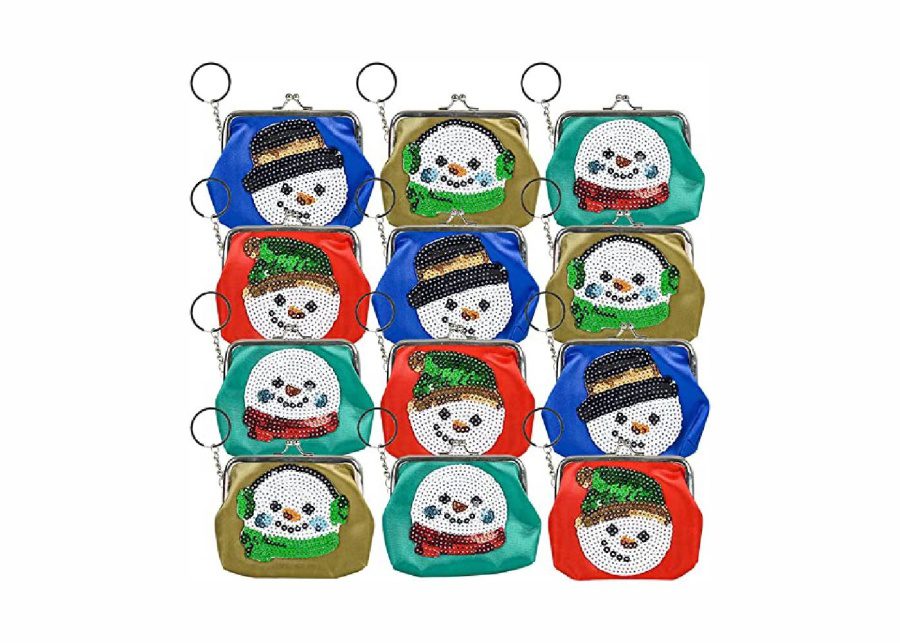 Handy for one of the bells and whistles of your kiddo's school bag, this cute purse keychain works as a wallet, or to store any other knick-knack your mini-me finds. We love that it can attach to most things, so it's harder for them to lose it too!
30. Focus & concentration kit
For kids who find it hard to stay focused, this kit features toys that squish, tangle and bend to help kids concentrate and de-stress. Note: this might be a kit to keep at home unless you know it won't end up on the teacher's desk.
Stocking fillers for teenagers (12 years and up)
31. Suatelier sticker
Teens will probably agree you never really grow out of stickers. Notes, scrapbooks or diary entries, these cartoon stickers are sure to brighten things up and Suatelier has quite a stock for stocking stuffers.
32. Temporary tattoo marker
Creativity is at its core at this stage in life, and teens love to express their creativity in newer ways. The temporary tattoo maker gives your teen the freedom of expression through creativity. Brace yourselves cause some fancy tattoos will be hitting the high streets the minute that Christmas stocking gets emptied.
33. Push pop bubble notebook
The teenage years can be trying with the onset of heavier academic pressures. This push-pop bubble notebook is a perfect stocking filler and will pop that stress out your teenie in no time. Best part? They come in exciting colours, pastel shades, rainbow tones etc. Take your pick!
34. Elago 3-in-1 charging station
This silicone charging station was made for all devices. The cables (sold separately) plug into the back for a streamlined display.
35. Harry Potter trivia game
If the kids are Harry Potter fanatics, they'll love this stocking filler! A great idea for a fun party game to try with friends, your teen can test their knowledge on this classic series with 200 questions!
36. Swatch watch
We love to keep things simple yet fashionable for that Christmas stocking, and this tik-tok scores big points! The Swatch watches are perfect teen gifts as they come in exciting styles without any fancy high-tech features attached.
Need gift ideas for the rest of the family? Check out our Christmas gift guide!