If Christmas isn't your bag, you're going to need something to do on 25th December that doesn't involve stockings, mince pies, nativity scenes or Santa…
While the whole of Singapore seems to have gone tinsel, turkey and bauble mad, not everyone is decorating a Christmas tree, scheduling meet and greets with Santa or deliberating which festive feast to plump for. So if you're just looking for something plain ol' fun to do on 25 December rather than something Christmassy, then you've come to the right place. Here are 11 alternative ways to spend a non-traditional Christmas Day in Singapore, without a turkey leg in sight.
13 alternative ways to spend Christmas day in Singapore
1. Do a good deed
Christmas is a time of giving, so why not give back by donating and volunteering? Take the time to look at charities where you can give away your gently used goods and organisations where you can make a difference. Or, you can have the best of both worlds by gifting charitable Christmas gifts – check out our guide if you need ideas!
2. Make a spa day
If the festive season is leaving you frazzled (we know how you feel), we've got the best alternative way to spend Christmas in Singapore… by soothing your nerves at the spa! We've got a list of places where you can hit up for a spot of pampering and indulgence. If you don't have enough time, you can decide between going for a facial or a foot massage.
3. Scream your lungs out at Universal Studios Singapore
While we can't guarantee they won't be wearing Santa hats, bring your little minions to hang out with the real minions at Universal Studios Singapore. Don't forget to check out our USS guide to how to ace the park before setting off for a full-on day of thrills, spills and family fun.
4. Get splash happy at Wild Wild Wet
Get wild and wet at one of our favourite water parks for a day out that's a family pleaser for the tiniest of tots to the grumpiest of teenagers. Wild Wild Wet will definitely blow Christmas Day traditions out of the water! In fact, make a staycay of it, and book a cheeky little getaway in one of the family-themed rooms at the recently reopened D'Resort Singapore.
5. Watch a family movie
Swap out the mince pies for popcorn and catch a movie at the cinema. Go for Gold (Class) if you're feeling in a decadent mood. M&Ms in a cocktail glass should be compulsory every day of the year.
6. Swot up on cool science
With seriously cool permanent and pop-up exhibits happening over at Science Centre Singapore, spend the day checking out the life cycle of butterflies, exploring a mirror maze or learning the story of poop! Or, head on down to the Lee Kong Chian Natural History Museum and discover the fascinatingly horrifying world of parasites. How's that for an alternative Christmas Day?
7. Pack up a picnic
If the sun is shining (fingers crossed), then pack a picnic and gather the troops for a day out at East Coast Park. This pretty stretch of Singapore never gets tired and with its adventure playgrounds, great eateries (if you're not in a picnic mood), sandy beaches and activity opps aplenty. There really is something for everyone (and every budget).
8. Enjoy a great escape
Looking for an easy way to escape all the Christmas hullabaloo? You'll crack a great day out with older kids by heading to an escape room! There are plenty to choose from, but lucky for you, we have a great guide to some of the best escape room challenges Singapore has to offer.
9. Get back to nature
Ditch the city and head to MacRitchie Reservoir, which has the added charm of being in a central location, making it easy to get to. Challenge the kids to the MacRitchie treetop walk – a free trail on top of the world – and look out for the cheeky macaques along the way. If you have water sport fans in the famalam, then rent a canoe or kayak for an hour or two. This is the great outdoors at its best.
10. Light up your life at Future World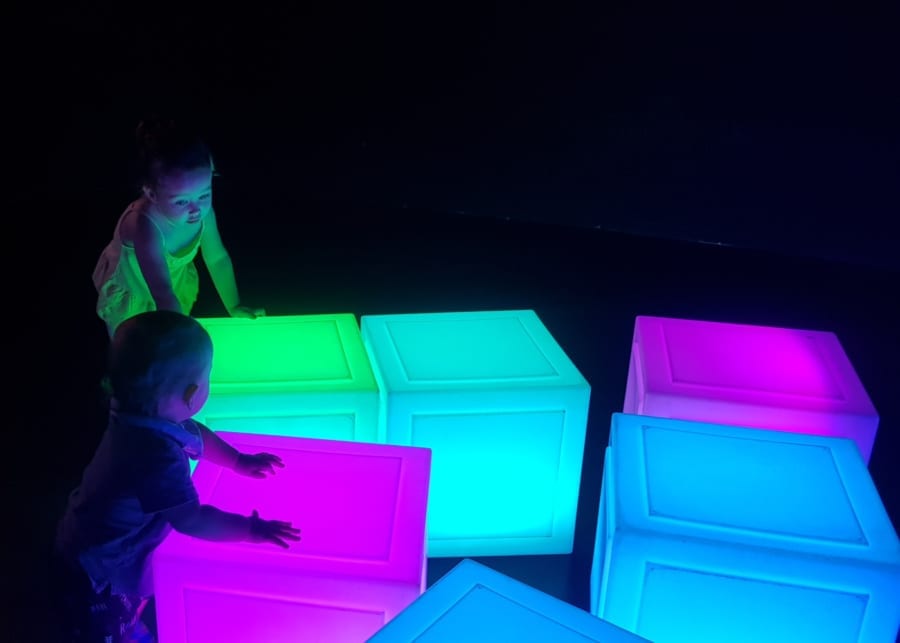 There's never a dull moment over at ArtScience Museum, and the ongoing Future World exhibit tops our lists for a) awesome museums for the whole family and b) great hot or rainy day activities. What's not to love about spaces where flowers bloom on the walls, giant stacking blocks glow in the dark and you get instant calm from watching giant waves roll all around the room?
11. Explore a rustic island
Who needs a sleigh when you have a bumboat? All aboard at Changi Pier and pack yourselves off for a day's adventure on perennially green Pulau Ubin. Watch out for the weird and wonderful wildlife residents, hire some bikes, breathe in the fresh air and kick back to a time when kampong was king. Pulau Ubin, how we love thee.
12. Stay at home!
Whether you celebrate Christmas or not, the festive season is the perfect excuse to stay at home for some serious family bonding time. You don't have to decorate a tree or bake Christmas cookies. Instead, whip out a board game or your home craft kit and soak up all that special QT. Do it throughout December if you must!
13. Or, go on a cruise
If the option to stay at home is not going to cut it with your fam, then may we suggest a cruise to nowhere? We can't guarantee if there'll be any Christmassy stuff taking place on board, but you'll get to experience all the fun activities – watch a theatre show, enjoy great buffets, dip in the massive pool… Plenty of alternative ways to spend Christmas!
Happy alternative Christmas, folks!