That's right, the fun times at East Coast Park just keep on coming with the latest playground addition! Think water play, sand pits, and amazing slides – here's the lowdown on everything in store...
We LOVE East Coast Park at the best of times. With its beach vistas, family-friendly restaurants, plus the amazing Marine Cove playground – there's so much to see and do. So imagine our delight when we heard that another snazzy playground was opening its doors here too! Welcome, Coastal PlayGrove – the newest play spot for kids on the Singapore playground block! But before you hotfoot it over there, here's a run-through of what to expect when visiting this super-duper new play space.
The new playground in the East – all you need to know about Coastal PlayGrove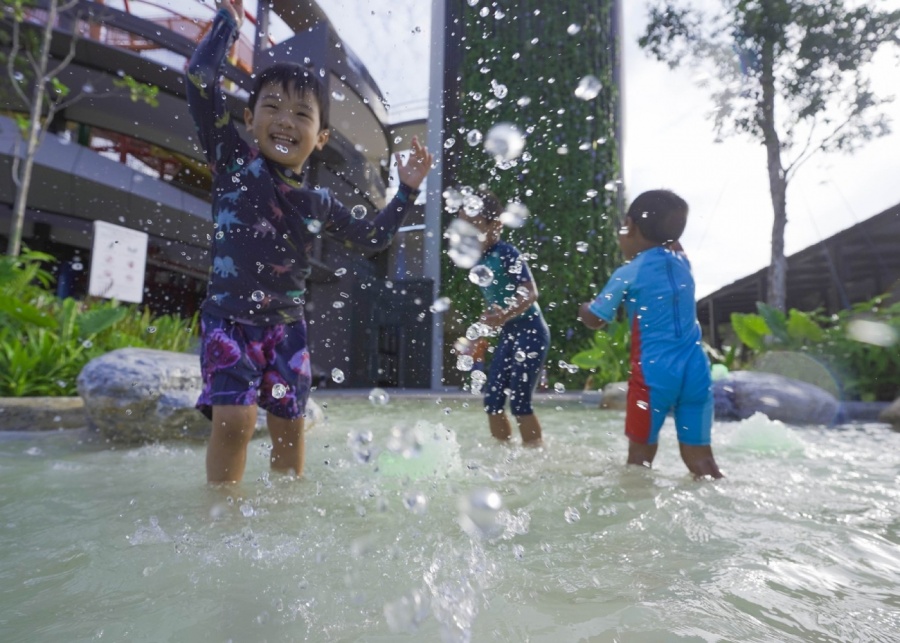 What is Coastal PlayGrove?
Coastal PlayGrove is a huge new play space (4.5 hectares to be exact) on the former Big Splash site in East Coast Park. For those not familiar with the Big Splash, this was a bit of an icon as far as water parks go, with some seriously high slides. It closed in 2006, but Coastal Playgrove has given a nod to its waterpark roots with structures that are a similar style to the much-loved predecessor. The 16m play structure is actually a reconstruction of the Big Splash tower, and gains the title of tallest outdoor play space in Singapore – pretty impressive! Here's more on what's in store for the kids at Coastal PlayGrove…
1. Play Tower – vertical challenge and slides
This four-storey, 16-metre play tower houses everything from fab net play areas to fun rope-based challenges, and of course slides! The enclosed tube slides are sure to be a popular hit with the kids (we quite fancy trying them too!)
2. The Nature Playground
It's not all-singing, all-dancing play structures (although we love them), kids can also explore the nature playground too. Featuring natural materials including bamboo tunnels, log trails, and that all-important sandpit, it's sure to keep the littlies entertained!
3. An outdoor classroom by the sea
Although not directly part of the playground, this outdoor classroom is definitely worth a mention. There's a chalkboard, log stools, and that inspiring sea view. Bonus if your littlies attend a preschool close by, as schools can sign up to make use of this fantastic facility. We can't imagine a better place to learn!
4. The events lawn
No play area is complete without an open grassy space to let the kids run riot, and that's exactly what's on offer as part of the event lawn at the Coastal PlayGrove!
COASTAL PLAYGROVE FAQs
Does Coastal PlayGrove have water play options?
Yes, Coastal PlayGrove also offers water play! So once the kids have worked up a sweat over on the play tower, they can cool off and have a splash in the wet play zone, with a series of wading pools here. We also love that there are changing facilities close by, so it's easy-peasy post water fun. Psst – head over here later in the day and check out the water jets which light up come evening!
What age is Coastal PlayGrove suitable for?
All ages! One of the things we love about this new addition to the playground scene is its suitability for young kids all the way to tweens. For little ones, head straight for the nature playground, which is suitable for all ages. The water play age is advised as five to twelve years, but we reckon young 'uns would love it too. Playgrounds rarely cater for the older kids, and that's where Coastal PlayGrove is different. The play tower is all about them and is suitable for over 13 years old. Get the teens there asap!
Where is Coastal PlayGrove, and how do I get there?
Sitting on the former Big Splash site, Coastal PlayGrove is near the Amber Gardens underpass and is before Parkland Green (if you're heading there from town). There are a few buses that stop nearby, followed by a 10 min walk (the closest bus stop is Amber Gardens). For more options on how to get there, check out the NParks website.
So, we'll see you in the play tower, soon! 
Feature photo: NParks