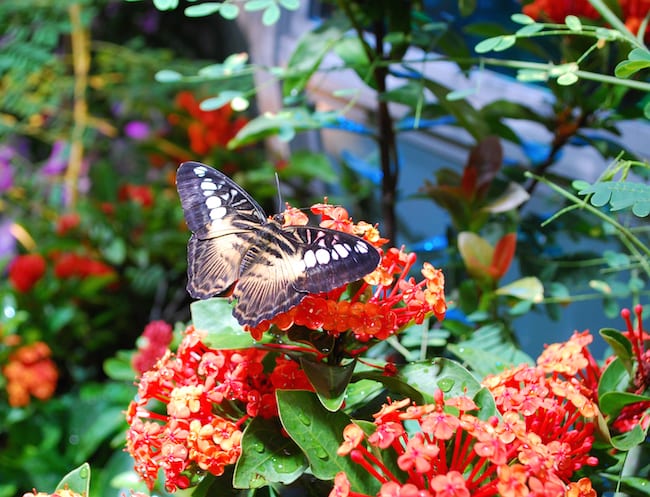 Get up close with the butterflies at the Science Centre's new interactive exhibit
Flutter your way over to the Science Centre's new colourful, interactive display where kids can hang out with critters, build their own caterpillars and become a human landing pad for a butterfly or ten...
Want to find beautiful butterflies in Singapore? Hands up if your kids made you read one of the all-time favourite classics, The Very Hungry Caterpillar, a gazillion times as part of the bedtime routine? Little ones LOVE following the story of that greedy little critter all the way through to its transformation into the prettiest butterfly in the garden… and now a small army of caterpillars and butterflies (more than 500 at the last count) have crawled and fluttered their way over to the Science Centre's new colourful, interactive display: Butterflies Up-Close.
Butterflies Up-Close features a host of interactive exhibits (we love the build-your-own caterpillar station!) where the whole family can follow the four stages of the egg-to-caterpillar-to-butterfly transformation. Follow the five-zone trail where kiddos can hang out with a larger-than-life caterpillar, check out the cool fossils at the insect diversity wall, challenge dad to a caterpillar race and squint at the teeny weeny real-live eggs before getting to the main event: Singapore's first indoor butterfly vivarium. Expect 16 species of fluttering beauties to land on the kids' heads and dazzle you with their colours and patterns: spray yourself with some apple or grape scent beforehand if you want a flock of wings to land on you! Look out for the super informative butterfly keepers dotted around the vivarium who can not only tell you everything there is to know about the technicoloured residents, but can also help you to safely handle them too.
Did you know?
This new exhibit was a critter collaboration dreamt up by both the Science Centre and the Butterfly Park and Insect Kingdom to bring some more 'green' back into Singapore while giving kids the chance to get up close and personal with members of the bug world. But did you know that there are 200 MILLION insects for each human on this planet? That is a LOT of creepy crawlies!