Photography: Amy Potter
Need a special souvenir to sum up your time in Singapore or gift to a loved one back home? We've got a list of unique and cool Singapore mementos sure to fit the bill.
We're a pretty sentimental bunch here at HoneyKids. We love a good nostalgic memento, especially when it comes to our kids. But what about if a close friend is leaving Singapore or – gasp! – you're going yourself? The pandemic and many changes over the past couple of years have meant many families are leaving the Lion City to return to their home countries (sob). So, if that's you or someone you know, you'll want the perfect keepsake to remember your time here. But where do you buy Singapore souvenirs that aren't your usual tourist trap? We've put our thinking caps on to bring you the best Singapore souvenirs to gaze on fondly from far-off shores and evoke fond memories. Just order your gifts and goodies to slip into that shipping container!
The best Singapore souvenirs and gifts
1. Traditional Peranakan pottery
Ooooh, we cooed with delight while looking for where to buy Singapore souvenirs and discovered Thow Kwang Pottery Jungle. This family business fires up the kiln several times a year (it's Singapore's oldest surviving dragon kiln) to create some absolutely stunning pieces. We've treated ourselves to a few colourful, authentic goodies from the Peranakan pottery range, as we couldn't resist our own Singapore souvenirs (see above!). The handpainted details are stunning, the quality is top-notch, and we thoroughly recommend getting them. From umbrella stands, vases, lamps and bowls to plates, pots and tiffin holders, you will surely find a beautiful Singaporean gift. And the range online is the tip of the iceberg – there are heaps more at the actual physical shop! Workshops are also available.
2. Snacks that remind you of Singapore
With Singapore being a foodie paradise, you can never go wrong with uniquely local snacks as souvenirs. This curated snack box by SendThinks packs in all the flavours that you've enjoyed and loved, such as salted egg chips, kaya, and white rabbit candy. You can even customise the box with your message – you'll definitely score some brownie points with the person you're sending this to!
3. Bracelets that show off the city
You've heard the phrase "wear your heart on your sleeve", but do you know "wear the city on your wrist"? (Well, maybe not yet, but you will soon…) Straits Scenes has captured some of the city's prettiest corners – think shophouses and the city skyline – and turned them into bracelets. They're made from the finest quality Japanese glass and 24-karat gold beads, so you're wearing a luxury accessory in Singapore.
4. Singapore tote bag
How about this cool shopper bag for an affordable memento? Independent Market has some truly awesome Singapore-inspired gifts, and we're big fans of the Let's Jalan tote bag. It folds away into a dinky little pouch you can easily carry in your handbag… then voila! Instant memories of the Lion City, plus a handy-as-heck way to carry all your supermarket goodies. This reusable marvel means it's easier than ever to ditch the disposables and reminisce at the same time. Top marks.
5. Singapore Monopoly
Who doesn't love a board game? While Monopoly can cause us to get a tad competitive, it's still got a special place in our hearts. So, if you're looking for Singapore souvenirs, how about the Monopoly Singapore edition with its local streets and landmarks? Pick one at one of our fave online toy stores – we found it at Toys"R" Us. If you don't mind a pre-loved version, there's one at Carousell.
6. Cushions for foodie fans
Presents with a practical use tick all the right boxes for us. So when we saw these cushions from Independent Market that celebrate local delights such as chilli crab and chicken rice, we were in our element. Fond memories of the best local food and top comfort while we daydream about dinner. What's not to love? (Inserts are sold separately.)
7. Children's books about Singapore
One for the kids: how about a gorgeous children's book about Singapore? It's something you can treasure every time you enjoy a story sesh with the tiddlies. We've pulled together our favourites in one handy read, so take a peek! The best news? If you're stumped over where to buy Singapore souvenirs, this one's easiest of all – check out these bookstores to get started!
8. Hanging ornaments
Not just for Christmas, we're crushing on the beautiful handmade hanging ornaments by The Lion Rock Press. How cute would those tiny Singapore shophouses or mini tiffin holders look in your home?! So cute we can't stop at just one. Head to The AC Boutique at Joo Chiat to shop in person (the boutique is the official Singapore stockist).
9. Picture-perfect postcards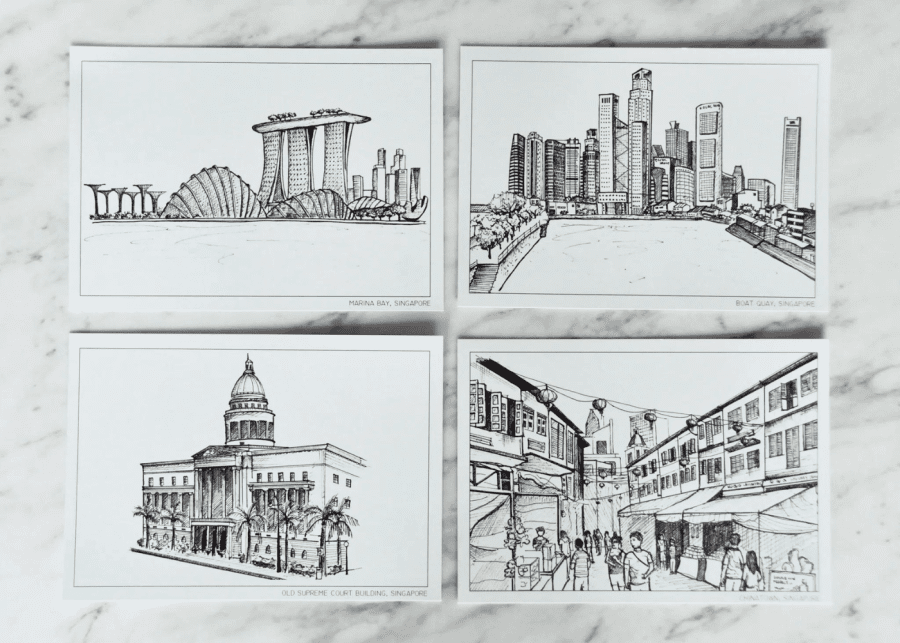 Sending postcards to loved ones overseas has been an age-old way of spreading cheer and keeping family in the loop. These Singapore-themed ones featuring illustrations of iconic locations are perfect for sharing with loved ones. They are relatively inexpensive, too, so you can buy these in bulk and distribute them to everyone back home. We love the designs available at Singapore Post, too – the illos are to die for.
10. Good Morning mug
If you've been in Singapore for a long time, you'd be familiar with this iconic slogan on a dishtowel, spotted across many a hawker centre. This ceramic mug by Red Republic deftly interprets this nostalgic artwork, paying homage to the hardworking Singaporeans of yesteryears. What better way to sip your morning coffee than from this truly Singaporean mug? There's no other better way, we say!
11. Singapore icons plate
Hang it on your wall or eat your sarnie off it… either way, this Supermama plate is on our wishlist. It's part of the brand's in-house porcelain collection, designed in Singapore and made with Kihara, a porcelain label in Arita, Japan. This One Singapore 2022 Edition 24cm version will set you back a pretty penny, but we reckon it's worth every cent. You've just found your answer if you're wondering where to buy Singapore souvenirs.
12. Simply Singaporean pins
This one's for the folks looking to jazz up their outfits. Stock up on these little colourful accessories from The Little Drom Store that feature anything and everything that'll remind you of this sunny island. We're talking old-school trinkets, Singaporean snacks, iconic playgrounds, and even Singlish slogans! Let's see if your friends can figure out what the phrases mean on your cute little pin.
13. Elephant Parade models
Also on our wishlist is a Singapore-themed elephant from the ever-popular and awesome cause, Elephant Parade. There are so many unique and cool variations that it's impossible to pick just one… Portraying old and new maps of Singapore, each elephant has been lovingly designed by artist Diana Francis. Don't forget to head to Tangs Vivocity or Orchard to find the official stockists before you leave!
14. Peranakan-themed items
So you've gotten the Peranakan pots from #1. How about going a step further and getting other things with the oh-too-familiar Peranakan motifs? Coasters, magnets, trays, placemats… there are even yoga and floor mats with Peranakan designs on them! The possibilities are endless. Check out Cat Socrates online or in its Tiong Bahru or Joo Chiat stores to get these items.
15. Clare Haxby prints
Uber-talented British artist Clare Haxby is well known for her vibrant depictions of all things Singapore, inspired by the years she spent here with her own family. Choose from colourful, limited-edition prints of scenes such as heritage shophouses, vibrant neighbourhoods and the city skyline. Since Clare now lives back in Blighty, prints are posted from the UK, but the good news is that delivery is included in the print price (typically around $490). It's a pricier goodbye gift, but it has a definite wow factor!
16. Illustrated posters
What we love about these posters from When I Was Four is the bilingual design. Kiddos (and everyone else, really) can look at them and be motivated while also learning a new word! Other illustrations you can consider purchasing include the localised versions of the Keep Calm slogan and food posters.
17. Beautiful batik clothes that you can wear anytime
Here's a souvenir option that you can also proudly wear out and about for any occasion. YeoMama Batik's collection heavily features batik in various colours and patterns. You'll definitely be the talk of the town when you turn up in these pieces. Plus, you can get separate pieces for everyone in the fam, and everything will still go well together! Looking for more batik pieces? Check out this article from our sister site!
18. Orchid-based perfumes
Capture Singapore's essence in a bottle! Singapore Memories brings you fragrances inspired by our national flower, the orchid. It's a whiff of local history from the bold Aranda 1965 to the timeless Singapore Girl. Explore their room fragrances – Therapeutic Orchids, Raffles Heritage, and the uniquely Singlish, Atas. Elevate your senses with the spirit of Singapore!
19. TWG Tea
Singaporean-owned, top-tier luxury tea brand TWG makes for a tasty souvenir. Since 2008, they've redefined sophistication with an unmatched collection of handcrafted teas and bespoke gifts. Indulge in extraordinary quality and refinement.
20. Heritage-inspired jewellery
EDEN + ELIE makes beautiful jewellery with a modern Peranakan twist – their pieces are responsibly made, lead and nickel-free and heirloom worthy! You can find them online and at Design Orchard along Orchard Road, a fabulous multi-label store that houses many Singapore-based fashion, beauty and lifestyle brands.
Happy souvenir shopping, folks!