We've got the deets on all things kid-related in Singapore's shopping district...
When it comes to shopping for couture or high-street fashion, your best bet is Singapore stalwart Orchard Road, the Little Red Dot's answer to Paris's Champs-Élysées. But did you know there are heaps of things for kids to do, too? We're talking entire shopping mall floors dedicated to kids, nature trails, delish noms that'll have your picky eaters begging for seconds, indoor play centres and more. Yep, Orchard Road is definitely kid-friendly and we've got all the deets for a fun-filled day for kids of all ages. You're welcome.
Things to do on Orchard Road with kids
Breakfast
Yep, Orchard Road is tourist central, so you'll probably need to start your day early with the right energy boost. If you are looking to kickstart your day at an urban escape before hitting the high streets we know just the place. PS.Cafe Palais Renaissance serves up that all-essential coffee and scrumptious brekky ops in the most stunning classic setting, bang in the heart of Orchard. With all your brekky needs sorted at this one-of-a-kind gem, we know you've begun the day on the right note!
Next on our list is Tiong Bahru Bakery at Tangs Department store for their flaky, buttery croissants and uber-strong coffee. Kids will love sitting by the window – it has a great view of ION Orchard and all the foot traffic on Orchard Road.
For the fluffiest pancakes ever, we love the Wild Honey Canadian Pancake stack at Wild Honey at Mandarin Gallery. Don't forget to make a reservation because it can get quite packed!
PS.Cafe Palais Renaissance, 390 Orchard Road #02-09A Singapore 238871; Tiong Bahru Bakery, 310 Orchard Road #01-16B TANGS Orchard, Singapore 238864; Wild Honey, #03-01/02 Mandarin Gallery, 333A Orchard Rd, 238897 Singapore
Vedure Face, Body & Nail MediSpa
How about a mother-daughter mani-sesh before hitting Orchard's high streets for your shopping excursion? The Little Princess service at Vedure comes with a difference: colour-changing nail polish that changes colours under the sun! Guaranteed to put a smile on your littlie's faces. And do you know what puts a smile on parents' faces? The children's play area for customers' kids. Psst… there's also something special for the dads too! So don't forget to invite the dads to this pit stop.
Vedure Face, Body & Nail MediSpa, Wheelock Place, 501 Orchard Road #04-06, Singapore 238880
Go for a nature walk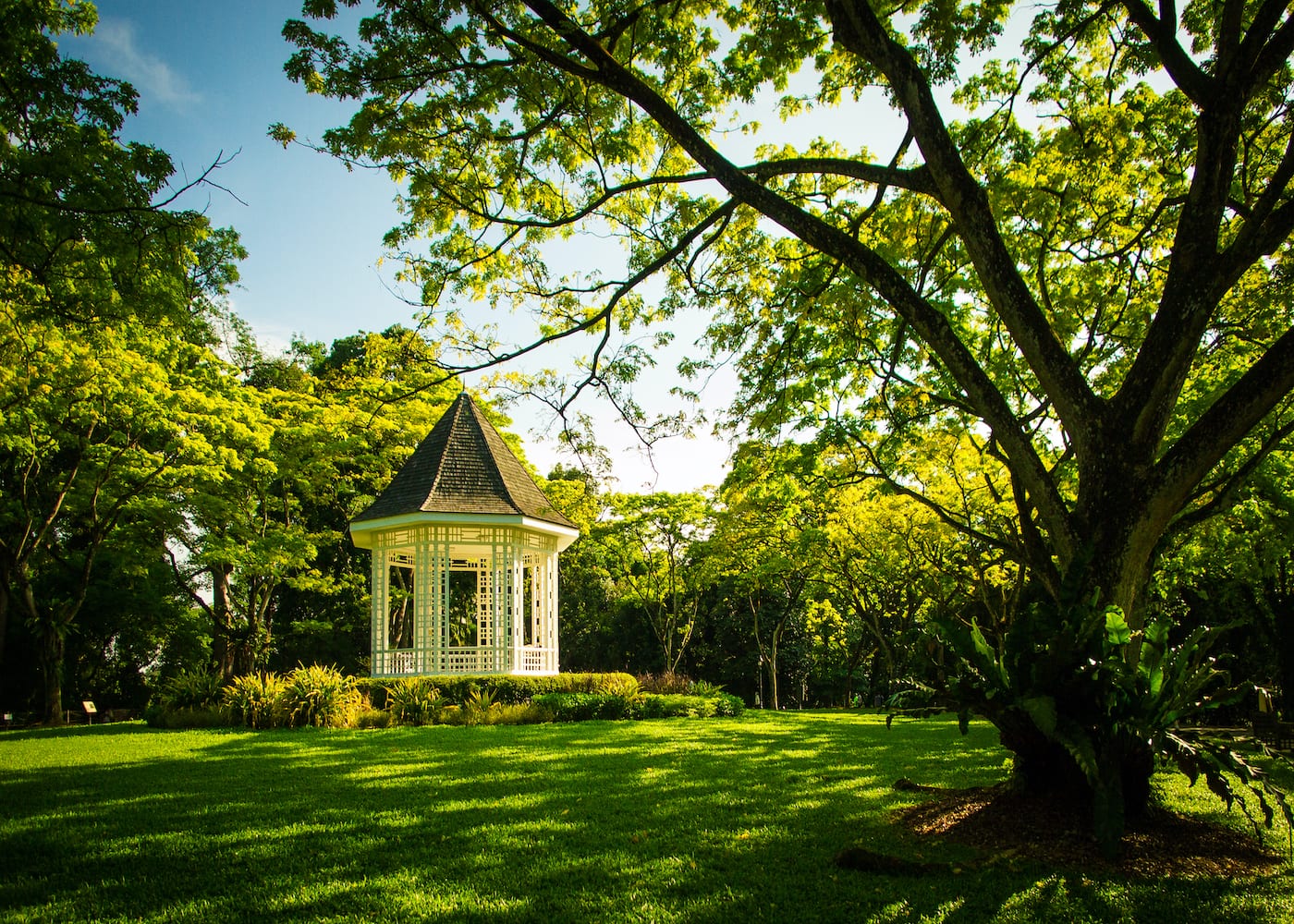 It's no secret that we're big fans of the Singapore Botanic Gardens. In fact, if you ever want to see one of us IRL, feel free to head over to the Gardens on the weekends – we're the ones running after our kids! We love the nature trails, especially the Rainforest Trek which showcases more than 300 species of plants and an actual six-hectare jungle. Yup, it's our fave spot of green in this concrete jungle. We can't get enough of it!
If the Orchard urban landscape is overwhelming and you need a hint of open space for the kiddos to run around or simply a whiff of nature, you don't have to venture very far to make a quick retreat. Orchard road is spotted with a few gardens alongside its length, like Istana Park, Dhoby Ghaut Green, Fort Canning Park and Penang Road Open Space. Take your pick folks!
Singapore Botanic Gardens, 1 Cluny Road, Singapore 259569. Daily 5am-midnight.
Then check out the history!
If you're in the Dhoby Ghaut area, be sure to check out Fort Canning Park and get a mini history lesson as you explore the old barracks. The tombstones by Fort Canning Green is a creepy spot worth paying a visit to and a great place for photo opps. And, if you've got older kids, we recommend planning ahead and catching Shakespeare in the Park or Films at the Fort during the evening for an unforgettable night.
You can also check out the Istana Heritage Gallery at Istana Park, with kids in tow. The gallery showcases state artefacts, artworks and collections of gifts received from foreign dignitaries to Singapore's Presidents and Prime Ministers.
Fort Canning Park, Hill Street, Canning Rise, Clemenceau Avenue and River Valley Road, Singapore 179618; Istana Heritage Gallery, 35 Orchard Road, Singapore 238902
Do some shopping (obvs)
After dragging the kiddos through yet another Zara (because each Zara is different, guys), they deserve a treat! Paragon Shopping Centre's fifth level is filled with stuff for tots. We're talking designer clothes, organic snacks, a giant Mothercare and even one of our all-time fave toy stores – The Better Toy Store. And don't forget the fab (and free!) indoor play area for a quick pitstop post shop. After more options? Forum The Shopping Mall  is another favourite with its kids' fashion stores and educational toy stores. If you're feeling brave (and generous), there's an exceptionally large Toys 'R' Us at both Paragon and Forum The Shopping Mall – you've been warned! For crafty kids, hop on over to Plaza Singapura for our favourite black hole, Spotlight.
Lunch
While you're still at Paragon, skeddaddle over to Din Tai Fung because we all know that the dumplings go down a storm with the kids. Or if you need a big feed after all that retail therapy and only a burger will do, you're in luck – Orchard Road has its very own Shake Shack! Need more options? How about Marche Movenpick? The picky eaters' menu, in particular, can come to your rescue – for just $14.90, you'll get a main, juice or soft drink, an ice cream, and best of all a craft pack to keep the kids occupied. Oh yeh, and there's a play area too!
Or, if you're little one is big on themes, you can bet your bottom dollar that they are going to love the set up over at Kumoya Singapore which is a pop-up themed cafe with some of our fave characters. Check out who the latest addition is here.
Din Tai Fung, Paragon, 290 Orchard Rd, #B1 – 03, Singapore 238859; Shake Shack, 541 Orchard Rd, #01-01 Liat Towers, Singapore 238881; Marche Movenpick, [email protected], 313 Orchard Rd, Singapore 238895; Kumoya Singapore, Orchard Central, 181 Orchard Rd, #04-08, Singapore 238896
Calling all bookworms
If you have bookworms wiggling to get their hands on new reads, then hop over to Books Kinokuniya aka a bookworm's paradise smack in the middle of Orchard road. It has every book of every genre you can think of under the sun. Be warned- the littlies will go nuts with the options in store, and your home bookshelves might undergo a complete makeover! Even if you have no plans to shop, head on there with the brood for the thrill of being in the mecca of all bookstores in Singapore. You never know, you might just bump into your favourite author around the bend or catch a fancy sweet deal.
Books Kinokuniya, 391 Orchard Road, 04-20/20A/20B/20C/21 Takashimaya S.C., Ngee Ann City, Singapore 238872
Play it up indoors
After that post-lunch food coma, why not burn off some calories at an indoor play centre? For the younger kiddos, head over to Hip Kids Playground at Forum – it's got a ball pit and toddler-friendly climbing structures that'll keep the lil ones entertained for at least an hour. If you have the time, trek over to buds by Shangri-La at Shangri-La Singapore for an interactive play experience that includes crazy elastic climbing structures and mini cannons – kind of makes us wish we were kids ourselves!
For those interested in pretend play, Pirate Land at The Centrepoint is the perfect place to spend the afternoon make-believing. Got an older kid? They'll love jumping the day away at Bounce at Cineleisure or immersing themselves in one of the worlds in the Sandbox VR (Virtual Reality) experience at Orchard Central. If you feel like you've already spent too much, there are free indoor playground options at Paragon Shopping Centre and 313 Somerset, and also a skate park at Somerset.
Snack time
Guessing the brood and you would have worked up an enormous appetite by this time. It's time to give those feet some rest! We know just the fam-pleaser that will win you huge-brownie points. The high tea at Marmalade Pantry is a winner, hands down! And nothing can beat an assortment of nom-worthy goodies on a multi-tiered serving stand with a hot pot of tea to wash it all down. Delish!
If you are up for something on the go, just walk down Orchard Road and you'll spot ice-cream uncles selling $2 ice-cream sandwiches – the quintessential Singapore sweet treat! Or how about a trip to the legendary Kind Kones at the Forum for a sweet treat? For something different, the crispy bun with condensed milk from Tsui Wah at The Heeren is worth a try, too! Need a coffee? We suggest heading to Lady M at Orchard Central for its selection of crêpe cakes and a latte – it's also a great place to chill and relax, especially after a long day on your feet.
Try something different
Get the most awesome view of Singapore at ION Orchard's ION Sky. Take the lift up all the way to level 56 and you'll find yourself 218 metres into the clouds. You'll get amazing 360° panoramic views of Singapore! Or for a cool photo opp, make your way to Emerald Hill where you'll see a row of picturesque shophouses. Have fun and snap away!
What's your fave thing to do on Orchard Road with kids? DM us and let us know what we should add to our list!