Let's gao get some yum cha! Photography: Tim Ho Wan via Facebook
Let us tell you dumpling good – we've tried and tested some of the best dim sum spots in Singapore, and here's what we've got!
Feeling peckish but not completely ravenous? Dim sum. One of the best comfort foods in Singapore, this Cantonese cuisine can be eaten at any time of the day and is a hit with all walks of life. Luckily for us, Singapore has no lack of places that serve delicious dim sum, but we're listing down only the best spots to get your yum cha fix…
Dim sum places in Singapore that we love siu mai-ch
1. Tim Ho Wan
Kicking off this dum sum roundup is this well-known, one-Michelin star restaurant (pictured up top) hailing from Hong Kong, AKA dim sum land. There used to be snaking queues when it first opened, and by Singapore logic, a long queue is equivalent to "good sh*t!". These days, it's easier to get a seat, given its expansion across the island. One of its most raved-about items that you should nom on is its baked barbecue pork bun. You won't be able to stop at just one!
Tim Ho Wan, multiple locations including Marina Bay Sands and Jewel Changi Airport
2. Swee Choon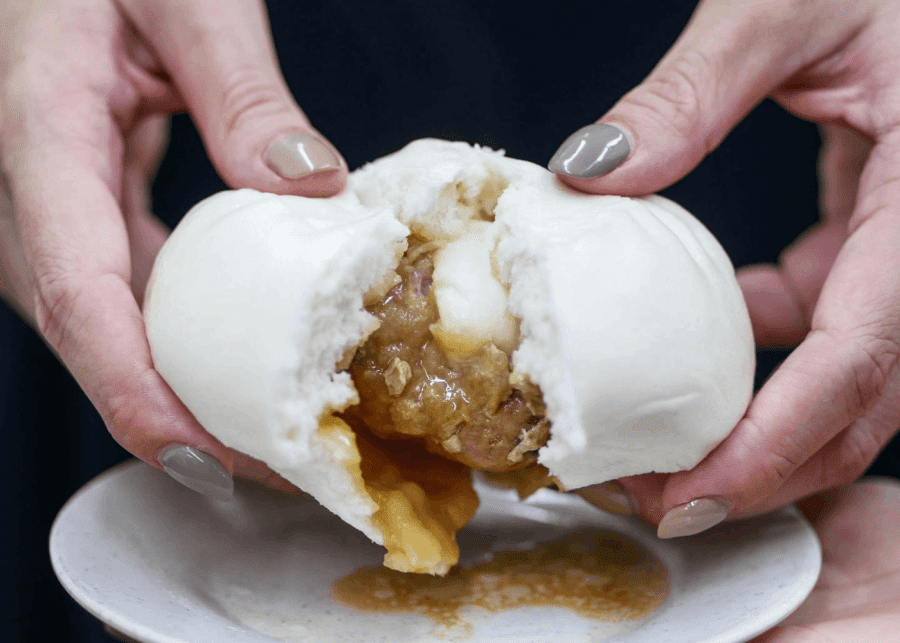 Dim sum is typically a daytime dish. But at Swee Choon, you can have it after your date night (sans kids!) or even as a supper treat after a late-night cycling trip. This homegrown brand has been serving bao-tiful plates of dim sum since 1962 and is showing no signs of slowing down, Covid-19 be damned! If you're looking for an affordable place, this restaurant should be one of your go-to's.
Swee Choon, outlets at Jalan Besar and Tampines
3. Chopsuey Cafe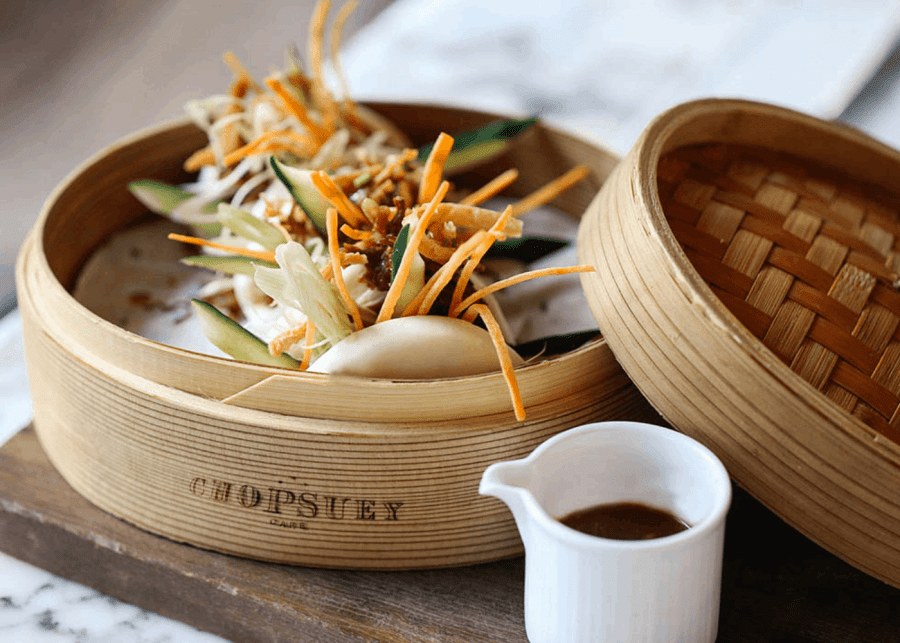 Dempsey Hill is a neighbourhood that we can never get enough of. And if you're there on a weekend for some much-needed fam time, drop by this cafe for a dim sum brunch! Start off your meal with the Dim Sum Basket before moving on to its Asian-fusion dishes. You'll appreciate the "plate-sharing" concept here – no food envy, and someone else can finish off if your kid has had enough.
Chopsuey Cafe, 10 Dempsey Road #01-23, Singapore 249549
4. Din Tai Fung
If you're new to dim sum, this is a great place for your introduction. This kid-friendly resto serves up a selection of its signature yum cha faves such as xiao long bao, shao mai, and steamed buns. Psst, the sesame buns are a hit with the little ones! With so many outlets across the island, just walk into anyone and enjoy your dim sum feast.
Din Tai Fung, various locations across Singapore
5. The Dim Sum Place
Muslim friends, we have not forgotten about you. This halal-certified eatery is super affordable and, we daresay, as good as its original Cantonese counterpart. We love its Peking Duck Wrap and Crystal Shrimp Dumpling, which satiated our dim sum cravings. Get a few Steamed Milk Buns for the kids to munch on before and after your meal. Makan here soon!
The Dim Sum Place, branches at North Bridge Road and Changi City Point
6. Peach Garden
What's even better than a dim sum lunch? A dim sum buffet! Visit Peach Garden's branch at Chinatown Point for a spot of high tea and a la carte buffet between 3 and 5pm. Or, enjoy fine dining and an amazing view across the Singapore River at its OCBC Centre outlet. If you still have enough stomach space after your yum cha spread, get the Wasabi Prawns, one of the restaurant's signature dishes.
Peach Garden, locations include Thomson Plaza and Hotel Miramar
7. Sum Dim Sum
If you'd like Sum Dim Sum (ahem), this establishment at Jalan Besar is where you can get some… (Alright we'll cool it with the puns…). Its Signature Crispy Pork Buns are offered a little different compared to other places, namely its crusty green skin. Another unique rendition is the XL Prawn Dumplings, which is as blue as the storefront. In short, expect IG-worthy dishes that'll have your followers scrambling to try them out too…
Sum Dim Sum, 161 Jalan Besar, Singapore 208876
8. Tang Tea House
Ask any Singaporean for a good supper spot in the east and this place will be highly recommended. This eating house has long been synonymous with halal yet authentic Chinese cuisine, which includes myriad dim sum dishes. The Golden Sand Bun, we're told, is one that most people would order. If you can handle the heat, then take on the Red Chilli Dumpling. Any adventurous eaters? Go ahead and try out the chicken feet. Now that one's an acquired taste!
Tang Tea House, outlets at Bedok, Jalan Kayu, Changi, and Jurong West
9. 126 Dim Sum Wen Dao Shi
Here's another dim sum spot that's wallet-friendly and can give Swee Choon a run for its money. Plus, its outlet in Geylang is open 24 hours, meaning you can satisfy your dim sum desires even way past midnight or very early in the morn. There's a lot to choose from, but if you're curious to try something different, go for the Crispy Cheese "Tarik" and Mushroom Ball. The kiddies will deffo appreciate the former.
126 Dim Sum Wen Dao Shi, branches at Geylang and Boon Keng
10. Dim Sum Haus
If you can't afford Sum Dim Sum and Swee Choon's just too crowded, pop over to this eating spot just a stone's throw away from the latter. Menu items that are a must-get when you're dining here are the Steamed Crispy Rice Roll with Shrimp, Honey BBQ Pork Bun, and Steamed Malay Sponge Cake. Finish off your meal with some Baked Salted Egg Pumpkin Tart.
Dim Sum Haus, 57 Jalan Besar, Singapore 208809
11. Kampung Amin Dim Sum
Jalan Besar should officially be known as 'The Great Dim Sum Area' given the number of eating spots with yum cha offerings over there. This Muslim-owned eatery has recently thrown its hat into the dim sum ring. Out of the many familiar dim sum items being offered here, we recommend the Dragon Ball, which comes with housemade Thai-style dip, and the Signature Loh Mai Kai (with Purple Rice). Delish! There are locally-inspired dim sum too if you're into that. The Chicken Satay Bao tastes as good as the actual dish, we reckon, and kids will love it too!
Kampung Amin Dim Sum, 219 Jalan Besar, Singapore 208900
12. Social Place
Is there such a thing as Instagrammable dim sum? Of course, if you're dining at Social Place! The Hong Kong brand has brought its creative and playful approach to dim sum to our shores, and we're here for it. Kids will enjoy the jiggly Small Pig Pudding, which comes in the shape of a pig (yes, very meta). Upload this dessert on your IG and wow your followers with its cuteness! We also liked the very pretty Mahjong Jelly and Truffle Shiitake Buns. A feast for the eyes and stomach.
Social Place, Forum the Shopping Mall, 583 Orchard Road #01-22, Singapore 238884
13. Crystal Jade
Everyone knows of this restaurant that has garnered one Michelin star and multiple Michelin Bib Gourmand awards. But did you know that Crystal Jade is a Singapore-based brand? Now you do! Plus, our colleagues regard it as one of the best places for xiao long bao. If that doesn't convince you, just pop by any of its outlets and decide for yourself. While you're there, don't forget to sample its har gao, carrot cake, and siew mai with fish roe.
Crystal Jade, several locations across Singapore
14. Hai Tien Lo
Located within Pan Pacific Singapore is this award-winning restaurant that deftly serves up Cantonese cuisine with a modern twist. You can choose to have your dim sum a la carte or buffet style; we suggest you go for the Weekend Dim Sum Brunch Buffet with your fam or gal pals. It's pricey, yes, but oh so worth it! Psst, do remember to dress up as the restaurant enforces a strict smart-casual dress code. Talk about fancy, yo.
Hai Tien Lo, Pan Pacific Singapore, 7 Raffles Boulevard Level 3, Singapore 039595
15. Yàn
Another day at the museum done, and your troop's feeling the hunger. Well, how about yum cha on the fifth floor of the National Gallery? Soak in the convivial ambience as you munch on dim sum like the Longevity Buns with Barbecued Pork, Steamed Laksa Buns with Chicken and Mushroom, and Singapore Chilli Crab Meat Buns. For the preggy mummies, the restaurant offers confinement meals as well.
Yàn, National Gallery Singapore, 1 St Andrew's Road #05-02, Singapore 178597
16. Shang Social
We daresay this dining establishment is the trendiest, most hipster one out of all that are featured in this list. Shang Social pays tribute to Cantonese, Huaiyang, and Sichuan cuisine by updating it with a modern touch. The restaurant is situated at Jewel Changi Airport, so you can drop by and have your dim sum after snapping photos at the waterfall and tiring the kiddies out at Canopy Park.
Shang Social, Jewel Changi Airport, 78 Airport Boulevard #01-219 to 222, Singapore 819666
17. Jade
You might not be able to drop money for a staycay at The Fullerton Hotel, but you can go for the next best option: Jade, the signature restaurant within the hotel. Its weekend yum cha carries classic dim sum delights such as prawn dumplings and crispy har jeong gai, alongside exciting creations like bak kut teh xiao long bao and Okinawa brown sugar char siew bun. The beautiful space lends a decadent touch to your dining experience, too.
Jade, The Fullerton Hotel Singapore, 1 Fullerton Square, Singapore 049178
Yum cha wish your dishes were hot like these?