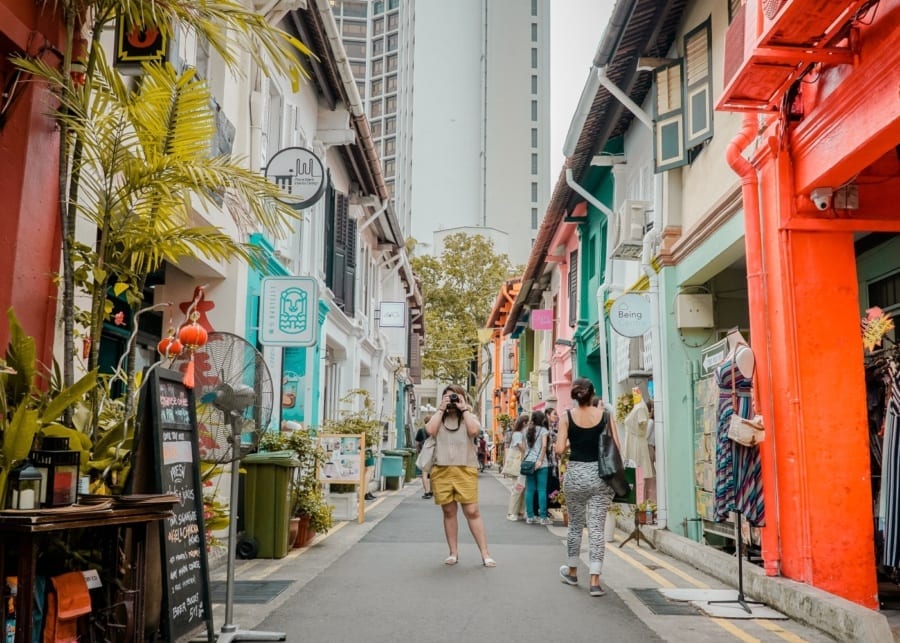 Ever wanted to dive into Singapore's original hipster 'hood? Here's how to absolutely smash it with the kids.
Haji Lane? For families? And not just for hipsters and beautiful young thangs? Yup: we're tellin' ya straight up that this cooler-than-ice pocket of town is the place to hang out – no matter what your age or trend-factor. So if you are looking for a new family-friendly 'hood to mingle in, then read on for our guide to Haji Lane with kids! We've found top-notch spots from mum and daughter pedi sessions to a cafe full of cats, kid-friendly dining options to some seriously awesome vintage fashion picks around the area – you're welcome!
WHERE TO EAT WITH KIDS ON HAJI LANE
#1 // Meomi Cat Cafe
Coffee and cats all in one hit: Meomi Cat Cafe is the purr-fect cafe that'll have the whole family feline happy. Kiddos aged six and up are welcome to come and hang out with the mogs while you grab a slice of cake and a coffee.
Where: 668 North Bridge Road, Singapore 188801
#2 // The Singapura Club
Stop off for lunch at uber-hip The Singapura Club on Haji Lane and chow down on fried chicken, Hainanese chicken rice balls and lamb in a bun: all washed down with a Milo-based cocktail (not suitable for kiddos!). We say leave the small humans at home and head here for date night if you can.
Where: 26 Haji Lane, Singapore 189219 
#3 // Limaa
This Muslim-owned cafe is a great pitstop to get a cup of coffee when you need a break from walking around the 'hood. Feast your eyes (and your tummy!) on tasty smoothie bowls, wings, salad and other brunch favourites with the little ones.
Where: 51 Haji Lane, Singapore 189244
#4 // Alaturka Mediterranean and Turkish Restaurant
If it's a taste of the Middle East or Mediterranean cuisine you're craving, then we've long been fans of the delicious kebabs, mezze and platters at Alaturka. Authentic Mediterranean and Turkish goodness, mmm. Plus, bonus points for having high chairs for bubs!
Where: 15 Bussorah St, Singapore 199436
#5 // Windowsill Pies
For a sweet treat, grab a slice of pie from Windowsill Pies to keep you going long into the afternoon. With flavours including S'mores, pecan and pumpkin, and morello cherry, deciding what to plump for could be the toughest decision of your day. Our advice? Try them all! Dine-in or take out.
Where: 17 Haji Lane, Singapore 189227
POST-LUNCH SHOPPING ON HAJI LANE
#1 // Hygge
Formerly a cafe, our Haji Lane fave Hygge is now a one-stop-shop for everything cute. We love their personalised gifts and minimalist home decor, accessories, apparels and bags. Cute!
Where: 37 Haji Lane, Singapore 189230
#2 // Life By Design
Harry Potter fans will love the chance to check out Life by Design, where aside from tarot cards and healing crystals, you'll find actual spell books!
Where: 43 Haji Lane, Singapore 189236
#3 // Luca & Vic
If you're looking for some lovely unique toys a step away from your usual go-to sets of Lego, then Luca & Vic is perfect for both the young and the young-at-heart. We're talking little crafty finds and wind-up toys, metallic pedal cars and Elmo plushies. This place has it all.
Where: 29 Haji Lane, Singapore 189222
#4 // Spoilmarket
For everything from leather bags and vintage TV sets to retro cameras and funky fashion, check out the effervescent and colourful Spoilmarket. This place is a veritable treasure trove for anyone who loves browsing through knick-knacks and collectables… A great place to window shop at Haji Lane with the kids!
Where: 664 North Bridge Road, Singapore 188799
#5 // Turkish stores on Arab Street
If you're looking to jazz up your decor, or add a splash of colour to your kiddo's bedroom, you'll definitely find something fabulous when it comes to lamps and lighting at any of the Turkish stores on Arab Street. We love the Turkish mosaic lamps and the carpets – so pretty to look at, and a great statement piece to add to your home.
SPA TIME ON HAJI LANE
#1 // 99 Percent Hair Studio
We have it on good authority (from the hipster on the Honeycombers team) that 99 Percent Hair Studio is where we should be heading on Haji Lane for a good hair day.
Where: 40 Haji Lane, Singapore 189233
#2 // The Nail Social
Not only does The Nail Social offer super-spiffy manis and pedis with a relaxing vibe, but it's committed to giving back to charities including Beyond Social Services. Kids will love the iPads with Netflix attached to every chair!
Where: 42A Haji Lane, Singapore 189235
#3 // J. Studios
Leave Dad in the cat cafe with the kids while you sneak off for a quick and affordable facial or body massage at J. Studios. You deserve it after all that hard work, Mum!
Where: 31 Haji Lane, Singapore 189224
#4 // Liem Barbers
Treat your small dudes to a pampering sesh at seriously cool Liem Barbers. With its top-notch reviews, its own products, awesome cuts and attention to detail, this is definitely a hairdresser the kids will love as much as you will the results. No bowl cuts in sight!
Where: 48 Haji Lane, #02-01, Singapore 189224
THINGS TO DO WITH KIDS ON HAJI LANE
#1 // The Malay Heritage Centre
Learning made fun is the name of the game over at the Malay Heritage Centre. Here, the whole family will love finding out about Malay culture here in Singapore. Expect different interactive and hands-on exhibitions throughout the year at the museum!
Where: 85 Sultan Gate, Singapore 198501
#2 // Elephant Parade
We've been collecting some of the gorgeous creations from the Elephant Parade for some time now, so we're super happy to check out its permanent store in Haji Lane. This social enterprise runs the world's largest art exhibition of decorated elephant statues, often designed by celebs as well as artists. Not only is it packed with beautiful elephants of all shapes and sizes (durian-shaped elephant, anyone?), but there is also a craft corner for kids – and adults – to paint (and bring home) their very own masterpiece. A perfect reward for dragging them into one shop too many, and the staff are immeasurably helpful too. Officially our new favourite hangout at Haji Lane!
Where: 30 Haji Lane, Singapore 189224
Love this guide to Haji Lane with kids? Try this roundup of things to do in Little India!