Wet market Choo Yut Shing
Can't find what you're looking for at the supermarket? We've put together a list some of Singapore's best wet markets and tips on how to shop them...
Want to reduce your grocery bill while picking up goods that are box-fresh? Get up early, put on some kicks and prepare to haggle – we're heading to the wet markets in Singapore! These pungent and produce-laden emporiums are not new; in fact they're a Singapore institution that needs your support. But Singapore's wet markets can be a bit daunting if you don't know where to go or what to look for. So, here's a run-down on a few of our favourite wet markets and stalls in Singapore. Happy hunting!
The best wet markets in Singapore
Empress Market
This is a good entrée into the Singapore wet market scene if you're a newbie to this style of shopping. It's frequented by a lot of expats who live in the area, so the stallholders offer a mix of east meets west produce. You'll be able to find everything you need here for your weekly meal plans, and most of the stall-owners will help you.
What it's known for: This is a good all-rounder where you can also get your meat prepared just how you like it: de-boned, chopped, minced and more.
Stalls to check out: Stall #01-03's friendly owners sell fresh chicken parts (try the black chicken for its natural health properties).
Where: 7 Empress Road, Singapore 260007. Opens daily (except Mondays), 8am-12pm.
Chinatown Wet Market
This is a large and bustling arena full of fresh produce and quality dried goods in the basement of the Chinatown Complex. It's fairly wallet-friendly, particularly if you show some love to smaller stallholders who will often throw in some extra pieces of veg for return customers. Most of the fruit and veg is imported from Malaysia or is supplied from farms near Kranji. Head to the back and you'll see how they prepare the frogs (the kids might not be too keen on that).
What it's known for: Live seafood including cockles, lobsters, crabs, tiger prawns and exotic meats like eels, frogs, and turtles. It's particularly good for ingredients needed in Chinese cooking and is therefore popular prior to Chinese New Year. Head upstairs to the Chinatown Complex Food Centre – a hawker centre that's a bit of a maze but great for cooling down with a cup of fresh fruit juice or a snack.
Stalls to check out: Walk over to Anthony The SpiceMaker at 333 Kreta Ayer Road. Here you'll find aromatic spices galore from this popular stall. And if you've got a teen who thinks wet markets are boring, you can head to the back where they prepare the frogs (be warned, it's not pretty).
Where: Chinatown Complex, 335 Smith Street, Singapore 050335; Opens daily, 8am-12pm.
Geylang Serai Market and Food Centre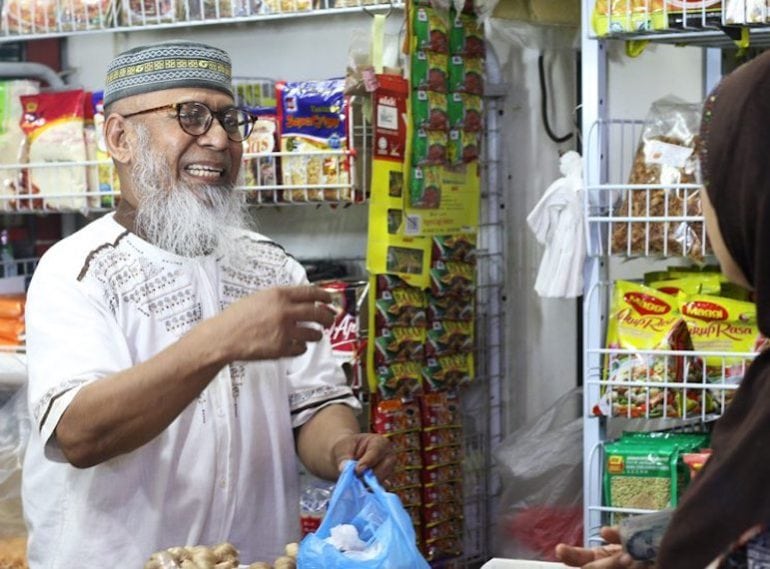 What do you find in a wet market situated in the Malay Heritage District? Malay and halal supplies of course! Pork is not on offer here and be prepared for crowds if you visit during Muslim celebrations.
What it's known for: More obscure types of Malay vegetables and a wide array of herbs. Think petai, a Malay bean, and bakawali, a herb used to treat diabetes and high blood pressure. The herb sellers are full of good info if you need curry-cooking tips.
Stalls to check out: BB Spices at #01-166 – it'll help you stock up your spice cupboard.
Where: 1 Geylang Serai, Singapore 402001. Opens daily, 6:30am-12pm.
Jurong Fishery Port
Ok, trainers may not cut it here, so reach for the wellies instead. And your passport/ID to exchange for an access pass. Another word of warning – this is a very early start (like 2am to 4am). It's worth it though. Here's where you'll get the freshest seafood in Singapore.
What it's known for: Local and imported seafood that's come direct to you, fresh from the net – no middleman in between. It also means you're getting next to near wholesale prices, but it also means you'll have to buy in bulk.
Stalls to check out: Pan's Fish has a great selection of imported seafood from Indonesia, Malaysia, Vietnam and Thailand. Song Fish Dealer stocks uncommon types of fish, like black cod and Spanish mackerel. They also deliver if you really can't face waking up that early.

Where: Fishery Port Road, Singapore 619742. Opens daily (except Mondays from 2am-6am), 24 hours a day.
Tiong Bahru Wet Market
This 'hood might be popular for its café-lined streets and old-school architecture, but the Tiong Bahri wet market is the heart of this hip village. It's not too big, not too small, clean and open. This is a good one if you want to bring the kids along for an adventure.
What it's known for: A vast selection of seasonal produce, tofu and Aussie and New Zealand beef. Don't forget to pick up a bunch of fresh blooms on your way out at the flower stall – ginger flowers and orchids are a bargain.
Stalls to check out: Once you've finished your shop, you can head to level 2 for some lunch.
Where: 30 Seng Poh Road, Singapore 168898. Opens daily, 8am-12pm.
Tekka Centre
Smack bang in the middle of Little India, this market is colourful. It can also be an assault on the senses, so brace yourself.
What it's known for: A wide selection of fresh vegetables (think endive, arugula, vine-ripened tomatoes), Indian spices, and coconut shredded on the spot.
Stalls to check out: Chia's Vegetable Supply always has an abundance of seasonal and imported vegetables. Victor speaks a variety of languages and is very helpful. Head to Joe's Butchery for good quality beef and lamb.
Where: 665 Buffalo Road, Tekka Centre, Singapore 210665. Opens daily, 6:30am-9:30am.
Wet market shopping tips
Be flexible and buy what's in season
If you've got a particular menu in mind, you may be disappointed. What's on offer is often cheaper and better quality, so plan meals around available produce or you may end up paying more than what you bargained for.
Bring a trolley
Yes, you might be bringing some major #auntievibes. But this upright basket on wheels is a handy thing at Singapore's wet market and could save your back.
Wear sensible shoes
Although not all markets are literally 'wet',  if you know you're going to be buying seafood, it's best not to go in heels or slippers.
Make eye contact
Signal to the stall holder that you mean business and are not there just to window shop.
Chat to stall holders
Strike up a conversation and you might find you pick up some great tips on cuts of meat, types of fish or cooking with different herbs and vegetables.
Look, feel and smell
There's nothing wrong with checking out what you're going to buy to make sure it's fresh.
Be confident and polite
Wait your turn, but speak up when you need service. Also, don't expect discounts. A lot of stallholders will reward you with additional items at no charge if you're a repeat customer.
Haggle lightly
While a certain amount of bargaining can go on, this is not the place for hardcore haggling. Don't just offer half the asking price.
So slip on some sensible shoes, grab that shopping trolley, withdraw some cash and get shopping at these wet markets in Singapore!
Photography (top image): Geylang Serai Market by Choo Yut Shing via Flickr