Sandpits, rock walls, flying foxes, climbing frames, tunnels and SLIDES! Oh so many slides! This is the playground that kids' dreams are made of...
Once upon a time, we were out searching for the perfect pair of stilettos – not too high, not too low, with the perfect point. A couple of kids and a few grey hairs later, we're seeking the best playground in Singapore instead. Oh, how times have changed. Well, if you haven't brought the kids to this playground, this is the one that you need to know about. Yep, Admiralty Park, we're looking at you. It might even make you momentarily forget about those Jimmy Choos…
Why Admiralty Park is the best playground for kids
The lowdown
To be fair, Admiralty Park is a bit of a trek, located near Woodlands (we had a fleeting fear that we would take a wrong turn and end up in Johor). But it's so worth it. Like many parks in Singapore, Admiralty Park is beautifully planned and really embraces nature. With over seven hectares of the park to explore, it's perfect for kids of all ages. And, it's the perfect opportunity for a half-day adventure. Admiralty Park links up with the Admiralty West Park Connector, so if you're an active bunch, you can continue your expedition all the way to Woodlands Waterfront Park for a brilliant view across the causeway (it's a fab cycling route!).
But the pièce de résistance has got to be those magnificent slides. 26 in total, Admiralty Park boasts the most number of slides of any playground in Singapore. Nestled into steep slopes, there are slides of all kinds – little ones, speedy ones, wide ones, long windy ones and even roller slides. Hot tip: pack a cardboard box to use as a mat, otherwise bottoms can get scorched… ouch! It even has bumpy ones and dark ones for a thrilling adventure.
Officially, there are three play areas: 'Adventure Play', 'Family Terracing Play' and 'Junior Play'. But we'd say there are two main play areas – the steeper slope for kids aged five years and above (incorporating the roller slides) and then tucked around the corner is another play area aimed at younger kids. There's even a variety of swings, including a wheelchair-accessible swing and what they call an 'expression swing' (a tandem swing for an adult and child).
Top tips for conquering Admiralty Park
1. Early bird gets the worm…and a good parking spot
Admiralty Park ain't no secret and it can get busy, particularly on weekends. Why not get an early jump on it, grab a takeaway coffee and head out to Woodlands around 9am? The closest car park (near Sakura Restaurant) can get full quickly, so another parking option is Republic Polytechnic (on Republic Crescent, off Woodlands Avenue 9).
2. Some like it hot, so come prepared
Yes, it is hot at Admiralty Park. Sometimes even stinkingly so. Please go prepared. We're talking an enormous flask of water (as a family of five, we drank three litres of water in about two hours), hats, towels (for mopping up sweat) and loads of sunscreen. There is some shade from trees and shade cloths, but the big footprint of the playground means that direct sun exposure is inescapable.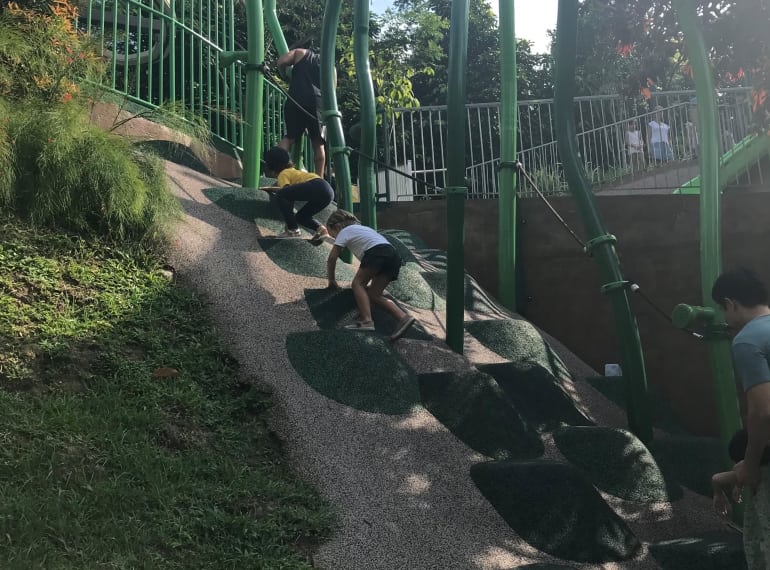 3. Pack snacks
If we were squillionaires, we'd definitely open up a cafe in Admiralty Park. How good would it be if you could retreat to a cool, shady spot for lunch with the kids after a morning of play? Or even just a coffee and a muffin. So our advice is to pack heavy on the snacks (with all that sliding, the kids are bound to work up a big appetite). We were lucky enough to encounter the ice cream man when we visited, so the kids (and maybe mum) had a delish ice cream sandwich at 10am! Parenting goals are still a work in progress…
4. Let's talk parenting tactics
Unless you've got older kids, there is some parental supervision required at Admiralty Park. There are plenty of steep slopes, drop-offs, fast slides and an infinite number of places to hide (don't you just love it when kids play an impromptu game of hide and seek?). Fear not though, we've got it licked. Our suggestion is to divide and conquer. One adult can be on duty, up the hill to supervise, and the other adult can stay on the path, keeping watch over the entire scene and guarding against runaways. Make it a rule with the kids that they must stay in one of the two play areas.
The Admiralty Park verdict
So, our verdict is that a visit to Admiralty Park is a must. The kids will have a top time exploring each of the play areas and it'll be physically challenging for them too. In a good way. Is it the best playground in Singapore? We'll leave it to you to decide. And please don't forget to bring the essentials: hats, sunscreen, towels, snacks, cardboard box, water, bikes or scooters and helmets.
Have an awesome time, folks!
Top image: NParks