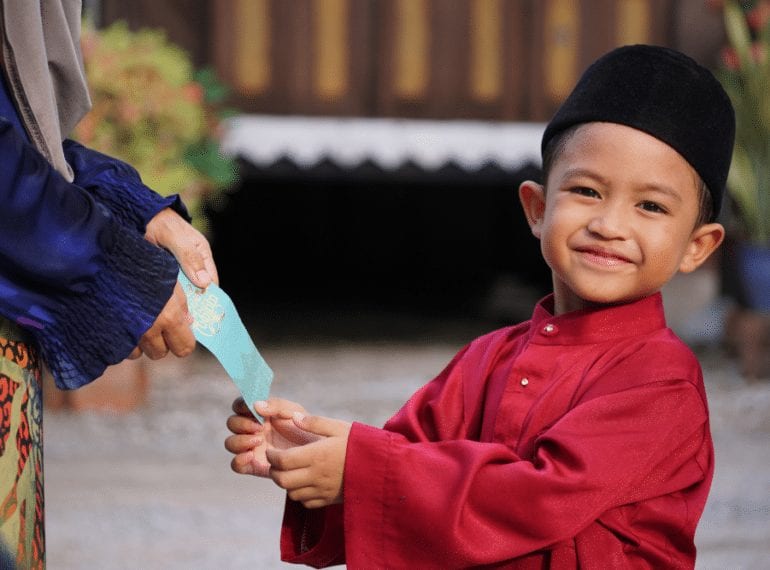 Here's everything you need to know about the holy month of Ramadan and Hari Raya Aidilfitri...
One thing we love about living in Singapore is its multicultural environment: this is one of the world's great cities for teaching children about diversity and immersing them in an array of vibrant, cultural experiences. We love that it's the place where Ramadan, Vesak Day, Chinese New Year, Deepavali and Christmas are celebrated and respected in equal measure. As the special month of Ramadan has already begun for Singapore's Muslim community (which all leads to the Hari Raya long weekend – hurrah!), here's your guide to this major festival in Singapore. Whether your kids are fasting for the first time this year or you simply want to know more about its cultural significance and where to catch the amazing light displays, here's everything you need to know about Ramadan in Singapore. Ramadan Kareem, folks!
What is Ramadan?
The sacred month of Ramadan is believed by Muslims to be the holiest month of the year. Little known fact: fasting is much more than just abstaining from food or drink during daylight hours – it's a commitment to the purification of the soul. This means refraining from bad habits and thoughts.
During Ramadan, Muslims are encouraged to continue with their daily routines as usual as this teaches endurance and patience. Not only is this a form of detoxification for the body, it also builds empathy for those who suffer in life, and fosters community spirit as the act of breaking the fast brings friends and family together.
How do Muslims fast?
To prepare for the fast, Muslims start their day with a pre-dawn meal (referred to as sahur in Malay) and (what seems like) gallons of water for hydration. The most anticipated time of the day – the act of breaking fast – occurs at sunset when the meal usually starts with dates and a short prayer before tucking into a large iftar meal.
Ramadan for kids
Traditionally, Muslim parents slowly ease their kids into fasting. For most, this usually begins from Primary One (seven years old). Typically, the first year kicks off with a half-day fast till 12 pm to prepare the child for fasting until they are ready for the real deal (the usual dawn to dusk fast).
Fasting can be difficult for newbies or even the average Muslim (cough – this writer included) so coming up with ways to make Ramadan more enjoyable helps ease your kids into it. We suggest:
Ramadan goals
Have your children set goals for the month. For the younger ones, it could be as simple as "fast for two hours a day" or "help mummy with cleaning away my toys." For the older ones, encourage them to write in a journal to express their feelings throughout Ramadan so they can reflect on their day-to-day blessings.
Decorations
As Hari Raya Aidilfitri inches closer, hanging up festive decor is the perfect way to kick off the celebratory spirit. String fairy lights (or lampu kelap-kelip as fondly referred to in Malay) or plastic ketupat (rice cakes cooked in coconut leaf casings) around the house and blast Hari Raya music as you spring clean.
Be generous in spirit
As charity is a big aspect of Ramadan, teach your kids the value of giving through fun ways. Get crafty and decorate a big box and then every day, get them to donate a desired fraction of their allowance (since it's not spent on food). At the end of the month, discuss as a family where you'd like to make a donation.
The festivities:
Hari Raya Light-up 2019 and Geylang Serai Bazaar
Each year, the iconic neighbourhood of Geylang Serai plays host to a dazzling light display, which lasts for a whole stunning month. The lights are already switched on, and you can catch the light display from 7pm each night. The Geylang Serai Bazaar is the mecca of all night markets in Singapore. While typical fare like Ramly burgers and vadai are sold here, this year's edition includes 'new-age' snacks like prata waffles (or praffles) and brown sugar boba. You can find everything you need here too: baju kurung for the fam, Hari Raya decorations, kitchenware and even… cars (we're serious). Check out our sister-site's full review on what they loved – and what they didn't – over at Honeycombers.
Hari Raya Aidilfitri
So you've pulled through the whole of Ramadan – well done! Now's the time to celebrate with Hari Raya Aidilfitri (also called Hari Raya Puasa): a month-long festival that encourages forgiveness and thanksgiving. To prepare for this, the family home gets a thorough spring-clean (we suggest roping in your bigger kids for chores) and huge feasts of flavourful, spice-laden food (like lontong and beef rendang) are enjoyed when relatives come to visit. A tradition observed by most families is dressing in the same colours to symbolise unity (in my opinion, it's utterly adorable too). On the morning of Hari Raya Aidilfitri, members of the family seek forgiveness from their elders after prayers at the mosque, and little ones often receive green packets of money.
Where to break fast:
The greatest part of the day during Ramadan is iftar (or buka puasa in Malay). Ramadan is a great time to catch up with each other and bond over food. Here are five of the best Ramadan dining deals (from the coolest kid-friendly restaurants, of course!) to look out for before the month is over:
21 on Rajah
21 on Rajah's sumptuous a la carte menu is a delicious fusion of Mediterranean and Asian fare (Mediterr-Asian if you will), and is all Halal-certified.
21 On Rajah, Days Hotel, 1 Jalan Rajah, Singapore 329133; 21onrajah.com
Straits Kitchen at the Grand Hyatt
We love a buffet that celebrates local favourites and international fare alike, and The Grand Hyatt never disappoints. Straits Kitchen serves up amazing laksa, satay, chicken rice, udang lemak nanas (Peranakan curry prawns) and much, much more: think Lebanese shawarma, and baklawa! The hotel will also offer prayer rooms for diners to perform the Maghrib prayers, and its kitchen is strictly halal. 
Straits Kitchen, Lobby level, Grand Hyatt Singapore, 10 Scotts Road, Singapore 228211; www.singapore.grand.hyattrestaurants.com/straitskitchen.html
Straits Café
Enjoy a little bit of everything at a buffet filled with regional fare at halal-certified Straits Café.  You'll get to tuck in to straits favourites like KL Prawn Noodles and Ramadan specials like Daging Masak Kicap and Oxtail Soup.
Straits Café, 9 Bras Basah Rd, level 1 Rendezvous Hotel, Singapore 189559; www.straitscafe.com.sg
Saltwater
Tucked away near Changi Beach, halal-certified Saltwater is serving up a buffet of treats for Ramadan including its award-winning Nonya Laksa, Kambing Soup, Beef Rendang and DIY Rojak. Don't forget to swing by the Chill & Grill Live Barbecue station where you can feast on fresh seafood and juicy meats cooked a la minute.
Saltwater, 1 Netheravon Rd, level 1 Village Hotel Changi, Singapore 508502; www.saltwater.com.sg
Like this story? Here's more we think you'll enjoy:
The temple trail of Singapore
Top 20 things to do with kids in Singapore
Singapore culture: a tour of Katong Antique House
Family-friendly hawker centres for an easy meal with kids
Don't forget to subscribe to our weekly newsletter and follow us for fun moments on HoneyKids Instagram!