Here's your ULTIMATE guide to great family-friendly Sunday brunches in Singapore – with free-flow food, fab coffee and even great views!
We've given you the run-down on the best afternoon tea in Singapore. And you're more than sorted with our guide to the best kid-friendly restaurants in Singapore. But how about the very best free-flow bubbly brunches that take place on a Sunday? Well, we've got you covered on that front, too.
Need to take the kids along? No prob. These Sunday brunches at Singapore's top hotels, cafes and restaurants will indulge the little ones while you concentrate on all-you-can-eat eggs and buckets of freshly roasted coffee (read: extra-strong Bloody Marys). Sorry kids, but Sunday fun-day ain't only for you!
FAMILY-FRIENDLY HOTEL BRUNCHES IN SINGAPORE
1. Estate Grand Sunday Champagne Brunch at Hilton Singapore Orchard
There's a new family friendly Sunday brunch venue in town, and it is a cracker! Head to Estate at Hilton Singapore Orchard and indulge in all of your brunch favourites (freshly shucked oysters, tiger prawns, sushi and sahimi, whole suckling pig, roast beef, and ham sliced from the bone, just to name a few), and whatever you do, make sure you sample the signature black truffle duck – it is divine.
On top of the fabulous food and bubbles, keep an eye out for Jerryl Tan, the roving illusionist, for some gasp-out-loud magic tricks performed at your table that the whole fam will enjoy! There's even a kids room set up with easels and canvasses for budding artists and toys and games for little ones.
Where: Estate, Level 5, Hilton Singapore Orchard, 333 Orchard Road, Singapore, 238867
When: Sundays, 12.00pm-3.00pm

2. Beach Road Kitchen at JW Marriott Hotel Singapore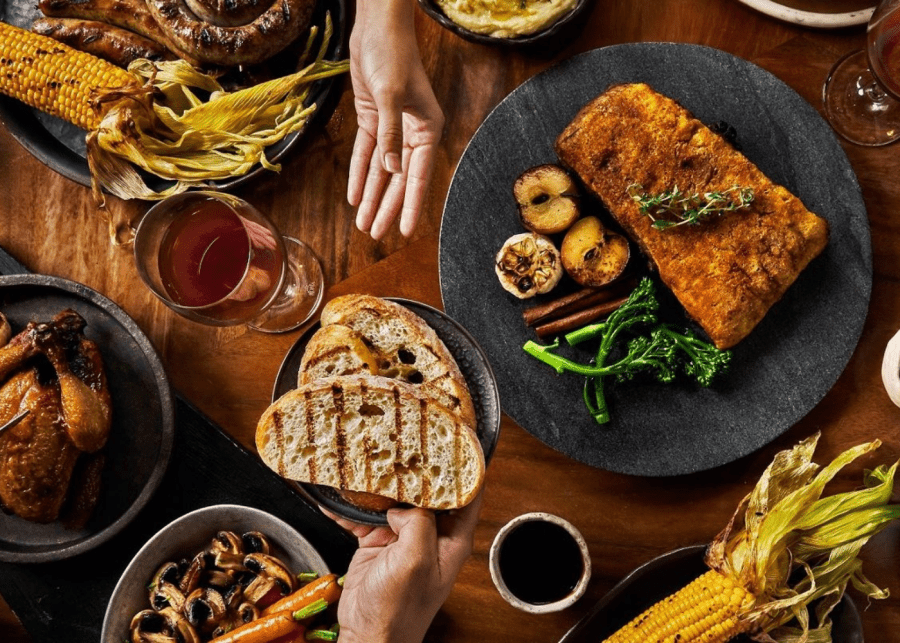 The Sunday brunch at Beach Road Kitchen features a new experiential dining concept with a 'Chefs-on-Show' service to your table. There's something for everyone, from seafood antipasti to truffle pizza and local faves like seafood laksa broth, as well as ribeye roast and tomahawk steak fresh from the grill. The best part? There's pizza for the kids!
Where: JW Marriott Hotel Singapore South Beach, 30 Beach Road, Singapore 189763
When: Sat and Sun, 12-2.30pm
3. mezza9 at Grand Hyatt Singapore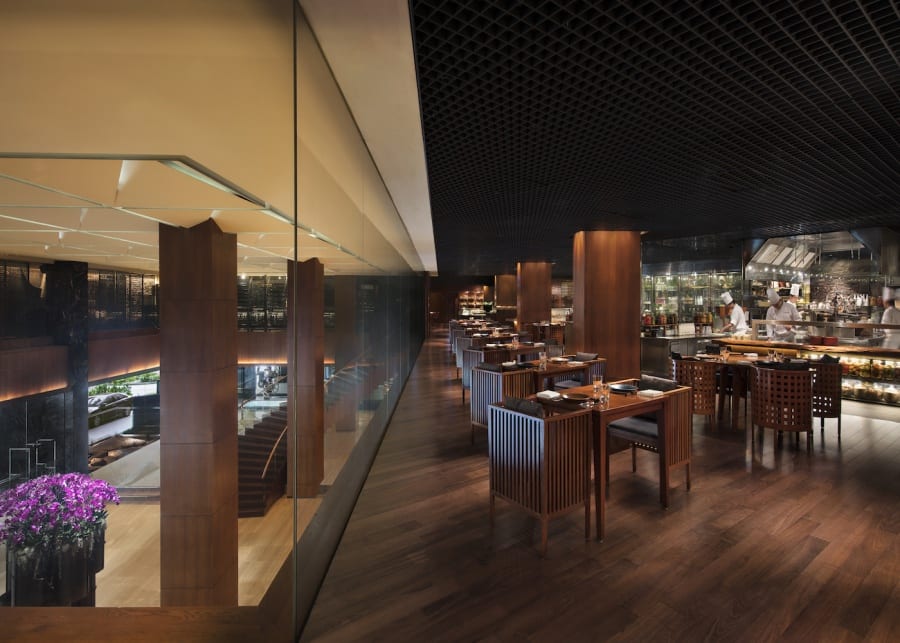 mezza9 at Grand Hyatt Singapore embodies nine distinct dining experiences to titillate your taste buds under one roof. The quality and variety of the buffet are second to none, with some of the world's best cuisines, from appetisers to dessert for you to choose from. Located on the hotel's mezzanine level, the award-winning restaurant has nine unique dining concepts featuring six open kitchens (Chinese, Japanese, Sustainable Seafood, Thai, Western and Pastry), the shop, martini bar and party room. With a food mantra 'thoughtfully sourced, carefully served', you can indulge in fresh sustainable seafood (love those freshly-shucked oysters) and premium free-range and grass-fed meats, paired with sustainable wines. If you're looking for a little local fare, check out StraitsKitchen for an all-you-can-eat Singaporean street food option.
Where: The Grand Hyatt Singapore, 10 Scotts Road, Singapore 228211
When: Sat and Sun, 12:00pm – 3:30pm
4. La Brasserie at The Fullerton Bay Hotel
La Brasserie has it all: lovely freshly-shucked oysters, champagne, charcuterie, and French pastries galore! Scoop up some crepes and macarons while you create your ultimate Bloody Mary, and you're basically in brunch heaven. Also check out Town's Sunday Champagne Brunch at nearby The Fullerton Hotel for some local flavours instead.
Where: The Fullerton Bay Hotel Singapore, 80 Collyer Quay, Singapore 049326
When: Sat and Sun, 12-3pm
5. Alley on 25 by Andaz Singapore
Alley on 25 by Andaz Singapore does one incredible Lazy Breakfast that's worth trekking to town for. At just $50++ per person (kids under 6 eat free!), the whole family can enjoy a sprawling breakfast buffet and one a la carte order. From 12 to 2.30pm, choose from brekkie classics like eggs Benedict, breakfast burgers, smoked salmon bagels and quesadillas. The spread also includes a continental station for a variety of bread, gluten-free cereals, waffles, cold cuts and superfoods at the salad bar. Wanna turn it into a free-flow boozy brekkie? Top up for $45++ and sip on wines, Prosecco, spritz and draught beer.
Where: Andaz Singapore, 5 Fraser Street, Singapore 198354
When: Sat and Sun, 12-2.30pm
6. The Edge at Pan Pacific Singapore
At The Edge at Pan Pacific, there is plenty of scrumptious sustenance to whet the appetites of the pickiest of eaters with its a la carte lunch buffet. Think prepped-to-order international delights and local offerings such as spicy laksa and Indian curries – all of which are right up there with some of the best we've ever tasted.
Where: Pan Pacific Singapore, Level 3, 7 Raffles Boulevard, Marina Square, Singapore 039595
When: Sat and Sun, 12-3pm
7. The Line at Shangri-La Singapore
The Shangri-La on Orchard has a classic old-world feel, and The Line restaurant has had a light, bright refurb. Plus, it's right in front of buds! As the sommeliers fill your flutes, tuck into some seriously good a la carte eggs and traditional breakfast nosh. This Sunday brunch spread is right on the mark when it comes to quality and variety of produce. There's not a taste that can't be satisfied.
Where: Shangri-La Singapore, Lower Lobby, Tower Wing, 22 Orange Grove Rd, Singapore 258350
When: Mon to Sun, 12-2.30pm
8. Colony at Ritz-Carlton
The setting at Colony is a grand affair, and the hits just keep on coming, with the welcome addition of local iconic dishes such as chilli and pepper crab. Just to whet your appetite, current menu highlights include freshly shucked oysters, King Crab legs, Wagyu beef wellington with truffle sauce, herb grilled 'live' lobster, and Colony laksa with homemade lobster ball (keep an eye out for new menu items). The cheese platter is arguably the best in Singapore, with over 50 French farmhouse cheeses. You'll have to peel the kids away from the live conservatory kitchens where they'll be enthralled by chefs preparing food right in front of their eyes.
Where: The Ritz Carlton Millenia Singapore, 7 Raffles Avenue, Singapore 039799
When: Sun, 12-3pm
9. One-Ninety at Four Seasons
We love a little variety in life, and at One-Ninety, you get two different menus for its weekend brunches! Saturday's semi-buffet brunch includes local favourites alongside Western dishes, while Sunday's offers a wider range of entrees. The kiddies are not forgotten too – there's a dedicated menu just for them featuring friendly options such as mac and cheese, pizza margherita, and fish and chips.
Where: Four Seasons Hotel, 190 Orchard Boulevard, Singapore 248646
When: Sat and Sun, 12-3pm
10. Melt Café at the Mandarin Oriental
Melt Cafe at the Mandarin Oriental offers a more relaxed alfresco vibe which is eminently better suited to families. To top it off, kids even get their own specially prepared brunch corner at Little Fan Land where they'll get to colour, watch videos and paint in between trips to the mini-buffet. Almost sounds better than the roasted Wagyu cuts and outdoor BBQ zone where you can watch on in amazement at the barbie masters flame-grill your meat and seafood. Yummo. Plus, kids under six eat free!
Where: Mandarin Oriental, 5 Raffles Avenue, Marina Square, Singapore 039797
When: Sun, 12-2.30pm
FAMILY-FRIENDLY SUNDAY BRUNCH AT OUR FAVE SINGAPORE CAFÉS
11. Prive at Keppel Bay
If you like your pancakes with a view (of the beautiful Keppel bay), Privé Café is the brunch joint for you. Its home-style pancakes are fluffy stacks of goodness served with fresh strawberries, bananas, whipped cream, maple syrup, and honeycomb (which we totally love, of course!). There are even gluten-free options that are just as tasty and twice as healthy. Plus, it has a playground!
Where: Keppel Island, 2 Keppel Bay Vista, Singapore City 098382
12. Botanico at The Garage
Embedded in the gorgeous greenery of the Botanic Gardens, Botanico is a chic restaurant serving up 'gifts of soil, land and sea'. Start your morning with delicately smoked organic egg and choose from seasonally selected mains.
Where: Singapore Botanic Gardens (Bukit Timah Gate), Level 2, 50 Cluny Park Road, Singapore 257488
When: Sat and Sun, 11.30am-3pm
13. PS.Cafe
PS.Cafe is an eternal brunch fave – it's got an awesome range of food, but the truffle fries are truly moreish. We love the Harding Road branch, surrounded by all that lush greenery! But the pièce de resistance is the Ann Siang Hill branch: it has a menu featuring sharing plates – great for small hands and small mouths who can't always eat a full portion on their own. Kids will love the grilled cheese, served with smoky tomato soup (wear your napkin like a bib as it will splatter everywhere!), smashed avocado on toast with a poached egg, Impossible sliders on brioche and of course the banana and berry pancakes for dessert.
Where: Various locations around Singapore
14. Cafe Melba
Serving up breakfast and brunch favourites all day every day, Cafe Melba is a home away from home for many of us at HoneyKids HQ. Sip on your cappuccino and scoff down favourites such as eggs florentine (for a healthy kick!) or a full English if you're really hungry. The kids' menu includes French toast cubes, pancakes, a full English (in mini form!) and the usual faves such as pizza and pasta.
Where: Goodman Arts Centre, 90 Goodman Road, Blk N #01-56, Singapore 439053; Mediapolis, 1 Stars Avenue #03-01, Singapore 138507
15. Common Man Coffee Roasters
Sometimes brunch just isn't so great without good coffee… and that's where Common Man Coffee Roasters comes in. Serving all-day breakfast with favourites such as fluffy pancakes, crunchy granola and kale and egg-white scramble, the coffee goes just right with the highlights on the menu. Food portions are on the larger side and you'll likely need to split a dish or two with the munchkins. Get there early over the weekend otherwise you'll get stuck sitting at a high table or at the bar – not the easiest for kiddos. But the coffee is worth it!
Where: 22 Martin Road #01-00, Singapore 239058
16. Nassim Hill Bakery Bistro Bar
Brunch is available until 3pm at Nassim Hill Bakery Bistro Bar, and the extensive menu includes eggs any which way! Also included are waffles, pancakes, French toast, granola… there's something to suit each and every palate from picky eaters to more adventurous ones.
Where: Tanglin Post Office Building, 56 Tanglin Road #01-03, Singapore 247964
17. OverEasy
OverEasy is perfect for people-watching, and this Fullerton address offers serious views… plus kid-friendly, American diner food. Think a full fry-up, New York-style loaded bagels, and pancakes galore… all with a side of a milkshake float! High chairs are available for tots, too.
Where: One Fullerton, 1 Fullerton Road #01-06, Singapore 049213
18. The Dempsey Project
Taking over the former Jones the Grocer site, The Dempsey Project has a huge food emporium at Dempsey. It's our go-to for weekday takeaway coffee and weekend lazy breakfasts. And did we mention it's a dog-friendly venue too? All the desserts are honestly so good that our kids actually eat them (instead of just the usual icing lick).
Where: Dempsey Hill, Block 9 Dempsey Road #01-12, Singapore 247697
19. Baker & Cook
Baker & Cook has branches all over town, but our favourite has to be the one in Dempsey at the Core Collective. Brunch staples such as eggs, pancakes, French toast and bagels are all on the menu… but you'll most definitely be tempted by the freshly baked breads and pastries!
Where: 30C Loewen Road, Singapore 248839
20. Open Farm Community
One of our fave spots to take the kids for a feast is Open Farm Community. There's a huge sandpit for the kids to play in, a garden, a collection of quirky sculptures, a Common Man roasters coffee shop (the Farmacy… yes, coffee is sometimes the medicine we all need!) and a sprawling green. The brunch menu includes eggs, sandwiches, healthy bowls, salads and a kids' menu with all the favourites.
Where: 130E Minden Road, Singapore 248819
21. Carrotsticks & Cravings
Planning to go organic? Head to Carrotsticks & Cravings for açai bowls and avocado toast for breakfast and quinoa tarts and salads for lunch. Meanwhile, the kids will be kept happy and healthy with mini cupcakes, fruity popsicles and energy balls: they'll need the fuel for all the running around they'll be doing in the open spaces surrounding the place. It's walk-in only though, folks: no reservations.
Where: Outlets at Dempsey, Robertson Quay, and Stanley Street
22. Wild Honey
With multiple branches in Singapore (including Mandarin Gallery, Scott's Square and South Beach), Wild Honey is a perennial Sunday brunch fave. With coffee from Common Man Coffee Roasters, the food menu has something for carnivores, herbivores (vegetarian and vegan) and pescatarians. Ask for a high chair for your tiny tot. Oh, and order a side of Brazilian bread – small dough balls with cheese inside!
Where: Branches in Mandarin Gallery, Scotts Square, and South Beach
23. Clinton Street Baking Company & Restaurant
Full of family-friendly favourites, such as croque madame (a fancy grilled ham and cheese sandwich) and chicken and waffles, everyone will be scrambling for the American-style pancakes at Clinton Street Baking Company & Restaurant. This place fills up pretty quickly over the weekend, so we suggest booking ahead to avoid disappointment. Warning: this one serves American-sized portions, so go hungry!
Where: 31 Purvis Street, Singapore 188608
24. Forty Hands
With Australian-style brunch and delicious coffee to boot, Forty Hands is a great one to duck into for a quick bite. The usual suspects are on the menu, including smashed avo on toast, croque monsieur (on a croissant from neighbourhood bakery Tiong Bahru Bakery, no less!), and banana bacon French toast. Don't skip out on the coffee here – it's all that and more!
Where: 78 Yong Siak Street, Singapore 163078; 226 East Coast Road, Singapore 428923
25. Canopy Bishan
Here's another family-friendly brunch option, this time with lush surrounds. Canopy offers up a scenic outdoor alfresco brunch with its classic Eggs Benedict and loads more, available until 2pm. Whether you like your sourdoughs or Brioche buns, Canopy has got it covered, cooked with a variety of flavoured sides like sausages and mushrooms. Oh! And did we mention the kids' menu for children under nine? Surprise your kiddos with some delish kid-sized meals from the all-day dining menu. Score!
Where: 1382 Ang Mo Kio Avenue 1, Bishan Park 2, Singapore 569931
26. Little Spot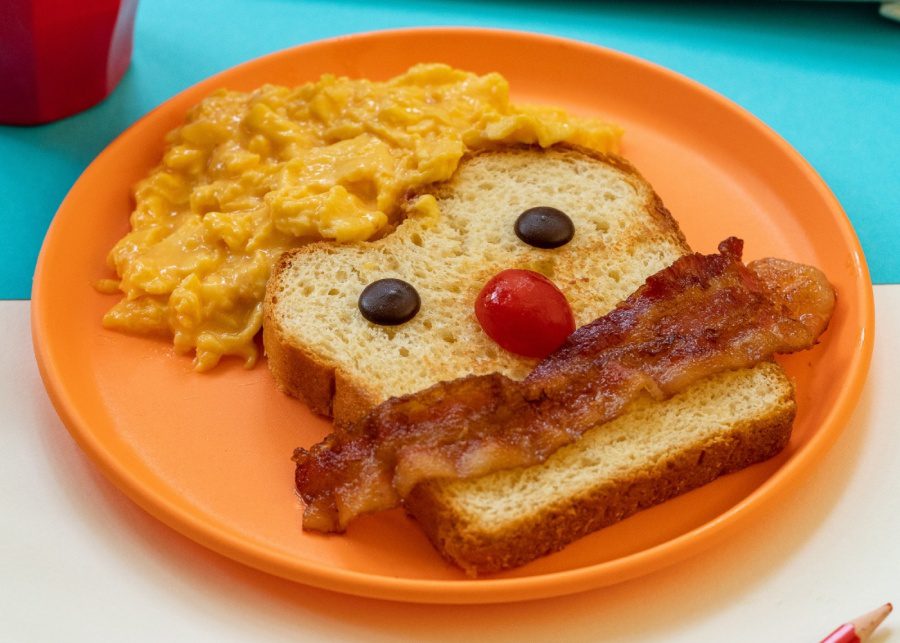 Planning a family day out at Botanic Gardens? Drop by Little Spot, a sunny outdoor cafe located within the Jacob Ballas Children's Garden. Fill up your bellies with its all-day brunch offerings that include yoghurt bowls, fluffy pancakes, and eggs on toast. The littles can check out the activity corner while waiting for their food, which is filled with books by local publishers and authors and fun activity sheets. Parents, we reckon you can join in the fun – or just wind down!
Where: Jacob Ballas Children's Garden, 1H Cluny Road #01-k1, Singapore 259604
Happy Sunday brunching, folks!