The guide to greengrocers, supermarkets and butchers supplying organic food and groceries you never knew you needed!
So you've got your groceries covered thanks to our beginners' guide to supermarket shopping in Singapore and have made your life easier with some help from the best home delivery services supplying everything from fruit and vegetables to fresh milk and bread… but what if you're dedicated to buying certified organic produce and groceries? We know the struggle is real here in Singapore, and so we've scoured the island in our efforts to buy certified organic (without having to remortgage the house!) and shared our top spots…
QUAN FA ORGANIC FARM
We know the food miles factor is a real issue when buying organic produce in Singapore, so we love this local farm, which grows leafy greens, fruits, vegetables and herbs without pesticides or synthetic and chemical fertilisers. Its online store also offers super-convenient stir-fry mixes, some organic produce from Australia, and eco-friendly products for the home, including the ETL NO. 9 all-purpose cleaner. Want to see the farm in action? Visit the farm for a tour and bring the kids!
Address: 35 Murai Farmway Singapore 709145 . Quan Fa produce is stocked at various locations islandwide including Shen Siong and Four Seasons Organic (see below).
Do they deliver? Yes! Delivery is free for orders over $60.
quanfaorganic.com.sg
LE PETIT DEPOT
How did we not know about this sooner? Le Petit Depot has a fantastic range of French goodies – groceries, beauty products and baby goods – and we're impressed by the organic range, much of which comes from French supermarket Carrefour. We've picked up certified organic fresh produce (including garlic that doesn't cost more than your dinner), French butter, yoghurt, nuts, pastry, frozen peas for the kids… and who'd have thought, you can even get organic tzatziki and blini. Le Petit Depot also has a good rep for being sensible with its packaging – you'll get your goodies in a box, not a million plastic bags.
Do they deliver? Yes! Order direct from Le Petit Depot, or via HonestBee. Le Petit Depot is also available on Redmart, but you won't find the certified organic products there.
www.lepetitdepot.com
LITTLE FARMS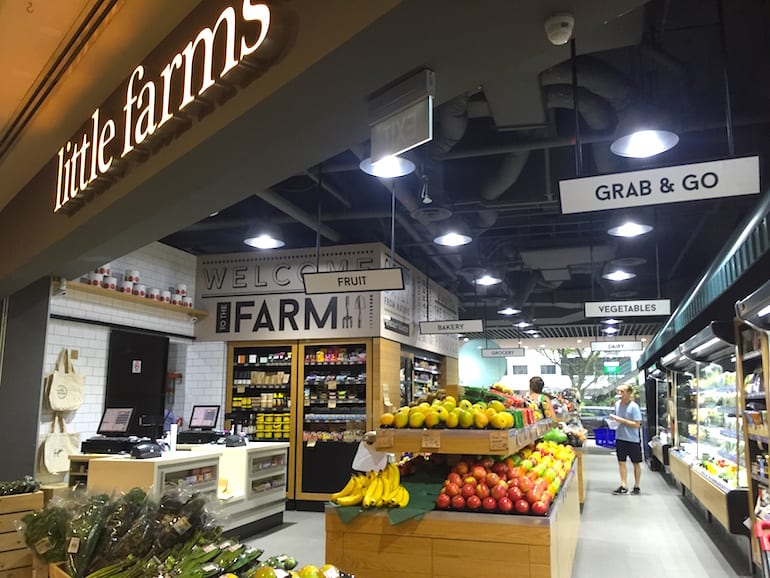 Little Farms specialises in Aussie produce and gourmet goodies, and we're a little bit in love with the place. It's a compact store, but jam-packed with organic fresh produce, dairy and pantry items. It's easy to go a bit over the top here cramming your basket with divine dairy products from Barambah Organics, produce by Fresh Organics in Aus and other hard-to-find treats (air-flown too!). Public service announcement: this is the ONLY place in Singapore we've found organic pine nuts that aren't farmed in China! The meat is fresh: the beef is Australian grass-fed and ethically produced, the poultry is antibiotic and hormone-free from Malaysia and you can also pick up Australian free-range pork. Extra props to Little Farms for providing paper grocery bags and boxes! Don't forget to drop into the café for meals made from delicious natural whole foods straight off the shelves!
Address: Valley Point Shopping Centre, United Square Shopping Mall, Tanjong Pagar Centre and Holland Piazza locations
Do they deliver? Yes! Spend a minimum of $85 from the online store and delivery is free!
www.littlefarms.com
FOUR SEASONS ORGANIC
If you're on the East Coast, this little store in Parkway Parade has fresh produce from Quan Fa Farm (see top), frozen veg and meat. Stock up on herbs, pantry staples including pasta and tinned foods, sauces, coconut oil, baby snacks and eco-friendly products for the home. This place is tiny, but has all the goods! There's also a branch at Great World City!
Address: 80 Marine Parade Road, #B1-83, Parkway Parade, S449269 and Great World City 1 Kim Seng Promenade, #B2-06/07, Great World City, S237994.
Do they deliver? No.
www.facebook.com/FSOMsg
THE ORGANIC GROCER
The Organic Grocer has a bricks and mortar store on Mohamed Sultan Drive offering excellent certified organic produce, fresh and frozen meat and hard-to-find organic groceries, but this is one of our go-tos for online orders too. If all the plastic trays, bags and shrink-wrap used to package supermarket produce makes you shudder, you'll love these guys: The Organic Grocer is committed to using less plastic. Deliveries are on Wednesdays to Saturdays from 3 to 7pm and do require a bit of planning: check the order deadlines and delivery schedule  so you don't get caught out, or you can opt for a weekly subscription instead of a one-off shop. Stick with this store and you can earn Organic Points to redeem on your shopping!
Address: 17 Mohamed Sultan Rd
Singapore 238966
Do they deliver? Yes!
www.theorganicgrocer.com
STRAITS MARKET
This market is all about ethically produced food and traceability, so works with farmers in Singapore and close to home that share the same philosophy. Alongside fresh fruit, veg and herbs, you can pick up sustainably sourced fish (wild caught and caught to order), hormone and antibiotic-free Sakura chicken and certified organic beef from Australia. Fruit and veg are delivered around one day after harvest – now that's fresh!
Do they deliver? Yes! There's delivery is twice a week on Tuesdays and Fridays, daily delivery for selected items, and is free for orders over $150. 
www.straitsmarket.com
SUPERNATURE
One of the first on the scene, SuperNature has a pretty huge selection with everything from organic fresh fruit and veg to frozen foods and meat, pantry staples, spices and sauces, beauty products and baby foods. And there's organic fresh bread too – woohoo! Just pay attention to what you're picking up in the frozen meat section – we once accidentally dropped $40 on a small serve of organic lamb from the UK. The flagship store at The Forum has a neat little cafe too. Want baby supplies? Head to the Mother & Child branch at Paragon. Order online for all the goods in-store, plus organic vegetable boxes!
Address: #B1-05/09 Forum The Shopping Mall, 583 Orchard Road and B1-20A Paragon, 290 Orchard Road
Do they deliver? Yes! Delivery is free for orders over $120, or over $100 for SuperNature Regular Members
www.supernature.com.sg

MAHOTA
Woah. Mahota makes all our dreams come true. You'll find it at the top floor of a shopping centre in Lavender, and it's absolutely worth tracking down. We love its massive store offering fresh organic produce, groceries, baby food and VINO – come for wine tastings on Saturdays! The butchery has a great selection of fresh meats and cold cuts, which didn't cost an arm and a leg, and you'll find lovely eco-friendly baby supplies, skincare and cleaning products too. Pop into the kid-friendly café, settle in at the fab restaurant for lunch, or even drop in for a yoga session while you're there. Our only quibble?
Address: Block 809 French Road, #03-01
Do they deliver? Yes! Online ordering isn't available, but if you spend $150 instore, free home delivery is available so you don't have to drag your loot home. (Delivery is still available at a cost of $10 if you don't spend $150.)
www.mahota.sg
BROWN RICE PARADISE
One of the original go-tos in Singapore for the organic and eco-friendly set, Brown Rice Paradise in Tanglin Mall doesn't do fresh produce, but has all the snacks, pantry staples, sauces and organic baby food you could possibly want. We even spotted organic ready-to-bake bread on the shelves on our last visit – intriguing! PS: If you need gluten-free groceries and eco-friendly baby supplies, cleaning products and beauty and skincare products, this is where it's at. But be prepared to spend…
Address: 163 Tanglin Road, #02-35 Tanglin Mall, Singapore 247933
Do they deliver? No.
www.mybrp.com.sg
FARMERS' MARKET AT LOWEN GARDENS
We're fans of this lovely little farmers' market, which takes place once a month. Alongside plants, handmade goods and homemade jams, there's a great stall selling organic veggies from Nepal – if you're lucky, the ladies have made a minestrone from the produce of the day too. As always (and this is one of our favourite things about coming here), there's fantastic coffee and cake from The Pantry to enjoy after you load up your basket! Check in on the Loewen Gardens Farmers' Market Facebook page for more details and the scoop on which vendors will be there on the day…
Address: 75E Loewen Road (Next to The Pantry), Singapore 248844
Do they deliver? No
FAIRPRICE FINEST
We're actually pretty impressed with the organic range (and prices!) at Fairprice Finest. This is where we stock up on affordable certified organic apples for the kids, blueberries, Aussie yoghurt and cheese, and you'll always find organic salad greens and Asian veg on the shelves. The East Coast Rd branch has a particularly good range of pantry staples, with everything from peanut butter to pastas, olive oil and tea. And, if your kids go through bucketloads of milk, the UHT organic milk is priced lower than you'll find elsewhere. Score!
Address: Various locations
Do they deliver? Shop Fairprice via Honestbee and search under 'organic' – the range available online just keeps getting better!
www.fairprice.com.sg
Photography (top image): Peter Wendt via Unsplash
Like this story? Here's more we think you'll enjoy:
Best butchers in Singapore
Going gluten-free in Singapore
Our favourite Singapore wet markets
How to order kopi like a local
Don't forget to subscribe to our weekly newsletter and follow us for fun moments on HoneyKids Instagram!