All the fun of the farm!
Learn where food comes from, feed a goat, pet a rabbit, or hang out with frogs! We've found 10 farm experiences in and around Singapore for a day in the countryside with the kids.
Growing up in urban Singapore, there's one thing we know our children are missing out on: trips to the countryside and seeing real live farm animals! We want our kids to know where their food comes from (check out our own animal encounters. So, we searched beyond the skyscrapers to gather these fun farm visits where city kids can see vegetables growing, feed the animals and spend the day exploring the great outdoors. We've even found a farm stay if you want to go on an overnight adventure… Pull on your wellies, and head on down to the farm, folks!
1. Gallop Kranji Farm Resort
While the words 'farm stay' may conjure up images of skipping through fields on your way to milk the cows, the Gallop Kranji Farm resort still manages to do a pretty decent job of giving us a slice of greenery during an overnight stay in the Kranji countryside. Plus, there's a spa. Say no more! So while you head off for a well-earned facial, pack the kids and Dad off for a beehive tour, pony rides and prawn fishing. Accommodation is villa-style and spot-on for families (we fancy the executive villa complete with jacuzzi and steam room!) so why not make a staycay in Singapore of it?
Gallop Kranji Farm Resort, 10 Neo Tiew Lane 2, Singapore 718813; Open daily.
2. Jurong Frog Farm
The whole family will love this farm with a difference, where residents are rather green and rather slimy. At Jurong Frog Farm, join a family tour and learn all about these slippery, yet cool, creatures before petting, feeding and even taking a snap with Mr Toad and Mrs Frog. Kissing is not compulsory, and we do have it on good authority that, so far, none of the frogs have turned into a prince.
Jurong Frog Farm, 56 Lim Chu Kang Lane 6, Singapore 719164; Open Sat, Sun and public holidays 9am-5.30pm, Tues-Fri by appointment only.
3. Bollywood Veggies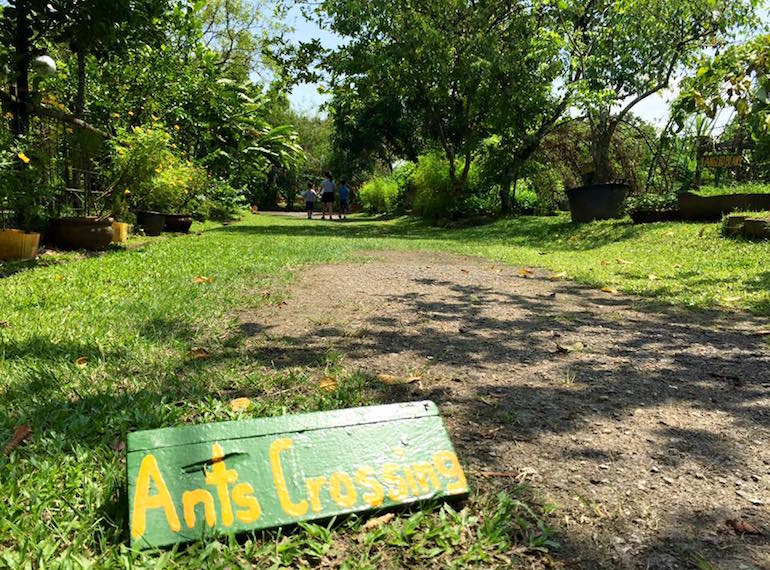 We love hitting a good farmers' market with the kids (such a great way to teach little ones about different veggies, fruits and herbs), so we're taking it up a notch and going straight to the source. Bollywood Veggies is famous for its farm charm and family-friendly vibe. Go on an adventure into the Kranji countryside and join a free guided tour around the Food Museum before filling your bags with healthy, organic produce from the farm shop. Enjoy a family meal at the Poison Ivy Bistro (which also happily caters to those with special dietary needs) and then wander through the beautiful lush surroundings.
Bollywood Veggies, 100 Neo Tiew Road, Singapore 719026; Open Wed-Fri 7am – 5.30pm, Sat, Sun and Public Holidays 7am – 6.30pm, closed on Mon-Tue unless public holiday.
4. Hay Dairies
While most kiddos don't give much thought to where the milk in their cereal bowl comes from, essentially almost all will presume it comes from a cow. Goat's milk, however, is considered by many to be a healthier choice, having a lower fat content, less additives and being easier to digest for those with food intolerances. Head over to Hay Dairies, home to over 800 goats, and join a free farm tour, milk a goat or two yourself and get to know these full-of-character cuties before stocking up on the good stuff to bring home.
Hay Diaries, No. 3 Lim Chu Kang, Agrotech Park Lane 4, Singapore 718859; Open daily except Tuesday, 9am-4pm.
5. Animal Resort
This hidden gem awaits animal fans of all ages at the end of a dusty road in Seletar. Pitched as a kampong-style petting zoo, The Animal Resort has a heap of animals to interact with including horses, rabbits, guinea pigs, geese, storks and even a giant cassowary. Animal feed is available at pocket money prices to add to the experience, and don't miss the chance to do a spot of stream fishing too!
The Animal Resort, Seletar West Farmway 5, Singapore 798061; Open daily 10am-5pm.
6. Viknesh Dairy Farm
If it absolutely has to be cow's milk in your cuppa, then make a moo-ve over to Viknesh Dairy Farm (next door to Hay Dairies) and have an udderly fun time getting to know the resident cows. Kids can feed the cows, pat a cow (not to be confused with a cowpat), and for a small fee the family will be happily whisked around the farm for a tour where you'll pick up fun facts and a pint of milk to bring home for that cup of tea.
Viknesh Dairy Farm, 6 Lim Chu Kang Lane 8A, Singapore 719607; Open daily except Deepavali, 9am-6pm.
7. Quan Fa Organic Farm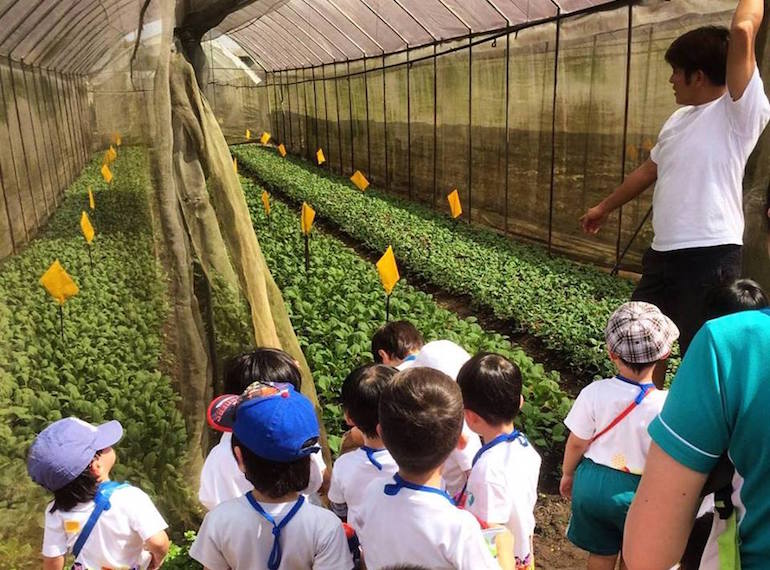 We love our organic vegetable deliveries from Quan Fa Organic Farm, and a visit to the farm itself is our idea of a great green day out with the kids. Step into nature's own classroom for an awesome organic farm tour and smell, touch and taste organic veggies, harvested on the spot! Learn about the different stages of growing fruits, salad greens, herbs and vegetables, from seeding to harvesting. No animals, but this is one inspiring, educational day out!
Quan Fa Organic Farm, 35 Murai Farmway, Singapore 709145; Open weekends 9am-5pm.
8. The Live Turtle and Tortoise Museum of Singapore
Sadly the doors just closed on this lovely little place, but fear not farm-seekers: it's opening in new digs later this year at Orto. Keen an eye on its Facebook page for further info on this home to 200 turtles and tortoises. In the meantime, jump on a boat and head over to nearby Kusu Island where you'll find a turtle sanctuary.
9. Singapore Zoo
Yes we know that Singapore Zoo isn't a farm, but did you know that they have an animal petting corner full of farm faves including ponies, falabellas, rabbits and goats? Head over to Kidzworld at Singapore Zoo and join a free keeper encounter session where wannabe farmers can cuddle a bunny, feed a goat and learn the difference between those ponies and falabellas – when you find out do let us know!
Singapore Zoo, 80 Mandai Lake Road, Singapore 729826; Open daily 8.30am-6pm.
10. UK Agro Farm (Malaysia)
Not in Singapore, but close enough to be worthy of inclusion, The UK Agro Farm is well worth the trip across the border to Malaysia for an authentic farm experience the whole fam will remember. This is a real working sheep and goat farm so expect a genuine farm atmosphere, gazillions of woolly faces, guided farm tours and a spin around the milking sheds! The countryside fun doesn't stop there either: check out the mini zoo and meet the resident peacocks, hedgehogs, ducks, geese and turkeys. You can also head to the ethnic cultural centre, Jakun Village, to try your hand at blow piping and climb a treehouse with the indigenous Orang Asli. All that fun may well wear you out, which is why we say make a weekend of it and stay over. The farm has villas and dorms so that you can extend the adventure overnight.
UK Agro Farm, Plot 8, Project Pertanian Moden Kluang, KM13 Jalan Batu Pahat; Open daily.
Don't forget to subscribe to our weekly newsletter and follow us for fun moments on HoneyKids Instagram!