Not your traditional playgrounds, these nature playgrounds promise oodles of fun and learning opportunities for both kids and adults!
We're always dishing on what's great about raising a family on this little red dot, and it just keeps getting better! We routinely scour Singapore for only the best kind of kid-friendly fun, from the best parks, amazing playgrounds, kid-friendly dining and more. Here's what we're currently obsessed with: the nature playgrounds sprawling across this island! First things first, what exactly are they?
What are nature playgrounds in Singapore?
Hmmm, if this term has you raising an eyebrow, you're not alone! The very word 'playground' evokes fun images of neon slides, swing sets, climbers, and more – psst, have you seen the newest one on the block? We promise the fun really takes off here! These playgrounds are typically located around residential areas and parks, and chances are your child already has a favourite one, and a fave thing to do at a traditional playground, from zooming down the slides or trying to scale the clouds on the swing sets and more.
How are they different from other playgrounds?
Nature playgrounds, also known as nature play gardens, are more of a hybrid experience. Their designs use the natural terrain of the environment, with interesting elements such as logs made into obstacle courses, tree houses, boulder structures, rope bridges and so on! Unlike traditional playgrounds, which are instant fun, nature playgrounds tend to be more open-ended in how kiddos can have fun. These playgrounds invite children to decide how they might like to play – pretty cool, eh? It's a great way for kiddos to engage with nature using their imaginations, independent thinking and more! We particularly love how nature playgrounds present a 2-in-1 fun opportunity to soak up nature and have fun in it.
While it is typical for nature playgrounds to be made out of natural elements, we're also including ones that resemble traditional playgrounds that were made with the natural terrain in mind.
Things to note before you hit a nature playground in Singapore:
Make sure that you check the weather before hitting one of these, as most of them are outdoors. Have a Plan B should the weather go awry.
Hydrate, we're living in some unprecedented hot climes, so make sure to pack kiddos some extra cool drinks to have as they play.
Help your child to interact with the environment. Some nature play gardens might be intimidating or hardly look like much, so guide kiddos to find ways to have fun if necessary.
Slather on that sunscreen and mosquito repellents to keep on the safe side while lapping up the fun.
Fun nature playgrounds for kids in Singapore!
1. Coastal Playgrove, East Coast Park
Did you know that Coastal Playgrove in East Coast Park has its very own nature playground (pictured above)? Here you'll find plenty of natural materials, including bamboo tunnels, log trails, and that all-important sandpit; it's sure to keep the littlies entertained! Psst, there's heaps going down at Coastal Playgrove – so pack your swimmers for water play, too!
Where: East Coast Park
2. Ang Mo Kio Linear Park
This strip of green is a park connector to the famed Bishan-Ang Mo Kio Park. The 6.2 hectares community park also includes a children's playground, biophilic play area and green lawns integrated with earth mounds for community activity and play. We're definitely talking nature playground, true to the definition. Kiddos can find creative ways to interact with the wooden log structures. Additionally, you can safely supervise kiddos' playing from seating areas close to the activity area.
Where: Ang Mo Kio Linear Park, Ang Mo Kio Avenue 5, Singapore 569881
3. Arthur Park Nature Garden
This play area located within the Mountbatten private estate features rustic play elements like log stumps that kiddos can climb over. There is also a playground with a small rock climbing wall and slide, as well as a sand pit.
Where: Arthur Park, Arthur Rd
4. COMO Adventure Grove playground
We love the nod to nature playgrounds over at COMO Adventure Grove playground – there's loads to check out, from clambering up the weeping fig play structure to nature play galore with sand and wooden structures to explore. It does get hot here, so head early if you can!
Where: Singapore Botanic Gardens
5. Admiralty Park
Located in Woodlands, this 7-hectare urban park needs no introduction to fun, what with the 26 slides. We kid you not! Admiralty Park is situated on hilly terrain with the Sugei Cina River running through it and houses the largest nature area. Read all about what our HoneyKids' mummy had to say during her time checking it out!
The playgrounds, Junior Play, Adventure Play and Family Terracing Play feature diverse play equipment, such as tandem slides, climbing areas and more. You can also find an inclusive playground that supports play between children with and without special needs. There's something for everyone at the nature-inspired play areas within Admiralty Park, from toddlers to, dare we say it, teens who might like to cycle down to the Admiralty West Park Connector.
Where: Admiralty Park, 31 Riverside Road, Singapore 730000
6. Jacob Ballas at Singapore Botanic Gardens
Have you checked out the wooden train and sand play area at Jacob Ballas at Singapore Botanic Gardens? There's also a big nod to nature with the cute maze and trails to explore, plus the epic treehouse. You can't get much more close to nature than this!
Where: Singapore Botanic Gardens
7. Jurong Lake Gardens
We love this playground because there are so many links to the natural environment, and the whole place is inspired by nature; it's got awesome equipment that encourages children to mimic the natural movements of animals and insects. So, for instance, you can bounce on trampolines like a frog, sail through the air on a swing like a butterfly, or soar on the zipline like a heron. There's plenty of opps for open-ended play, and we especially love Clusia Cove (the waterplay area), which mimics tidal patterns – so cool!
Where: Jurong Lake Garden, Along Yuan Ching Road and Boon Lay Way
8. Bishan-Ang Mo Kio Park
We've waxed lyrical about the amazing Bishan-Ang Mo Kio Park before, but have you found the log-based nature play garden, as well as other nature-based elements, there? Kiddos can play pretend among the tree logs or test their balance and agility. Plus, there's also a tic-tac-toe game created using natural elements that can make for some fun! We love that screen-free entertainment involves some strategy too.
Where: Bishan-Ang Mo Kio Park, 1384 Ang Mo Kio Ave 1
9. Clementi Woods
Lap up the greenery and sounds of nature at the nature play garden at Clementi Woods Park. This play area is designed for pre-schoolers to encourage them to spend more time outdoors and reconnect with nature. Let kiddos' imaginations run free as they explore the different play features created to stimulate the senses, do imaginative play, develop motor skills and more. Check out the cool features made from logs!
Where: Along West Coast Road
10. Coney Island Park
Get in touch with nature at Coney Island Park, that's rich in history and houses various habitats, including coastal forests, grasslands, mangroves, and casuarina woodlands! Check out the nature playground known as Casuarina Exploration, constructed using felled Casuarina trees and recycled materials. This adventure play area provides a rustic yet adventurous backdrop for kiddos' fun play. The Casuarina Exploration is great fun for all ages. Weave through the 'Millipede', keep your balance on the 'Earthworm' or hop across the 'Caterpillar'.
Where: Beside Punggol Promenade Nature Walk
11. HortPark
The nature play garden at HortPark is just the place for kids to let their imaginations run wild on a sunny day. It's a wonderful place to visit, weather conditions permitting! There are nine nature-inspired play features for kiddos to create their own kind of fun.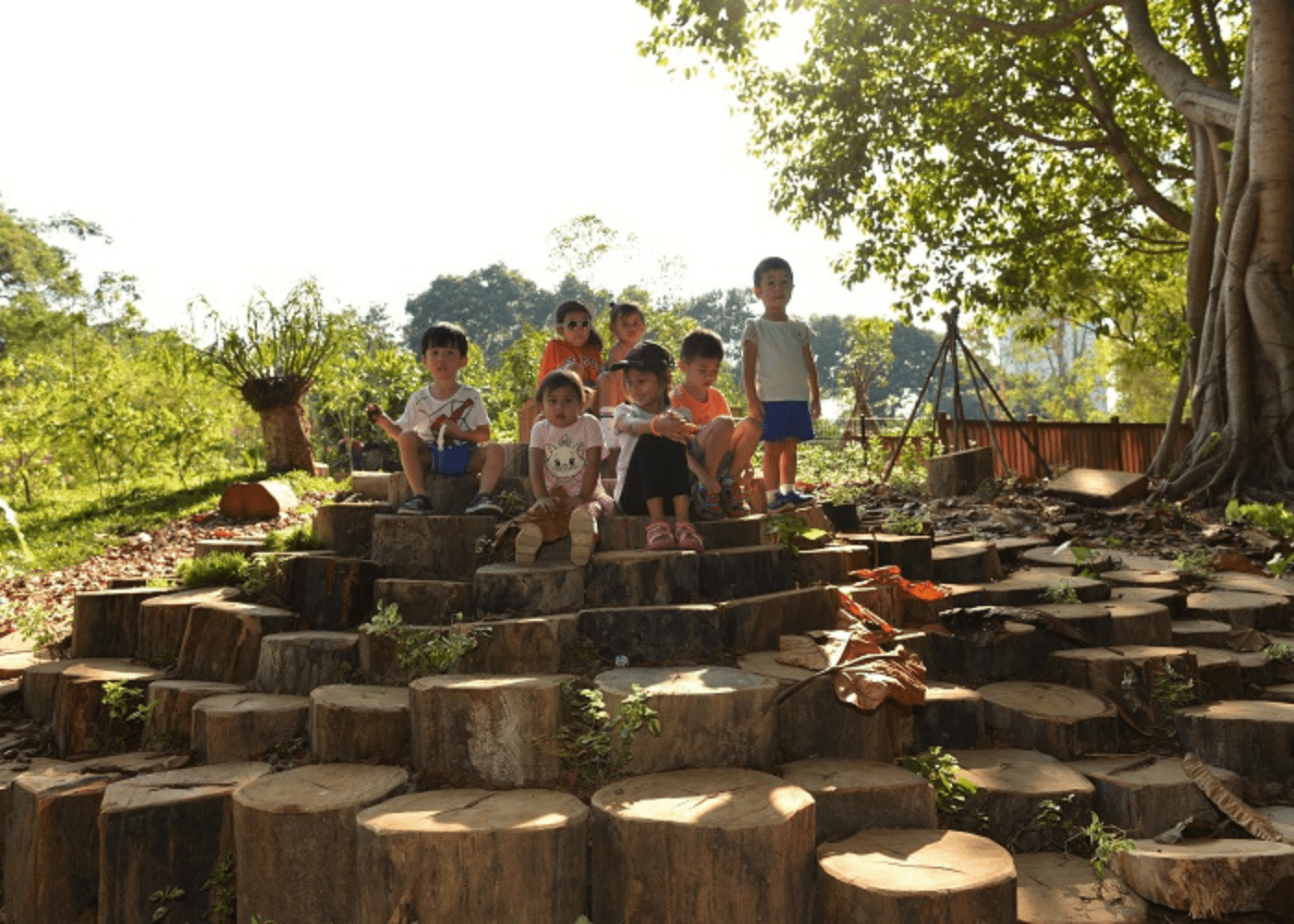 Kiddos can scale the valley of logs structure and create some fun games with this natural play feature. The logs were placed along the existing topography of the area. They can also work up a sweat as they run through a series of tunnels and hideouts created using local flora and fauna or seek refuge from the main flow of activity. HortPark promises a really fun day out!
Where: 33 Hyderabad Rd, Singapore 119578
12. Pasir Panjang Park
Pasir Panjang Park gets its name from 'long sandy beach' in Malay because it once was a sandy beach stretching from Labrador Nature Reserve and Clementi and West Coast roads. The nature play garden takes inspiration from the coastline. Hence, the play features integrate a sandy terrain. Kiddos can engage in free play and feel the sensory elements!
Where: 121 Pasir Panjang Rd, Singapore 118543
13. Rumah Tinggi Eco Park
The Rumah Tinggi Eco Park may well be a hidden gem! This green corridor is sandwiched between buildings along Leng Kee Road. This little slice of nature is that pop of rusticity in the urban jungle with bamboo grooves and banana trees. Kiddos are treated to two playgrounds, one with a treehouse theme and the other that's a railway, a nostalgic nod to Rumah Tinggi's past as a railway line!
Where: 14 Kung Chong Rd, Singapore 159150
Have fun at these nature playgrounds. Do you know of any more that we should feature? Let us know at [email protected].
Lead image: NParks