Time-crunched and can't trek to the supermarket or wet market? We're with you, so we're sharing our little black book of the best online services in SG that will deliver all your fresh produce
Want to get your weekly shop of fresh vegetables and fruit delivered to your door instead of making constant trips to supermarkets and wet markets? We're all about saving time and effort here at HoneyKids – we've already shared the best butchers in Singapore that deliver to your door, so to make your life even easier, here are our hot tips on the best online grocery shopping services that will deliver your fresh fruit and veg without you having to lift a finger – well, almost. We've even sourced locally produced milk – and ice cream! You're welcome.
P.S: While you're on a roll, check out our other foodie guides: best wet markets and stores in Singapore selling organic produce and groceries!
Little Farms
Little Farms specialises in wholesome produce and gourmet goodies with its fresh produce air-shipped in from Australia and Europe for maximum freshness. You'll get Australian grass-fed and ethically produced beef, antibiotic and hormone-free poultry from Malaysia and Australian free-range pork. If you do find yourself in store, don't forget to drop into the café for healthy salads, smoothies and hot food made from delicious natural whole foods straight off the shelves! Little Farms deliver six days a week and offer free delivery for orders above $100.
www.littlefarms.com
Quan Fa Organic Farm
Local produce grown according to organic farming methods with no pesticides? Hallelujah! We've been searching high and low for locally grown organic fruit, veg and herbs, and the produce from Quan Fa Farm in Lim Chu Kang always arrives looking freshly picked – it is, after all, harvested on the morning of your delivery. Quan Fa does offer imported organic products too, including seasonal fresh produce alongside kitchen essentials such as sugar, flour, eggs and even salad dressing. Deliveries are on Wednesdays, Saturdays and Sundays in the afternoon (you can ask them to text an estimated arrival), and it's free for purchases over $60. Only credit card payment is accepted for online orders.
www.quanfaorganic.com.sg
Dairy Folks
Remember deliveries from the milkman? (We're showing our age here.) Dairy Folks is reviving the old-school milk delivery, and their fresh milk is the real deal: full-cream, preservative-free and with a natural layer of cream on top! This local Singapore dairy has been around since 1936 and we can't believe we haven't discovered them sooner. Brace yourselves: Dairy Folks also delivers ICE CREAM. Trust us, it's amazing and made from 100% fresh milk. Order five days in advance – delivery is free for orders over $20, and you'll be contacted to set up a convenient delivery time.
www.dairyfolks.com
Open Taste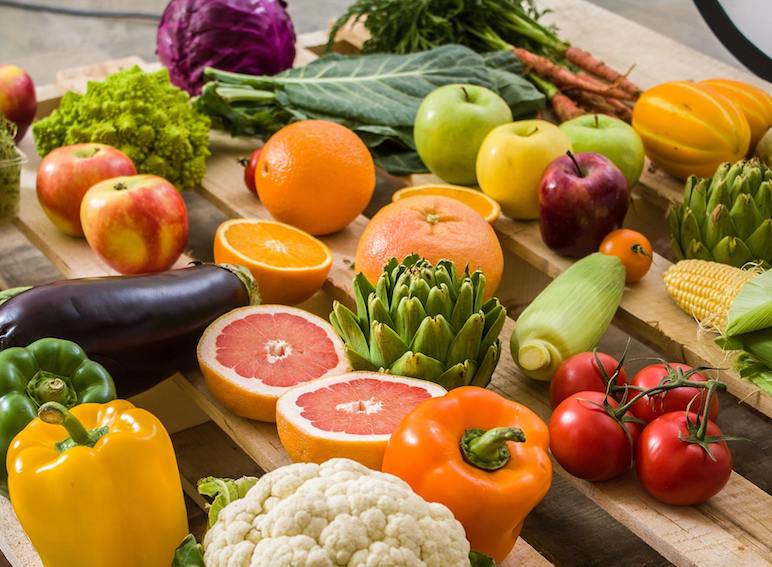 This online grocery store has a pretty straight forward process. It sources fresh produce direct from over 200 farms in Asia, US, Europe and Australia and delivers it straight to your home in under 36 hours. Hop on the website and you'll be able to see at a glance where all the food is sourced from and whether they offer next day delivery. Delivery is free for orders over $49, but if you're stocking up for a party, then bulk buys are definitely the way to go for major discounts.
www.opentaste.sg
The Organic Grocer
The Organic Grocer has a bricks and mortar store on Mohamed Sultan Drive offering excellent certified organic produce, fresh and frozen meat and hard-to-find organic groceries, but we highly rate its online ordering system too. If all the plastic trays, bags and shrink-wrap used to package supermarket produce makes you shudder, you'll love these guys: The Organic Grocer is committed to using less plastic. Deliveries are on Wednesdays to Saturdays from 3 to 7.30pm and do require a bit of planning: check the order deadlines so you don't get caught out. Stick with this store and you can earn Organic Points to redeem on your shopping!
www.theorganicgrocer.com
Straits Market
Available online only, Straits Market offers a home delivery service that focuses on ethically produced food and transparency. Its food is sourced directly from farms in Singapore and neighbouring countries so you know where your farmed fish, organic beef, organic veg and hormone and antibiotic-free Sakura chicken come from. It also has a gluten free range, offers organic wine and freshly baked bread every day. Delivery is twice a week on Tuesdays and Fridays with a cut-off order time of 2pm for one-day delivery. Delivery is free for orders over $150.
www.straitsmarket.com
Redmart
Redmart is currently the main mum-fave in HoneyKids HQ for its fresh produce department, quality fruit and veg and delivery. Key highlights are that it offers competitive prices, stocks goods from Sainsbury (helloooo, biccies!) and offers free delivery above $40 for members, and above $100 for non-members. First-time customers also get free delivery for your first 3 orders (min. spending of $40 per order). Heads up though, people, Redmart has moved to Lazada so you'll need to order from the Lazada app!
redmart.lazada.sg
Like this story? Here's more we think you'll enjoy:
Healthy party snack ideas for kids
Best colourful and fun fruit birthday cakes 
Healthy lunch box ideas to keep lunchtime fun
The cheapest places to shop for fresh produce
Don't forget to subscribe to our weekly newsletter and follow us for fun moments on HoneyKids Instagram!