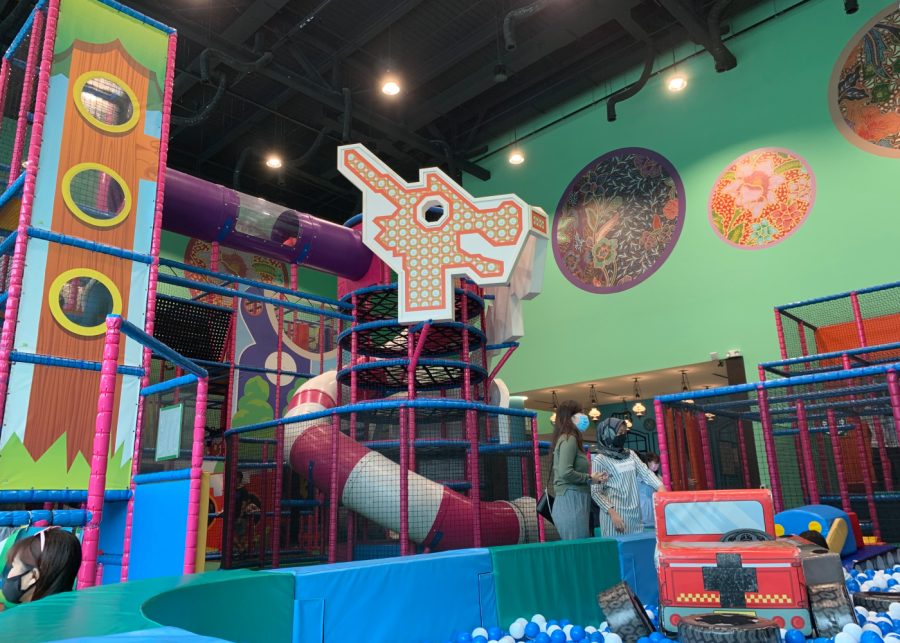 Ever ventured to HomeTeamNS Khatib before? Here's our review of what you can expect...
We love exploring new things here at HoneyKids, especially playgrounds. We'd heard a lot about the Peranakan-themed T-play indoor playground over at HomeTeamNS Khatib, so we set off to explore and give you the lowdown on what to expect, plus what else is worth exploring in this part of town…
Where is HomeTeamNS Khatib?
You can't miss HomeTeamNS Khatib if you're travelling by MRT; you'll clock the impressive building (and catch a sneak peek of the playground) as you travel into Khatib MRT station. From here, it's a leisurely five-minute stroll, mostly under cover (we visited during a downpour, so we can confirm this). Travelling by car? There's also car parking available at HomeTeamNS Khatib.
T-PLAY AT HOMETEAMNS KHATIB – PERANAKAN-THEMED INDOOR PLAYGROUND
T-play is for the younger kids in the family (up to 12 years old) and offers up a whole host of fun. We visited with a one and three-and-a-half-year-old, and there was plenty to keep both of them entertained. Here's what's in store…
1. Ball pit
A big hit with our youngest, the ball pit area is complete with mirrors and foam cars. It's also separate from the slides and climbing structure for the older kids (more on that below), and it's relatively contained, so you don't need to worry about little ones getting in the way of the big kids.
2. Ninja course
Alongside the ball pit, there's a ninja course, where your toddler can take on a range of challenges to test their balance and flexibility. This was a popular one for our three-year-old, who was a massive fan of the monkey bars, as well as scrambling up to the high platforms. It's like a mini version of the larger-than-life climbing structure, which takes centre stage in the main play space.
3. Interactive trampolines and sensory games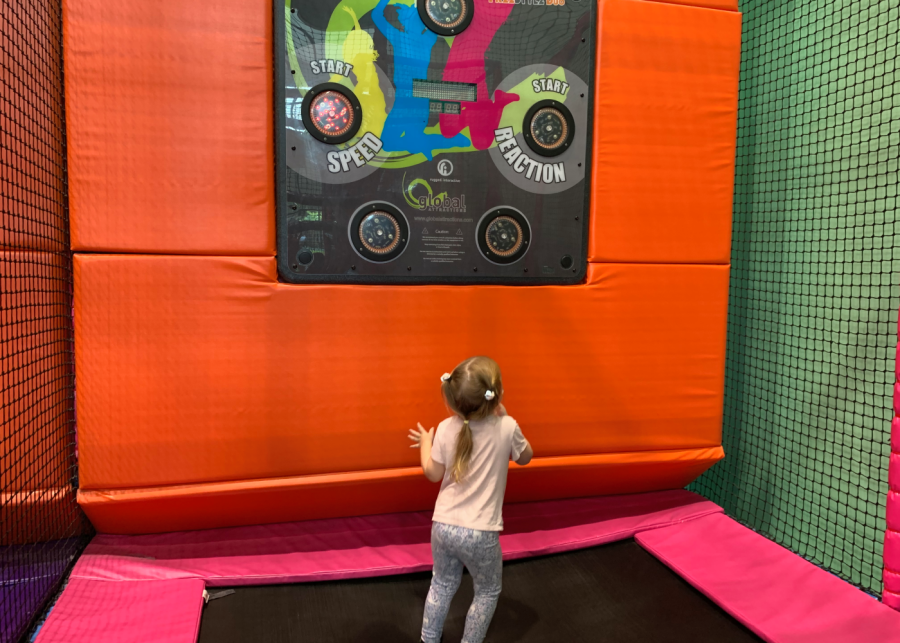 Did someone say trampoline? There are two mini-trampolines at T-play, so you might need to tell the kids to be patient on this one and wait a bit because trampolines being trampolines – they're popular. These trampolines have the added bonus of being interactive, so the kids can burn off even more energy trying to bounce up high and hit the grid and collect points.
As well as interactive trampolines, you'll also spot a few sensory games dotted around the playground, which are fun for the younger kids, who can test out their reactions as they tap the light-up colours.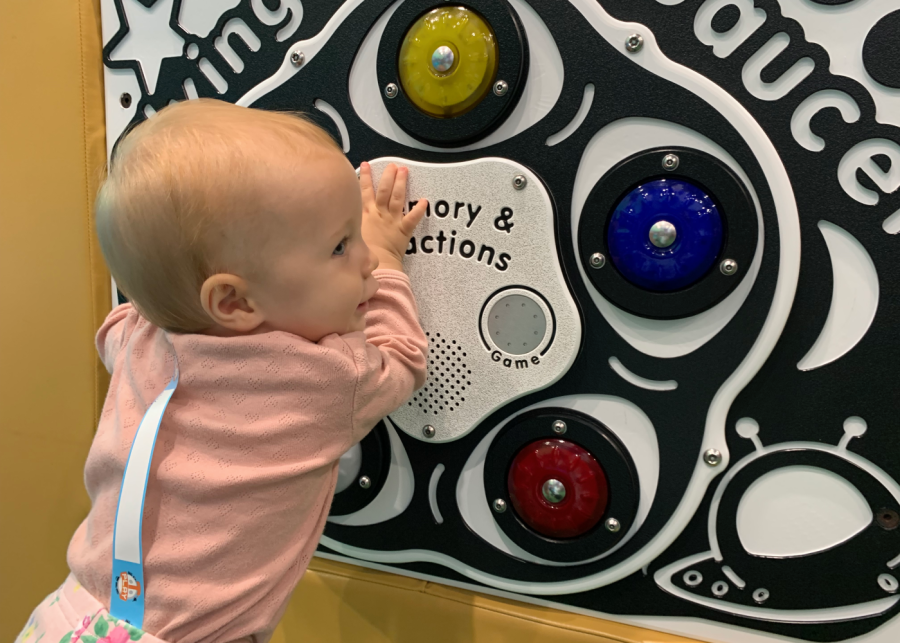 4. Sports pitch
You might miss this if you're not looking for it, but there's a small area underneath the main climbing structure that's perfect for a quick game of footy (and also good for keeping little ones contained for a short period of time!).
5. Slides, slides and more slides!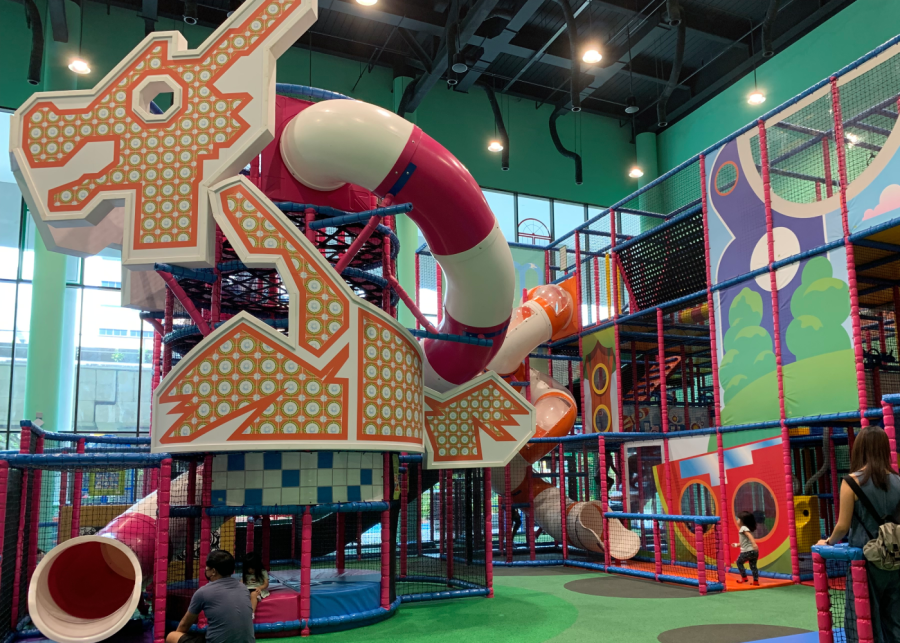 The main draw of this playground? Hands down, it's the slides. They are the first thing you'll clock was you enter T-play at HomeTeamNS Khatib. The climbing tower slide has a cool nod to the iconic dragon from the Tao Payoh playground, too. This isn't the only Peranakan-inspired treat; there are a number of design features and decorations throughout, making this one of the prettiest playgrounds we've visited.
Note on the slides – they are fast (we talk from experience). If you've got kids under four years old, you might want to stick to the more gentle open-air green slides, which are also located on the main play structure. The slides are super fun, though, and are sure to keep the kids saying again, again!
6. Foam ball shooting area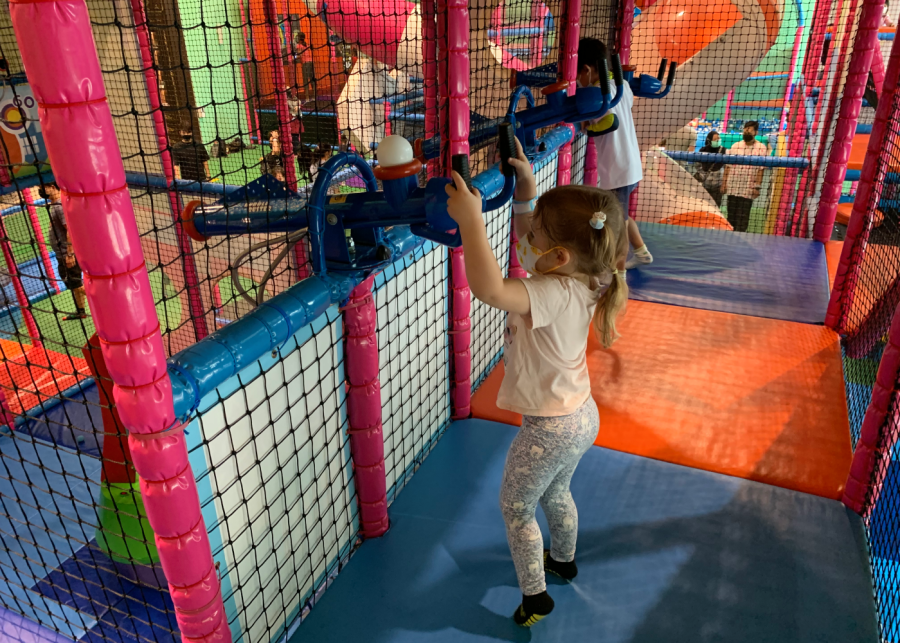 Another bit that's sure to be popular is the foam ball shooting area, where kids can use the compressor to fire foam balls at the play space below. This can be found in the main play space. If you're visiting with younger kids (five and below), you'll probably want to accompany them on the main climbing structure because it's fairly big (but we think that's actually not a bad thing, the grown-ups found it pretty fun, too!).
Other things to note
If the kids are looking a bit jaded, then there are also craft and free colouring activities available during all play sessions in a dedicated room close to the entrance. The playground also has a small seating area and toilets, baby change and nursing room facilities. Alas, you'll have to hold the dream of having a coffee while you watch the kids break a sweat; no food or drink is allowed in the play area.
Details: T-play opening hours and prices: 
T-Play operating hours: Closed on Monday. Tuesday – Thursday: 1pm – 7pm, Friday, Eve of PH: 1pm – 9pm, Saturday, Sunday, School Holiday & PH: 10am to 9pm.
Off-Peak* entry: $10 (HomeTeamNS Family Membership (Child)),  $14 T-Play Member, and $20 (Non T-Play Member).
Peak* entry:$10 (HomeTeamNS Family Membership (Child)),  $16 T-Play Member, and $25 (Non T-Play Member).
*Off-Peak: Tuesdays to Thursdays (Excludes PH & School Holidays).
*Peak: Fridays, Saturdays, Sundays, PH, School Holidays & Gazetted holiday – Youth Day, National Day Holiday, Teachers' Day, Children's Day.
Kids below 12 months are free entry.
VISITING WITH OLDER KIDS OR FANCY YOUR OWN PLAYGROUND FUN? CHECK OUT ADVENTURE HQ!
The great thing about HomeTeamNS Khatib is that there are not one but two playgrounds to explore. That's right, if you're visiting with older kids (above 125cm) or you fancy scaling new heights yourself, then Adventure HQ next door should be your destination.
Adventure HQ has a lot of firsts; not only has it got the first indoor roll glider in Singapore, but it's also home to the first 165m indoor artificial cave. There's more where that came from, too – with the longest indoor slide (a whopping 14m) and the largest 2-tiered indoor challenge ropes course is also here. Our kids were too little to give it a go (you need to be at least 125cm tall), but we still had a sneak peek. Here's what to expect…
What can you do at Adventure HQ?
A lot! There's everything from bouldering and rock climbing to a ninja course. Here are a few highlights:
1. Fossil Labyrinth
Go back in time and take on a cave experience like no other as you enter the Fossil Labyrinth. You'll get to venture into a series of dark tunnels and spot stalactites, fossils, and more! We think this sounds like a pretty unique experience for us parents too!
2. Sky Venture
If you're got a head for heights, then take the skies and tackle 16 obstacles as part of the indoor challenge ropes course (It's Singapore's largest two-tiered course!). As well as being fun, it will put the kids' coordination, balance and agility skills to the test.
3. Roll Glider
Another first for SG – a roll glider! Wondering what exactly a roll glider is? It's an experience of hang-gliding, and it's all about gravity and body movement as you soar above ground at Adventure HQ. Definitely one for the bucket list!
Note: Adventure HQ is semi-outdoors, and although there were blinds and large fans when we visited, it was still pretty warm, so dress accordingly!
Adventure HQ opening hours and prices:
Monday: closed, Tuesday – Friday: 2pm – 10pm, Saturday, Sunday, & Public Holidays: 10am – 10pm
Entry price: Various packages available. For an All-Access Pass, off peak price (Tues – Fri) is $40 (HomeTeamsNS), $58 (affiliate) and $68 (guest). Peak price (Sat – Sun) is $48 (HomeTeamsNS), $68 (affiliate) and $78 (guest)
What are the age restrictions at Adventure HQ and T-play?
T-play is open for under 12's only, whereas Adventure HQ is based on height, with entrants required to be above 125cm.
WHAT ELSE CAN YOU DO AT HOMETEAMNS KHATIB?
Thought two playgrounds were the only thing you could do at HomeTeamNS Khatib? Wrong! There's lots more in store…
1. Bowling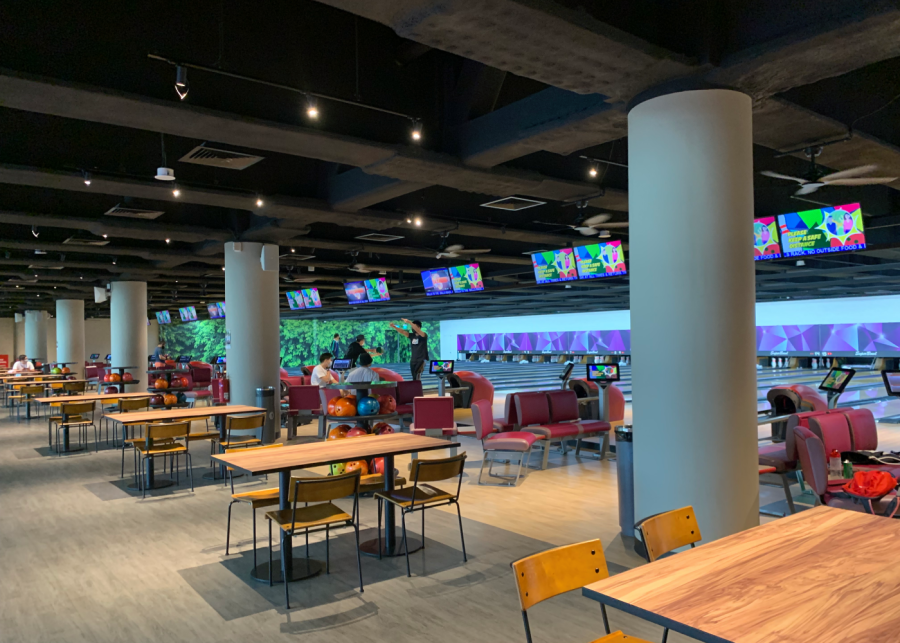 If you want to really make a day of it, then head upstairs and hit the bowling alley at Superbowl!
2. Rent a Mancave!
Yep, you read that right – there are mancaves available on the top floor, but luckily they are suitable for all the family, and not just dad. We got to have a sneak peek and think they would work as great options if you're visiting with a large group of friends or want to host a party close by to the attractions downstairs. The mancaves are suitable for between 20 – 3o guests and have all the latest entertainment options to keep the kids and grown-ups entertained (game consoles, check). There's also a private BBQ area and a fully equipped kitchen.
3. TactSim
We also spotted TactSim while we were checking out the other facilities which is worth a mention. TactSim is the first indoor player versus player (PvP) airsoft in Singapore. Note. This one is exclusively for the grown-ups, as it's only suitable for over 18's.
FOOD AND DRINK OPTIONS AT HOMETEAMNS KHATIB
If you're not up for hitting up a mancave but want food options, then there are several restaurants on site. On the ground floor, close to T-Play, you'll find Burger King if you think the kids have earned fast food from all their exercise. If you're looking for more of a sit-down affair, Saizeriya (Italian), Siam Kitchen (Thai) and Suki-Suki Thai Hot Pot are also on this floor close to Adventure HQ. Other options in the complex include Orchard Live Seafood, Fuji Izakaya Bar, and snack options inside the bowling complex upstairs.
OUR VERDICT…
We'll be honest, before visiting, we had no idea what HomeTeamNS Khatib was all about, so we were very pleasantly surprised by the number of attractions here. We love the nod to Peranakan culture at T-play, which we think makes the journey here worth it if you're not living close by. We also think the price is comparable to other indoor playgrounds (and it's free for under 1-year-olds!).
Although we didn't get to try our Adventure HQ this time, it looks like a great option to have up your sleeve if you're looking for something different to impress the teens with. It is expensive though, so it's definitely a treat and one for that long old SG bucket list!
Have you visited? Let us know your verdict! Stay tuned for more HKA Tries coming soon!