Wood, rubber and recycled materials… we've been hunting for all sorts of sustainable and green toys for tots.
Switching to a more eco-friendly lifestyle in Singapore isn't easy! We've been going around swapping out all our plastic bags for reusable ones and ditching the disposables when we stumbled upon one very big source of plastic – kids' toys. That's right – many of our toddlers' playthings these days are cheaply-made, mass-produced environmental disasters waiting to happen. We've already started the switch to wooden toys for kids and eco-friendly toys made from recycled plastic for a greener, happier playtime. Here are our top picks to help you get started, too…
Where to get eco-friendly toys in Singapore
1. Kathy's Cove
If you're looking for an alternative to plastic toys, Kathy's Cove is the place for sustainable and eco-friendly rattan toys (and furniture) that you'll treasure for a lifetime. There's a lot of thought put into the design of each product, and the pieces are educational and engaging. Toddlers can work their fine motor skills and hand-eye coordination, while older kids can use their creativity when playing with the toys.
2. Grapat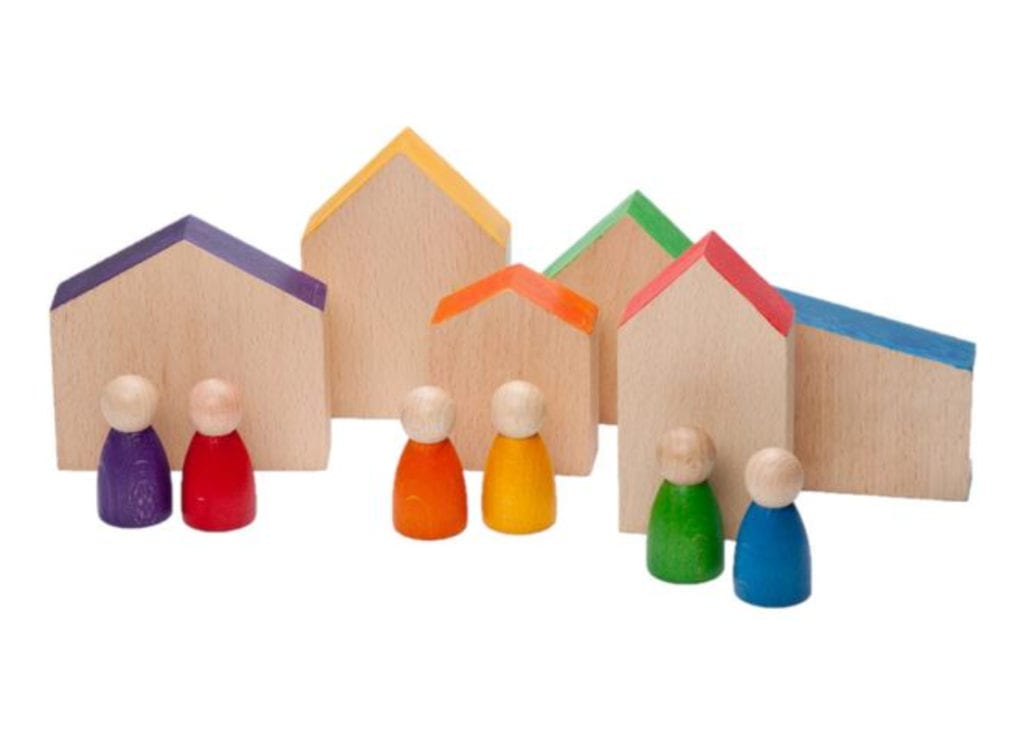 This small family project by Grapat began from the idea of using everyday objects as toys. Using simple shapes, the cute wooden toys are designed to stimulate the imagination and encourage free play with open and unstructured materials.
3. Green Toys
Sometimes wood just doesn't cut it. Green Toys is a California-based company that produces eco-friendly toys made from 100%-recycled plastic milk containers. Made in the US, you'll find vehicles such as trucks, planes, boats and helicopters, as well as plenty of beach toys. These are easy to clean, printed with soy inks and packaged using recycled material. Basically, as green as plastic toys get!
4. Beebee+Bongo
If the kids need a new cuddly, then you can't go wrong with the adorable handmade knitted creations from Beebee+Bongo. This Singapore-based brand works exclusively with Cambodian Knits to create ethical, sustainable, high-quality, and eco-friendly children's toys for play-based learning. Good luck choosing!
5. PlanToys
If you've ever stepped into one of Singapore's many toy stores, you've probably heard of Plan Toy. Started in 1981, PlanToys manufactures toys using pesticide-free rubber wood and opts for eco-friendly processes every step of the way. You'll find an array of eco-friendly toys of all kinds, including balancing games, pinball machines, stacking games, and puzzles, as well as furniture, rattles and wooden toys for kids.
6. Toy Workz
Toy Werkz is all about the Montessori method of education, so that you can expect a big focus on wood. And the good news is that they only source toys made from a sustainable plantation. Guilt-free present shopping at its best!
7. Petit Collage
Petit Collage designs its toys to be long-lasting and repurposed as kids grow up. All of its products are non-toxic, and at least 80 per cent of its paper products are made from recycled material. It also prioritises responsibly-sourced and sustainable materials such as bamboo with minimal packaging. You'll be able to find backpacks, lunch boxes, books and mobiles on top of toys, games and puzzles.
8. Sea Apple
We can't get enough of this sustainable clothing brand founded in Singapore. And it's not just the clothing that gets the big thumbs up from us – we're here for the toys too! Sea Apple is all for simple and analogue toys that help children to learn and grow best. They stock some of our fave brands when it comes to sustainable toys, including Green Toys and Plan Toys mentioned above.
Happy shopping, folks!