Ditch the plastic sandwich bags! Give the kids' lunch boxes an eco-friendly makeover with these reusable food wraps...
Teaching kids to be environmentally conscious is a parenting must. But how can we really drive the message at home, without resorting to running a polar bear breeding program? Baby steps, people – let's start with reusable sandwich bags and food wraps. So, we've been tracking down all of Singapore's nature-happy and eco-friendly lunch bags and wraps. The kind that aren't only jazzy looking, but really do pack a 'ditching the plastic' punch.
Plus, think about how much you'll save since these bags and wraps can be reused over and over again after a quick wash. This kind of 'going green' will prove waaaay simpler than getting the small ones to actually eat their greens! Here's how your family can help save the planet, one little reusable package at a time…
Where to buy reusable sandwich bags and wraps in Singapore
1. Keep Leaf
We've been using the beautifully-designed Keep Leaf products for a while now, ever since we discovered them while doing our weekly shop on Redmart! The Canadian company brings modern, stylish patterns to the sandwich bag world, with the huge added benefit of being eco-friendly, organic, reusable, BPA and phthalate free (the nasties you find in a lot of plastic products). This small find has made a big difference to our lunch box wrapping ethos!
Cost: From $13.90 per bag
Available from: Redmart and Neishaus
2. Apiwraps
Sandwiches will definitely be feeling h-"api" in the chemical-free, environmentally friendly Apiwraps. Harnessing the natural qualities of beeswax, these cute wraps seal in the freshness while still allowing food to breathe. No more clingfilm wrapped soggy sandwiches! Wraps are made from organic cotton with natural plant based colours, pure unrefined beeswax, pine tree resin, and organic coconut oil. And if used properly, they can last you for up to a year!
Cost: From $4 per bag
Available from: Neishaus and with worldwide free shipping from Apiwraps
3. LunchSkins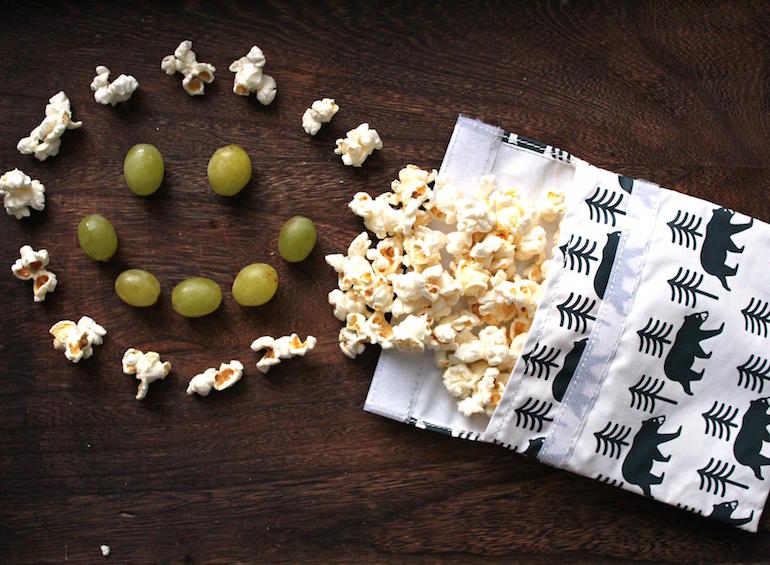 Living as plastic-bag free as possible is much easier when sandwiches and snacks can be wrapped with LunchSkins. In fact, according to the good folks at LunchSkin, each of their bags will replace an average of 500 plastic bags., Impressive, indeed! Super-cute and dishwasher-safe, these bags are easy to clean. The only downside is that they aren't available from any retailers in Singapore. But, we have found you an option for international delivery, woohoo!
Cost: $9.34 per bag with free Amazon Prime shipping.
Available from: Amazon.com
4. Boc'n'roll by Roll'Eat
Use up the tin foil for craft projects with the kids, and then vow never to buy it again! Instead, liven up lunch boxes with spiffy Roll'Eat "Boc'n'roll" reusable sandwich bags that also transforms into a placemat. It's snack-time wizardry for kids on the go! You'll be saving the environment six years' worth of plastic or aluminium wrapping usage when you swap to one of these machine washable, BPA free beauties. An easy decision, we think. Design-wise you can choose from pirates to plain, giraffes to princesses – anything goes!
Cost: from $14.90 per wrap
Available from: Lazada and Shopee
5. ZipTuck by Full Circle
Perhaps you're a die hard fan of ziplock bags (aren't we all?), and need some time to wrap your head around the idea of fabric lunch bags or beeswax food wraps. If so, we've found you the ziplocking eco-warrior alternative to ease you into that plastic-free lifestyle. Meet Full Circle's ZipTuck Reusable Sandwich Bags – they are chlorine-free and food-safe, on top of having an air-tight lock seal design that can hold liquid. Think of this as the best of both worlds – they look and function like a ziplock bag, but are more eco-friendly. Plus, broccoli will look wayyy tastier to your little ones when packed in a dinosaur printed bag.
Cost: from $9.58 per set with free Amazon Prime shipping.
Available from: Amazon
6. Bee's Wrap
Created by infusing organic cotton with beeswax, organic jojoba oil, and tree resin, Bee's Wrap is a washable, reusable, and compostable alternative to plastic wrap. Reducing the reliance on plastic takes time, and every effort you make counts. Whether you're using Bee's Wrap for on-the-go snacks or storing dinner leftovers, you're one step closer to making it possible to ditch disposable food storage for good.
Cost: from $13.93 per piece
Available from: Pupsik
Love these reusable sandwich bags? Check out these eco-friendly products too!